So, you're probably thinking that I've had over 2 weeks to get unpacked and settled in and that probably my house is starting to look like a real house by now.  Right?
Wrong!
Wish it was all together, but it totally is not. I lost a week with the Room Service Atlanta project, but that was such a worthy cause and well worth the time involved.  I knew I'd be behind after that.  My energy level is down as you can imagine and trying to get everything done has definitely been a challenge.  I just want to sit right now, but that's not going to get the job done either, even though I know I should give myself a break.  Six months of renovations will wear you  out, but I'm determined to get everything put together by Thanksgiving.  Then, the Christmas boxes come out.
I had a few days last week of just walking around the house in circles, picking up stuff and moving it around, not getting much accomplished.  But, I'm happy to say that most of the boxes are now unpacked, although that means things look worse instead of better, since all that "stuff" is now sitting around the house, in every spare space.  So, I'm working on it, slowly but surely and it's going to come together.
I'm still having to use the power tools, putting up blinds and rods and towel holders and lots of that stuff.  I'll be really happy to get to just the decorating part.  That's the part I love the most!  One thing I did get done last week is getting up the shades on my 3 bedroom windows.
Thanks again to Payless Décor here in Atlanta for sponsoring my bamboo blinds. These are from the Premium collection, called Tibet, and I absolutely  love them.  I chose Tibet for my bedroom and living room, so I'll be showing you lots more of my bamboo shades along the way.  When I get my panels installed, it will look even better.  These are lined and give plenty of privacy and they also block light really well.  I can open them all the way up in the daytime for maximum  light.  Payless is affordable and I love the liners on these custom shades.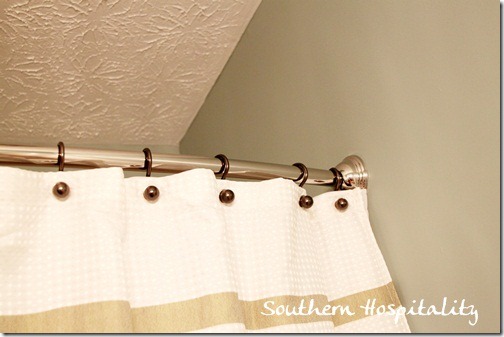 In my tiny master bathroom, I also installed a curved shower bar from Moen.  I've loved working with Moen as well and they sent me faucets and these curved shower bars for both bathrooms.  Grateful, I am!   Please don't think I take any of this for granted. I'm grateful for every perk I have gotten on this house.
If you've never used a curved shower bar, I can't tell you how great they are.  This is my first time using one and it really truly makes a huge difference in how big it makes a regular tub feel.  The curved bar keeps the shower liner outside the tub at the top and really gives more of a spacious feel.  The curtain doesn't move at all where I've had regular rods and curtains and the liner tries to stick to you.  Not with this one.  I'm definitely pleased with this feature. I've got a mix of metals in here, with chrome knobs on the tub and satin nickel on the sink faucet, mixed with oil rubbed bronze towel bars, hooks and cabinet knobs.
Getting a tiny bathroom organized is one of  my top priorities.  This bathroom is very small and I need all the help I can get to keep it neat and tidy.  I've used these Dispenser systems in all 3 houses I have lived in and love them!  This one is called Ulti-Mate Dispenser, with 3 containers to hold shampoo, conditioner, and shower gel.  It comes with peel off stickers so you can choose whatever words you want to put on here to mark the containers.
I found this one on Wayfair.com. They are a company I'm working with and they sent this one to me for free and I absolutely love it. It keeps my small shower tidy and free from all those bottles and this one even has a spot to hang my scrubby and razor.  Now there's nothing sitting around the tub collecting dirt.  I also hung up my 24" towel bar inside my shower. That's about the only spot I have to hang it and it works out fine in here.  Doesn't get wet at all.  I'll be sharing my towel bars with you later.
This Dispenser brand has been a fave of mine for over 20 years and I have had them in all 3 of my showers over the years.  When I moved, I left them behind, since they stick up with heavy duty tape and adhesive.  Love, love my Dispenser!  Thanks to Wayfair for sending this one my way.  Got this installed too, so you can see I have made a little progress.
I did manage to get the mirror installed on my antique vanity.  These are screwed on and are 3 separate pieces.  Love my vanity and yes, my old-school makeup mirror.  Hello Clairol!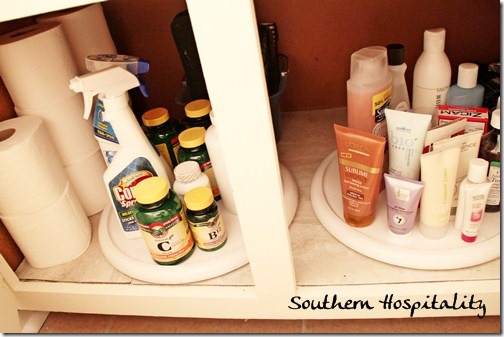 I've also been working underneath my bathroom cabinet on organizing all those toiletries we seem to accumulate.  I had these Lazy Susans from my old kitchen and don't need them in my current one, so I repurposed them under the sink to put my vitamins and other assorted toiletries for easy reach.  I think this method will work out pretty well.  I'm so bad about accumulating hair products and then using half of them and deciding I don't like them anymore.  All of that takes up a lot of space, so I've pared it down.
I had a tiered shelf too from my old kitchen and added it on the other side for more hair products and extras that I have on hand.  Hoping to keep this area organized and not messy.  I also added some peel and stick tile under here since it was such a yucky old cabinet.  That did the trick and it's all clean now.  Thanks for the suggestion on that!  Added a few nails for good measure too.
So, back to the guest room.  It's messy and full of all my beautiful accessories.  I know that I'm not going to have room for all of my "stuff" and I'm quite sure a yardsale is in my future.  I know some of you were feeling so bad for me when I left Birmingham and sold so many of my things.  As you can see, no need to feel sorry for me.  I have way more than I need to fill this house up.  It will be hard to decide what to keep and what to part with.
One by one, all of my pretties came out of their boxes and wrapping paper.
Treasured goodies and pretty things.  So many of these things came from yardsales over the years and I still love them.
Some of my urns and greenery.
The living room hasn't come far either, as you can see.  More clutter to deal with.  I had to get it all out to see what I have to work with, then I'll get busy deciding what goes where.
I sent out my Ikat fabric to a local fabric store who does drapery panels.  Fringe Benefits on Canton Hwy. in Marietta, makes pinched pleat panels for $55 each (plus lining), so instead of trying to do these, I sent them out to be sewed.  They are so pretty and I can't wait to get them up in my living room.  That's one thing off my plate!
I threw some of my white dishes and a bunny or 2 together in my corner cabinet.
I've got a fun tablescape challenge coming up this week, so will be working on the dining room later on.
Did you spot these beauties on the sideboard?  Thanks to working with Kirklands (link to my lamps there)  in a couple of promotions, I had giftcards to spend and found these in the store at $55 each.  As soon as I saw them, I immediately knew they would be perfect on my dining room sideboard, pulling in the gray of the walls, and the golden color on my chairs.  They are sitting on a blond wood base, which adds more texture and different wood tone to the space.  I am going to have so much fun in this tiny dining room, setting the table and making it pretty.  Since I don't have an eat in kitchen anymore, this table will be used every day.   My old black breakfast set will eventually end up on my screened porch.
The den has lots more stuff out too and we are going to work on the rest of those ceiling tiles this week.  Dad has had a week off, but he'll be back over this week and we'll finish up a few more little things like this ceiling.
I need an intervention!  So many plates and glassware and the problem is….I love it all!
How to decide what to keep and what to pass on?
I will be very happy to see it all find a place and get this house together.
My black chairs will eventually end up on my porch, so I will have to keep those somewhere until that happens.
I'm trying to get my office together and will be working on it more this week.  I found the shades that were packed away for this chandelier. That chandy is a $5 thriftstore find, by the way, from when I was in Birmingham.  I love my thrifty finds!
Most of the kitchen is unpacked and has found a place in the cabinets.  Still haven't styled it all yet, but I'll get there.  I'm trying to not clutter up my countertops too much.
One thing I did buy was some grits and I've been enjoying those a few mornings a week, with my coffee.  It was nice to get out my pottery coffee cup and use it again. One bummer thing that happened is that my new Ikea microwave decided to stop working, so it's got to come down and go back to Ikea.  Not fun, but it's got to be done. I do miss my microwave too!
So, that's the week.  Still not a lot of pretty to look at yet, but I know in 2 more weeks, I'll be a lot further along.  I really want to be finished by Thanksgiving week, then I can relax a bit for the Holidays.  I may not even finish up my touch up painting before Christmas, but if I don't, I'm not going to stress about it.  It will get done when it gets done!
Don't Miss a Post, join my list!