We are rocking along on the house.  I'm down to the last big room to be painted and that is the den.  Yowza, at the brown wood paneling in that space.  I have never been a fan of wood paneling and vowed if I ever inherited a house that had it, it would be painted in no time flat.  That time has come and I tackled it last week.  This paneling is actually made of real wood (thin for sure), but I don't have a problem covering it up.  Bye-bye 1970's!
If you have wood-paneled walls and want a lighter look, don't hesitate to paint them!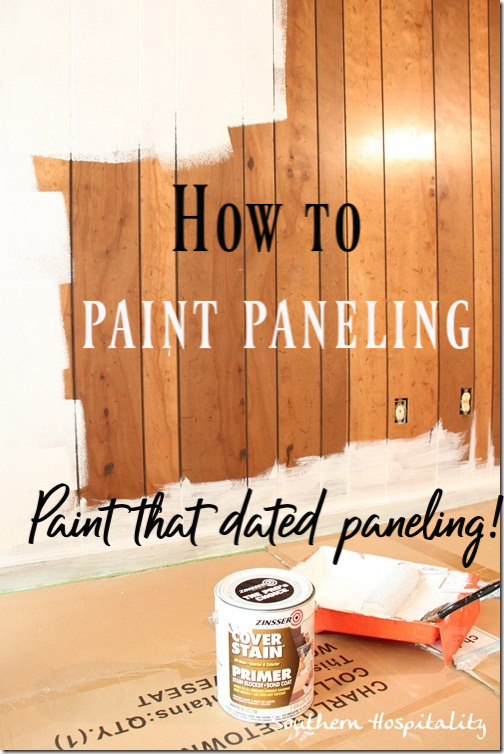 Use drop cloths to keep paint off your floors. A thicker roller helps get paint into the panel grooves. I used an oil based primer on my paneling. It will definitely not chip off with this primer, but you can also use shellac as well. Open windows to keep the fumes down. Use rubber gloves to keep paint off your hands.If you want to be extra careful, use painter's tape to mask off trim and baseboards. Keep a damp cloth handy to wipe up any spills.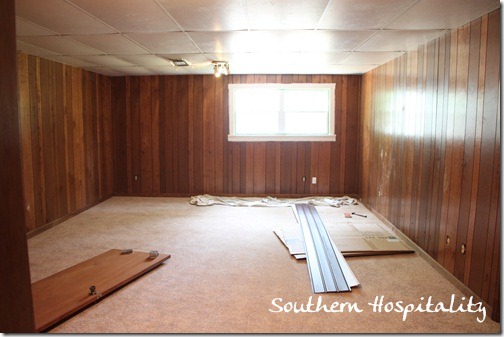 In its brown glory, the befores.  I'm still debating on what to do with that ceiling.  It's a drop ceiling, not my fave, but underneath is ugly ductwork and pipes and so I can't just take down the ceiling.  I'm sure those tiles are original, cause they are very saggy and stained and even the vents are duct-taped in the top, which will have to go.
I've painted over some of the stains to make them less noticeable, but eventually I'd like to just replace them all with fresh new tiles.  That seems to be my best bet on this one, but I will probably live with them for awhile and then change them out.  I haven't even priced them out, so I need to take one down and haul it with me to Lowes to see what they have that will fit this grid.
UPDATE:  I may have found a great solution, just need some $$ to do it.  Saw this website, Ceilume,  on another blog (Dixie Delights) that I featured in one of my Feature Fridays and they used a drop ceiling in their basement.  They have a nice selection of 2×4′ tiles which is the size I need and look at these:
This is one of their best sellers (and most economical) and these break it up into 12×12 squares which would pop right into my ceiling.  Love this look  and that could completely update my ceiling.  All I need is about $600 to replace with these.   This will definitely be on my list of things to do!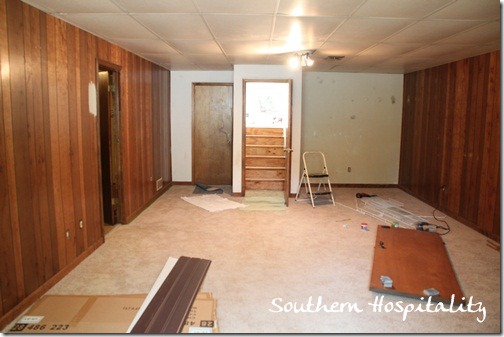 So, back to the walls.  I know painting the paneling will lighten this space up so much and I've been dying to get it all primed and painted.  That door sitting on the floor will get painted black and it will replace the open door there going up the stairs.  That one has a hole in it and the door on the floor came from closing up the door going into the kitchen from the living room.  Got that change-out?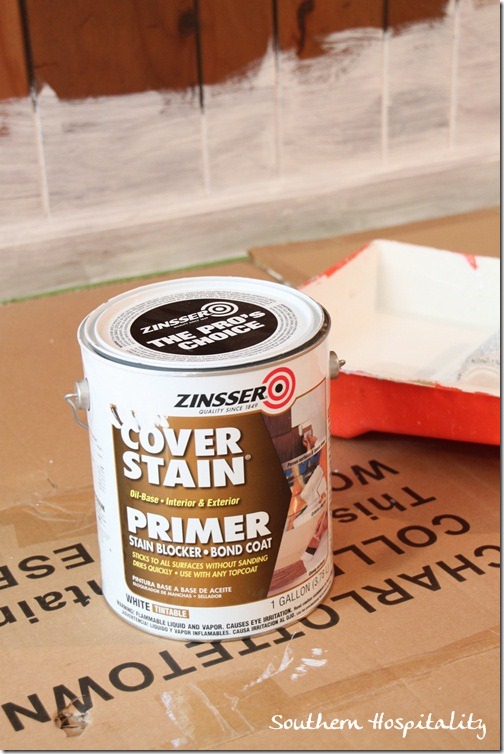 Once again, Zinsser cover stain oil base primer came to the rescue (big thanks to the Rust-Oleum folks for sending me so much primer for my project).  I'm currently on gallon 6 of primer, this house needed a ton of white to cover up the ugly.  It's an oil based primer and will work great for covering this paneling and preparing it for latex paint.  I rolled it on with a thick roller and a paintbrush for the cutting in. The thicker roller helped get into those grooves. Be sure to wipe down your paneling before starting to paint.
I don't think there's a need to use grit sandpaper before painting, since using a good stain-blocking primer takes care of that.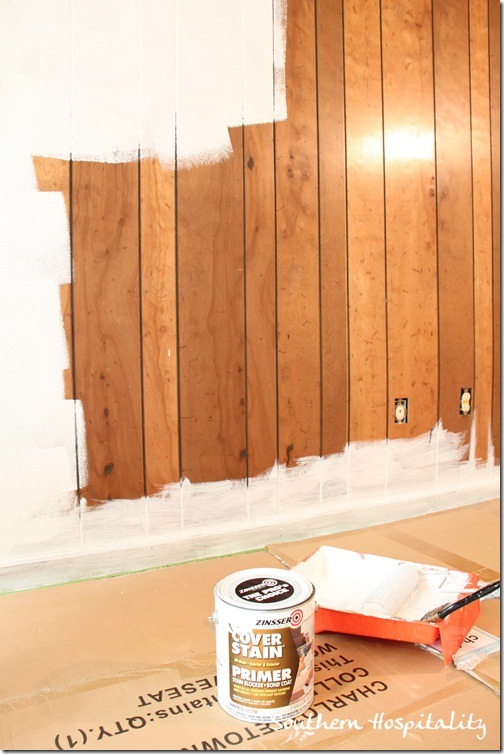 It takes some muscle to move the roller around and get it all into the grooves, but for the most part that roller worked great.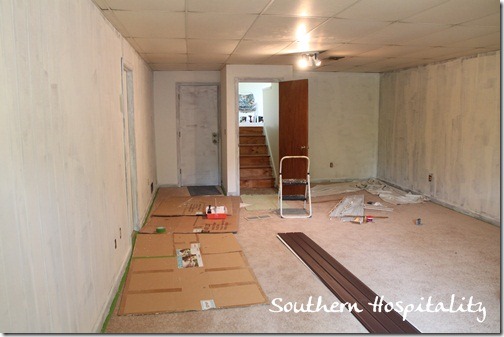 All primed and ready for the real paint color, which is Comfort Gray by Sherwin Williams.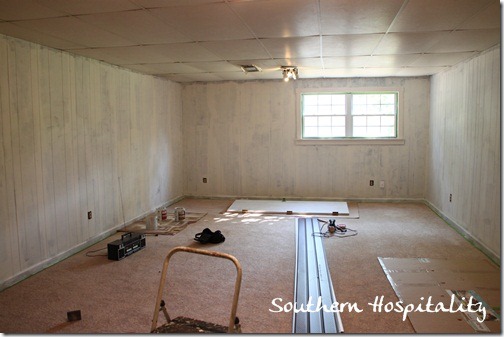 From the stairs and door looking down the room.  All primed, yay!  I'd love to add another window to this room eventually on the left wall.  A nice big double window would be nice, since this room is not below ground, it's level with the ground and another window could easily be cut into the wall.  On my list!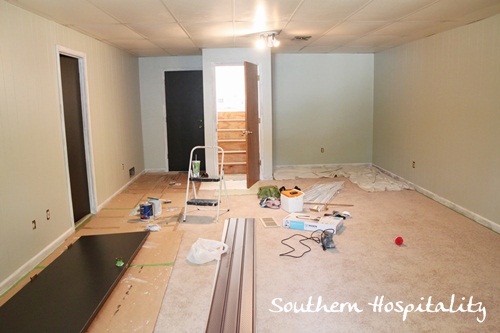 After two coats of Comfort Gray, we have a room really starting to look like a room I could live in.It's amazing what a new coat of paint can do for a room!
I love this soft blue/gray and it will look great with my existing den furniture.  I wanted this space to be light and airy too and this color should do the trick, especially after I change out the overhead light fixtures.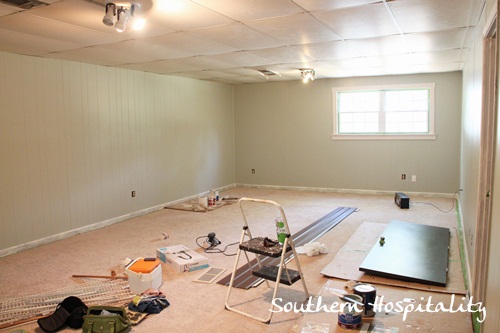 I am not sure what I'll put up there, but something besides what is there now. Those are UGLY!   You can see I've already got two coats of my Dark Brown door paint on there too.  It's so hard to photograph carpet that is beige. This carpet is not pink-toned at all, but comes across in these pics that way. It's a nice medium beigy tone.
The door to the left of the stairs goes down to the garage.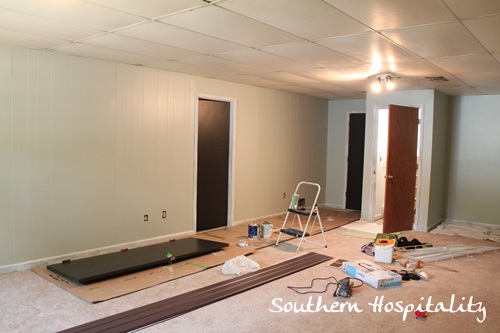 Other side with Comfort Gray.  Looking good!  So, this room is coming along. I still have all the white trim to paint, but I'm getting there.
If you have old-style 70's paneling, by all means paint that stuff!  It is not precious wood at all, so talk your husband into it and you won't be sorry.  Men sometimes have a really hard time painting wood, but this is just a wood facsimile and deserves to be painted.  Go for it!
If you have REAL wood paneling, that's a different story, so you'll have to duke it out with the man at your house.  You know what I'm enjoying so much on this renovation?  I don't have to argue with a man over what I want to do.  Yeah, that's awesome! 🙂
Moving upstairs to the front door, I got out my black paint and got one coat on the inside of the front door.  It's already black on the outside and now will stand out from the inside too.
There is not a really easy way to paint a metal door, but I used the foam roller on the flat parts and brush in the grooves. Hopefully, the 2nd coat will smooth things out.  I did tape up the doorknobs and inside the glass with FrogTape.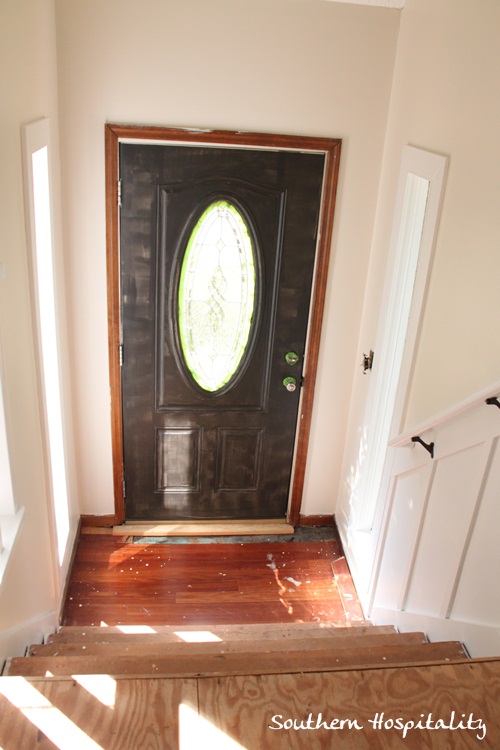 And it's looking better already.  We still have to rip out the old wood down there and repair plywood that is rotted inside the door.  The reason I haven't painted the trim yet is because it's all wonky and weird and has to be worked on.  Whoever put the door in didn't trim it out right and we will have to try to fix things with some additional molding, so I will get to that eventually and get it fixed and painted.  I did get the railing painted and installed again with my newly sprayed hardware on the right.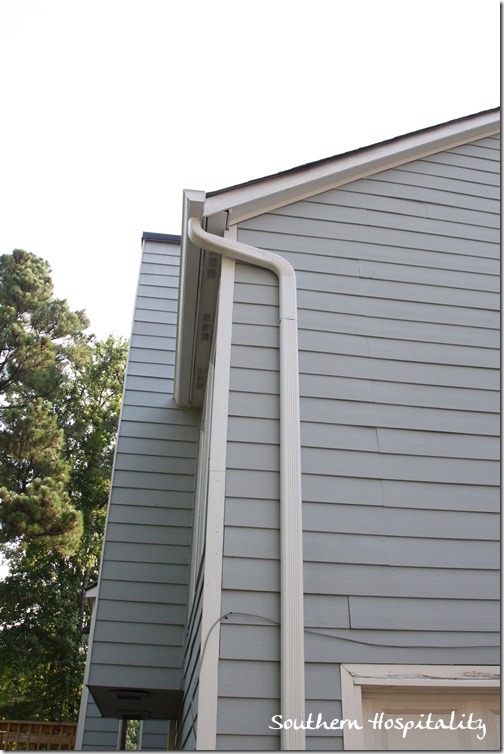 Outside, we got new gutters installed.  That was huge too, since the house had no gutters at all.  We found out from the neighbors that about 2 years ago, the new concrete siding was put on this house, as well as a new roof.  When that was done, apparently, they didn't replace the gutters and it has been gutter-less all this time.  Not anymore!  Yay for the new siding and roof, that is a biggy!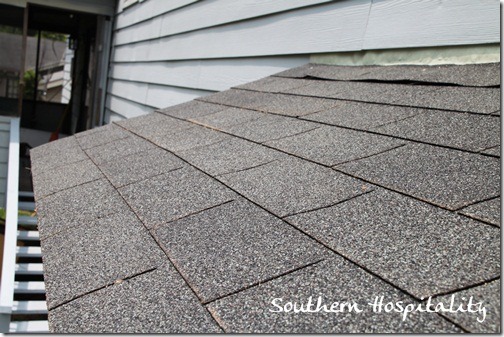 My dad worked on getting some shingles up on the little roof over the backdoor, so that is coming along too.  It will be awhile before he finishes trimming it out completely and I'll wait a bit before painting it all white, but one day it will really be cute.
He added some trim to the ends too and has a little more trimming out to do and then it will be ready to paint.  He's going to put some metal up in the ceiling part and I will paint it out.  Pretty impressive, isn't it, this little roof.  How many almost 85 year old men can still do this?  That Daddy o'mine is amazing!
Back in the kitchen, it is finally time to tear out the last wall of base cabinets that houses the sink.  We left it as long as we could and now it's time to rip it out.
He got off the old faux butcher block backsplash that was oh, so ugly.  Behind that was more filth!  This was such a dirty kitchen, it was unbelievable.  But tearing everything down to the bare walls at least lets me get the walls primed and clean again.
Dad worked hard on getting those nails out that held the cabinets in place and finally we got them all out and in the backyard.
The old cabinets were so rickety and unstable and I'm so happy I didn't try to keep them.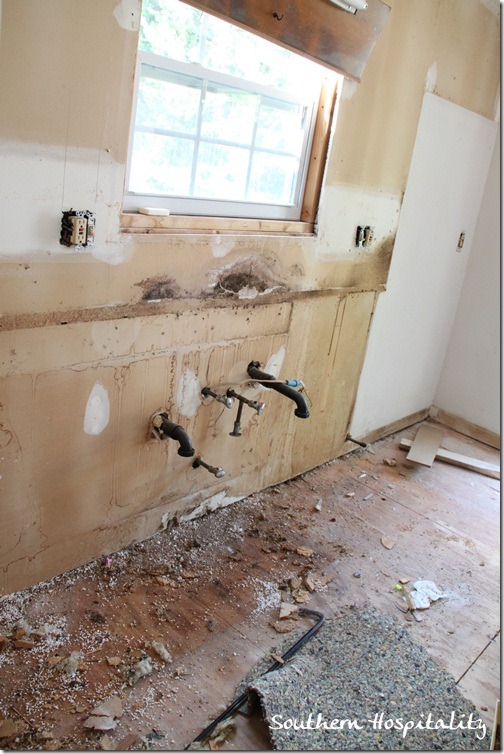 Because look what was behind just this row of cabinets.  YUCK with a capital Y! More roach crap to get out of there.
Disgusting, I know!
So, I brought my primer out and got busy priming all those walls and at least covering up and sealing the filth.
And now at least it looks better and feels better.
Clean and white, I will take that.  Now we have a blank canvas for those new kitchen cabinets from Ikea.  Can't wait to start on that, but first we've got hardwood floors to install.  That's going to be a big job and we are tackling that ourselves.  Bought an angled floor nailer from Floor and Décor and we are ready to start nailing now.  It might take us weeks, but we will get 'er done eventually.
That's it for this week.  Hardwoods arrived on Tuesday and I'll tell you all about those later.
Thanks as always for stopping by and following along on this house renovation journey!  I appreciate all of you out there reading along.
SaveSave
Don't Miss a Post, join my list!