It's been 2 weeks since we closed and work has already begun.  We're spending a few hours a day over at the house several times a week and things are looking a little different already.
It's no secret that I'm part of Lowe's Creative Bloggers team and let me tell you, I'm sure glad of that.  This month's challenge was a before and after project and I had the perfect one in mind.  I got in the fixer-upper house just in time to do this project.  I had already decided that I was going to add tall board and batten in the dining room, so after I explained what it was to my Dad, he was all on board for putting it up.  I took my Lowes giftcard to the store and we picked up all the supplies needed to start this project.  We're not completely finished, but I got one wall completed to show you all how we did it.  Caulking and painting it out will come later.
We picked up 2 sheets of 1/2" MDF, just the perfect material for cutting board and batten.  There are a zillion tutorials out in blogland on how to do this.  This one will be basic and I'll explain how we did it as I move down the pics.  You won't get to see the really pretty "after" yet, but that will come later.  I can't wait to get to the pretty stage, most of what we are doing now is just grunt work.  Hard and dirty work getting ready to paint.
Now, I have to tell you a thing or two about my dad, Al.  He's old school.  Extremely.  If you know an old-school guy, I can assure you, there is no one more old-school than Al.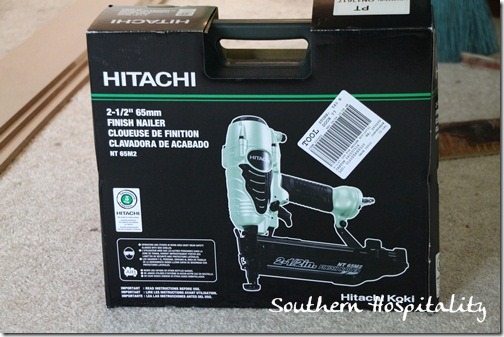 We almost got in a head butting contest over this kick-butt nail gun.  With my Lowes giftcard, I picked up this wonderfully versatile rockin' tool, the Hitachi nailgun.  It's a finishing nail gun and works with a compressor and saves a TON of time.  My dad didn't think we needed one, but I sure did!  So we had discussions over the nail gun.  I won and the nail gun came home with us, courtesy of Lowes.  We were able to buy all of our materials, including paint and the nail gun from Lowes.  Thanks, Lowes!
He is so used to nailing nails and couldn't see that having a nail gun will save us so much time, but it totally will.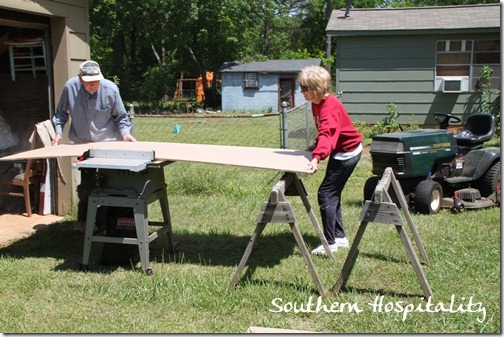 Another thing about my dad.  He's cheap.  It has served him well.  I can be cheap too, but getting MDF cut at the home store would probably been a time saver since they cut on those BIG OLE' saws they have.  But no, we can cut our boards at home and that won't cost a dime. If there is even a hint of having to pay for cuts, nope that won't do.  Out came the table saw and we ripped those boards ourselves.  I helped and we got 'er done! 🙂
We ripped 6" boards and 2" boards for the battens.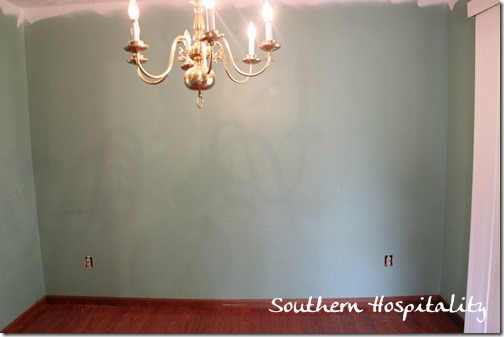 Here's our wall, waiting for a makeover.  I decided that I wanted the board and batten to be tall, so I opted for 65" up the wall.  My ceilings in this house are 8' tall, so that seemed a good height to go.  I also decided that I wanted to do 2 rows of boards and fill in with battens for a nice paneled look.  You'll see!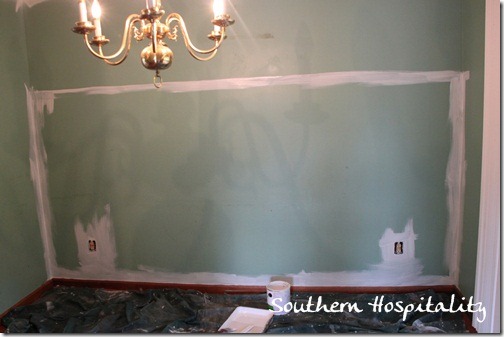 I started by painting out the bottom of the wall (below 65") in white primer.  This will help when I have to paint that wall with all white trim paint.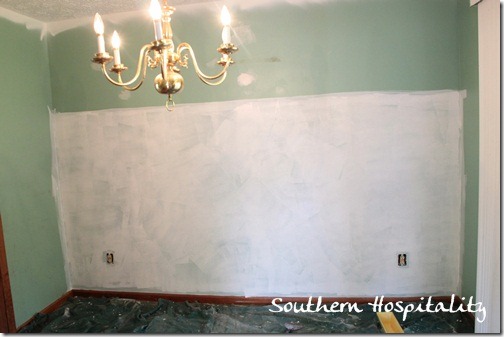 Primer completed.
We brought over my dad's compressor, he does have some great tools, we just need to use them. He's got most of the good ones:  table saw, miter saw, jigsaw, and more.  This one is perfect for the new Hitachi nail gun.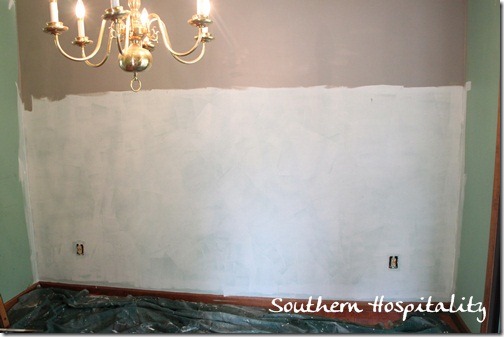 I went ahead and painted above the board and batten a gray color, Rockport Gray mixed in Valspar Paint and Primer in one.  It covered wonderfully!  I think the one quart I bought will cover all the walls I need to paint in here.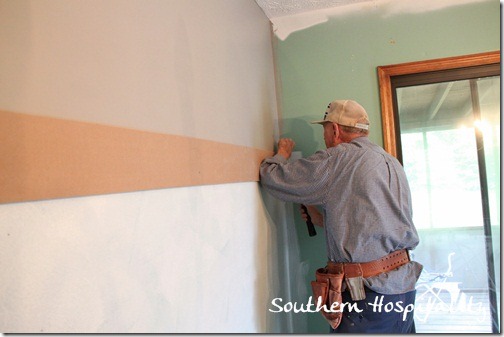 I'm really liking the gray color.  I have some drapery fabric already bought that I'm using in here. It has pretty tones of gray, gold, green, brown and cream and I think will look super with my dining chairs and all this white board and batten.
Wanna see?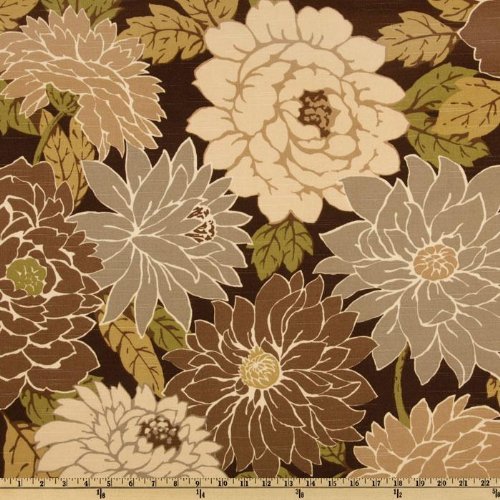 Some of you might remember that I picked up this fabric not too long before I moved from Birmingham back to Atlanta.  I had planned to use it in my old house, but guess what?  It's going in the new one and I couldn't be happier to have a dining room to use it in!
Can you see it coming together with my dining table and chairs?  Yeah, me too!
So, we measured and leveled our 6" boards, nailing them into the wall studs.  Another thing about my dad.  He's completely obsessed with nailing boards in studs.  He overkills every piece of wood that gets nailed up.  It HAS. TO. BE. IN.A. STUD in my dad's carpentry book.  SO, we found the studs.  Sometimes I have to give in to his wishes and let him do it his way. Not always, I can assure you.  There will be much head-butting getting this house done.  We have gone through it before, it is nothing new for daughter and dad to see things 2 different ways.  I see pretty, he sees strong and not going to go anywhere.
I totally think you can do both!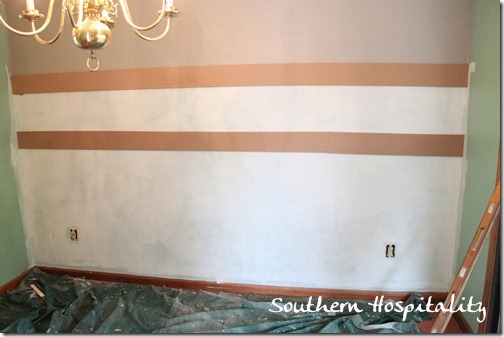 Back to the board and batten, I placed the 2nd board 12" down below the first row and now we are ready for the 2" battens to be installed.
We mitered the ends so that they would butt up against the baseboards and then I got the nailgun out and really had a ball.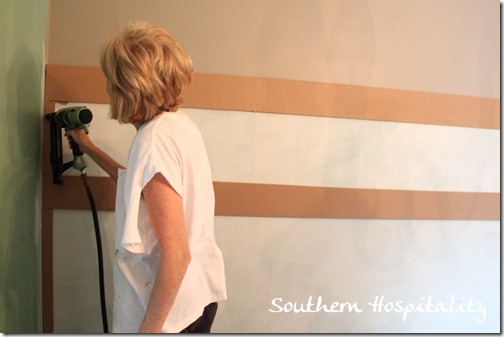 This thing totally ROCKS my world!  I'm going to be in love with my new nail gun.  I popped nails in all those battens and loved it.  The best thing, no countersinking. The gun does it for you!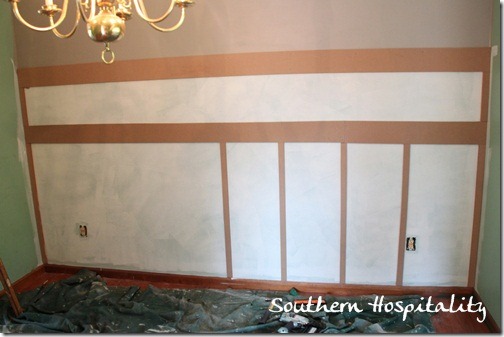 We added battens in the corners and will wrap them to the next wall too.  That next one from the right over to the left, we had to move it over a bit further than the others to jump the wall outlet.  I read a lot of tutorials and most everyone said to do that.  Jump the outlets and avoid them and you'll never really notice the different spacing once it is all painted out.  We spaced about 14 inches apart.  Don't hold us to that, we fudged a bit here and there.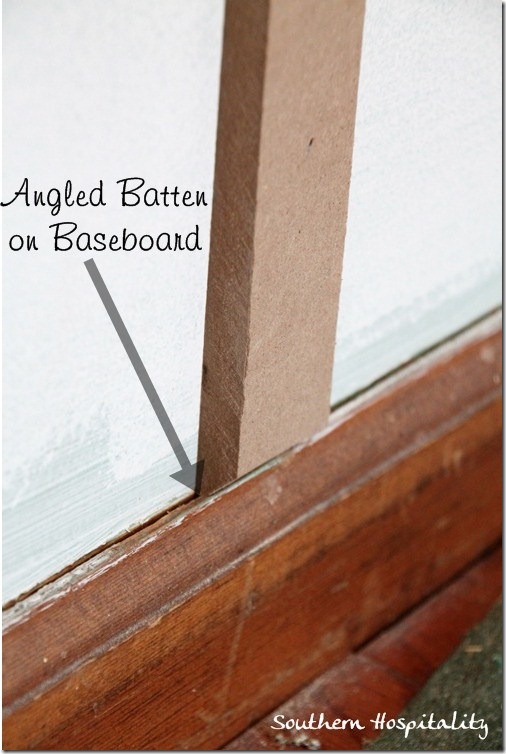 Here's that angled bottom piece, cut on a 45° angle on the miter saw.  See how it rests on the existing baseboard and just makes it look better than keeping it straight across the bottom.  I love this little touch.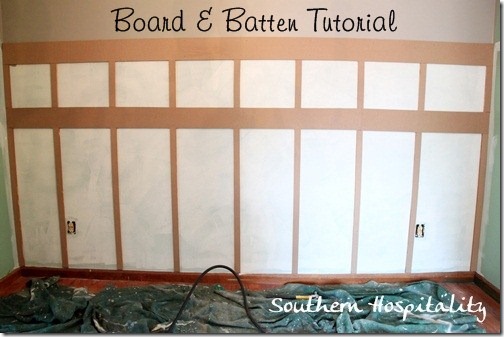 So, one by one we added those battens.  A few of the top boards didn't get nailed in the studs, so we used Liquid Nails on the back (just a bit) as well as nails in the bottom part which did hit a stud to secure them all.  They won't be going anywhere.  We used a level horizontally on the battens to keep them straight as we nailed.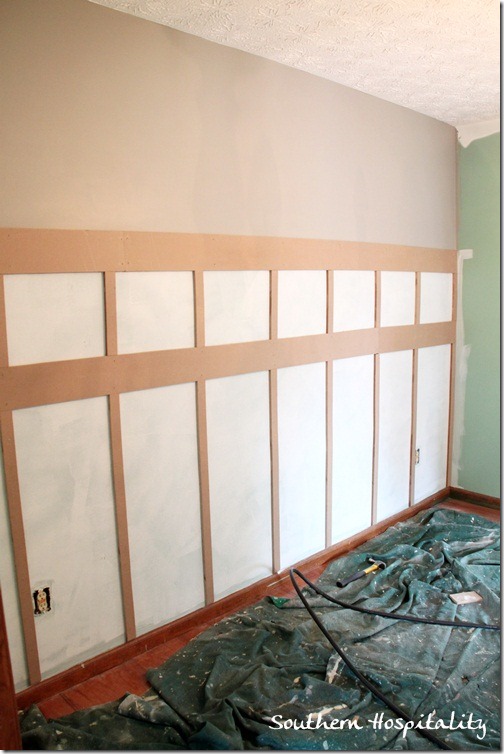 It looks awesome to me!  I'm so excited to get just this little start to pretty going on.  We'll continue around the room and finish this up and I'll go ahead and paint above and this space will be on it's way to being transformed.  I'm planning to add more board and batten in the little foyer and going up the stairs.  It just adds SO much architectural interest to an otherwise plain space, don't you think?
Of course, the real fun will be when I caulk and paint it all trim white in Semi-Gloss.  It will be gorgeous!  It might be awhile before I get to that part, but you'll be the first to see it all done.
UPDATE:  Here's the AFTER, with new floors installed.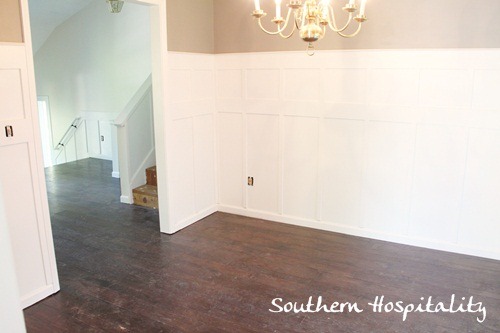 And my dad is really proud of what we did. He mentioned how great it looks several times!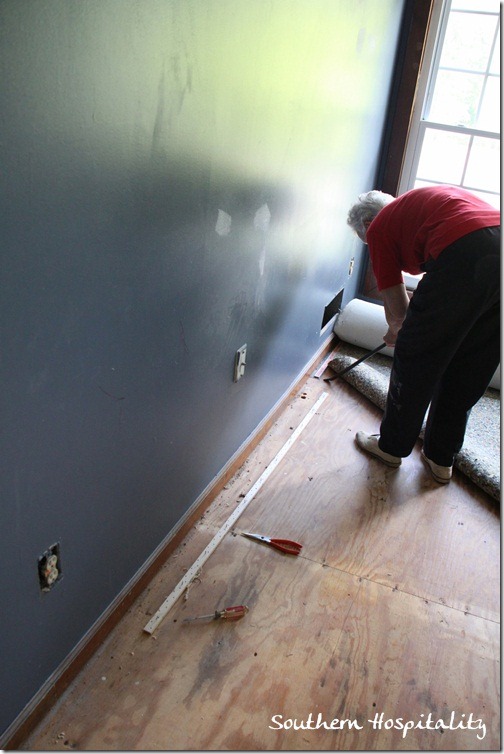 Here's a little more progress for you.  My sweet and tireless mama worked at getting up some of the tack strips from the carpet that we are ripping out while me and Dad worked on the board and batten.  She is amazing.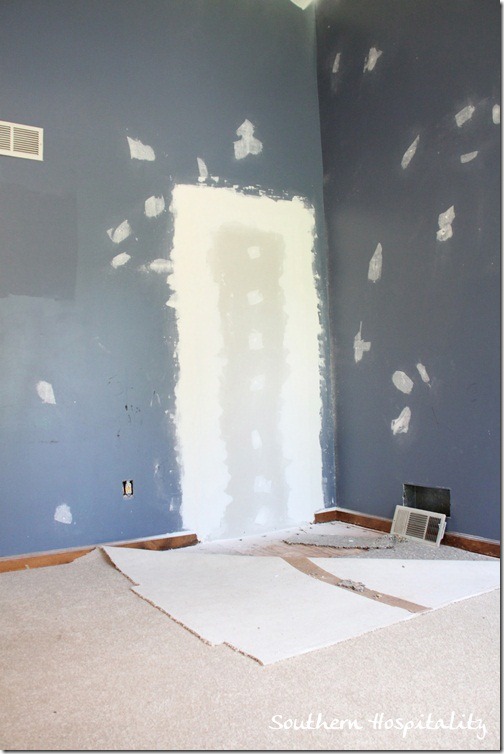 Dad walled up the doorway going into the kitchen and this wall from the living room can now have furniture on it if I need to do that.  It will make all the difference in the kitchen space and adding more cabinets on that wall that is not a door anymore.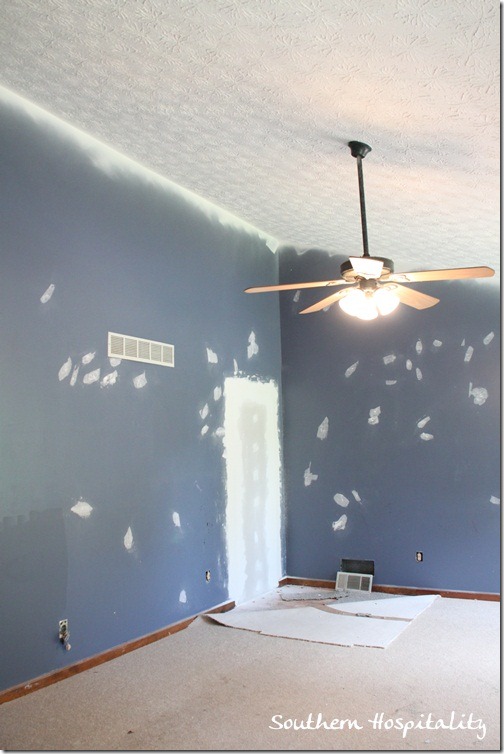 Oh! And the ceilings all got a nice coat of spray paint last week, thanks to a family friend retired painter who we hired just for that reason.
Long view to the door that is now GONE. Can't wait to paint those walls, that alone is going to make such a huge difference.  After we paint the trim and walls, our next project tackled will be new floors in this living room.  As of now, I do believe we are going to buy a floor nailer and put down unfinished oak flooring, then hire a refinisher to do the sanding, staining, and finishing of the floors.  That will save us some money, even though it will be a lot of work. We can take our time and get it done.
Mom and I have finally stripped all the wallpaper off the walls.  That was a happy day too.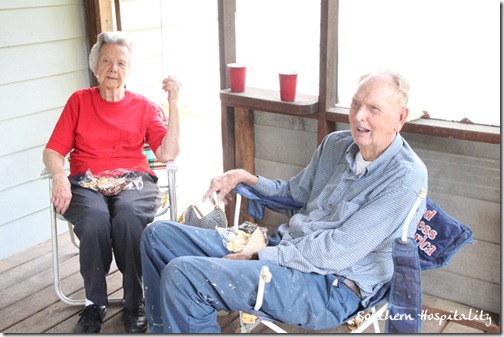 These 2 people are the loves of my life.  They are such hard workers and I couldn't do this without them.  We've had many picnics on the porch already during our renovation days at the house.
And that's pretty sweet!
Disclosure:  I received a giftcard to buy supplies from Lowes for this project.
Don't Miss a Post, join my list!