This post shares how I packed for our 16 day cruise to Hawaii and Alaska using a rolling bag (each), carry on bags and 1 large checked bag for 2 people.
I don't claim to be the best packer, but I have gone on many trips, domestic and internationally and I've gotten better about not trying to pack so much (sort of). When you see the shoes I'm taking on this trip, you may disagree, but they are for the most part easy to pack and don't take up much room. I managed to get all the Hawaii clothes into my rolling bag and carry on and for the Alaska clothes we are sharing one large suitcase between us, so we are good to go. We hope all bags make it with us to the ship on time, fingers crossed!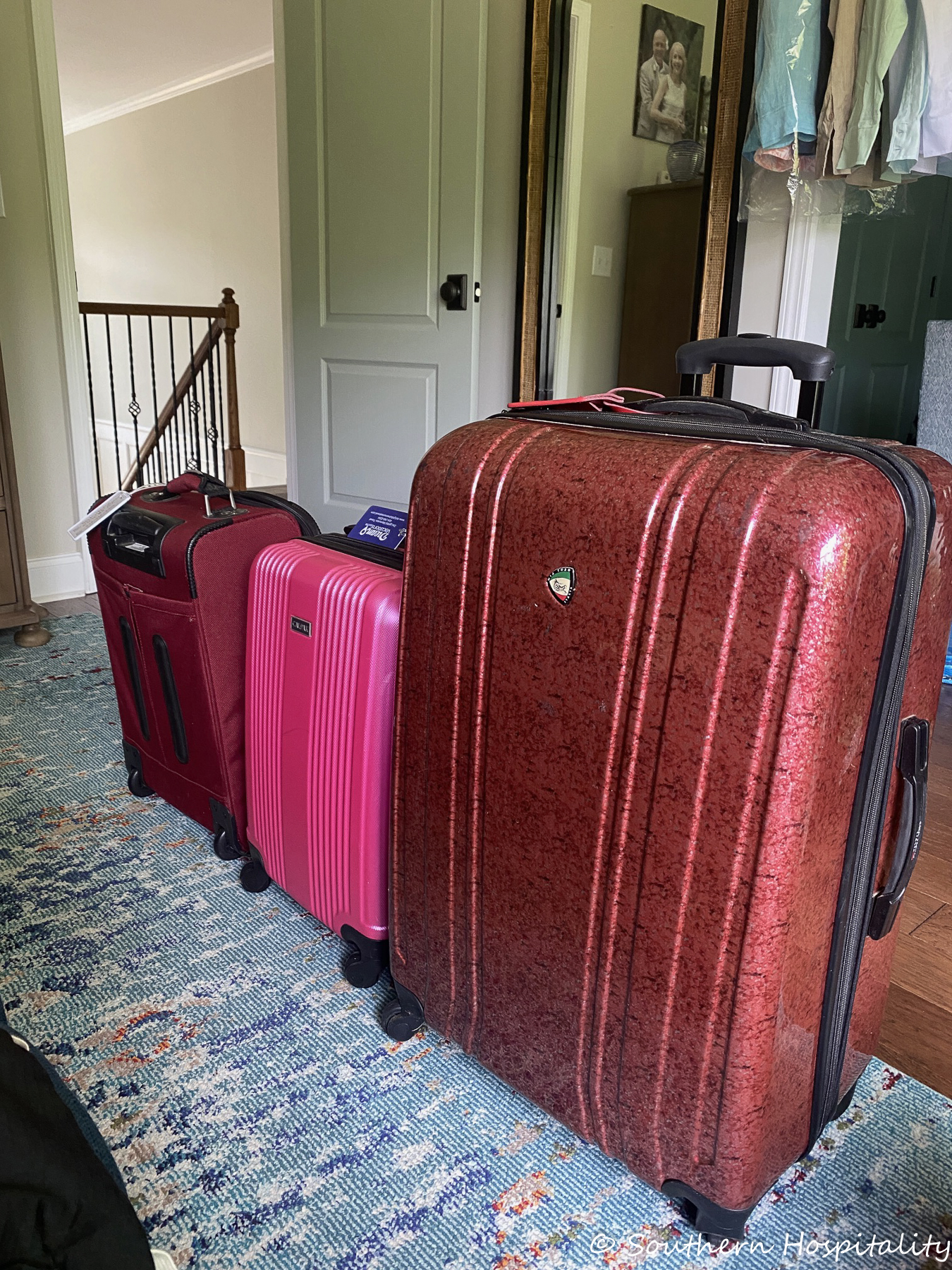 Here are all the bags we are taking. The small red one is Mark's, the pink one is mine and the large pink one we will share. I like having bags that aren't black, since so many people have black bags. I like bags that don't look like everyone else's bags.
Mark bought this nifty carry on leather bag on Amazon (affiliate link). It's got lots of compartments and will be perfect for under the seat.
Ready to fill those bags! I started getting out all the things I wanted to take and began rolling them and putting them in my packing cubes. I couldn't put all in packing cubes, but I did put all my underwear (yes I took more than enough for every day) into one packing cube, along with  my bras and pajamas. As I went through everything and figured out what would fit and what would not fit, the determined what made the cut or didn't. I actually got everything I wanted to take in the bags, thank goodness. I should have plenty of things to mix up on the trip and wear some things over again, like jeans and shorts. I have never packed for a 16 day trip before so this is new to me!
I am taking my large canvas tote back as my carry on bag and will put my small purse in here as well as lots of things, like my toiletry back, makeup and jewelry, along with books and my laptop. I don't plan to spend much time online, but it's nice to have a slim Mac with me.
I managed to pack all these shoes in my bags. I had a few on Instagram stories tell me I should put 1/2 of them back, but I say take them if you can fit them! I will probably wear them all, plus the sandals don't take up much room. Notice I'm not taking any fancy heels, just one pair of black slides with a small heel. I will need some full shoes for Alaska dinners so the leopard loafers will work for that. I'm bringing several dresses and the sandals will be good with those especially in Hawaii. Thinking about 2 different climates is a bit of a challenge!
I tried to bring warmer jackets for Alaska, so a rain jacket with hood and this thick fleece jacket will be the main things that I'll use to keep warm in Alaska. I don't have a puffer jacket, but I suppose if I get too cold, I can grab one in Alaska at a store. I'm bringing thick leggings and will wear my tennis shoes and socks on the Alaska excursions. Also bringing a few sweaters to keep warm.
I have packed 5 pairs of pants: 2 jeans, 1 black jean, 1 white jean and a dressier white pair of pants for dinner.
Four pairs of shorts for Hawaii.
Several athletic pants and leggings to mix up and wear along the way. These are great for travel days too.
Two bathing suit coverups.
Two lightweight jackets to wear with leggings.
6 dresses that I will wear to dinner during the cruise. Some in Hawaii and some for Alaska with jackets. I may end up wearing my leopard tennis shoes with some of these if it's cold.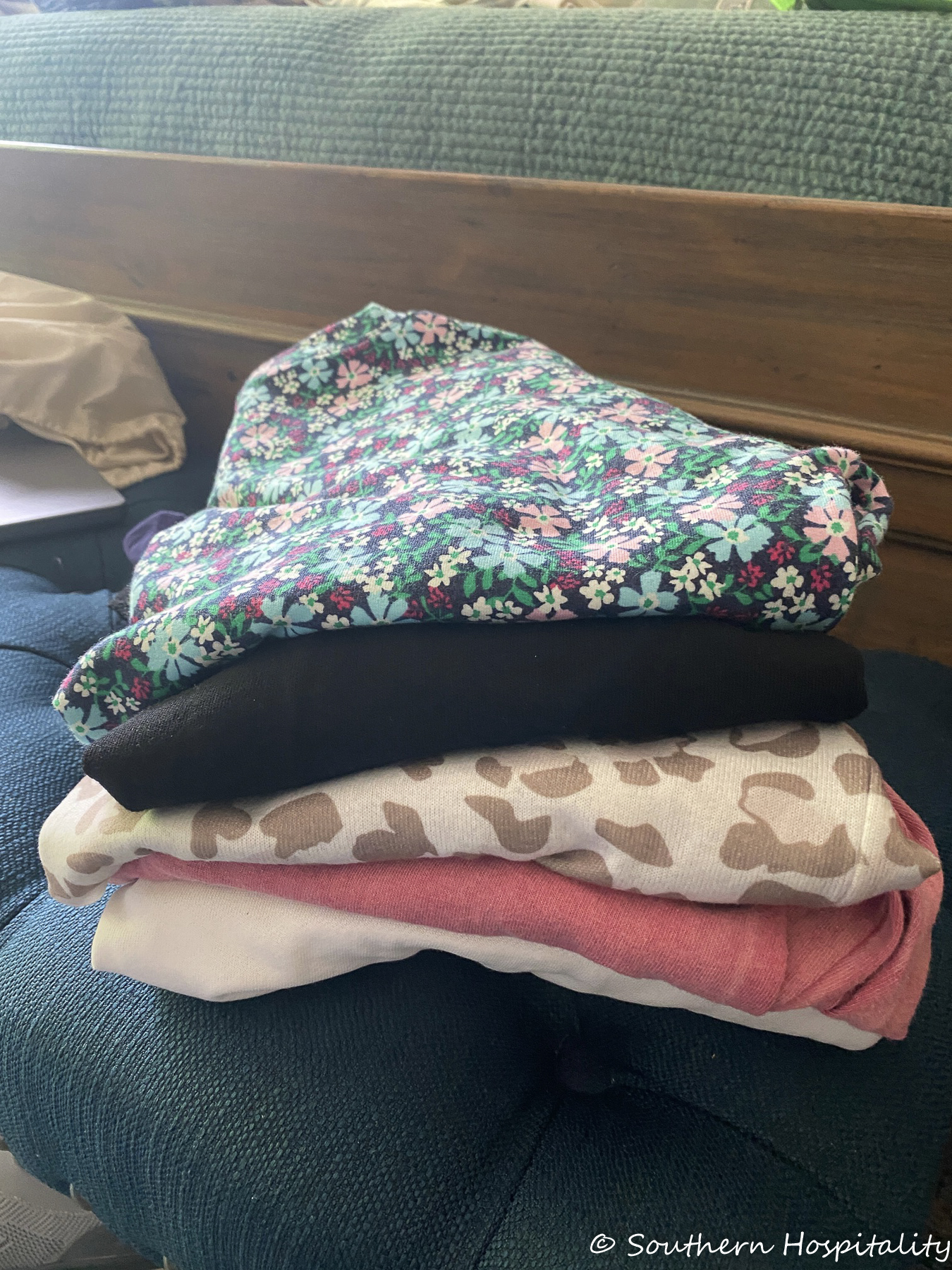 5 thicker long sleeve tops to layer in Alaska.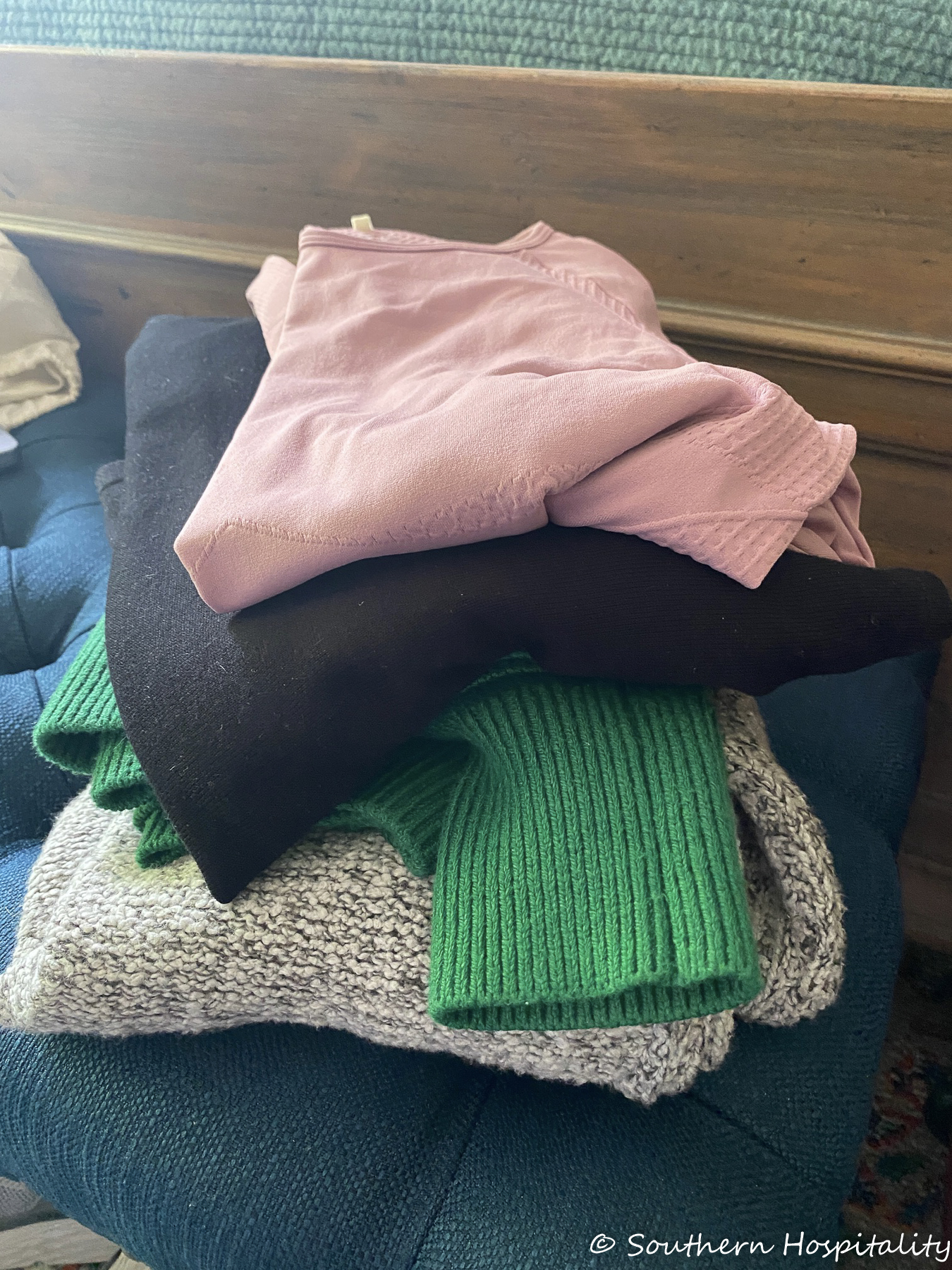 4 long sleeve sweaters for layering.
3 bathing suits with bottoms that can mix.
The packing cube with undies, bras and my pajamas all together. Here's a nice set of packing cubes (affiliate link) that comes in a lot of colors. They do come in handy for grouping like items and squeezing lots of things in.
I packed several tops and bathing suit covers in one cube.
Affiliate links used below. 
I did buy this flat pair of water shoes for Hawaii. We heard that's a good idea for walking around on the rocks. They are really cute and come in a lot of colors and patterns.
Various sleeveless, short sleeve and long sleeve t-shirts I took to mix up.
I got all of them in one cube.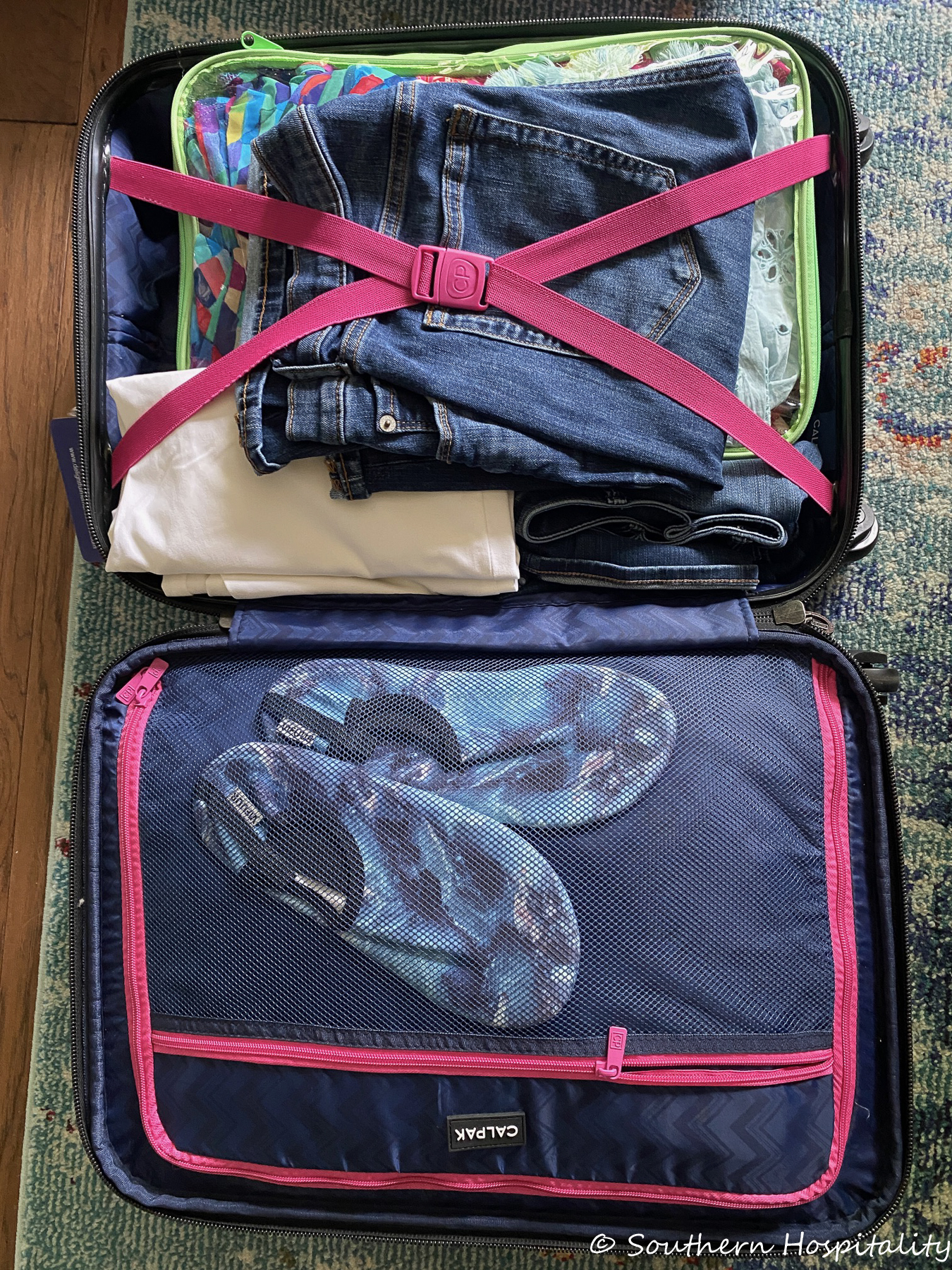 Here's my small carry on suitcase all packed. I put most of the shoes under the flap on the mesh side along with some clothes on top. Big cube on the other side with lots of things tucked and rolled around. This one is maxxed out and I unzipped the extra zipper for an extra couple inches of room. Thankfully it zips!
In the large suitcase, I got most of the Akaska clothes with a few spill over things for Hawaii. I've got my travel outfit ready to go.
I'm taking this little cross body purse that will hold my cards, money, sunglasses and phone. I wanted something small and compact.
I think this is from Chico's and one they sent me awhile ago.
We are using a local travel agent that was recommended by a friend, Dream Vacations and they have been great to work with. Tell Barbara I sent you if you call her. They sent this handy carry bag for passports and paper items so I'll tuck it in my carry on bag.
Mark ordered several spiffy new linen shirts to take on vacation along with some linen pants. He loves linen and so do I. These will be great for Hawaii and he will have them for summer when we return from our trip. Love the colors and patterns. He bought several at really good prices on Amazon, so I'll link them below if you're interested. I'm sure we can have access to an iron on the ship, so I'll be pressing some linen I'm sure!
We are on our way and cannot wait to experience this trip of a lifetime! Of course, I'll share it all when we return. I'll be sharing stories on Instagram as I can if you follow me there.
Mark's linen linked below:
Striped linen shirt (not pictured here)
Linen pants (he got almost every color of the linen pants)
Palm print linen shirts (he got 3 of these)
Long sleeve linen Henley shirt (he got several colors in this one too)
These will be really nice for summer and the cruise. He loves lightweight linen for summer even though it does wrinkle!
Don't Miss a Post, join my list!