I've got a fun post to share with you today. Do you love going in people's homes and seeing their houses up close and personal? Today I'm joining a group of gals and we are all sharing how our homes flow. Sometimes it's hard to tell how a house that you see from pictures only flows from room to room, so I'm sharing how our house flows on the lower level.
Our home is not huge, but at 2600 s.f. plenty spacious enough for us. We have so enjoyed our home with all the windows and light coming in and feel that this is the house that was meant for us to buy almost 3 years ago.
We replaced the front door last year to this beautiful wood door from Knockety and have enjoyed it so much.
Our long and narrow foyer brings people right into our family room at the end of this hallway. But off the open hallway and staircase are two rooms that are highlighted as you come in our home.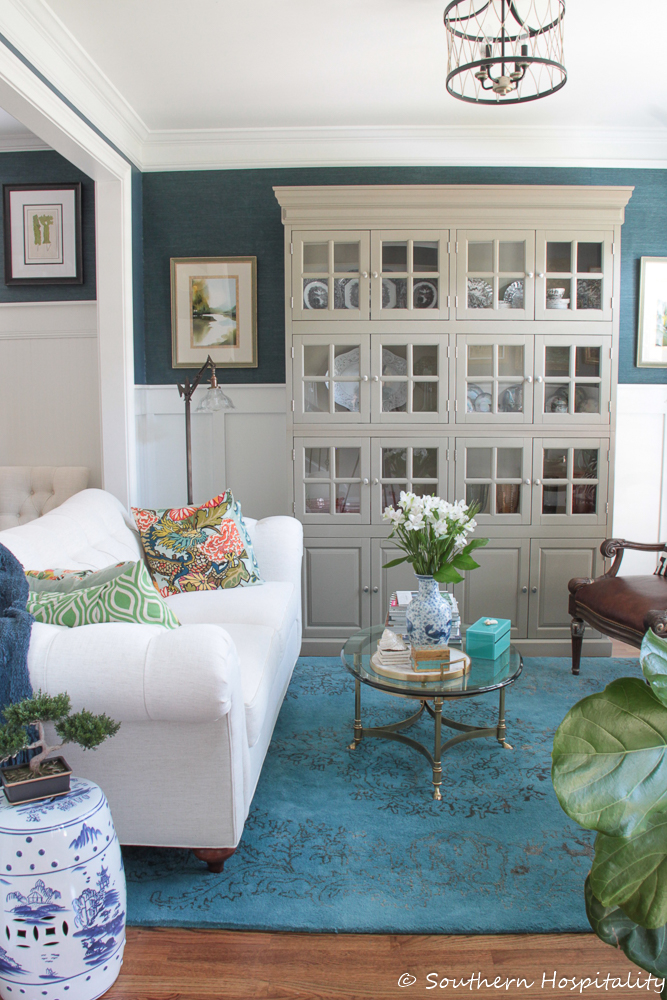 Directly to the right is the living room space. It's not big, but it packs a pretty punch in blue and white.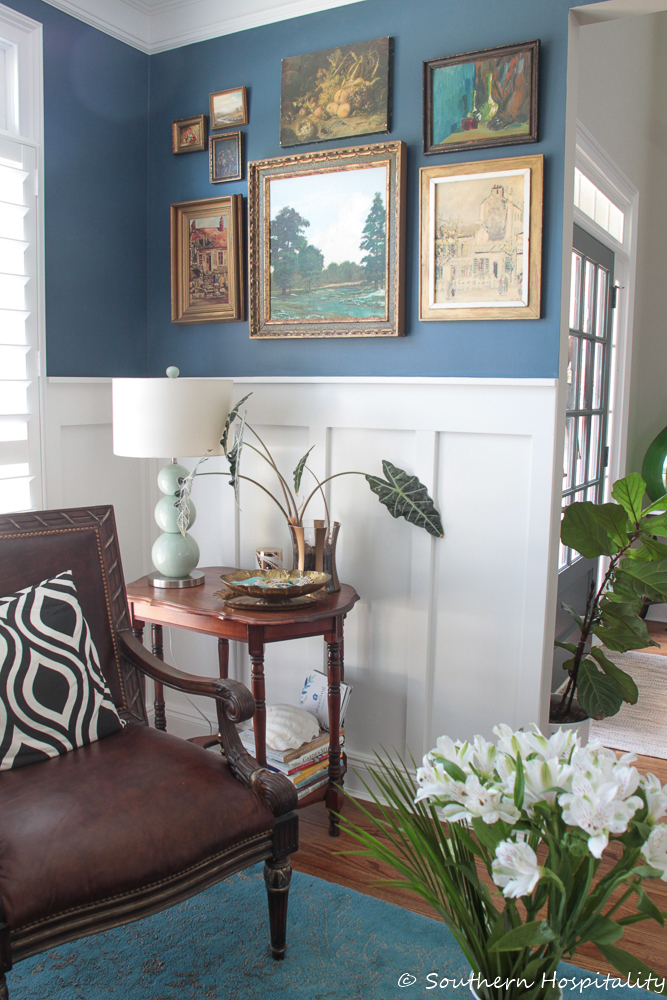 I enjoyed adding my furniture that I've had for a long time in here and cozying up this space.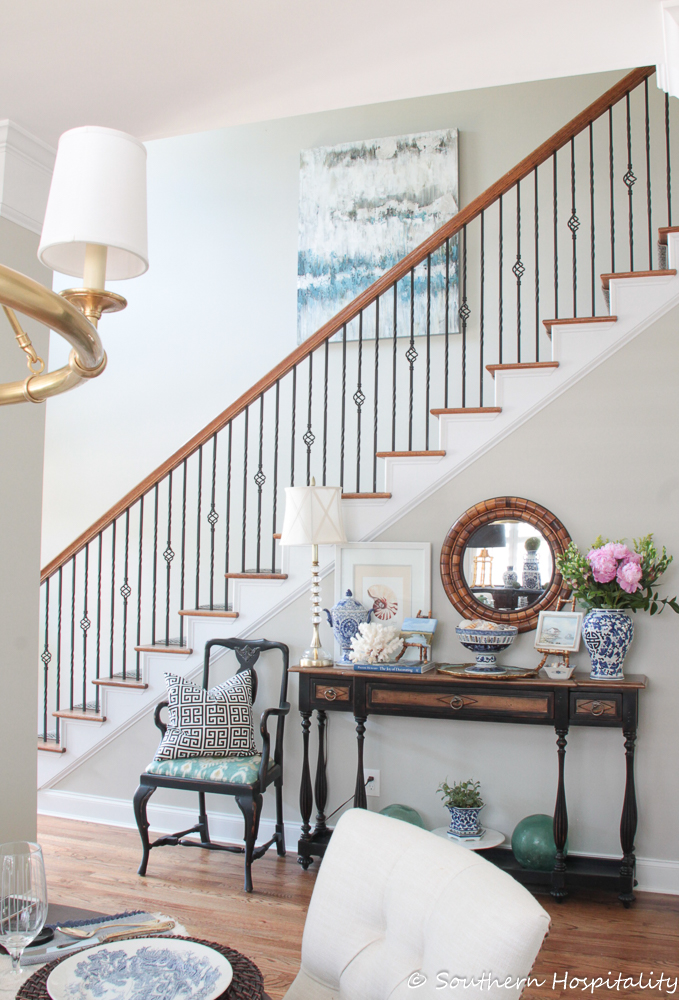 Here's a shot of the long and narrow foyer where I have a foyer table that changes with the seasons.
And a look at the staircase to the left, the long foyer in the middle and the next space that adjoins the living room is the dining room.
We enjoy this space too even though we don't eat in here all the time. It's a pretty space an I enjoy decorating it for the seasons.
With an open concept, it flows right back to the living room.
And right next to the dining room is our compact kitchen. It's square in shape and I had to get used to a smaller kitchen, but now that I'm used to it, it's very efficient and I can move around in here easily.
Countertops surround the kitchen and it's a little hidden away from the family room next door, but allows me to interact with that space.
A little sitting area adjoins with the door leading to our outside deck.
I made this space pretty with my antique French buffet and open rustic shelving.
Here's a good look at how the kitchen flows with the sitting area and family room.
The family room has a huge bank of windows which lets in lots of light. We love that part!
With a cozy fireplace, this is a great place to enjoy and watch TV.
It's not huge, but plenty big enough for us. Through that little doorway above is our guest suite.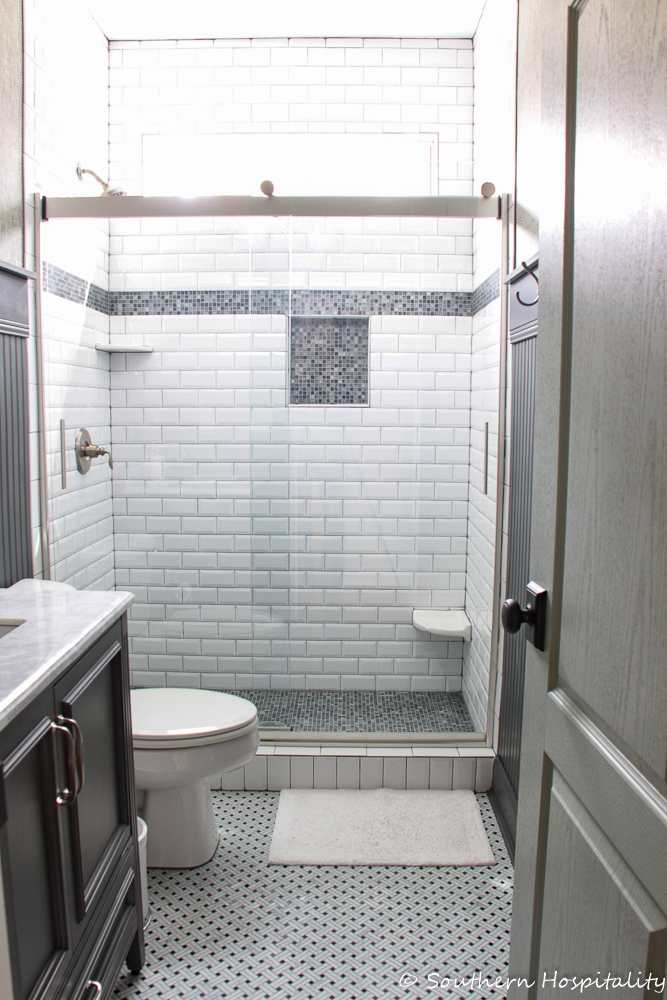 Complete with its own bathroom which we renovated 2 years ago.
We love how this space turned out.
The guest room is tucked away in this corner of the first level and if we have guests they have their own private bathroom.
That's it for the first floor and I hope you enjoyed the tour! Please stop by the rest of my friends and see their homes too. It's a fun way for you to find new blogs and homes to tour!
MONDAY'S TOURS
Town and Country Living / Finding Silver Pennies / Worthing Court
TUESDAY'S TOURS
WEDNESDAY'S TOUR
THURSDAY'S TOUR
Southern Hospitality / Making It in the Mountains
Don't Miss a Post, join my list!