This post shares how to install a brick wallpaper accent wall in a master bedroom (or anywhere you want some architectural interest.) Adding an accent wall on the headboard wall really energizes a space and makes it feel completely different.This project comes in at less than $300.
We have been mulling over our master bedroom ever since we moved in here 5 years ago. We've done so many projects in our builder's beige house and once we got it set up, we haven't done much else to it. I painted the walls the same color as our main color in the house, Gatherings by Magnolia Home. I did get the bedding assembled and changed out the Euro shams for bigger ones along the way, but we knew we wanted to add something on the headboard wall.
This is how the bedroom has looked for most of our 5 years here. Nothing wrong with it, but it was missing a wow factor.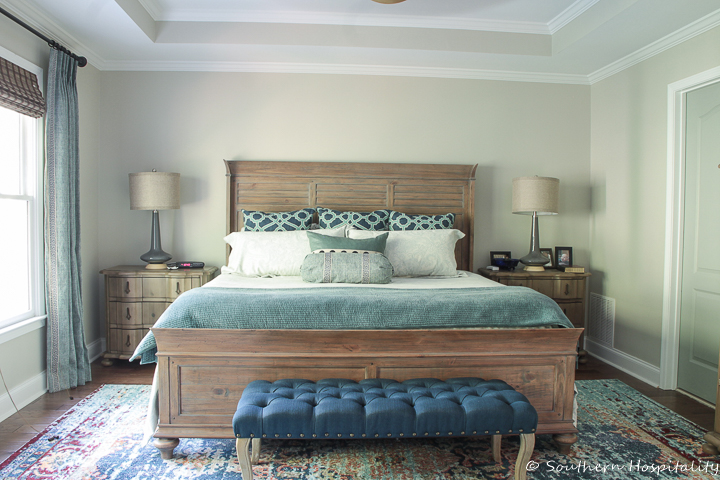 We talked about doing another box molding treatment here and painting it a color. But since we did the picture frame molding in the sitting room, we really didn't want to repeat it. We also looked at real brick pavers which would be messy, time consuming and expensive. We figured it would cost over $1500 to do this wall, plus the mess it would make didn't thrill us. So Mark started doing some research on brick wallpaper and found this very realistic version from Woodchip & Magnolia out of England. This pattern is called Wayoh and we loved the color of it. He ordered two versions, one with gray grout and one with white and the white one won us over. This project isn't sponsored, but we definitely recommend the paper.
We taped it up for a few months and decided to tackle it and Mark ordered the paper and we've had it sitting for awhile waiting to get to this one. Well, it's Christmas so why not jump into a project the week before Christmas?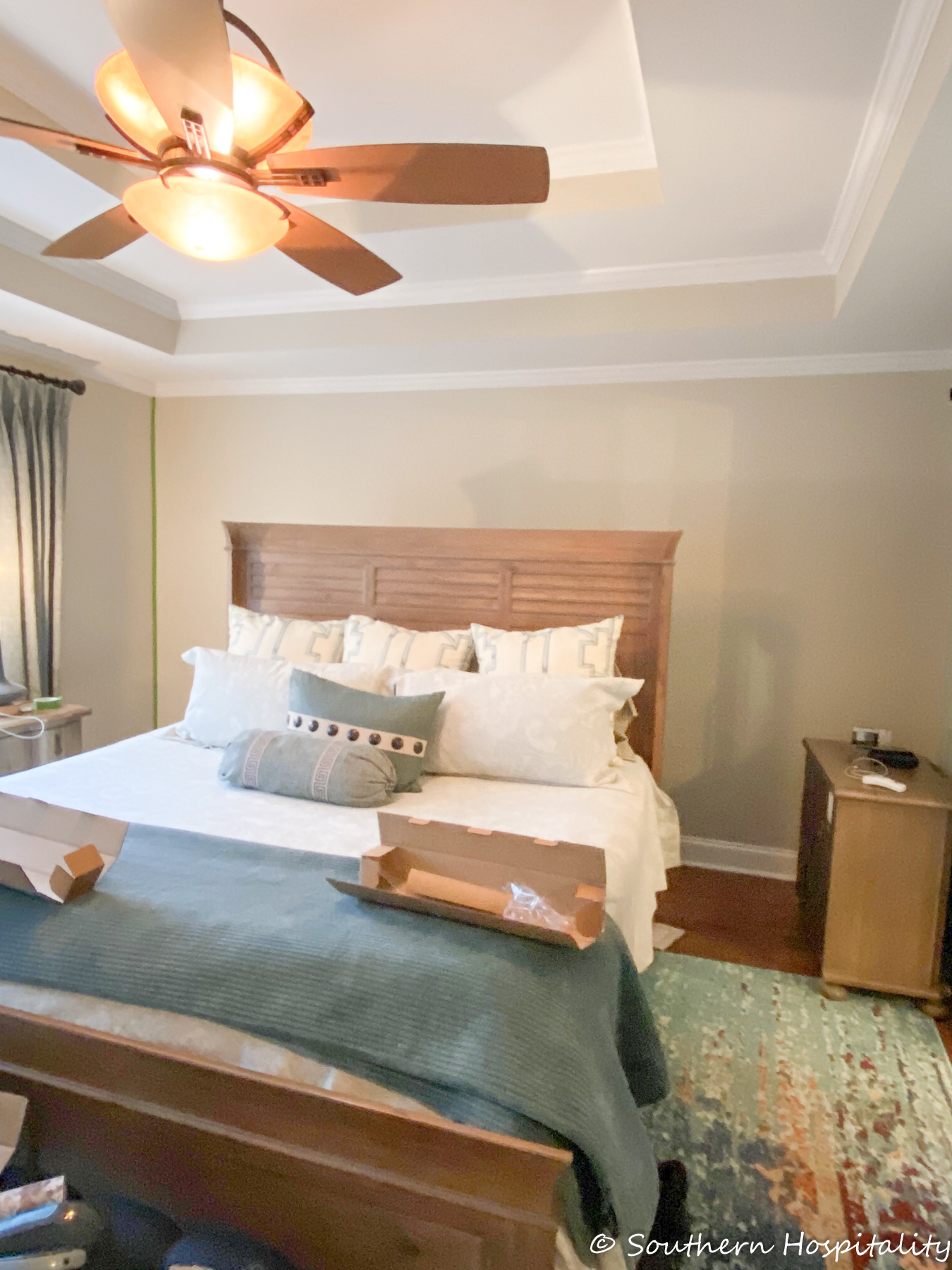 We pulled the bed out enough that we could get a step ladder behind it and first cleaned out the dust bunnies that had moved in behind the bed and nightstands.
On a side note, how does that happen and why is it SO bad back there? It's just awful so one perk was it all got cleaned up. We pulled the nightstands out so we could get behind the bed. I took the lead on this project since I've done wallpaper a few times and Mark assisted me. It definitely helps to have 2 people on a project like this.
Tools Needed to Wallpaper:
A square
Level – we made sure the first piece was level as we started so that we didn't have issues later on. Sometimes corners aren't completely plumb, but ours was pretty good.
Pencil
Scissors
Cutting tool
Wallpaper smoothing tool (pictured below)
Small roller for rolling on the paste
Small paintbrush to get along edges for the paste
Small bucket of water with sponge
Paste the wall – Wallpaper paste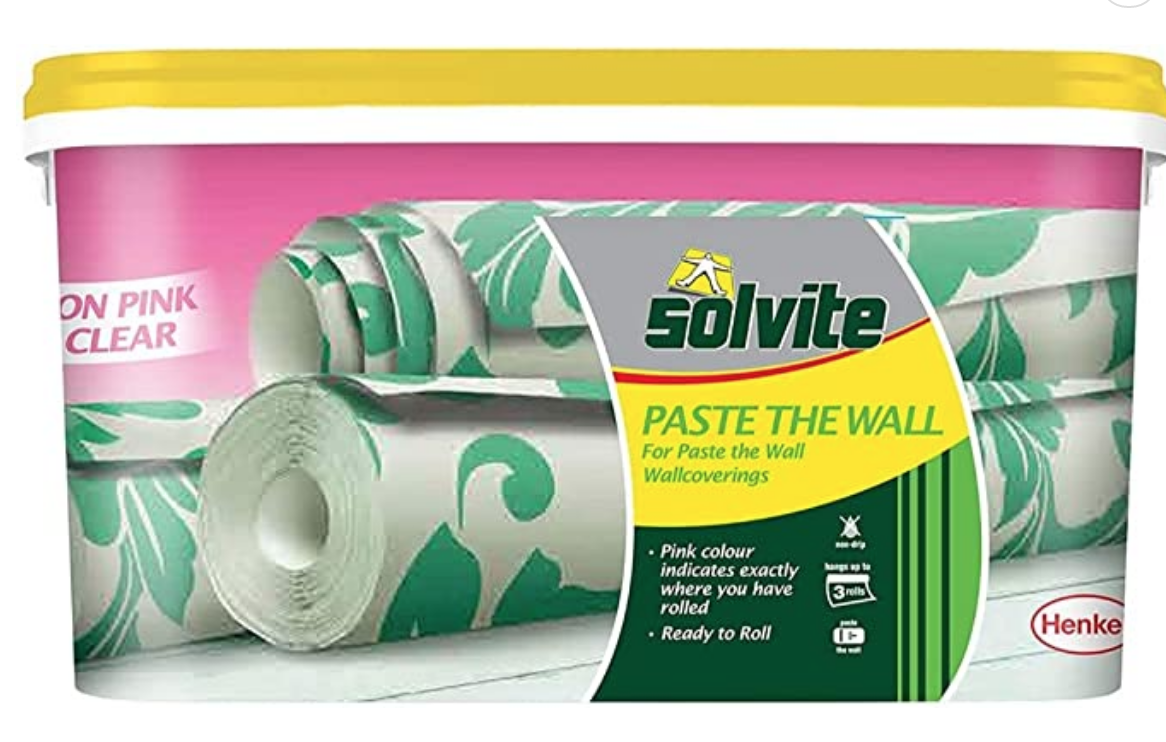 This is the Solvite paste the wall wallpaper paste (affiliate link) we got. It worked great. It has a gel like consistency and went on the walls nicely. I used a small foam roller and a small paintbrush to make sure it stayed where I wanted it to go.
I'm not sure what this tool is called (it says paint shield on the tag), but it works great for putting up wallpaper. I used it to smooth the bubbles out of the wallpaper and also to cut along the top and bottom for a clean edge next to the crown molding and baseboards.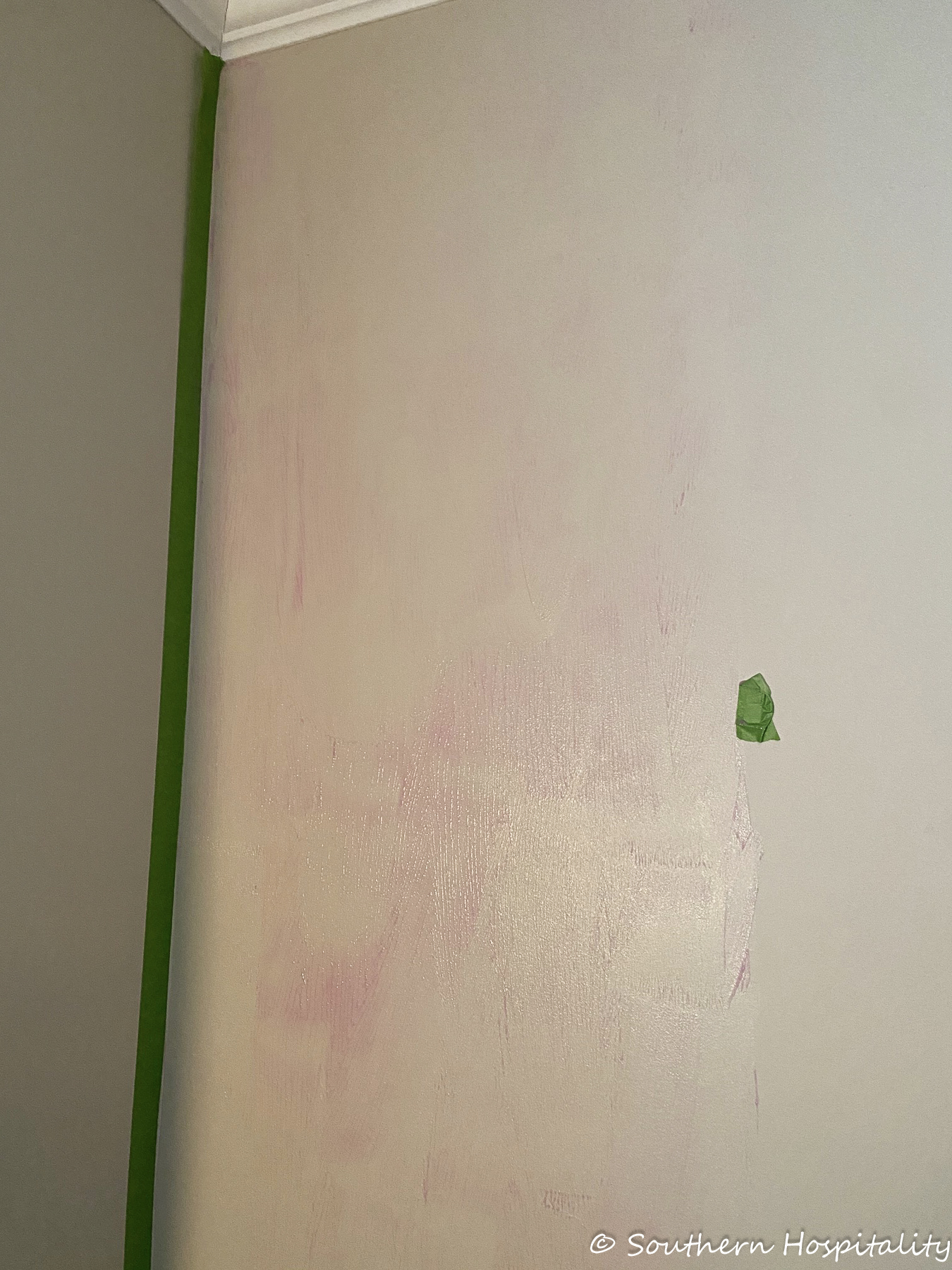 We taped off the wall adjacent to where we were starting, but you don't really have to do that. Some glue is going to get on the walls and you will use a damp sponge to get it off. This particular wallpaper is paste the wall wallpaper. I had never used it before, but it was surprisingly easy and not that messy at all. This paper was so nice to work with, it's heavy duty and I never felt like it was going to tear on me. It was easy to line up the pattern and keep moving. We did this project in 4 hours in just one day. It went way faster than I anticipated. This is after I rolled on the paste for the first piece to go up. I could have gone a little heavier here. You don't want it dripping, but you want to make sure the wall is covered completely with plenty of sticking power. It's pink and dries clear.
You can see I have a step ladder and a water bucket with sponge. That's the smoothing tool I'm holding. I started in this corner and measured from the crown to the baseboard to get my measurement on length I would need for the first piece of wallpaper. It was about 90″ so that's how long I cut the first piece. I used the straight edge of the top to adhere the first piece and then after that, you have to find the match point and measure from there for each additional piece. There will be waste on wallpaper and this pattern had about a 2′ waste on the match point. After putting up the first piece, we took the roll and found the match point and then measured down and marked past the top of the baseboard so that there would be an overlap to cut off. You don't want to cut it short. Leave a small amount on the top and bottom so that you can press with that smoothing tool and cut away the excess with a cutting tool.
It's not hard to wallpaper one wall like this, it just takes some time and patience. Don't get in a hurry and you'll be fine if you try this.
This post I did in the laundry room project shows me cutting the excess wallpaper along the ceiling line. It's nice we had crown already in here so it was easy to butt it up to the ceiling.
Mark did a better job than I did on cutting the top, so he cut the top along the crown molding and I cut the bottom piece off. We used a basic box cutting tool and it worked fine.
I laid out the wallpaper in the hallway so I could make the cuts. I cut off most of the extra top piece and then made sure we had at least an inch overlap on the bottom where it meets the baseboard. I used a square to mark my cuts and drew a pencil line, then cut with scissors.
Daisy was a big helper, as you can see.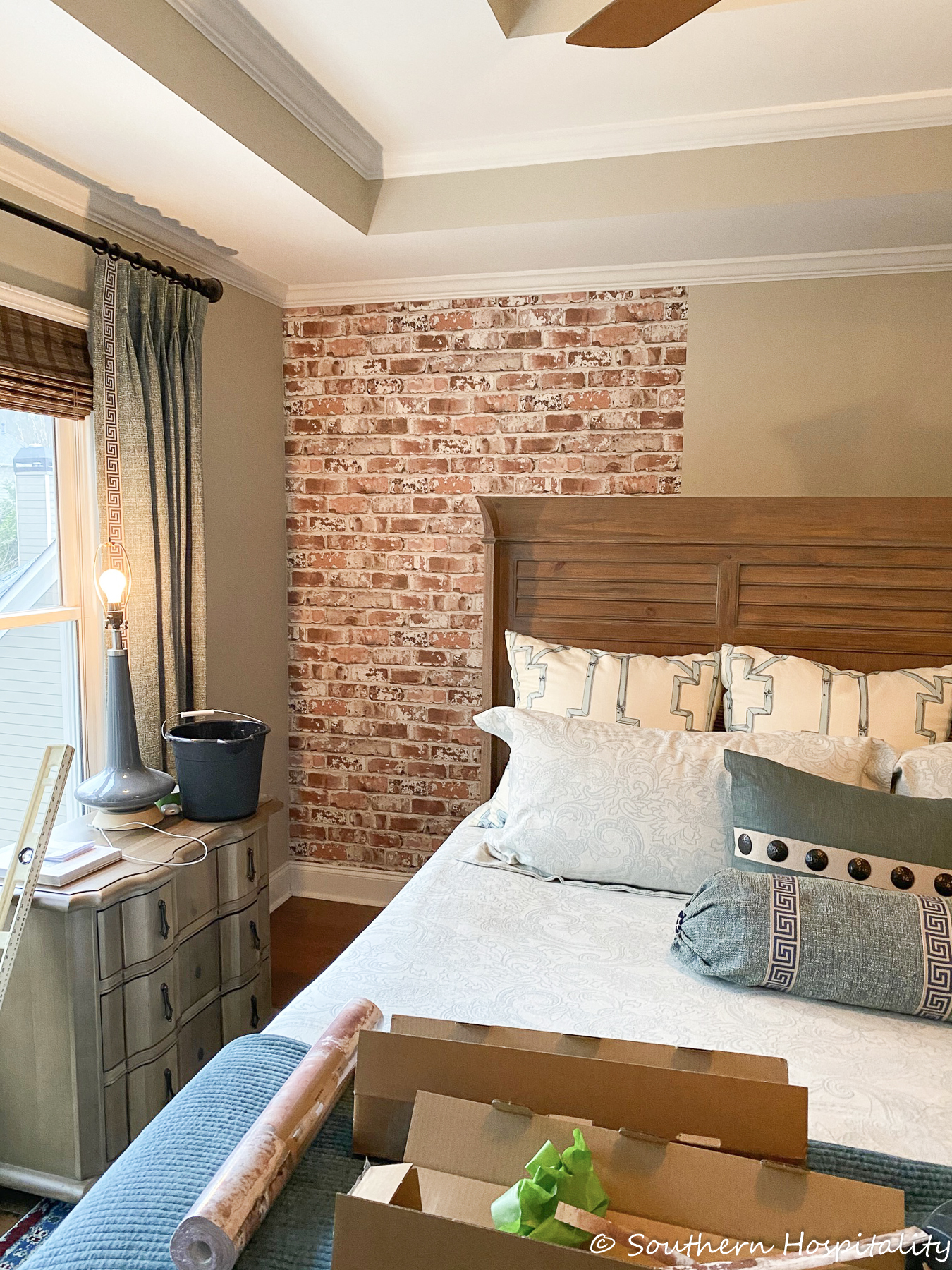 Piece by piece it goes up and you can start to see how it's going to look. We were excited already at this point!
Mama's little helper was right there with us the whole time.
We used 3 rolls, but only used one full strip off the 3rd roll, so be sure to order enough. I had to cut a strip for the final piece on the right to fit in that spot and it all worked out great. The match points really lined up well and you can barely see any lines at all where it all comes together. This paper was amazing!
Here's the finished product when we finished later in the afternoon with the lights on. It was a cloudy day and the lamplight cast such a pretty glow on the paper.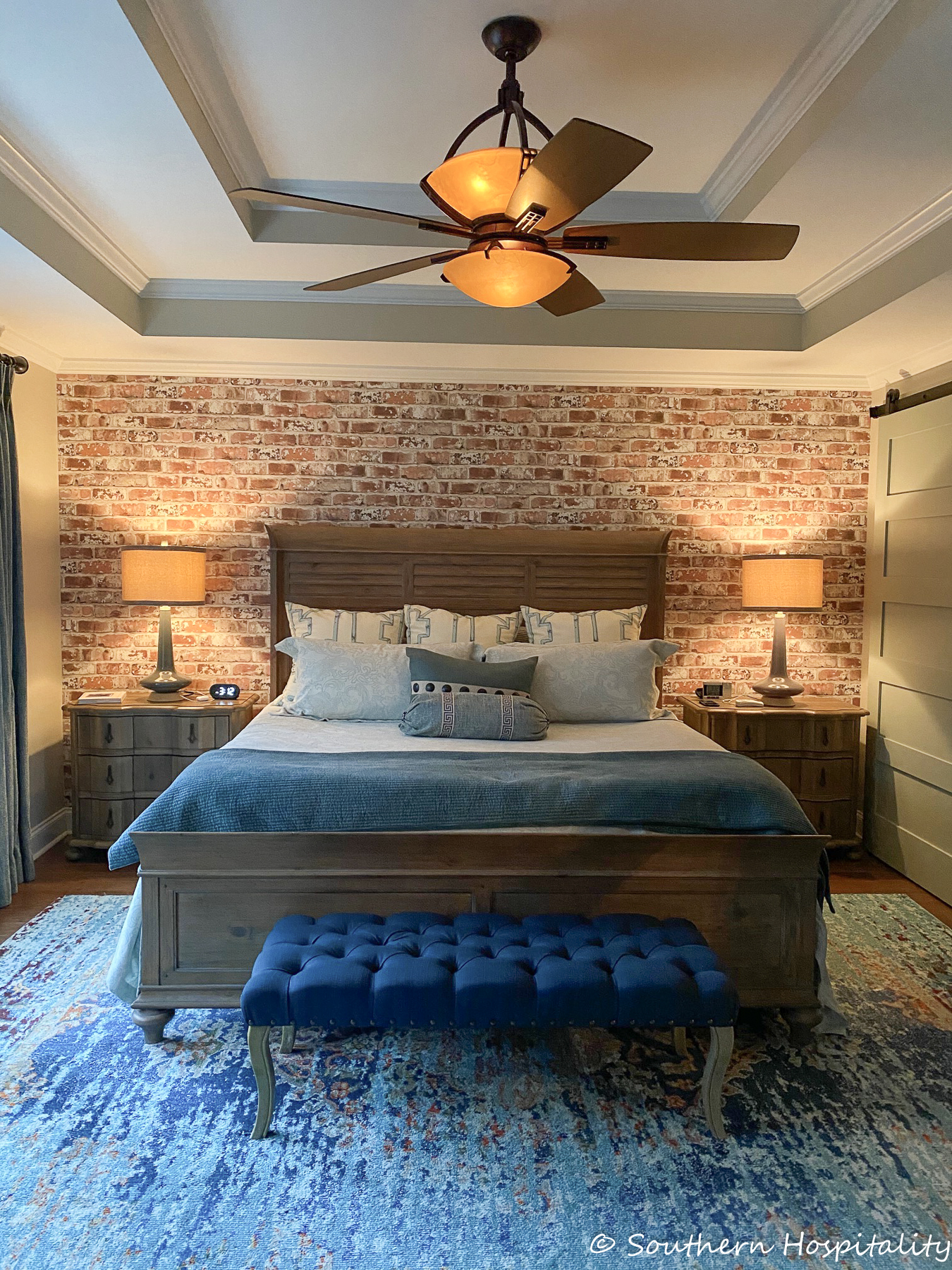 We immediately loved how it turned out. It felt so different in there with just this wall done. Suddenly it was cozier and warmer feeling.
We get asked about this fan a lot and Mark found it at Home Depot years ago and has carried it around from house to house. It really works great in here.
The brick wallpaper adds such a nice texture and architectural feeling and it's amazing how that happens. We are thrilled with the results and couldn't be happier with it.
For now, this bedroom is done and I probably won't do a lot more in here. As you can see, the rug has tones of deep red and orange and it really makes the wallpaper pop with the blues and warm tones. We love our furniture (from Universal and Kincaid) and are very happy with those choices. I may change out some of the bedding at some point and maybe the lamps down the road, but for now we love it.
I think it makes the pretty wood furniture stand out even more.
Looking towards the bathroom at the sliding barn door. It really looks good with the door.
Reflected in the standing mirror, it looks so cozy.
And peeking into the Moody Blue sitting room, it just feels so good now. It really is amazing how adding one wall of wallpaper can bring out the best in the look and feel of a bedroom. We love this brick wallpaper and what it did for our room.
Hope you enjoyed this project and get some inspiration of your own. Coming in around $275 for this project, it was cost effective with a lot of bang for the buck. It wasn't sponsored, Mark bought the paper, but we would highly recommend Woodchip & Magnolia wallpaper. It's very high quality and went on the walls like a dream.
Don't Miss a Post, join my list!