Hey, there and happy Monday! I'm getting myself in gear a little better this year than I did last year. Got all the Christmas down last week and also got the basement in a little better shape too, so I'll share that soon as well. It feels good to pare down and get things organized doesn't it?
Today, I'm sharing a really special project that we finished just before Christmas. Mark was off for two weeks and decided to take on a couple of projects so we got that little beadboard nook done as well as added herringbone marble to the fireplace. We are in love with it, this makeover really made a difference in the look of our fireplace so much.
This fireplace makeover actually had 4 steps to it. We bought gas logs first, then right at the same time, Mark added some wide fluted molding down each side of the fireplace. Then we continued with the makeover with herringbone marble tile and a lime wash I did on the brick hearth with Romabio paints. Just a note that none of this is sponsored, we bought all the supplies ourselves.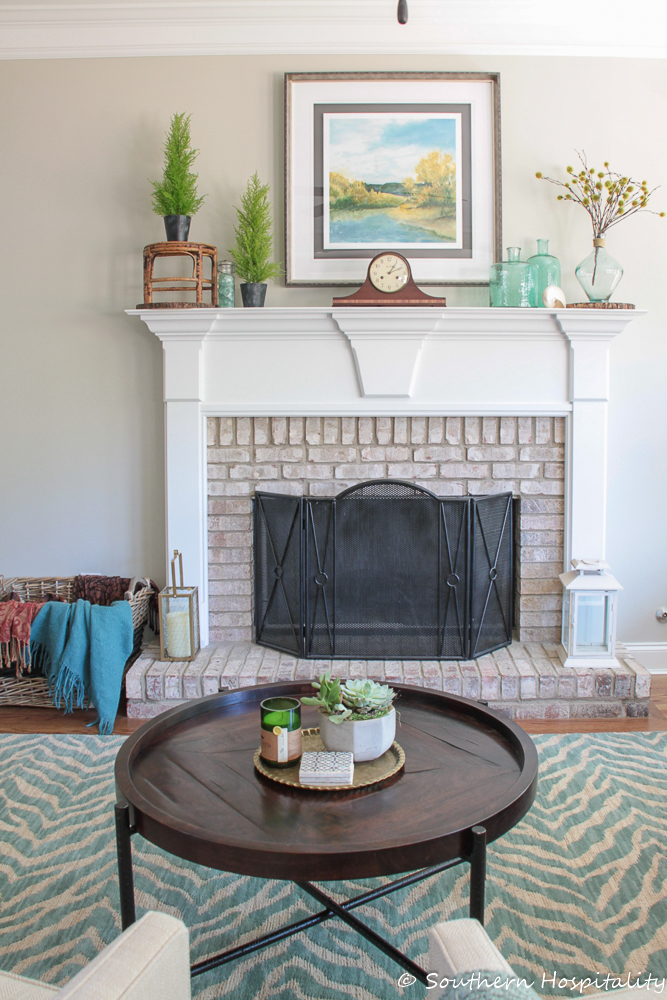 Here's a reminder of the fireplace when we bought the house and as it's been the last year. It's not a bad fireplace at all, we actually liked the brick, but we've seen some great looking herringbone marble tile added to other fireplaces and decided we really wanted that too. Mark always wanted to add some fluted molding to the sides too to dress it up a bit.
We bought these beautiful gas logs online and I'll link to where we found them, the Peterson Real Fyre 24 inch Split Oak Designer Plus set. Mark did a lot of research on these and we are very happy with how realistic they are. Mark has installed gas logs a couple of times before and had no problem getting these installed too. We are SO enjoying them during these chilly months!
He removed the old board that was on each side of the fireplace and cut new fluted molding to fit in there.
Old boards removed.
New boards nailed in and caulked and painted with our white trim paint.
Both sides done. We just painted them out with our trim paint.
Next we were ready to add some herringbone tile. I'll show you that below and link it, from Home Depot. We brought a few samples home and decided on this one. The first thing we needed to do was add thinset to the brick face so that we could then add the tile on top.
Here's a little cautionary note on this project. This project wasn't without anxiety and we had some moments of panic. If you have brick, in order to get a completely flat surface on brick you would need to add thin concrete board or thin plywood to be sure the surface is very flat. Our brick was not completely flat but we proceeded with adding thinset in hopes that the marble would lay flat. It wasn't perfect as we continued with this project, but it still turned out very nice. I'll show you more of that below. Just a word of caution if you are laying this tile over brick.
I did the layer of thinset and we let it dry really well and didn't get to the tiling for a few more days. We did this project during Christmas vacation and in between other things going on, so it took a few days to get it done. The thinset covered the thick grout lines of the brick and I tried to get it as flat as possible.
We found this tile at Home Depot, from Jeffrey Court (affiliate link).
Next, Mark laid out the tiles and figured out the layout so that we would have an idea of how it would look once set. There's no way to completely see the whole pattern unless you go ahead and cut the pieces first and we didn't do that, we cut them as needed.
We couldn't have done this project without the wet tile saw we got from Ryobi last year. Great to have good tools to work with and this wet tile saw from Ryobi did the job well. This is our second tile project using the wetsaw and it's wonderful to work with!
We measured and Mark cut a straight edge on the top side of the tiles to fit it in along the molding. We started in one corner and moved to the other corner, then moved down and across to fill in all the tiles.
The tile saw did a great job with all the cuts and Mark has learned to work it well.
He shaved off the edges to make a straight cut for the top.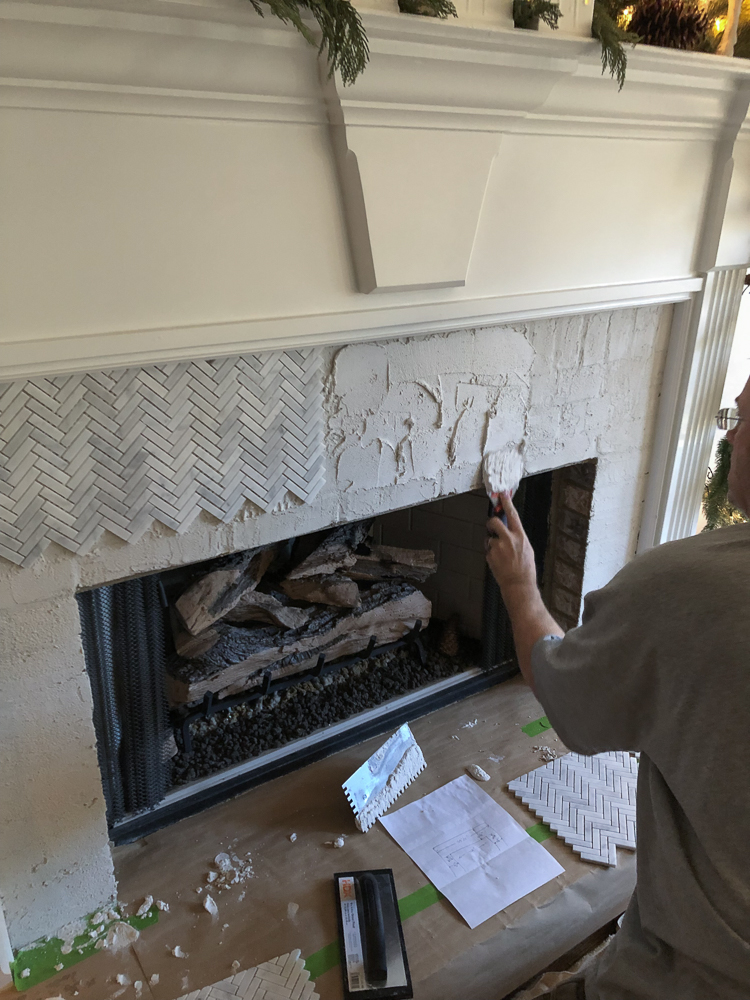 He cut a few of these and then we started in the left corner and moved to the right adding thinset and setting each section of tile, adding the next one and so on. The pattern fits together well and you just have to eyeball as you go along so that there are equal spaces when a new one is added. That was pretty easy but a few of them we had to move around to get them to sit well.
This pic doesn't show it, but we used a notched trowel to add grooves for the tiles to grip. You can see the tool in the above picture.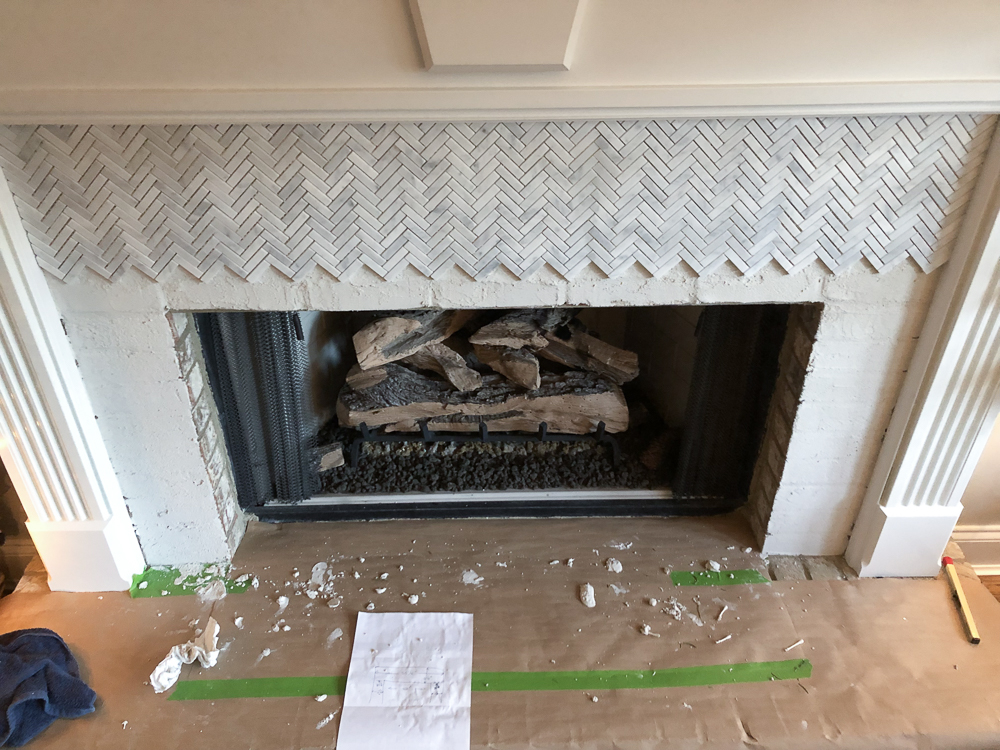 All of these tiles are set, so we left this for a day and came back to it later. Here's where we ran into a bit of a problem. When you add thinset over brick like this, there might be some areas that are a little higher or lower, thus creating an uneven look to the tiles. Some edges may stick up a bit. That's what happened to us on the next section down as we came back to this later.
We continued down the right side and Mark measured and cut this piece of tile to fit the L-shape of the opening. We also added marble pencil tile around the face of the fireplace mouth which you'll see below. We had to account for that piece going in so Mark drew a pencil line all the way down so that we knew where the pencil tile would sit and the herringbone would stop.
That L-shape piece was cut and set.
Those were fitting in pretty well and we were happy with how it was going.
We ran into the problem when we got right above the middle of the fireplace here. We had to cut and fit these smaller pieces in the space, like a puzzle. Once they started going in we noticed that they weren't sitting as flat as the previous pieces above that were already set. So the best thing in a situation like this is to set all of those pieces at the same time and not delay. But we did the best we could and it really came out well, so looking back this is the caution I would give anyone tiling over brick. Mark went ahead and measured and cut the pencil tiles at this point and we set them and taped them so they wouldn't slide.
Pencil tiles down each side.
He did a nice job on the 45 degree corner cuts.
From here, we continued back to the left and filled in all those spaces across the middle.
Left side before pencil tile added.
Adding pencil tile across the top middle.
Pencil tile on brick with all the marble in on the right side.
Finally we were all done with this part and just waiting for it all to dry. I let it dry overnight and then grouted the next day. It looks really good from here, but you can't see that a few edges are sticking up a bit. Mark agonized over it and wanted to take some of it out and start over but I talked him out of it. I thought once the grout went in it would all smooth out.
I went ahead and sealed the marble tile because you're supposed to do that before grouting. Be sure and get the non-enhancing kind of sealer if you don't want any color change. This one was from Home Depot.
And here's glam me ready to work on grout. Just keepin' it real! This is the side that I don't show y'all all the time, the project girl who's not always the fashion girl.
I had covered the brick in brown paper to keep it clean during tile installation and that was a good thing.
These are pics after I finished grouting but before it was all wiped off.
You let it sit for about 10 minutes or so before you start wiping off the grout from the tiles.
You want to get the group all down in the grooves so you don't see any dark showing. We chose a white grout for the fireplace since we wanted it to all blend in.
Before wiping. I didn't get a lot of pics of this process, but you get a bucket with big sponge and start wiping it down after about 10 to 12 minutes or so. Keep rinsing out the sponge in fresh water and keep wiping down the tiles until they look most clean. These are honed marble so clean up pretty well. I could still go back and get a little off the tiles, but they looked great after grouting.
Next, I was ready to lime wash the brick on the fireplace. I've been seeing this product all over blogland and wanted to try it on our brick. Home Depot carries the small containers of Romabio Limewash and I chose the Romabio Bianco White for our brick to match our white trim paint.
You can see the freshly wiped grout behind the bottle, when I finished that process. I followed the directions and it says to spray down the brick with water before you start so I did that first.
It's about a 50/50 mix of lime wash and water, so I mixxed up about 1/3 of the container for our hearth. I didn't think it would take a lot and it didn't. I have quite a bit left for another another project.
I loved the way this product went on. I didn't want a lot of distressing so I chose not to wipe it off. I've seen a lot of bloggers use this product on fireplaces and on exterior brick. Some wiped it off and some did not. I didn't want a heavy aged look so just did a full wash on our brick, letting some of the texture of the brick show through. I didn't worry about getting it in every single little chink in the brick though, I was fine with some of that coming through.
I did one coat and that was all that was needed. You can go back and add another coat if you want a heavier application, but I loved the look after one coat. The lime wash goes on really nicely and sort of foams and gets into the crevices and cracks if you want it to. It still shows the texture of the brick and I read that you can go back within 5 days and scrub it off if you decide you don't like it on there. To get more of an aged look, you would wait a few minutes and strategically wipe off in spots to show more of the natural brick color.
Here is it all finished and we absolutely love it!  Mark wasn't happy with the fact that all the tiles aren't laying completely flat, but he's getting over that and we really love how it's transformed the fireplace.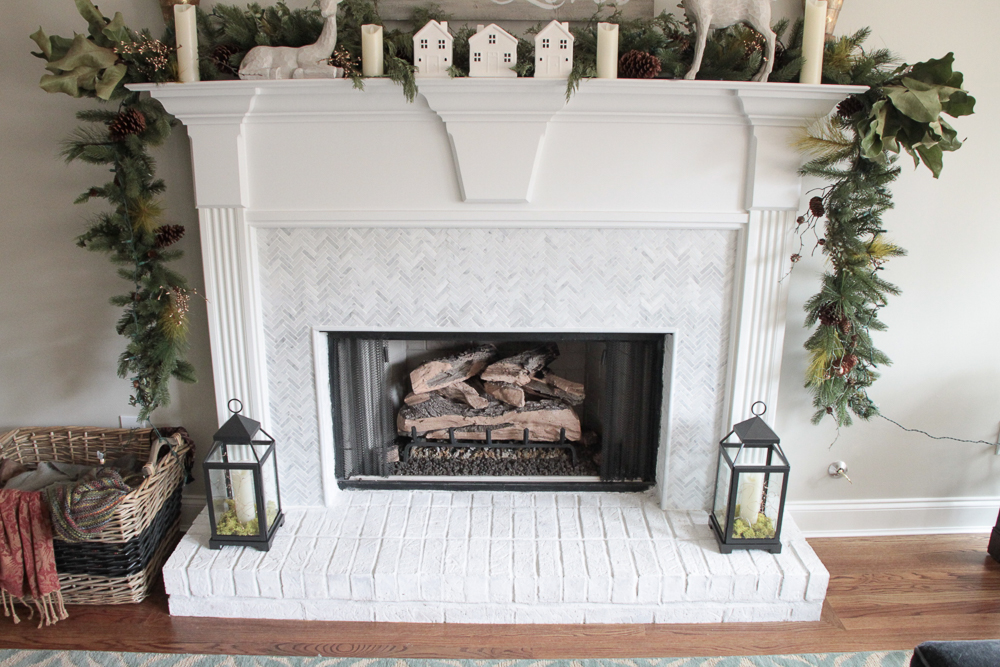 In the day time it looks so pretty, clean and white. Really brightens up the room a lot!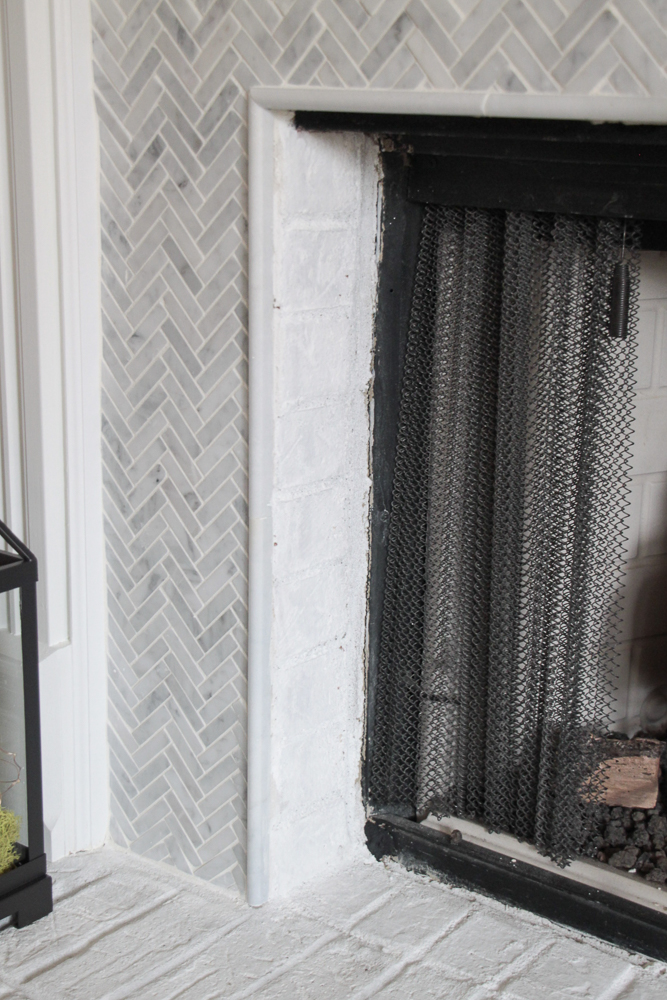 Here are a few close ups I took for you to see the details. The marble pencil tile is from Floor and Decor and really makes a difference in the overall look. We definitely needed to add that to keep a crisp edge on our brick. I went ahead and lime washed the brick on that part too, by the pencil tile.
Right side. You can see a little bit of the tiles that have a corner sticking up. Not bad but it's there. Can you see a little concrete lip hanging down in the front? It's part of the box and just under the marble pencil tile and to make it disappear even more and have it blend with the black firebox, I got some black craft paint and painted it black.
This middle section was the hardest and the part that gave us fits the most, but looking at this picture can you really tell that not all the tiles are flat? Not really, but since I told you, you may be able to see it. You have to look at an angle or when light is shining a certain way. I'm in love with the new look and think it totally elevates the fireplace so much. I try to share the good and bad with our projects, so that's why I'm letting you know how it went for us. It's not perfect, but it's still so pretty!
If we had set all of this middle part at the same time, we might not have had such a problem with it, since we could have adjusted the amount of thinset we used underneath to even out the tiles more. Make sense? Since we let the top part dry completely and then several days later came back to the bottom part, there was no way to adjust it all. But again, I'm super happy with the way it came out. Mark was way more critical of his own work after this project and vowed to never tile again, but we'll see if I can talk him into the kitchen backsplash. We're going with subway tile in there and it should be easier. He said that he didn't think tiling was his thing, but I disagree. We did this one together and I know we can accomplish the kitchen backsplash together too. If my dad and I can do it, Mark and I can certainly do it too!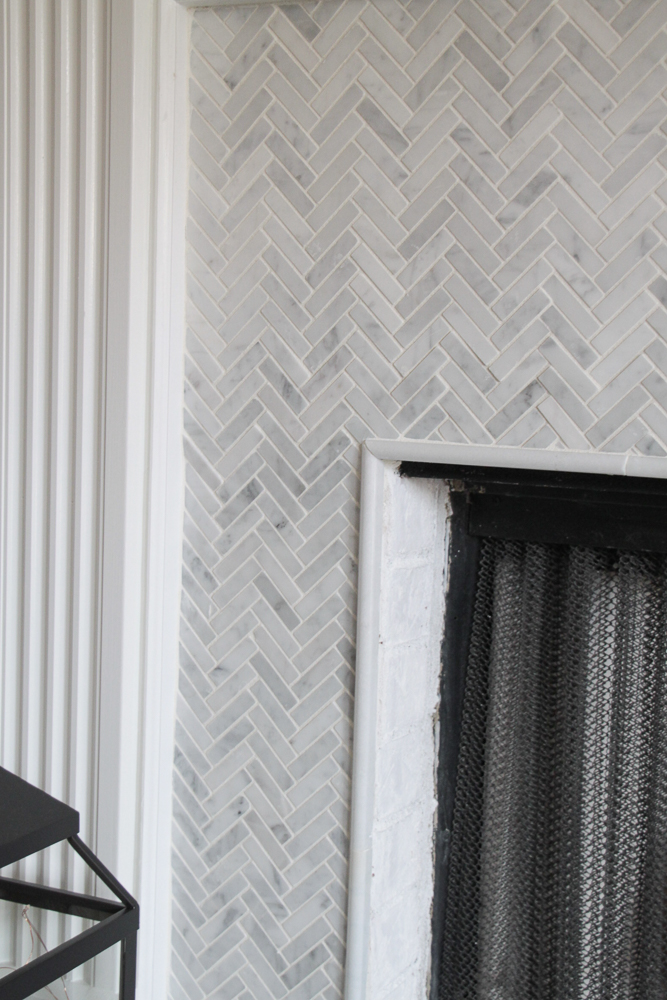 It's a very doable DIY project, you just have to go slow and do a lot of figuring before you start cutting tiles. Mark is much better at that part than I am.
I love the lime wash product too and would definitely recommend that over regular paint for brick. It's a mineral product made in Italy so gives the brick such a nice look with a matte finish.
Here it is at night, all lit up and the fire going. It's such a nice place to hang out and enjoy now. We liked our fireplace before, but now we LOVE it. We had to let go of some of our expectations, but that's how DIY is. Not perfect, but perfectly livable. We're very proud of this one and have showed it off to all our friends and family.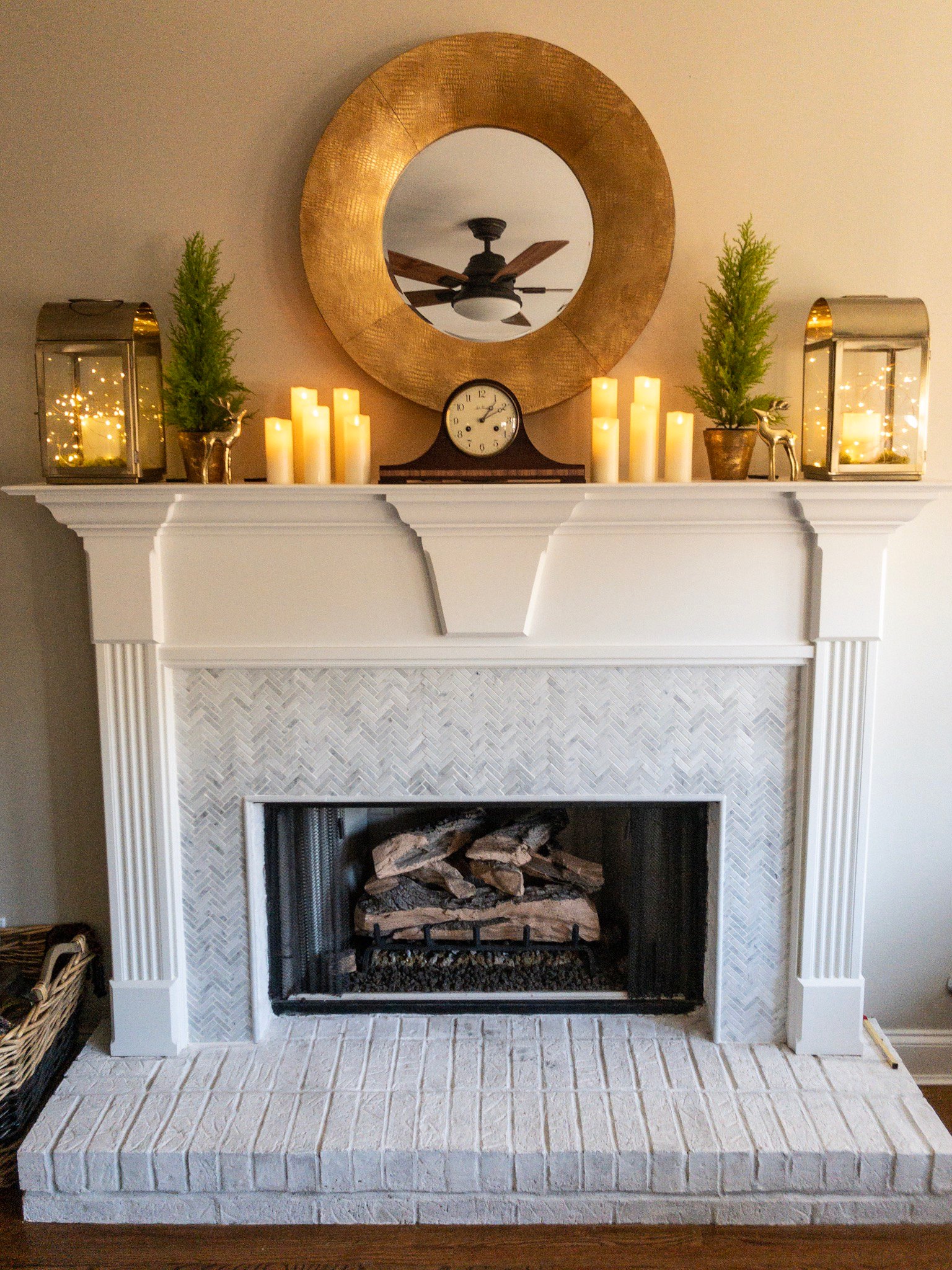 And here it is after Christmas with a little bit of Winter decor. We have 2 sets of these wax candles with remotes and I left my twinkle lights up from Christmas. I've shared these on Instagram, but y'all might be interested in them too, so I'll link below. We are loving the remote wax candles with real flickering flames and those fairy lights have been so fun to play with too, with remotes and different settings. I love the twinkle setting. I found those brass lanterns in the after Christmas sales at Target and got them for $15 each. I wish they were still available and I'd link them for you. Those little deer I picked up at Goodwill recently for $3 for the pair. They're so cute up on the mantel.
Here are all the candles and twinkle lights we have:
You'll notice in this pic a little gray looking splotches on the brick right there in the middle. That was candle wax that I tried to get off and it's bleeding back through, so I'm going to have to figure out how to hide that. I need to do some research on keeping it from seeping up through the lime way. I got as much of it as I could off the brick but there was still some residue there when I painted it and it didn't show back up immediately but over the weeks it's been done, it's coming out more.
Hope this gives you some ideas on how you can change your fireplace too if you have one your not so happy with. Even if you don't want to tile, the lime wash itself would totally transform a fireplace. It comes in a couple of white shades, so you can choose the one that's best for you. I loved the product and would highly recommend it for brick lime washing.
Thanks for stopping by! One more project to check off our list. We got this done in 2018, but just didn't have time to share it before Christmas and I figured you'd enjoy it even more in January.
Don't Miss a Post, join my list!