How to add rope to swing bed chains, it's easier than you think! 
We are thoroughly enjoying our swing bed and entire patio this summer and adding rope to the swing bed chains was one of the best things I did to finish it off. You see, I had my eye on a swing bed for several years before i actually got my own. Thanks to my sweet husband, Mark, he made my swing bed dreams come true when he bought this one for me last year for Christmas and surprised the heck out of me.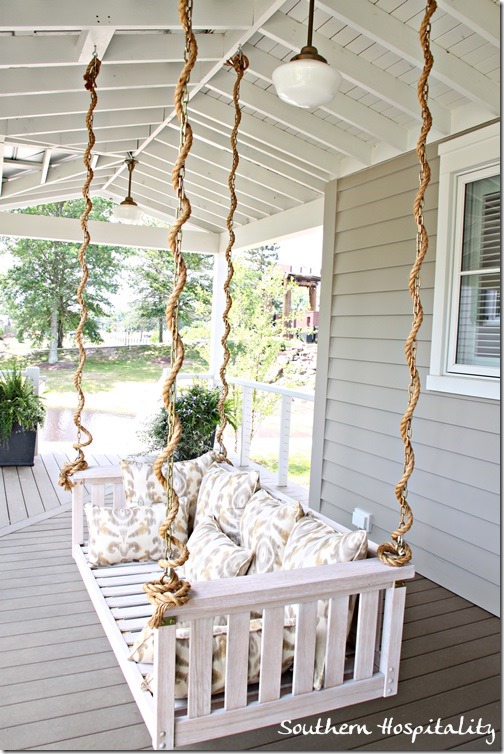 One of the first swing beds I saw that had rope on the chains was this one from the Southern Living Idea house in Nashville, TN that I visited back in 2013 for a blog event. This one is hung looser than what I did, but it's definitely open to interpretation in how you want your swing to look. I like this method, but ended up making mine tighter and closer together.
Pin for later!
Here's my finished swing, so I'll walk you through how I did it.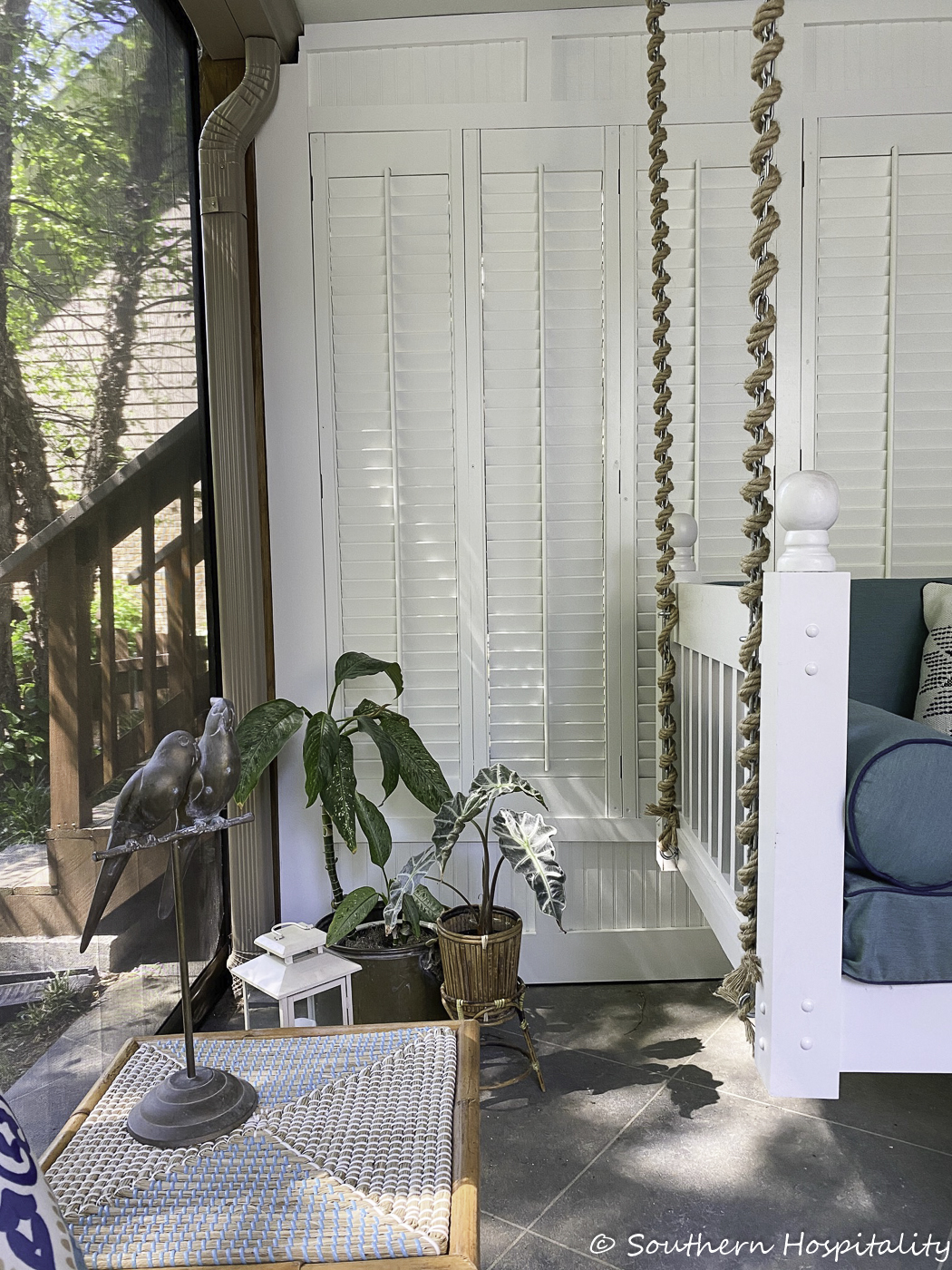 Be sure to measure your chain to see how much you need to cover it. If I had done more the more loose method it probably wouldn't have taken as much rope.
Here's the 50′ rope I got from Amazon. It was perfect for my swing and I had just enough for all 4 chains. I figured this would be enough for my swing and it was. I unrolled the rope, found the middle of it by folding it over and then cut it right in the middle. Then I folded those 2 pieces of rope over and found the middle of those 2 pieces and cut them, so I had 4 pieces of rope approximately the same length.
This rope has 3 strands woven together, so I took the first piece an starting at the top of one of my chains I opened up the strands and began tying it off to the top of the chain and the big hook that's in the ceiling.
You can see that in the above picture. I simply tied it off and then started winding the rope down and around the chain, making it about the same space between each twist so it looked uniform going down the chain. Again, you can make it looser if you want. My goal was to make it look like the rope was hanging it up and not just the chain. The rope does nothing but hide the chain and make it look better.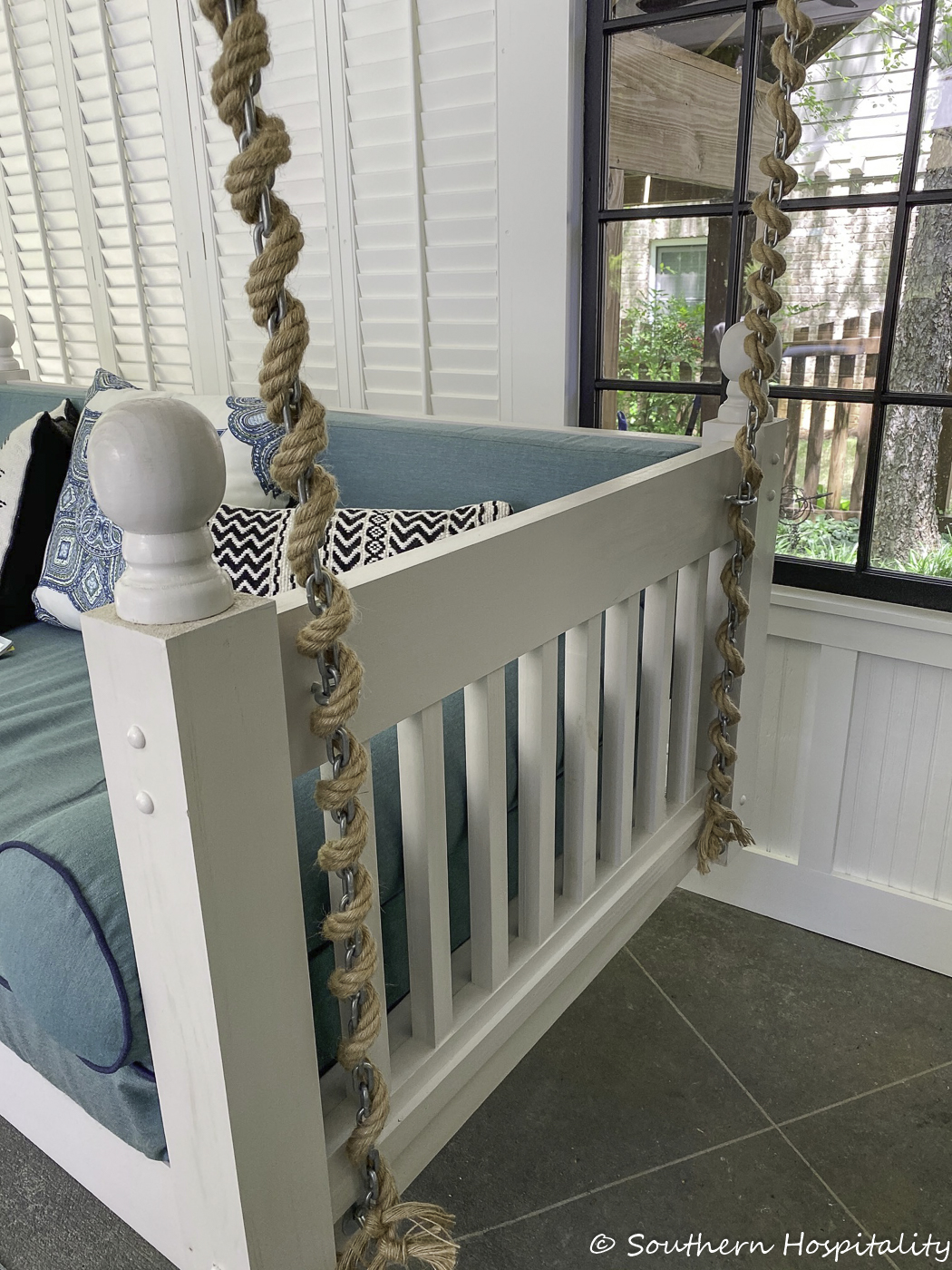 I simply wound each piece of rope down the chain to the bottom and then tied off the bottom piece the same way I did the top, with the 3 strands unwoven so that I could tie them on the chain and hook at the bottom.
One by one I covered each chain until I was finished and the whole thing took me less than an hour to do.
Here's a look at the bottom of the rope and chain. Once I took apart the 3 strands of the rope a little bit to tie it off, it forms sort of a tassel at the bottom. It's very casual and stays in place just fine.
So that's how I added rope to my chain for my swing bed. I love the look and it really finishes it all off so well.
Don't Miss a Post, join my list!