One of the things that Lauren has done at her house that I thought was really neat is to create a sewing armoire cabinet out of an armoire she bought on Craigslist.  She's an avid Craigslist shopper and has found some great things on there for her house.
When Iris came and claimed her craft room, she moved it down to the small office space to the left of the front door coming in.  It's an open space nook, but there's room for bookcases and this armoire, which she had tricked out into the coolest sewing cabinet I've ever seen.  She hired a carpenter guy to build some built-ins for them (that I didn't show you yet) and so she had him make this armoire into a sewing station for her to use in the office. It's really a neat piece!
Lauren has a Husqvarna monogram machine and has really enjoyed being creative with it. She makes lots of baby presents and birthday gifts using her monogram machine.  She's a lawyer, but has a very creative side too.
Here's the armoire before she started working on it.  She didn't change the outside, but the inside got lots of fun features added.
Inside, it's a solid wood spacious armoire, perfect for a sewing station.  She can close it all up when not in use. Notice there are no drawers below the shelf. 
After her carpenter finished with it, 2 sliding drawers were added below the bottom shelf and 2 shelves were added above  She recycled the pegboard that was in her craft room before and he framed it out and installed it on the door.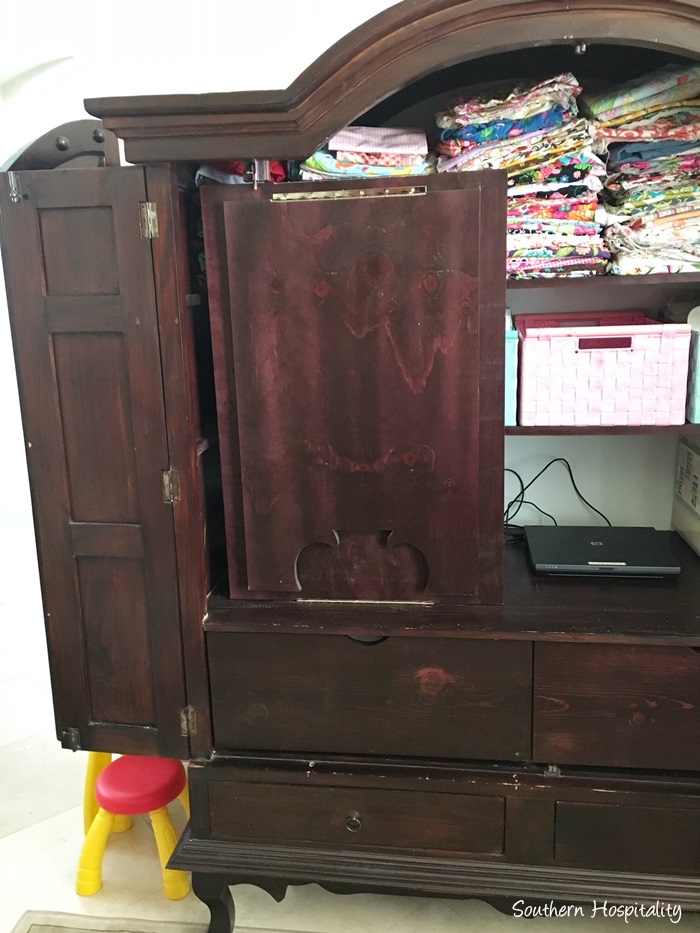 But the best thing he built is the hidden sewing table that stores away when not in use and folds out into the room when she is ready to sew.  It has a hook to hold it in place and piano hinges fold it all out.  He even matched up the stain on the wood so it all looks like it's original.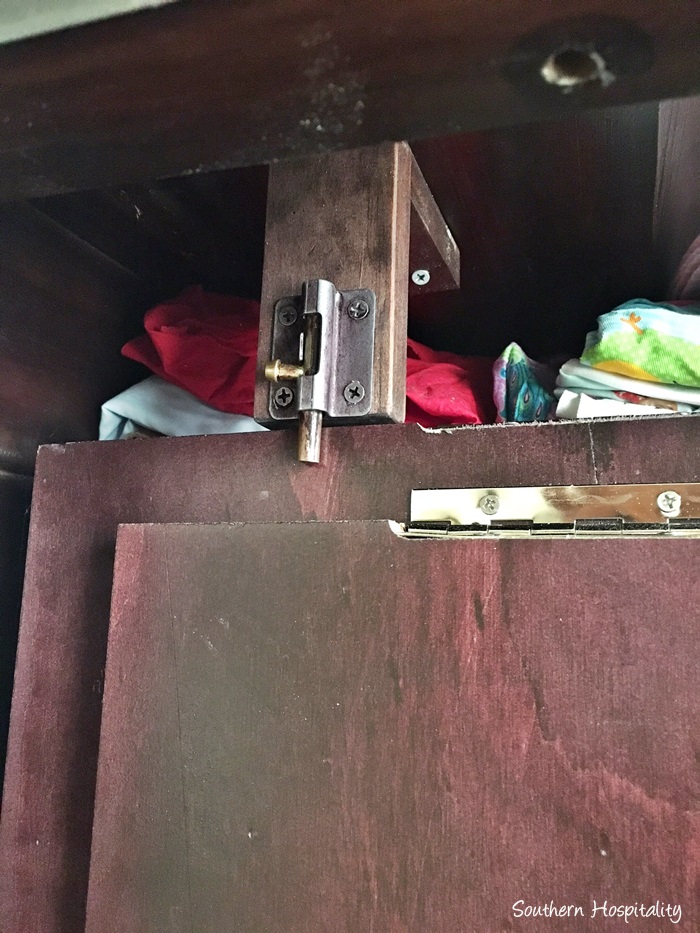 The latch holds it in place at the top.
Legs fold out (notice the cute cut outs in the legs!) and it keeps on unfolding.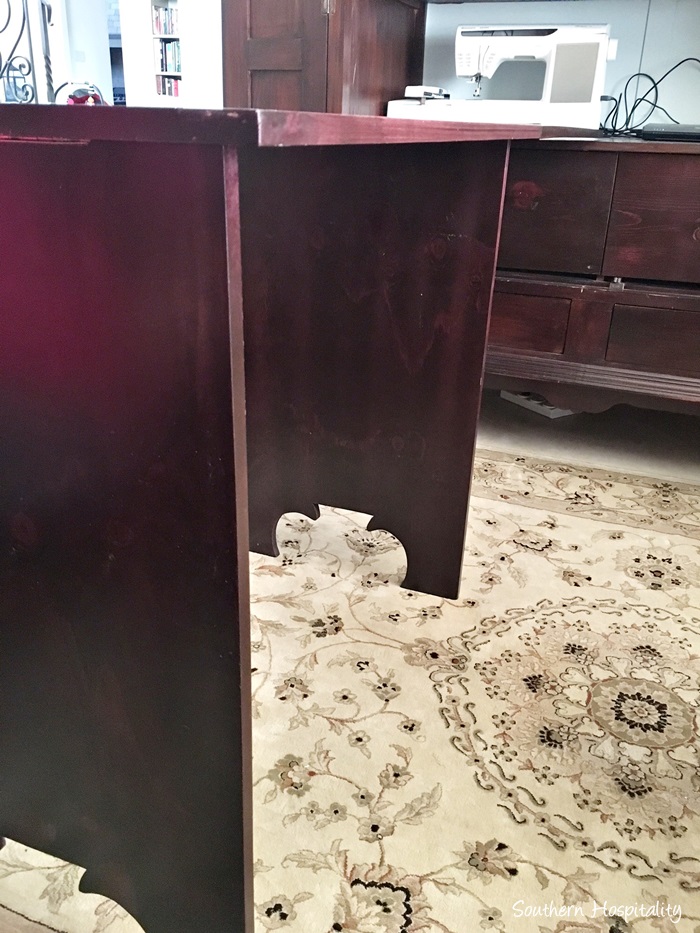 There are 2 sturdy legs for it to rest on.
Then she just brings out the sewing machine and can work all she wants before hiding it all away.
Here's how it looks folded out into the room.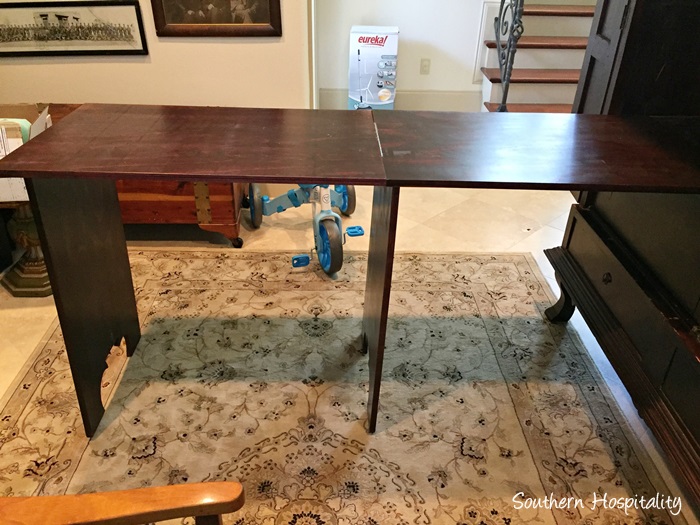 Looking the other direction.
The pegboard is perfect for her sewing supplies, like threads, scissors, needles, and monogram hoops.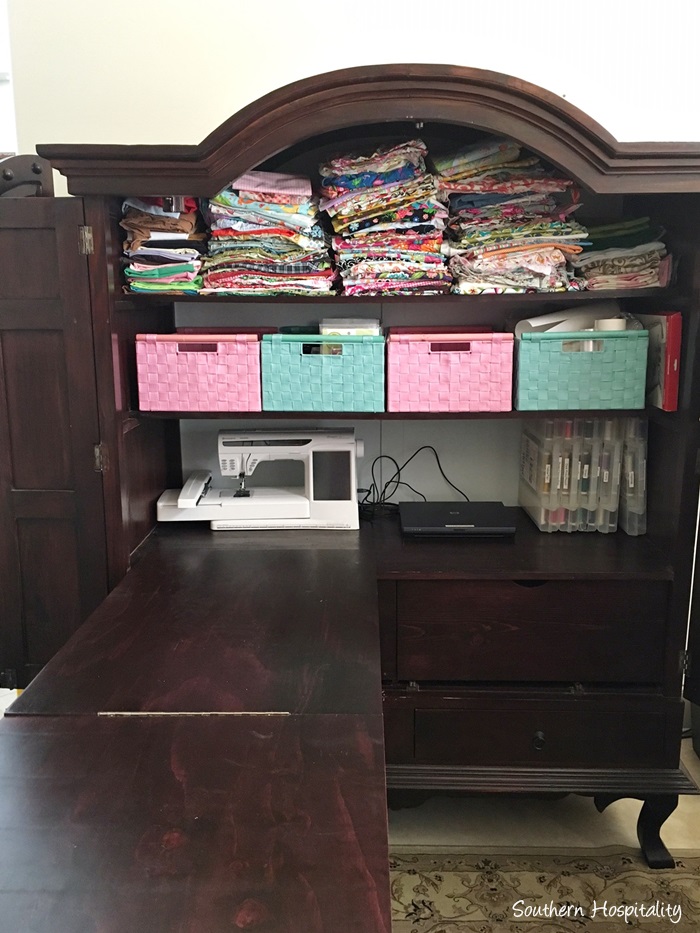 Fabric is folded away at the top, with bins holding all of her supplies.
Isn't this the greatest use of space?! She is so clever and we loved her tricked out sewing armoire. I know my mom was proud of this one, since Mom is a seamstress and has been all our lives.  Lauren got the sewing gene and it skipped over my sister and I.  I'm glad she is continuing the sewing in her family.
The bottom 2 drawers hold things that she has found, just waiting for monograms and will be used for baby gifts and other presents.
I thought all of you would enjoy seeing this creative use of space and a sewing armoire.  It doesn't look like a hard project, you just have to find the right piece for something like this.  I love that it is all hidden away out of sight and looks nice and neat when not in use.
Don't Miss a Post, join my list!