We made muscadine jelly with our own hands! Today I'm sharing the process of picking the muscadine grapes, pressing the grapes for juice, and making muscadine jelly from scratch.
A little history about muscadines for both Mark and me. Both of our dads have grown muscadines for a long time. My dad has a nice arbor of muscadines and scuppernongs in their backyard. In case you don't know, these Southern grown grapes are a delicacy. They aren't the traditional sweet eating grapes, but they have a tough hull, seeds and a thick center that may or may not be eaten. I like muscadines, but they aren't grapes that I sit and eat a ton of. The juice though is the best tasting stuff. And the jelly is delightful.
Mark's daddy also grew muscadines in his backyard and even started making muscadine jelly in his older years. We got several jars from his dad and loved it. When his dad died in September, Mark was determined to learn how to make this jelly too so with the help of my mom, we went over and learned how to make it ourselves. We are so proud of our efforts and I'll share all the details in this post.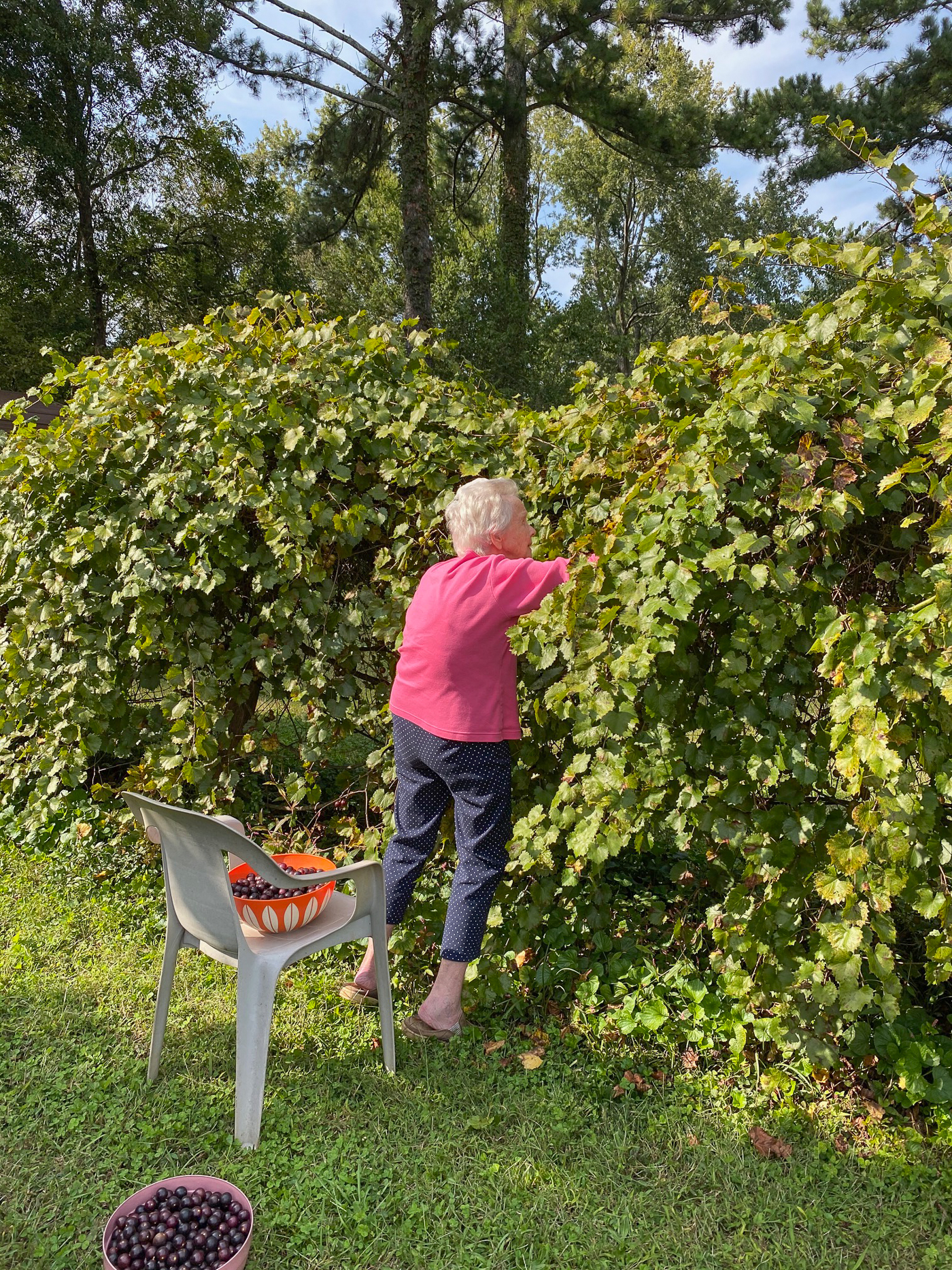 The grapes didn't get really ripe until the end of September into October. We picked these on October 4th and made the jelly in the week after that.
Me, mom and Mark all picked while daddy watched. He's picked his share of muscadines over the years.
Mark picking grapes.
There were plenty of them to pick for jelly and we picked all these in about an hour.
What a bounty of grapes, ready for jelly making! We decided to come back to their house later in the week to make the jelly. Mom washed them in batches for us and took out all the stems. She went ahead and boiled a batch before we got there and they were then ready to press the juice.
Just the boiling process will allow the juice to start leaking out, so we tried to get the pure juice as best as we could and then used a masher to squeeze out the rest of the juice. A fine strainer is also needed to pour the juice through to get out all the particles so it's very clear.
We made 2 batches of jelly that day and then Mark and I did 2 more batches at our house which I didn't document. But this is all the steps we took to make our jelly. Each batch produced about 5 jars so we ended up with about 20 jars of jelly overall.
We used the SureJell jelly making instructions and I'll post that below too in case you want to try to make jelly. It's really not a hard process, the most time consuming part is pressing the grapes and getting all the juice out. We discarded the hulls, seeds, and insides of the grapes and only used the juice.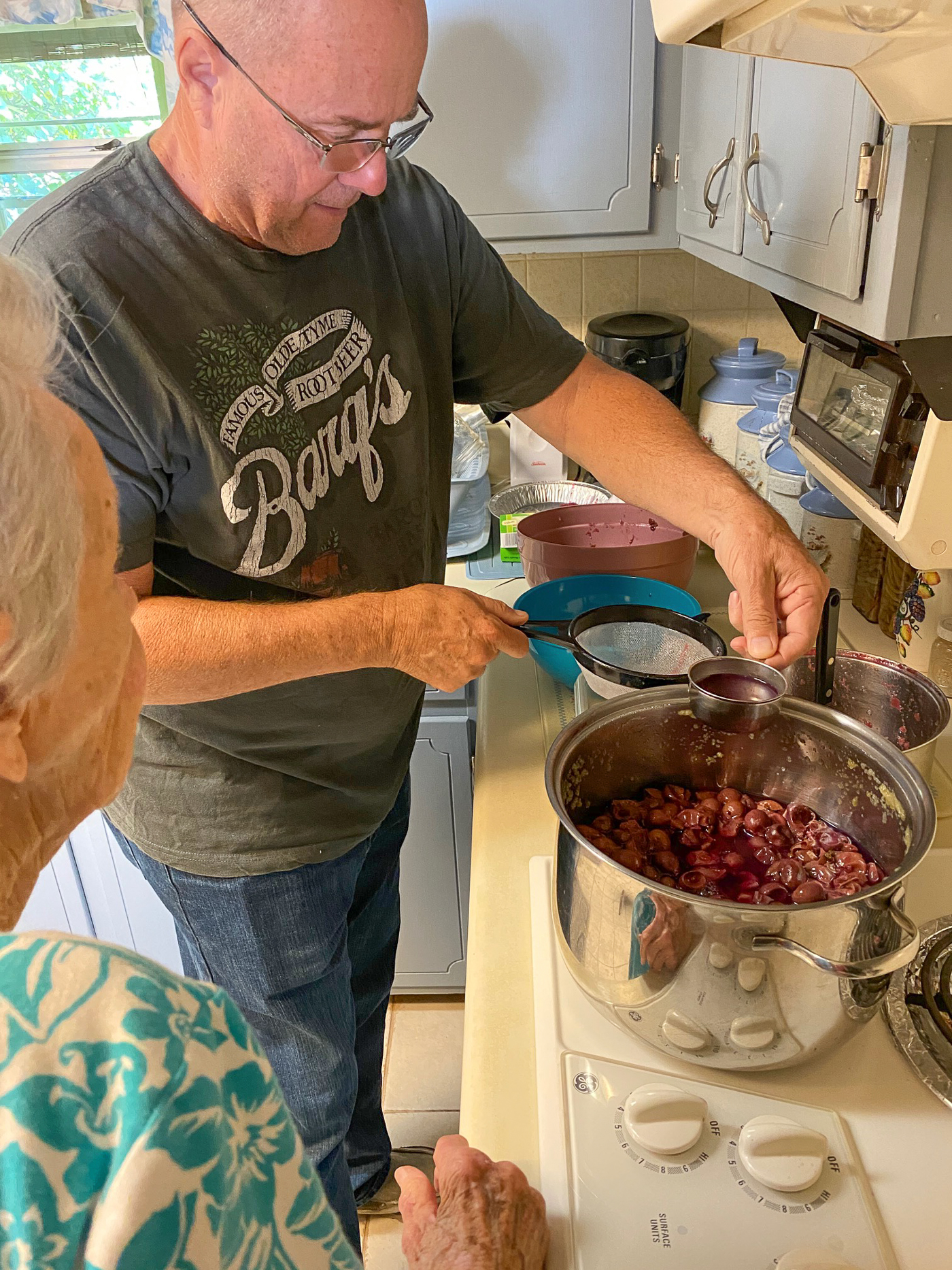 We diligently worked on getting pure juice out with no particles or silt from the grape hulls.Muscadines have a very sweet and distinct flavor and the jelly is delicious.
One pot full of grapes at a time, we mashed, pressed and got out the juice. Each batch needs 5 1/2 cups of juice mixed with 3 1/2 cups of sugar. We used pint wide mouth jars for our jelly and we only had wide mouth lids as well. Canning supplies this year have been in short supply due to Covid and so many people canning at home. Mom had plenty of jars and Mark's dad had plenty of lids in his stash of canning supplies. Mark got his dad's canning supplies for us to keep and use for future and it was very sweet to know that he used it all in his canning endeavors too.
I'll list out the steps below, but it's basically add about 2 cups water to a pot of grapes and let them simmer on low for about 45 minutes to an hour. Then we turned it off and let them sit. The juice starts coming out and you can scoop up the juice then and put it in a separate bowl. Then start mashing the grapes and use a fine strainer to continue getting out as much juice as possible. We kept doing that until we couldn't get anymore juice out.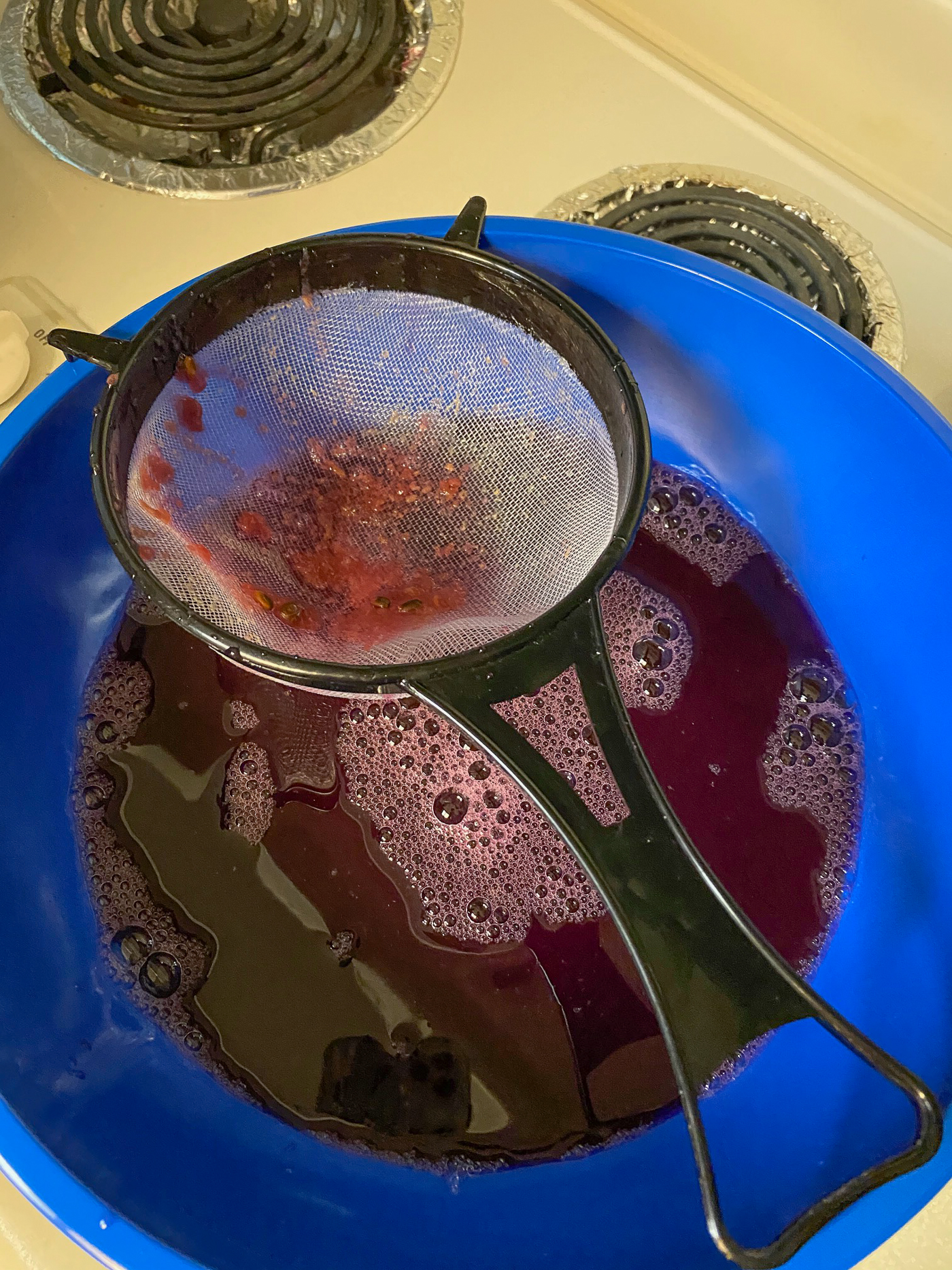 The strainer leave particles behind and we would rinse it often to keep the juice flowing freely.
Then we ended up with a beautiful bowl full of rich red muscadine juice.
A few more pics of us pressing the grapes and getting out all the juice.
This is the most tedious part, but once that is done, it's reward time.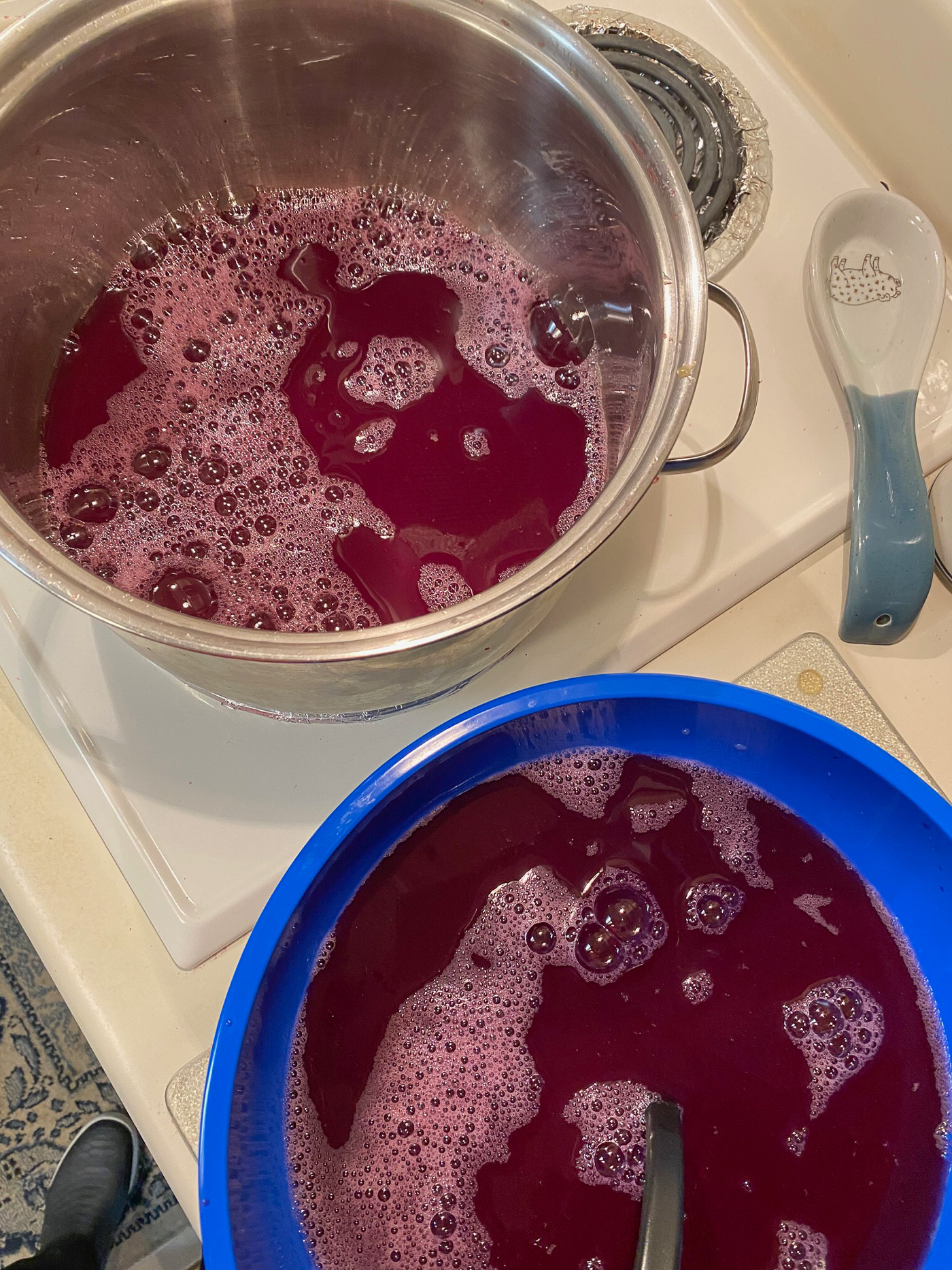 We had plenty of juice for 2 batches so we got busy boiling it up and putting it in jars.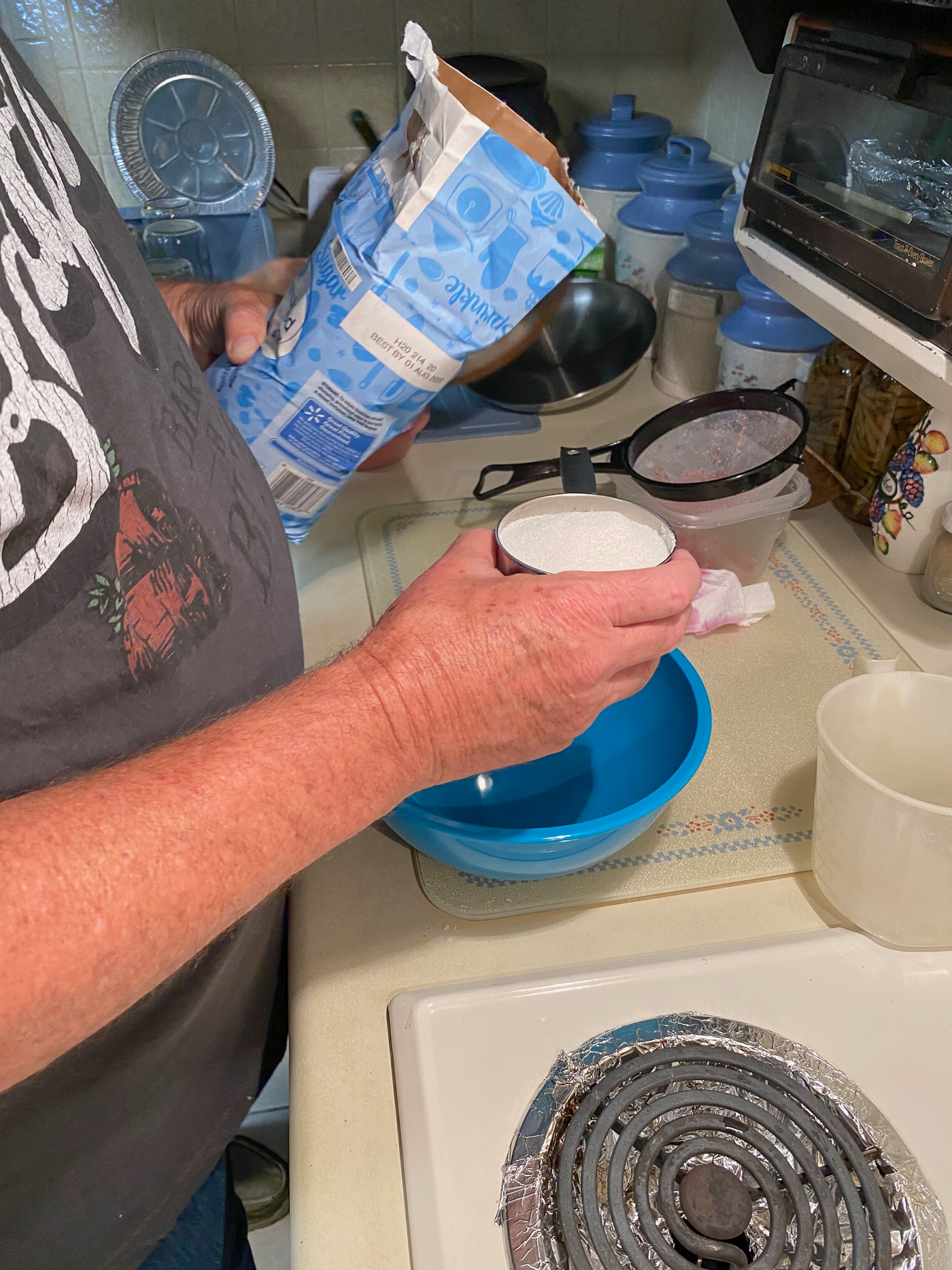 Jelly making only takes 3 ingredients: Juice, SureJell and sugar.
SureJell can usually be found at the grocery stores.
You mix a little SureJell with sugar and stir that together. Add it to a pot of 5 1/2 cups juice.
We boiled the lids getting them ready for canning.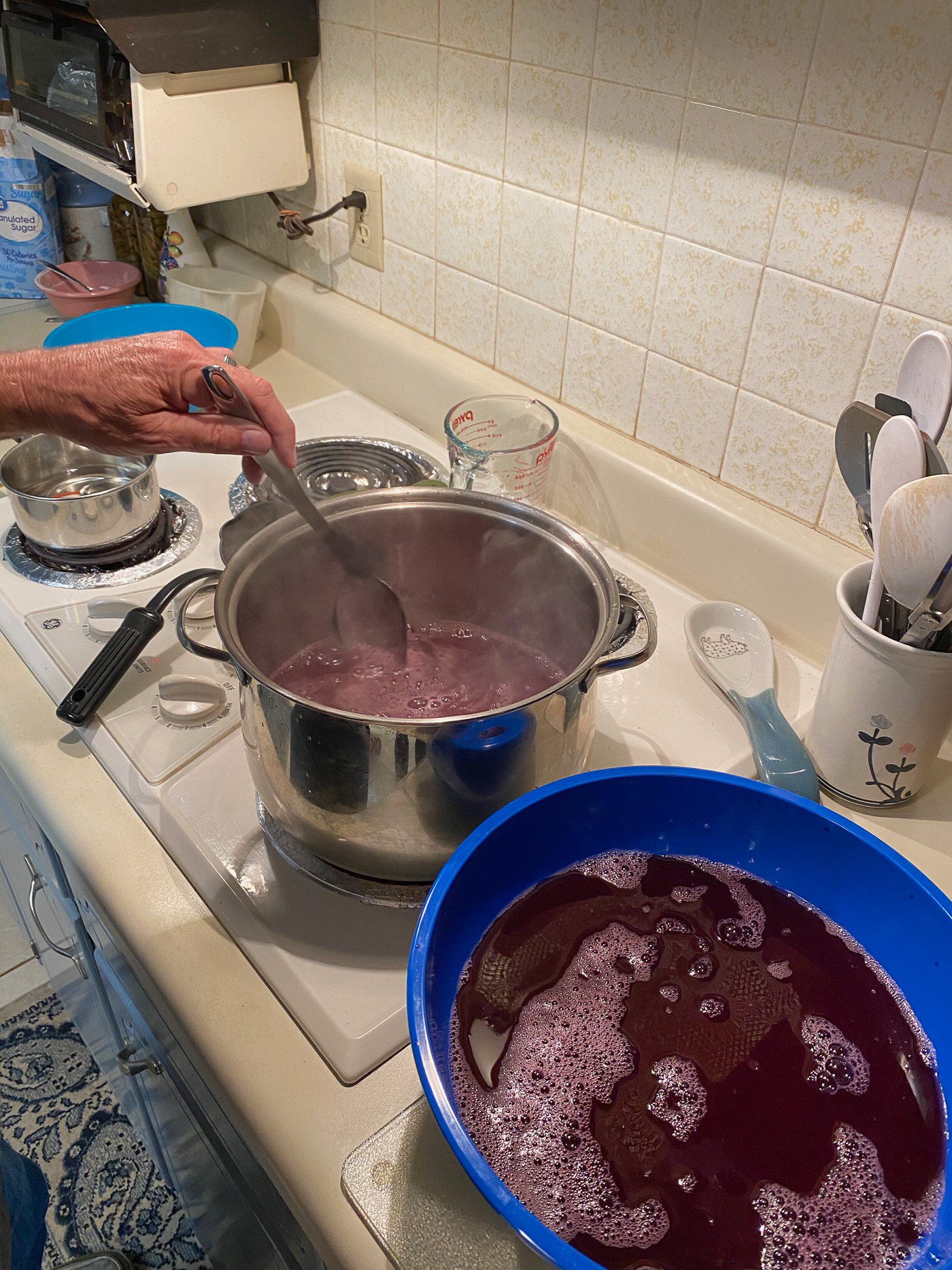 This part was hard to photograph, but once the SureJell and sugar goes in with the juice to cook, it has to come to a rolling boil and you boil it for so many seconds and then take it off the stove. It's then ready to ladle into the jars.
The whole pot was ready to ladle and we got the jars ready to go. Mom and I did this part.
It sure was rewarding to see that beautiful juice go into the jars and get sealed up.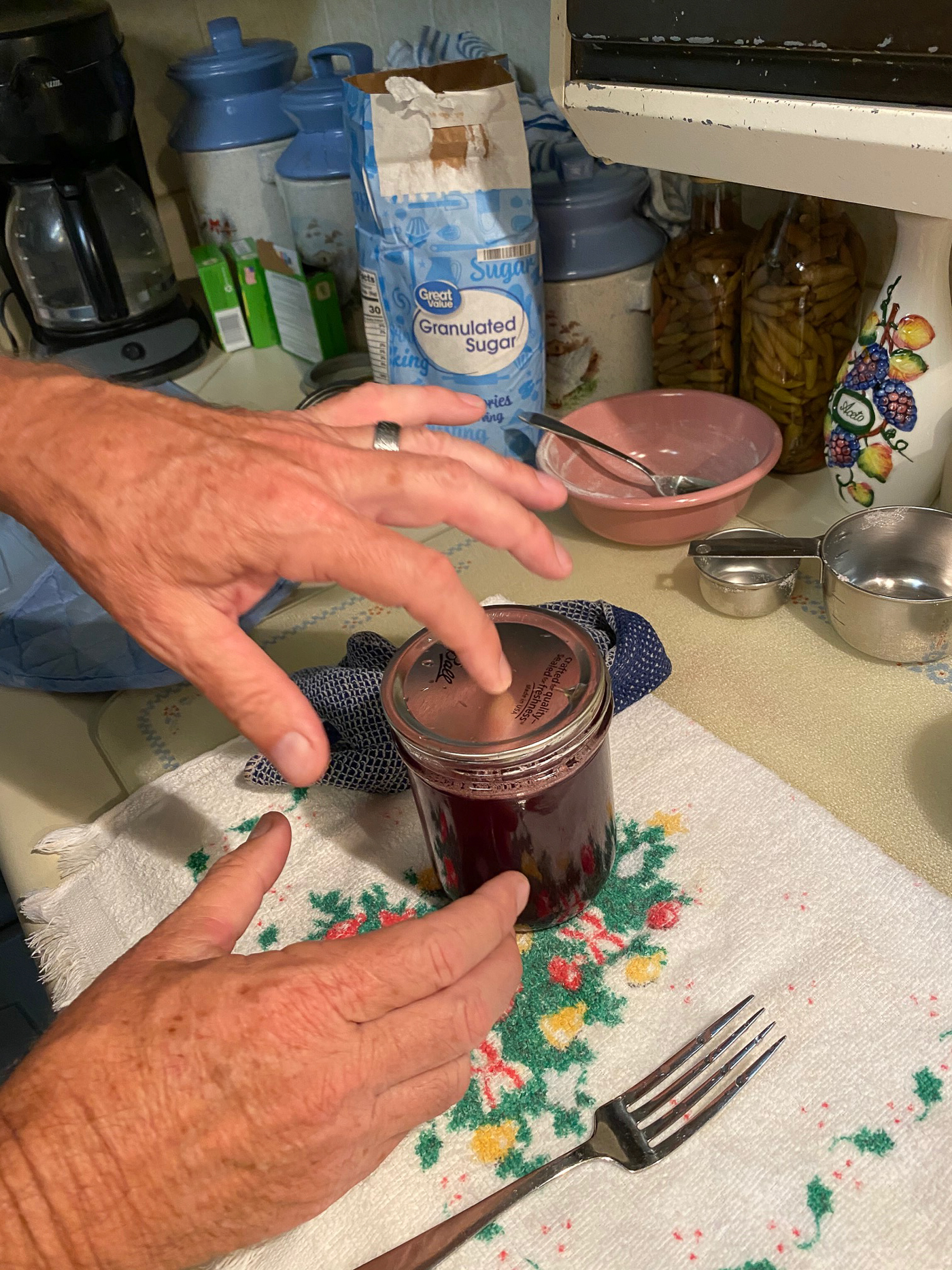 Mark took over the lid duty, adding the lids and rings to the jars.
Screwing them on tight.
The final jar filling of that batch.
That's his dad's big canning pot and jar holder. We filled it up and added the jars inside the water bath. They stay in there for about 5 minutes and then ready to come out. You can start to  hear the jars POP and you know they are sealing. Best sound in the world!
This is our bounty of jelly the first day of batches, 12 jars in all.
And the next 2 batches produced the same, so we have about 2 dozen jars toi eat and share. Aren't they beautiful?!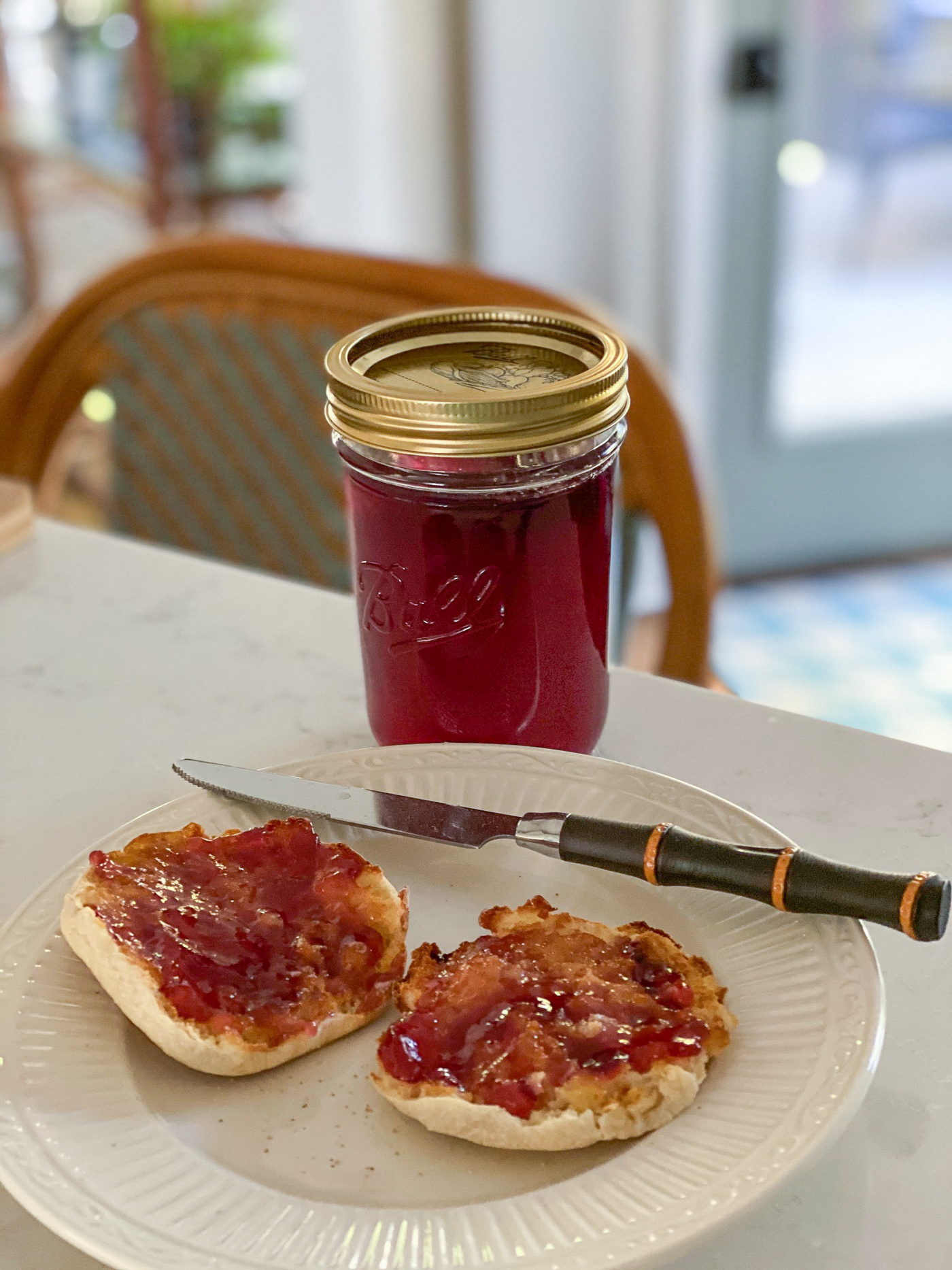 This jelly is the best tasting stuff and we are so glad we did canning for the first time. Mark has decided to carry on some of his dad's traditions of canning and cooking a few things, which is fine by me. I love that he wants to learn to do more. We are so enjoying our jars of muscadine jelly and it sure goes well with English muffins!
Here's the recipe from the SureJell box for making grape jelly:
5 lbs. grapes. Remove and discard grape stems, Place in large saucepan with 2 cups water, stir and bring to boil. Let simmer on medium low heat for 10 minutes. We went longer than that and let it sit on low heat for 45 minutes or so.
After cooling, juice will start to seep out so we captured that before we starting mashing the grapes. The pure grape juice comes out nicely before they are mashed so we learned to do that first, then start mashing, straining and getting out all the juice.
Prepare lids and jars (we boiled lids (just the rubberized part of the lid in a pot of water for about 15 minutes. We also added our jars to an oven temp set at 190° and heat them up ahead of time.
Prepare fruit as directed above.
Measure exact amount of juice into large stockpot. You'll need 5 1/2 cups per batch (and one container of SureGell per batch).
Measure exact amount of sugar in a bowl (3 1/2 cups)
Combine 1/4 cup sugar from the above bowl along with the package of SureGell, mix together and add that to the pot of juice.
Bring mixture to a full rolling boil (a boil that doesn't stop bubbling when stirred)  stirring constantly.
Stir in remaining sugar and bring to a full rolling boil for exactly 1 minute, stirring constantly. Remove from heat, skim foam from top.
Ladle immediately into prepared jars filling to 1/4″ from the top. Wipe jar rims and thread, add ring and tighten.
Lower jars into a gently boiling water bath, cover tops of jars by 1 to 2″ and boil for 5 minutes.
Remove from water bath and let the jars sit and cool. You'll hear the tops start to pop!
Eat and enjoy your freshly canned jelly and be so proud of your efforts!
It sounds hard to begin with but once you do it, it's not bad at all. As I said we did 2 more batches at our house and have a nice stash of muscadine jelly now. We have shared a few with family and friends, but Mark will be watching these jars like a hawk. We both love the jelly!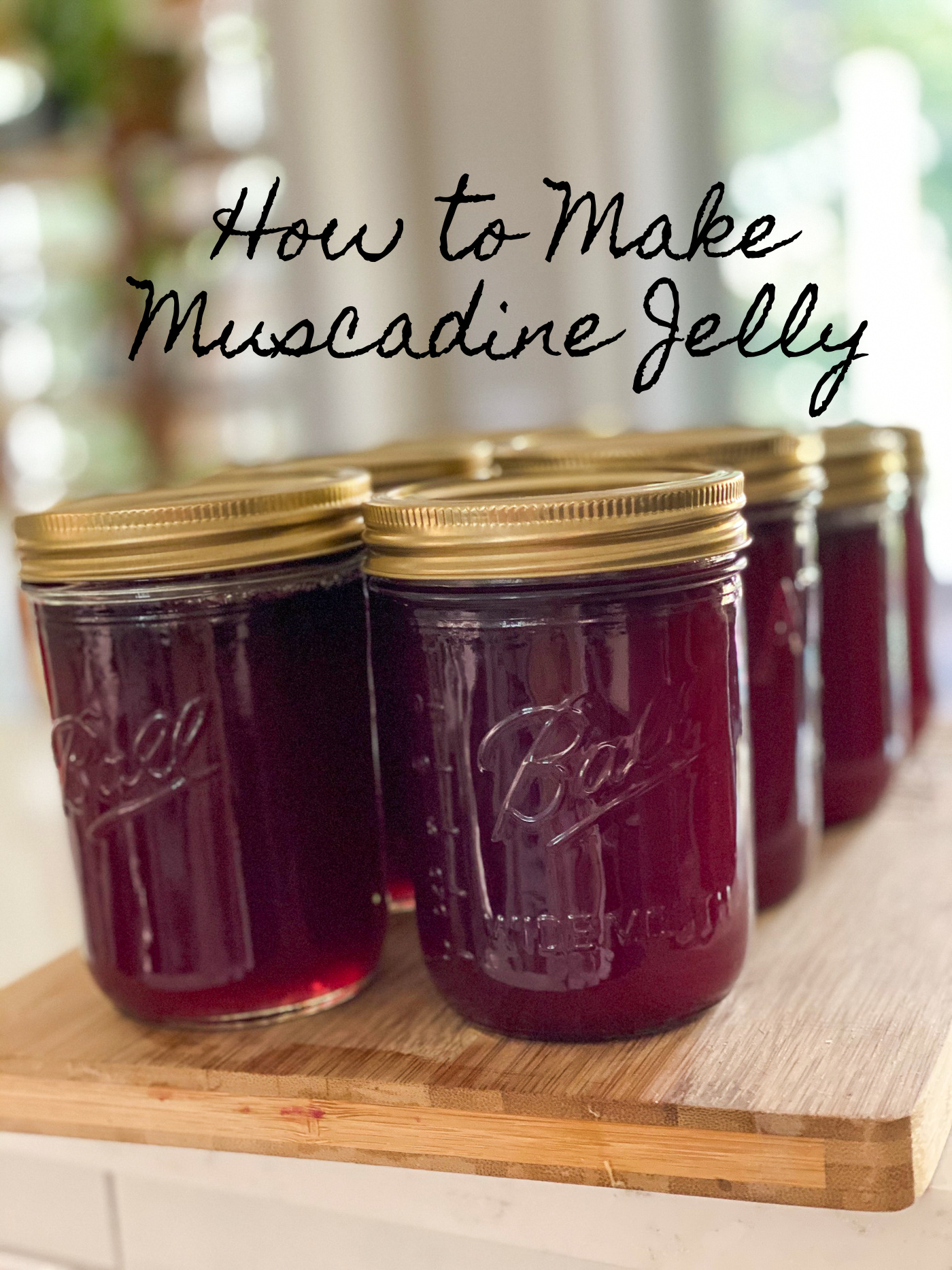 I hope you enjoyed this process of us making muscadine jelly. It was a very rewarding thing to do and I'm pretty sure we'll be making more next year. It's messy but not that hard at all.
Don't Miss a Post, join my list!