Today's post is all about painting stripes on curtains, certainly no new idea that I came up with. It's been all over blogland for a few years now and horizontal stripes on curtains are a fun and fresh way to brighten up a space.  I have always loved stripes and usually you will see fabric in stripes running vertically, but the horizontal design is a little more modern and fresh.
My roommate, Rhonda, had wanted to put some drapes up in her room and she had picked up a set of Ikea Ritva drapes a few months ago.  When I mentioned painting stripes on them, she was all for it and so we did the project last week.  It helps to have 2 people doing this project, as you need to pull the fabric while painting to keep it straight and flat.  Also, you need to mark off the stripes and tape them first too, so definitely get someone to help you with this part.
These Ikea Ritva panels are in a package, so they will need ironing when you take them out.  Do that first and get them ready to tape off.
These panels are 97" long, so we did some math and figured 9 stripes (3 white, 4 green) would work the best and the top stripe we measured 10" from the top, then 11" for the rest of them, leaving about a 10" white stripe at the bottom.  Using a pencil and tape measure, I marked off tick marks down the drapes and with one of us on each side, we stretched the FrogTape® across and on our tick marks.  It's a must to have someone helping on this part because you want the tape to go on straight and flat as you set it in place on the pencil marks.
You have to think as you go too and tape outside the lines you will be painting with the foam roller.  So, 4 of the stripes will be bigger because the tape is outside the lines.  Make sense?  It will when you do it.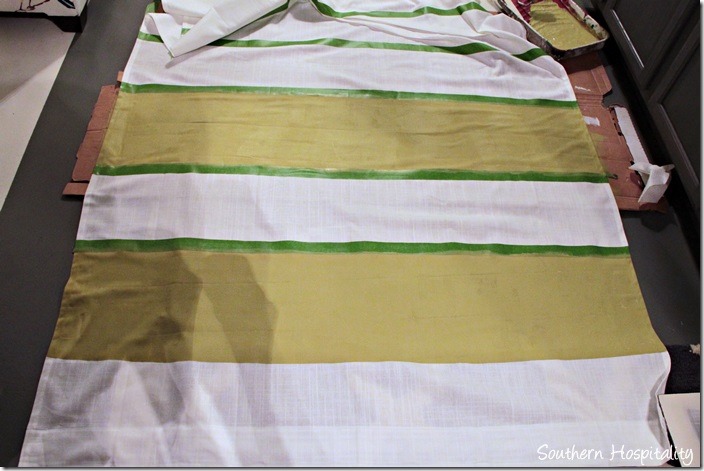 Once it was all taped off, I spread out leftover cardboard on my laundry room floor. This is where I seem to do all my projects these days.  The cardboard was fairly flat and I lined up each stripe on the flat part so that it could catch any paint coming through.  Using a foam roller, I rolled on paint on each of the stripes, covering the fabric well.
I did use a fabric medium and bought a couple of small bottles of fabric medium at a craft store to mix with the paint.  Honestly, I can't tell any difference.  Paint makes fabric stiff anyway, but the fabric medium is supposed to soften it up.  I can't tell any difference using it or not, so I'd say don't even bother.  The fabric will be a bit stiff, but that's OK. It's not like you are touching it or sitting on it while it's hanging on the windows anyway.  I don't wash my drapes either.  If ever they need dusting, you could take them off the rod and put them in the dryer on low to freshen them up.
Here's the foam roller I was using. Just a basic foam roller that you can get at any of the home stores.  Make sure the tape is pressed down really well before you start painting.  FrogTape® is treated with PaintBlock® technology that keeps the tape from allowing the paint to seep under and it really works well as long as the edges of the tape are down securely.   I immediately ripped off the tape before it was dry leaving a nice crisp line.
One panel all finished and ready to hang.  The paint dries really fast and should be dry in just an hour or so.  I left these overnight before we hung them up.
And here they are in Rhonda's room, really looking pretty on those windows.  I just love stripes!
You'll notice a few little streaky marks where the sun shines through the back.  You can always go back and add a little more paint if this bothers you, but it didn't bother us.  You can't tell until sun shines in that there are a few streaks.
All in all, this is a very easy project and especially using Ikea drapes, you can't beat the price of $25 per pair.
Cody approves too and was helping us get them hung.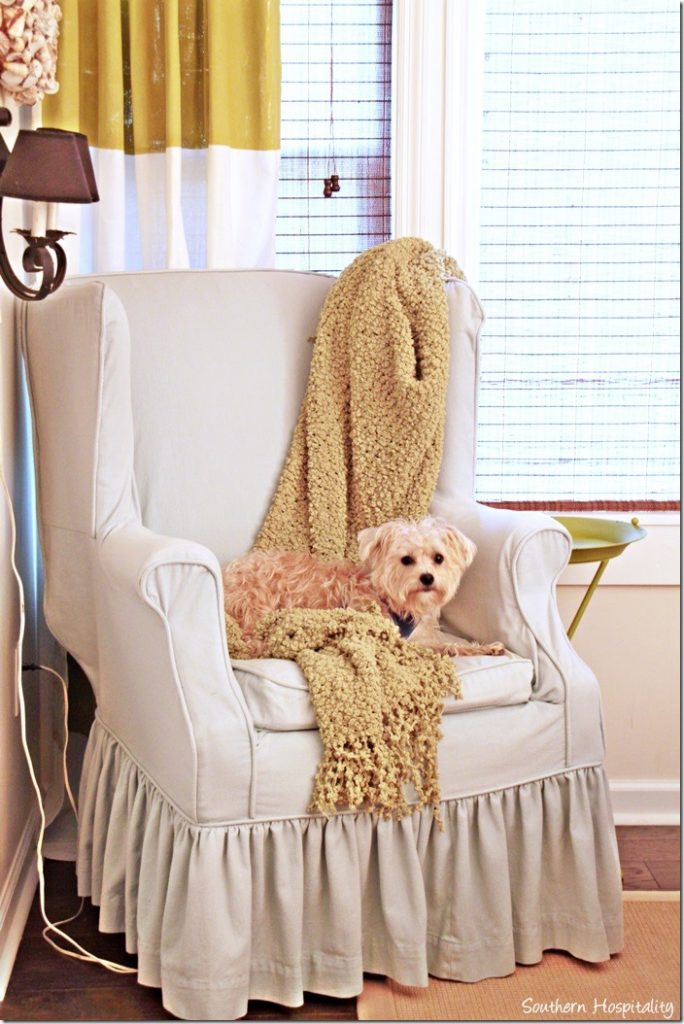 He's a cutie and loves to be in the middle of it all.
I'd definitely recommend this project and love how it turned out for Rhonda's room.  Really adds a nice fresh look on ready made drapes for just a little bit of cost.  I used 2 sample paint containers from Valspar in New Avocado, a fresh lime green shade.  One for each panel worked out well.
That's my Frogtape project this month, hope this got you inspired once again with the POWER of paint and how you can virtually change anything with paint. My fave home improvement weapon, paint does wonders for everything.

Disclosure: I am a Brand Ambassador for FrogTape® and receive compensation for completing projects for FrogTape®. All opinions, projects, and ideas are based on my own experience.
Don't Miss a Post, join my list!