Since we finished the pool last year, one of the projects we wanted to do was add a 1/2 bath to our basement. We've been working on cleaning out the basement, getting it organized for the last couple of months. We're making progress, but have a bit more to go. Mark had a storage area with all his boxes stored in there and we knew the basement was stubbed already for a bathroom, but when he moved his shelving around in there and got rid of more things, it opened up that storage area where the furnace is located and allowed us to go ahead with the 1/2 bath project in the basement. We knew having a toilet especially would come in handy when we have guests and family over for a cookout and swim. Traipsing upstairs was not a good idea especially for our elderly parents and the kids.
We had our regular plumber who was here a few months ago servicing the AC and furnace, look at the basement and he assured us it could easily be done, by adding a pump. The pump would go in that round circle that you see above to the left and connect to those white pipes above. We were so fortunate that the builder of our house stubbed this basement for a full bathroom. That raised bucket looking thing covers a hole where a shower or tub would go. We don't plan to add a shower, but a vanity and toilet is a must. Our plumber couldn't fit us in right now, so I got a recommendation from a reader here in the area and we found a good one who had time to do this project. It came in at $2500 for labor (including the pump they supplied) and we supplied the vanity, faucet, and toilet. I couldn't wait to get this done. I knew it wasn't going to be fancy in here. This is a storage area with the furnace after all, but I wanted to at least paint the walls and repaint the concrete floor to freshen it up and make it feel better.
I used outdoor trim paint that we had left over and painted the walls white and bought a gallon of gray paint that's a little lighter than what was there. My goal was to make it all look better, cleaner and fresher looking for this makeshift 1/2 bath.
It's not fancy, but I love how it turned out! It's perfect for what we need and I used folding screens for privacy, which you will see below.
Here's the after from painting the concrete walls white and a fresh coat of gray on the floors. Everything is working great and we're so pleased with the results.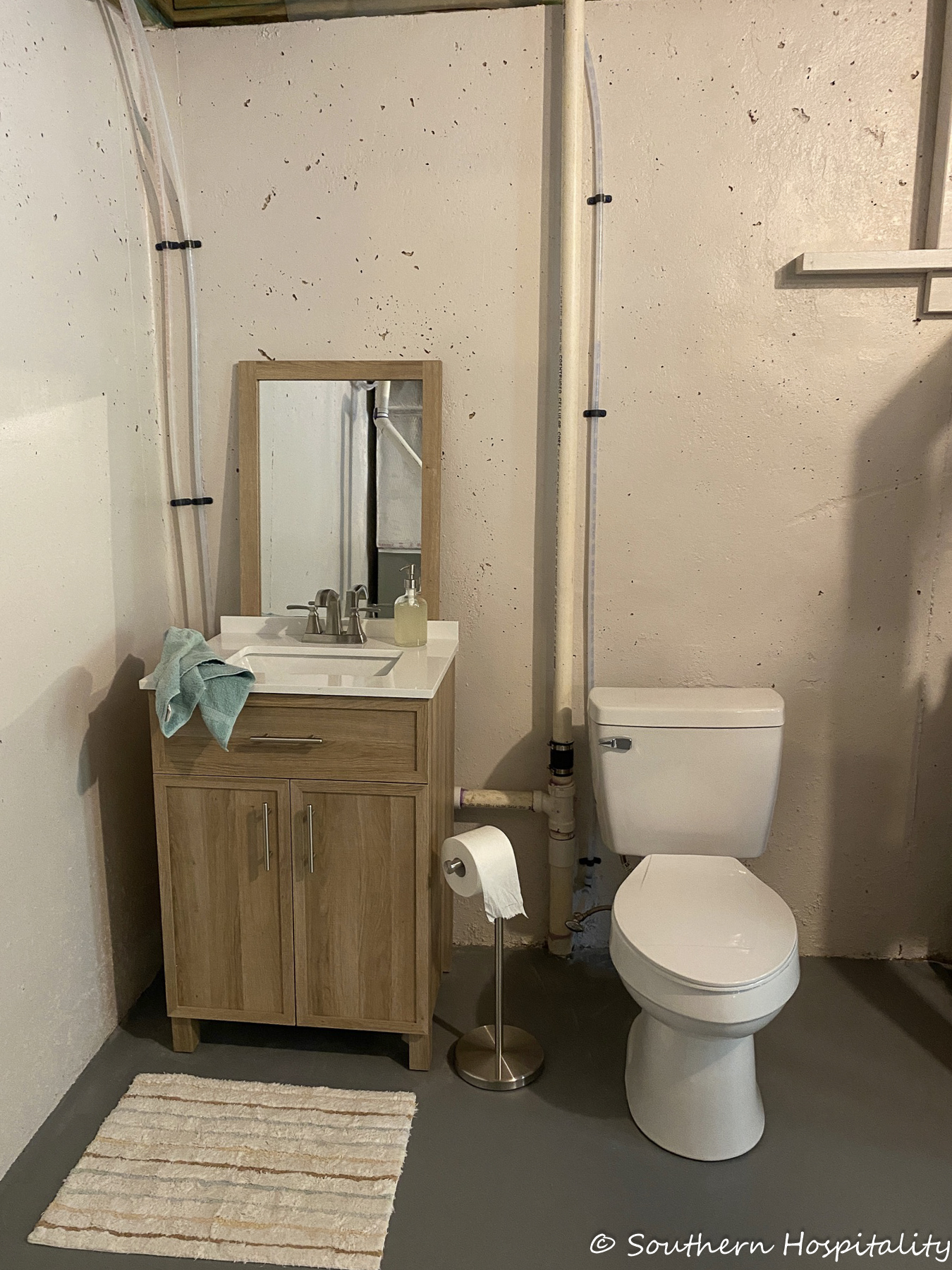 I bought the vanity and faucet at Lowes, one of their most inexpensive ones as well as a basic toilet from Lowes. The rugs I had laying around and they add a bit of cushion. The toilet paper holder is from Amazon.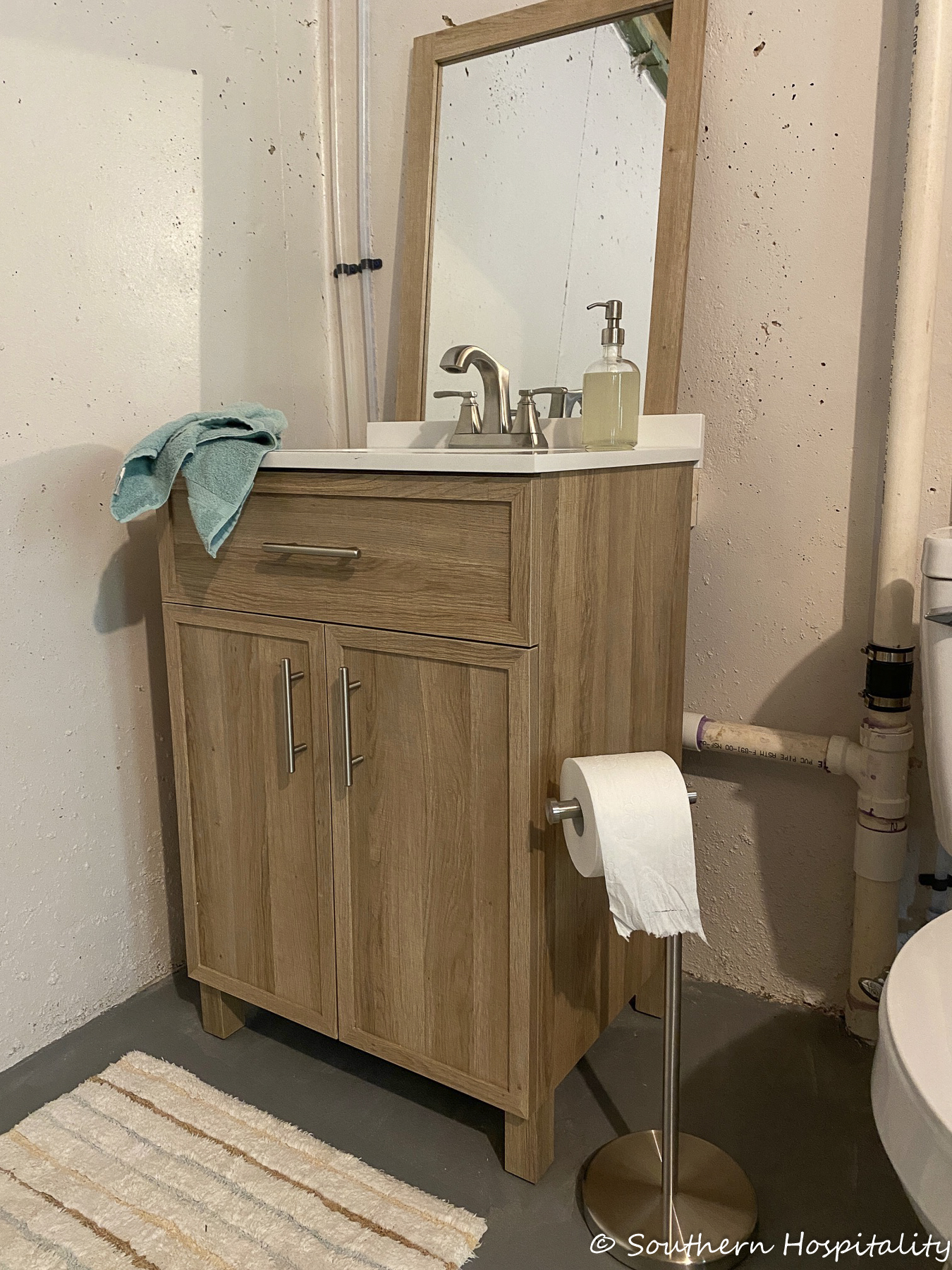 This set up will be perfect for the kids and anyone who is visiting. It can be a place to change clothes as well. The mirror is leaning on three 2×4's that the plumbers added and screwed into the wall for the vanity to attach to. It was perfect for leaning the mirror and just leaning the backsplash as well, since the vanity doesn't fit flush to the wall. You can barely see the 2×4's peeking out behind the vanity.
Affiliate links used below. 
A vanity is nice to have too!
Here's where the pump is installed at the top of the picture and it pumps waste up those pipes. They took the bucket off the shower hole so I needed a solution for that and of course I got creative.
I looked up round metal or plastic 12″ discs and came up with a plastic plant saucer in gray from Amazon. It was perfect for covering the hole and I used a hot glue gun to stick it to the floor. Should keep the kids away from it.
I'm actually adding a little side table I have over the disc too to add something to drop clothes on if people want to get dressed behind here.
I added a runner that I had that provides a walkway toward the bathroom area and it's perfect too along with that little folding table I had.
I was gifted two 6′ folding screens to use in the space as a privacy screen and they worked out great! I worked with a company called Costway and they sent these to me. They reached out and asked me if I had any projects that we could collaborate on and then this came up. I had actually bought something from them last year, the brown faux wicker set of chairs and table that sit by the pool and really like them and they were a good price. So check out Costway for lots of nice items for a reasonable price. These screens are made out of a fiber material, so they are not real wicker or faux wicker, but very sturdy for my needs and easy to put up.
You can get 10% off the screens by using code GSPKFTAN for 10% off on anything on the site.
It's so nice to get this project checked off our list. We will continue to work on getting the rest of the basement completely decluttered, cleaned up and organized. It's feeling so much better down there already. We may end up finishing out the middle room of the basement at some point, but there's no rush on that. We sure love having the extra storage and I have an overflow pantry, since my kitchen pantry is so small. It houses all my decorating and Christmas decor, all our extra paint, cushions for the outdoors are stored there in winter, the smoker, pressure washer, pool cleaner, and a few other things. Basements sure do come in handy and if we didn't have it, we would be so tight on extra storage.
Don't Miss a Post, join my list!