This is a repeat from Summer 2016, but worth sharing again! Enjoy this beautiful Georgia Hydrangea tour and Ryan Gainey's garden that Mark and I toured.
**********
A couple of weekends ago, Mark and I went on the annual Georgia Hydrangea tour, which has been going on for many years. This is the first year I've actually remembered it was happening so made a point to get tickets for the tour.  I LOVE hydrangeas and since my front garden hydrangeas did so well this year, it made me even more eager to see all the beauty happening in the Atlanta area this year.  This was a really good year for hydrangeas apparently.  I want to fill my yard with lots more varieties of blooming hydrangeas, because you just can't have too many!
The tour was really nice and there were 7 houses on the tour this year, 3 stops in Marietta and 4 stops in Decatur.  We started on the far side of town at the house further away in Decatur and then hit the rest in that area before driving back to Marietta for the remainder of the homes.
My favorite by far was Ryan Gainey's garden tour at his home in Decatur.  I have heard about Ryan for  many many years here in the Atlanta area and he is a superstar garden designer, having designed many famous gardens private and public worldwide.  He's a Southerner, from South Carolina and looks to be quite the dapper gentleman.  I knew we were in for a treat and we certainly were not disappointed.  From the docents at the tour, we learned that his current house is next door to a house he formerly owned and designed the garden and now both gardens just flow into each other.  His house recently had a tree fall on it, so was in the process of being renovated, but we all certainly enjoyed the garden tour.  It's amazing! So, what you will see is both homes and their gardens, all flowing together.
The homeowners of the yellow house left a comment and here is the information about their house and gardens:
We purchased the property 6 years ago and the garden was completely redesigned by my husband, Tim Wolfe of Tim Wolfe Design, in the past six years. Ryan did not live here but purchased the property after acquiring his residence next door and used it as an office then rental for years. Tim was approached about doing the Hydrangea tour this year and brough Mr. Gainey on board.
We started at this house, which is next door to Mr. Gainey. He lived here and designed this garden and then moved next door and the gardens all wind together from the backyard over.
This space has a lawn area in the backyard, unlike Mr. Gainey's current residence, which is a mass of winding paths, beautiful garden artifacts, greenhouses, tree house, guest house, and more.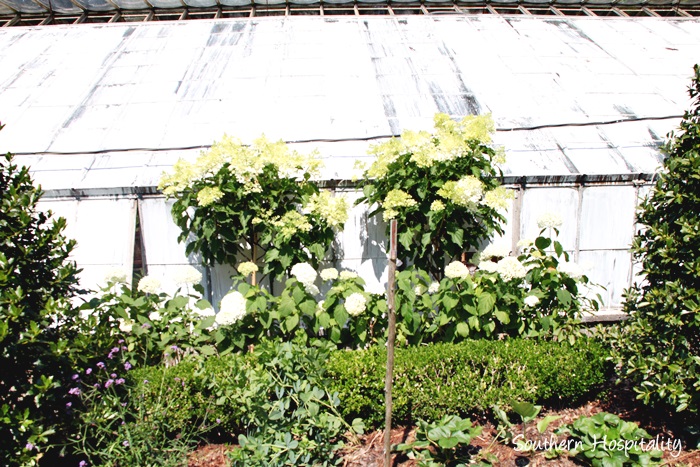 Still in the neighbor's garden, we're about to go thru the back garden gate to Mr. Gainey's current garden.
A greenhouse is filled with lots of plants.  You can definitely tell a true gardener lives here.
Mr. Gainey's back yard garden is truly a treasure trove of beauty, with winding brick pathways, beautiful garden pieces and so many plant varieties.  And yes, hydrangeas!
It was very hard to even capture the beauty of the space and I had my big camera and iPhone camera with me.
So much was in the shade so hard for the lens to capture it all, but this tree house was amazing.
A little guest house that looks like it's not being used is buried in the backyard and hidden away.
I just adore old garden statuary and he has plenty in his backyard.  Old and vintage is definitely the theme of Mr. Gainey's garden.
It's so lush and shady back there and all the paths wind in and out creating really private garden rooms.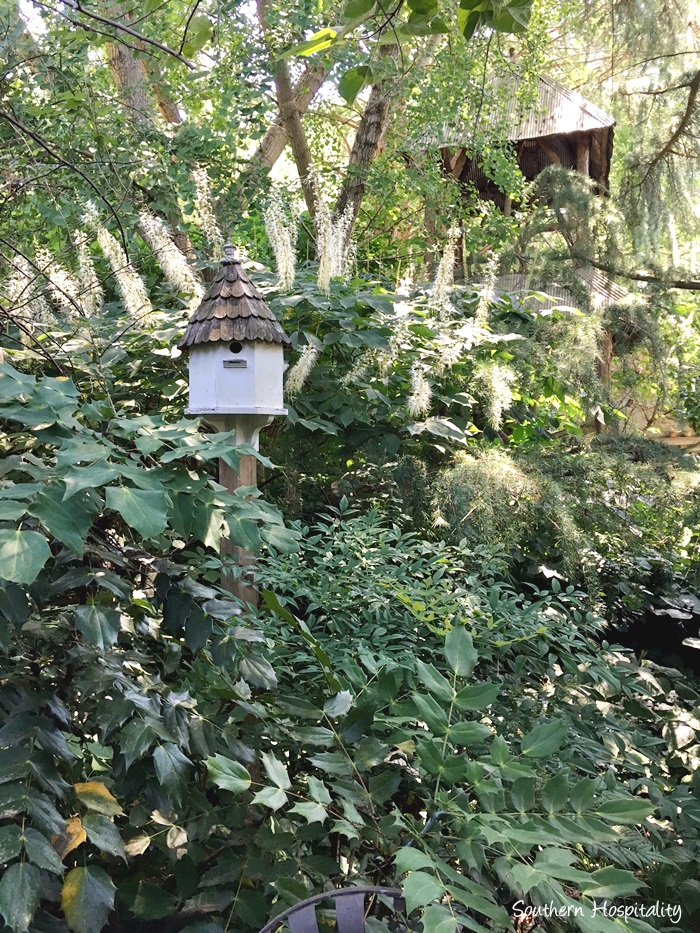 Folk art, garden art, crusty statuary is strewn throughout the garden giving it a very  old and established feel.  I'm not sure how long this garden has been around, but it's truly beautiful.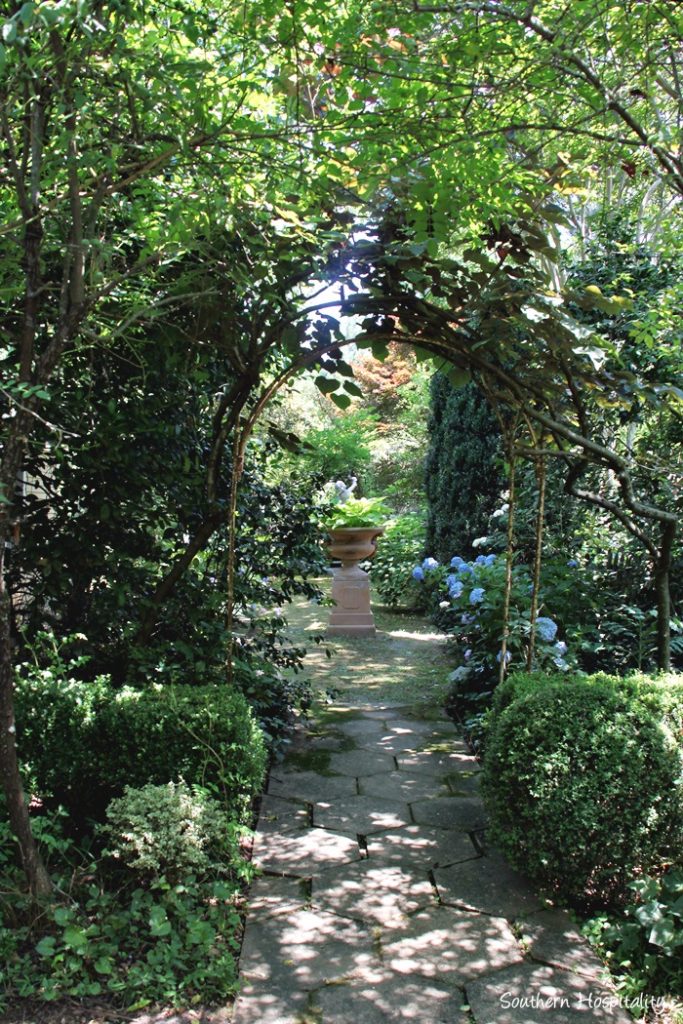 Winding paths and archways are all through the garden creating such ambience.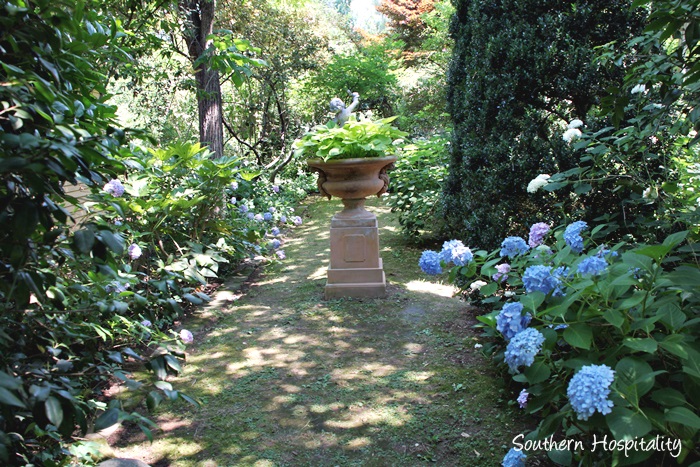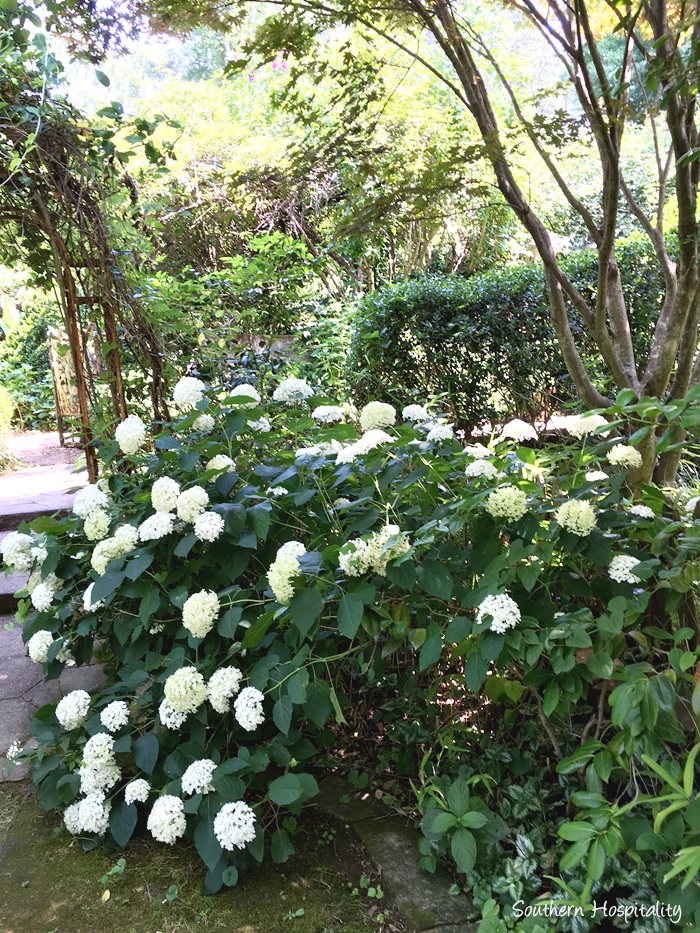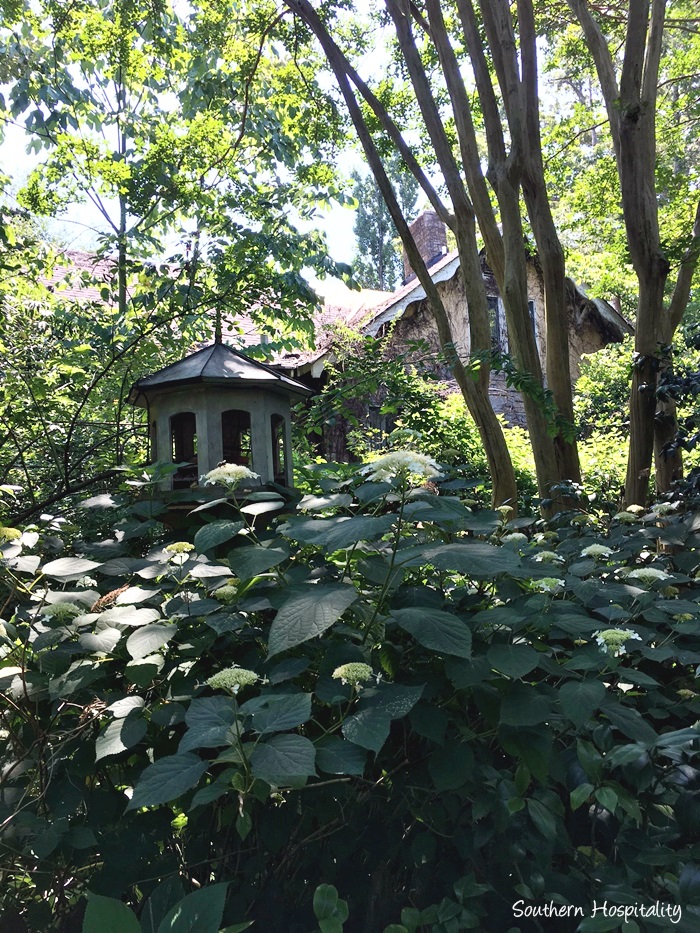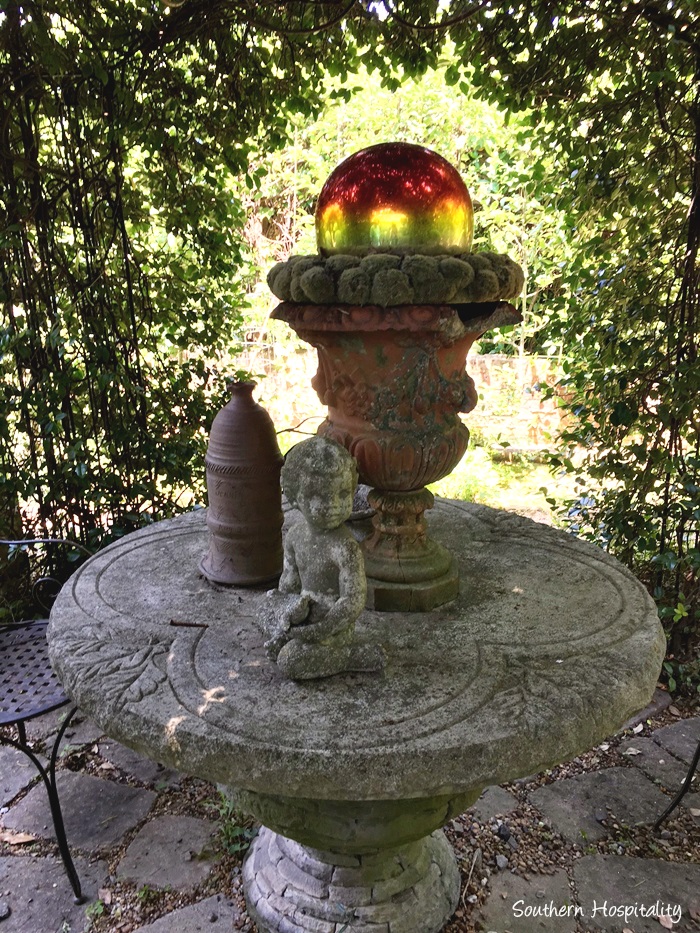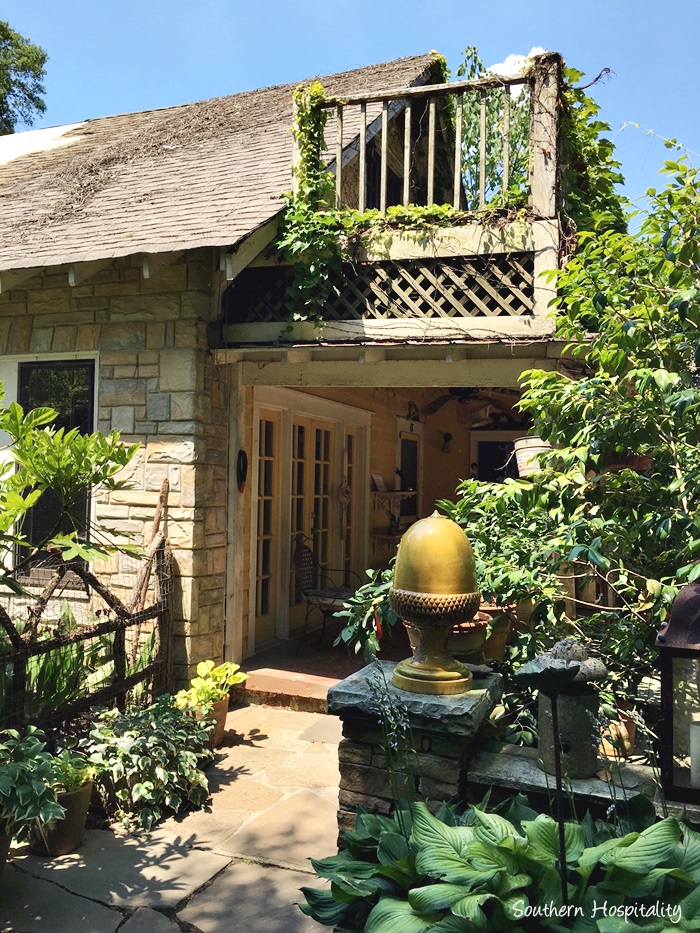 The back of Mr. Gainey's current home.
Don't you love this garden gate?
The tree that fell on his house has been removed, but the massive truck remains, along with tags stating the year and how old this tree is thought to be, at least 100 years old.
I'm thinking he's going to keep this in his garden for an architectural feature.
His garden style is wild and wandering, with an eye for detail and magic.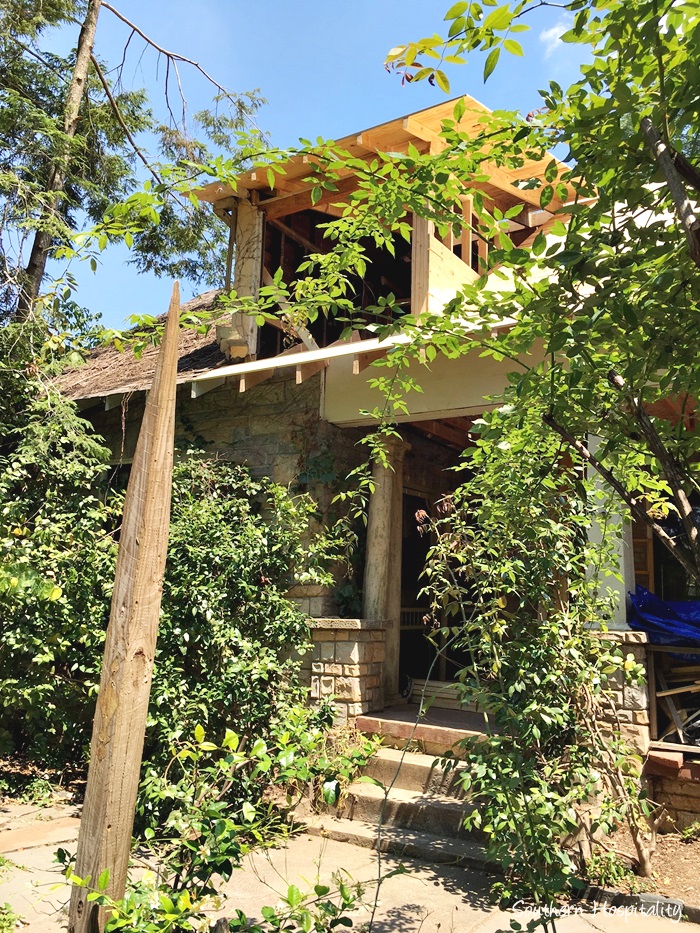 His current house is in the midst of a renovation and I'm sure it will be charming when completed. We thoroughly enjoyed our strolling through Mr. Ryan Gainey's backyard garden and I hope you enjoyed me taking you along too.
Sadly, Mr. Gainey passed away not too long after this tour was completed.
Don't Miss a Post, join my list!