Last Friday was a crazy day.  I got up at the crack of dawn, went to a Dr.'s appointment for my yearly exam and mammogram (oh, thrill!), hopped in the car and headed to Montgomery to meet up with my blog girls, Layla, Shaunna, and Ashley.  We were Atlanta bound.  Stopping by Ikea was our first destination, where we browsed and ate lunch.
Then, we headed over to Border's bookstore in Buckhead for The Pioneer Woman's book signing.
She has a new book, did you hear?
Black Heels to Tractor Wheels: A Love Story has officially been published and Ree is sweeping the country signing copies.  We wanted to be there!  And so we were, along with a bunch of other Pioneer Woman-lovin' folks.
After arriving at Ikea, we headed up the escalator and got started browsing.  And if you've been here before, you know that it can take days to see everything in this mega-store.  We barely scratched the surface that day.
Layla and I with dualing cameras kept it fun.
Ikea has it all, from live plants.
To colorful and unique bedding.    But first our stomach's were growling and we had to get something to eat.  Ikea has a restaurant, did you know that too?
After hearing about the Swedish meatballs with mashed potatoes and gravy, I had to try them this time and they really were delish.  At $3.99, a bargain too!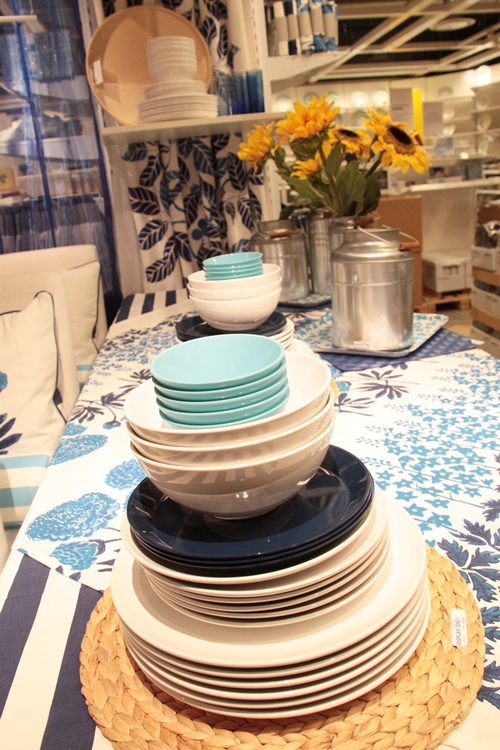 After filling our tummies, we walked around a bit and those girls picked up a few things.  Me, I don't need nuttin', so I just concentrated on taking some pics of things that caught my eye.  Like these pretty blue and white things. Dishes and linens.
Pretty pillow in blue and white too.
And these mugs had such a nice feel, they came in blue and lime green.  CUTE and cheap too, I remember.
Shaunna and Layla discussing the benefits of fake plants.  That one does look pretty real.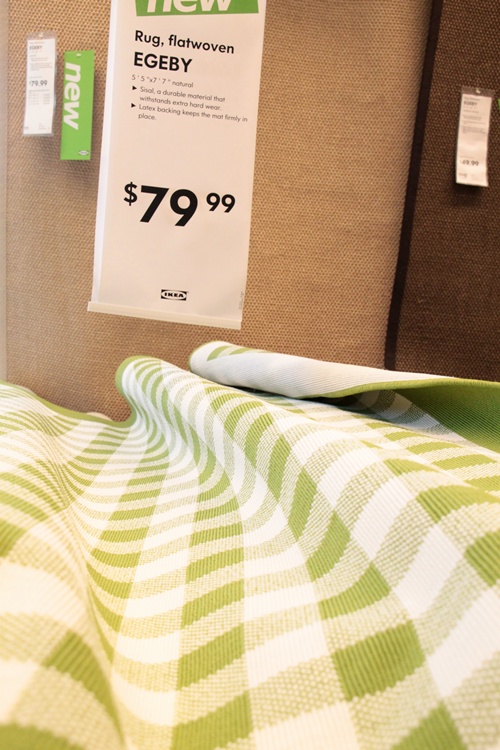 I loved this green and white checked rug.  What a fun pop of color this would add to a space.  You cannot beat Ikea's prices.
Those girls are enjoying themselves!
More fun colors in these round polka-dot pillows and throws.
These ruffly throws were too cute!
Me and Layla checking out some tiny teacups. 
Some fun and modern hanging lampshades.
More plants, real and fake, with lots of planters too.
Some colorful hanging paper lanterns caught my eye.
Along with these stylish glass lamps. 
These pretty enameled metal pitchers were really reasonable.  I think that large one was $19.99.  Those would be so Springy with some tulips inside.
Layla couldn't get over the great price on this huge umbrella.
Their furniture is so reasonable too.  This is the versatile Hemnes chest.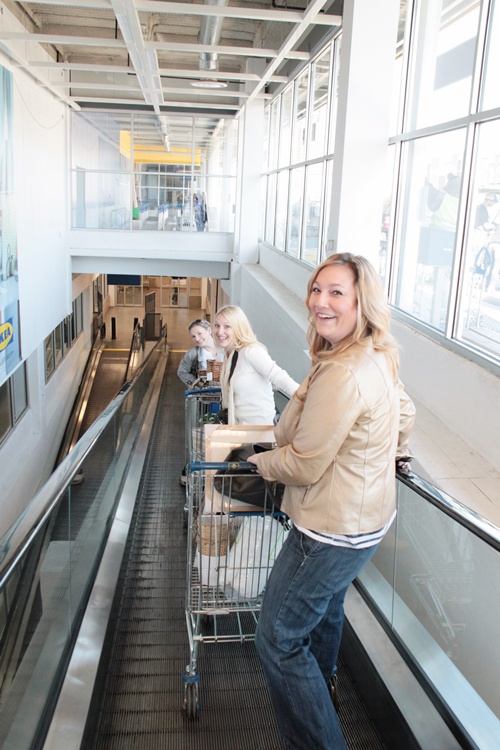 Our time went so fast and we had to get on over to Border's for the book signing.  Check out this escalator for shopping carts, first time I've experienced that.  Those 3 all took something home.
Shaunna made me drive her big SUV through the streets of Atlanta, since she was a little nervous.  I told her I learned to drive here, so it wouldn't be a problem.  I think they were a little scared of my driving. 🙂
We scurried over to West Paces Ferry, past beautiful homes like this one and the Governor's mansion and found Border's in Buckhead.
Where we got wristbands and waited awhile like this before we got in line to wait some more.  Book signings are not for the weak of heart.  You really have to want to be there.  And we did.
We all got a little punchy after waiting about 3 hours in line, snaking in and out of the bookshelves, commenting on all the book titles that were funny.
But,  it was totally worth it to get to see Ree again and chat with her for a few minutes.  She was just as gracious as I remember her being.  Did I mention I went to the ranch last year and slept in the Lodge?
Yes,  I did!  You can be a little jealous, it was totally awesome and a highlight of my bloggy career. 🙂
I just love Ree, she is so down to earth and genuine and we all had fun getting to see her.   I can't wait to read the book all the way through!
We all were a little bummed that this is as close as we got to Marlboro Man. He was there with their 2 boys posing for pics and signing autographs too and we let time get away from us and he had already left the building by the time we decided to go over and meet him.
Darn it!
Those Wranglers and cowboy hat from afar were all we got to see. 🙂
New blog friend, Christine, with Great Oak Circle, was also there and we got to chat a bit. She actually lives very close to me here in Birmingham and came to my Saturday sale last weekend.  She is giving away a signed copy of PW's new book, so hop on over for a chance to win.
Don't Miss a Post, join my list!