First things first!  The Initials, Inc. giveaway winner is Mary from Megardengal.  Congrats, Mary on your win.  I'll put you in touch with Ivy to claim your fab prize.  I know LOTS of you wanted to win and I wish we had more to give out, but I hope that you'll check out Initials, Inc. for some gift ideas.
I'm heading over to Atlanta this weekend to spend Mother's Day with my mom and family.  I hope each and every one of you enjoy this Mother's Day too. Today, we'll take a peek at what's blooming in my yard right now.  I get excited every Spring to see how things pop up in the yard and take off growing and blooming.  It never gets old.
This year's garden is looking better than ever.  Hubby plants the veggies.  I plant the flowers and we're both happier for it.


Welcome to the backyard!
I thought it would be fun to pull out pics from 4 years ago when I first planted this bed at the top of our driveway.  It was all grass and after we moved in, I got out here and dug all the grass out and planted a perennial bed.  I planted several things in there and most of it didn't make it, but the one thing that did has practically taken over the bed. Luckily, I made a good choice with the bones of the bed.  See those little shrubs at the back by the fence that are limey green?  Those are Spirea and are a great little shrub.
Well, not so little anymore, you can see that they've practically taken over this bed.  Which is fine by me.  It hasn't stayed all neat and tidy like the first pic, I've had the hardest time keeping the grass out that was there originally. It's a never-ending battle.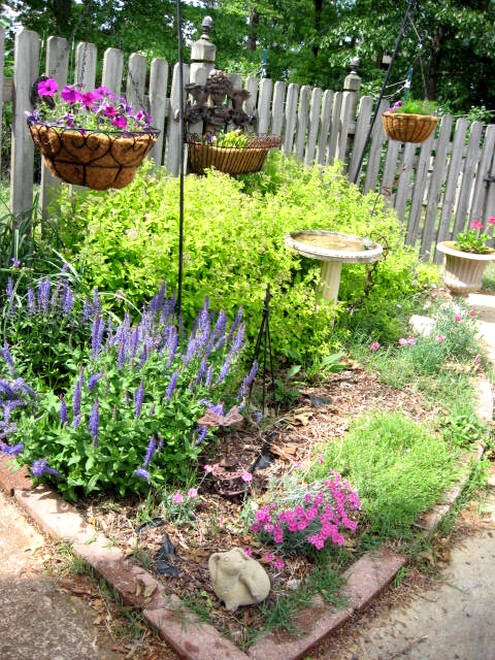 I've added some other perennials in here too, but gardening is always trial and error for me.  Those purple sages have done well and I just planted them last year.  I've got a few spots to fill in, but I'm hoping that one day this bed will just be all filled in with no dirt showing.

Here's what the spirea looks like up close.  Lime green foliage with soft pink blooms.  I don't remember what variety this is, but I think it's Goldmound.  You can't go wrong with Spirea.


I love planting my hanging baskets every year and these wave petunias do a good job of blooming nonstop.  I like good performers that I don't have to baby.


Iron basket planted with a few annuals and my yardsale find birdbath from last year.


This iron basket has a few annuals and hopefully they will take off and grow nicely.

Here's that sage up close, it's done really well, with Dianthus in the foreground.


Sage again

Another basket with asparagus fern and more wave petunias.


BEFORE:
This front bed of ours was a real eyesore when we moved in. I couldn't stand all these old boxwoods and really would have preferred to take more of them out, but settled for ripping out this corner and replanting it, along with adding a little stone wall, that I built myself the first year we were here.  I love doing projects outside too!


Here's the wall one year after it was planted.


And here is that same area now, 4 years later.


Big difference!  it's been fun seeing this bed grow.


These Knockout roses are the best! If you haven't tried them yet, they are pretty much foolproof and bloom like crazy all summer long.  Well, the first bloom is the best, but they will keep blooming. I just put in a Double Pink one in a spot too.


Cute Mr. Bunny.


Yardsale armillary is in this bed.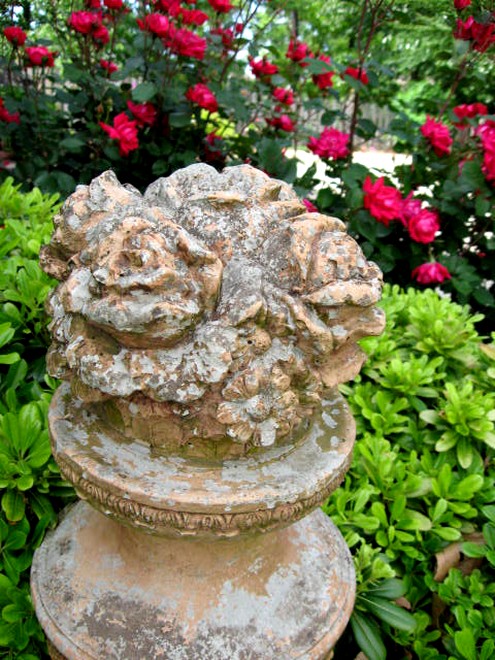 Concrete oblisk.


This bed has grown and done really well  and when I look back at the old pics, I can really appreciate the progress.  These are Japanese Dwarf Mock Orange and they've spread out so much.
Close-up of the double red Knock-out roses.

BEFORE: This is the small little bed next to our back gate and this is the first year planting of an Endless Summer hydrangea, with 2 hosta in front.   So cute and compact, huh?!


Not so much!  Here are those same plants this year.  That Endless Summer hydrangea has spread out and seems to love this spot and will be blooming profusely very shortly.  I'll be sure and take more pics of it then.  It looks like it's sitting on top of the hostas now. 🙂

The blooms are abundant and it will be a gorgeous shade of blue.


This year, I've added double New Guinea impatience to the front of the bed, so I hope it does well for me.
So, that's my garden this year. I hope you enjoyed the tour. Do you have a flower garden too and do you enjoy digging in the dirt? I've got more plans, so let's see if I can get to some of them this year. I did plant a new pink peony this year too that I got at our Botanical Gardens annual sale and can't wait to see what it does.
I'll also be updating you on Peter's garden. He has really gone crazy this year, planting all sorts of veggies, so we should be bustin' out with lots of green beans and tomatoes very soon.
I'll share all of that soon. He doesn't let the fact that we live in a suburban neighborhood stop him at all and he's got beans in the front yard, same as last year, climbing up some fencing. Nope, I'm not even kidding. 🙂
I'm at my mom's for Mother's Day this weekend, but will have Thrifty Treasures up at the usual time on Sunday night!
My friend, Kim from Daisy Cottage shared some absolutely delightful pics of Savannah last week. Check them out if you love that city or think you might want to visit.  Such a charming Southern city!

Don't Miss a Post, join my list!