Meal planning is one of those ongoing things that we have to do in life.  Eating and planning meals is a daily event for all of us.
It's not often that I have my mom and dad over to eat.  My dad is a little picky and he is so used to my mom's food and cooking habits that he doesn't really like to eat out of the ordinary food all that much.  We chuckle over this in our family, because we know how dad is.  He's not one for new things. He adores my mom's cooking and that's where he would rather eat most all the time.  Of course, she on the other hand, would like a break occasionally. My sister and I try to go over there about once a week to have lunch with them. They love that of course and we do too.  Mom has always cooked a big meal at lunch time and continues to cook meals for them every day.  Cooking has always been her thing.
Last year, I introduced you to a meal delivery service called Blue Apron and this year I'm going to be working with them quarterly to show you the meal service plans they offer and how it works in a real home. It really is a neat concept and I do think it's a great idea for many folks. Someone who is working and simply doesn't have a lot of time to meal plan and grocery shop. Older folks who can't get out of the house all the time to shop and bring home the groceries. There are lots of people who could benefit from a meal service like Blue Apron and I still think it's a fantastic idea.  Going to the grocery store and having a set list of recipe ingredients is half the battle in cooking tasty meals at home.  
So, since I'm partnering with Blue Apron this year and sharing meals every few months, I thought this would be a good time to have my parents over to try out a new dish.
The box arrived and I unpacked everything.  As usual, all the recipe ingredients are packed up nice and neat in this refrigerated box and everything comes out fresh and ready to cook.
You can choose from a selection of meals offered for that week online and get those things that appeal to you. And you can choose meals for 2 or 4.
Each menu is between 500-700 calories per person, so these are healthy well-balanced meals too.
Ingredients are super fresh and sourced from quality local suppliers and artisans.
All meals can be prepared in 40 minutes or less. (love this part!) As you can see above, all the ingredients are well marked for each recipe and the bags have handy tags on them identifying what goes with what. The only thing that is not included is oil and salt and pepper. They figure you have that in the pantry.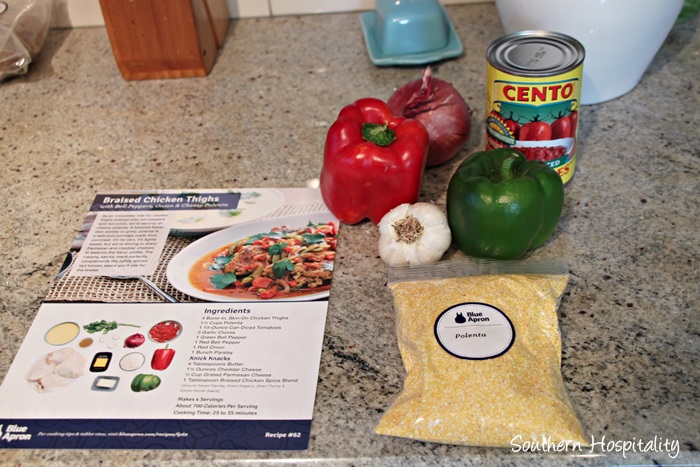 With a recipe card inside, it's easy to start cooking.  The card has all the ingredients listed on one side and then the step by step directions on the other.  We are having Braised Chicken Thighs for this meal along with cheesy polenta, which is sort of like grits.
I chopped and prep all the veggies, getting it ready to simmer.
Adding spices to the chicken thighs, they are ready to cook.
They sauté in a saucepan for a few minutes, then it's time to add the veggies.
Following the directions exactly, my braised chicken thighs look really good.  Polenta was included as a side dish to this meal.
And here's the final presentation.  My roommate, Rhonda, was home too so we all sat at the table and ate a delicious lunch together.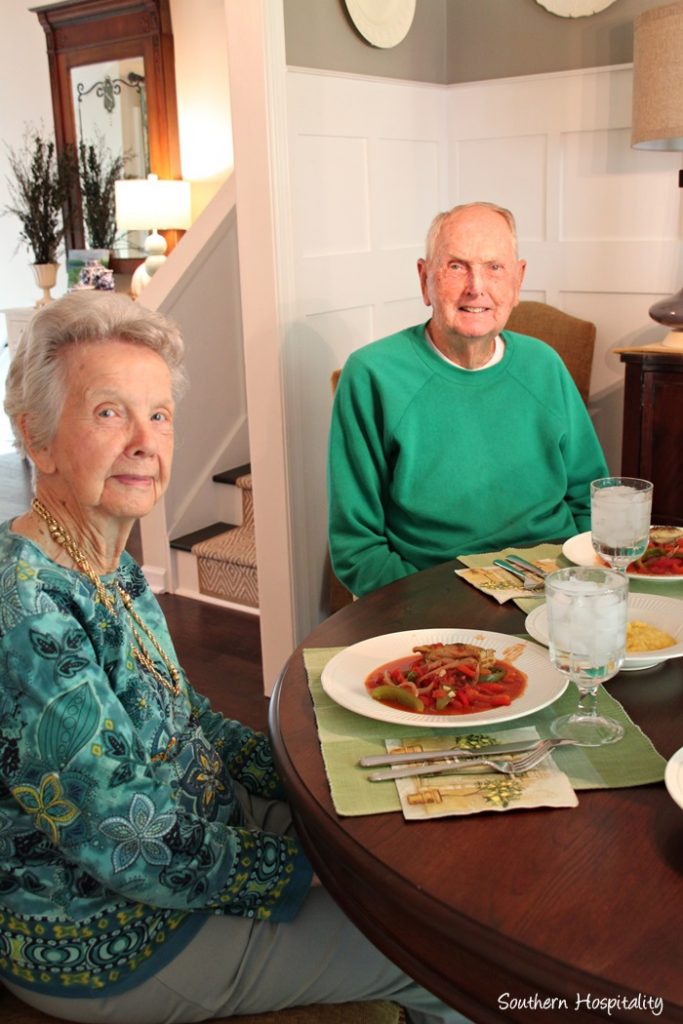 It was a treat for mom and dad and for us to actually sit at the table and eat.  We don't do that very often.  When my outdoor porch gets cleaned up, I'll be eating lunch on the porch table.
The girls all enjoyed the meal.  Dad was content with his, but didn't brag on it too much. We all thought it was a delicious combo and it reminded me of Chicken Cacciatore, the flavors of onions and peppers and tomatoes blended together.  The polenta you see in the prep picture was prepared too. It's sort of like grits and I added butter and parmesan cheese to it.  You can see it in a separate bowl on the table.
Another meal from this box that I tried out was the Salmon Rolls.  It was really, really delicious, sort of a chicken salad type recipe using salmon.  I opted not to use the bread, but this was a delicious meal.  I had never heard of pea tips before, but that was the ingredients used for the side salad, mixed with a tasty lemon vinaigrette.  I loved this one a lot and will keep this recipe!
I really like the fact that Blue Apron lets you create good, chef-designed recipes at home. I have thoroughly enjoyed every single meal I have had from Blue Apron. Not one has disappointed me yet.
I can't tell you how much food we have to throw out that doesn't get used in time. Blue Apron sends just the right amount of measured ingredients with no waste.
You get your choice of 2 types of plans, for either 2-people or the Family Plan. Each plan sends one delivery a week, each with three tasty meals for either 2 or 4 people.
The chefs at Blue Apron are always working on new and delicious menu items and create 6 new recipes a week for the plan. You will be sent 3 recipes chosen for you based on your meal preferences.
The price for the 2 person plan is $9.99 per person per meal.
Feeding a family of four? The Family plan is either one or two deliveries per week and the price for this plan is $8.74 per person per meal.
You never have to worry about shipping, it's always free! And the box is refrigerated so it stays fresh even it it sits on your porch for awhile.
Adding new dishes all the time to their menu, Blue Apron has something for every palette.
Blue Apron meal service ships nationwide to over 80% of the country (full map of delivery zones.)
Blue Apron has a special offer for my readers: 
First 50 readers will get two meals off their first Blue Apron order free!
Just click here: Blue Apron 
Note: This post is sponsored by Blue Apron. All the pics and sharing of the products is all my own.
Don't Miss a Post, join my list!