If you've been reading my blog since 2009, then you've no doubt seen my love for beadboard wallpaper and all that it adds to plain homes by injecting some architectural detail where there was none.  I discovered Graham Brown beadboard wallpaper back in 2009 and have done many projects in my current and former homes with it.  It really is a great cost-saving way to add some cool wall treatments without breaking the bank and without a lot of trouble to install.
I loved it so much, I started selling it in my online shop, but after steady sales for 5 years in the shop, I have decided to end my shop as of 1/31/17.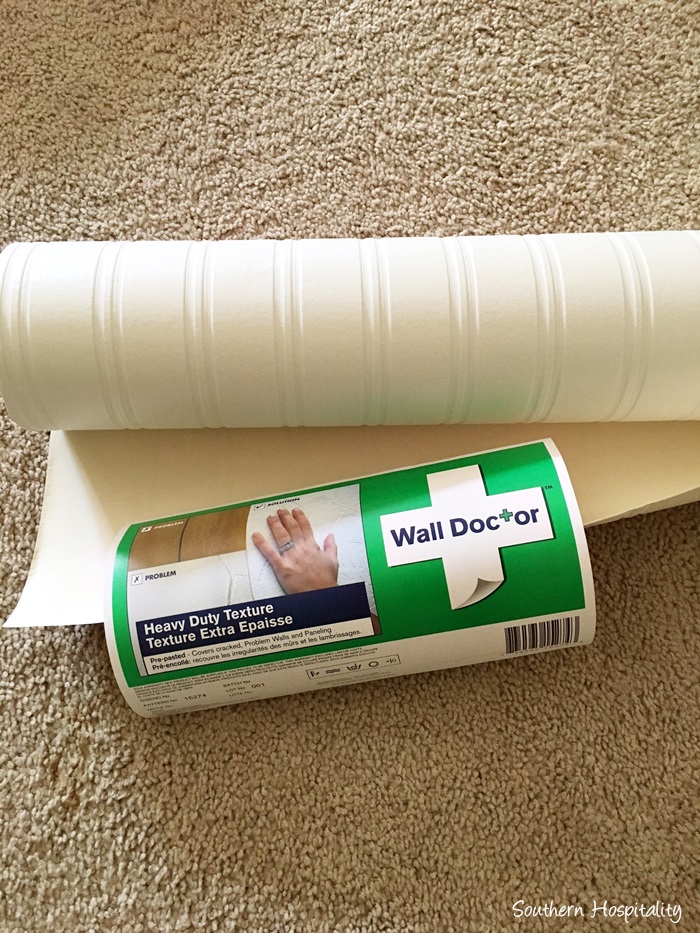 It comes in a roll like this and it's made of paper (yes, really paper!), but it has a foamy thick texture that really gives it the look of the real thing once it's painted with paint.  I always use my trim paint in a semi-gloss to paint it out.  I had someone email me once who bought it and decided she didn't want to paint it, so returned it. I never could understand what she had against using it with paint, but she was adamant about it.  But really, it looks so real when it's painted!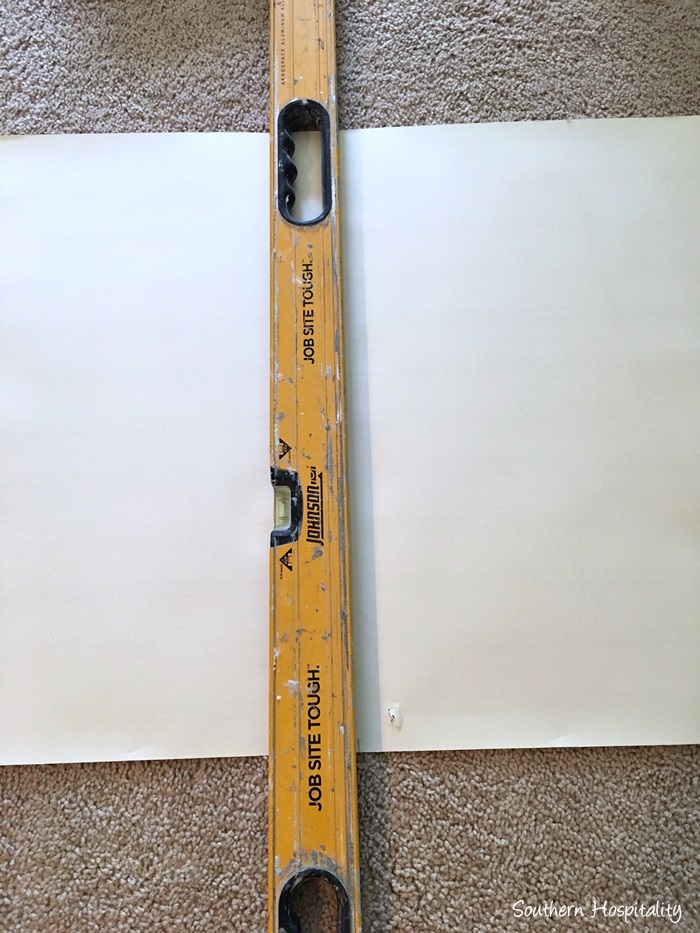 This project was pretty easy because the baseboards were taken off for my bathroom renovation.  But, I've done this plenty of times with the baseboard intact too.  You just have to measure and cut a straight line at the top of your baseboards if they are still in place.  You'll need a square to keep your lines straight and a pair of scissors.
Use a pencil to draw your line and then cut with the scissors.  I decided to place my wallpaper about 2/3 of the way up the wall and since I was adding a 1 x 6″ board across the top, it doesn't have to be perfect.  I cut one sheet and then used it for my guide for the rest of the sheets.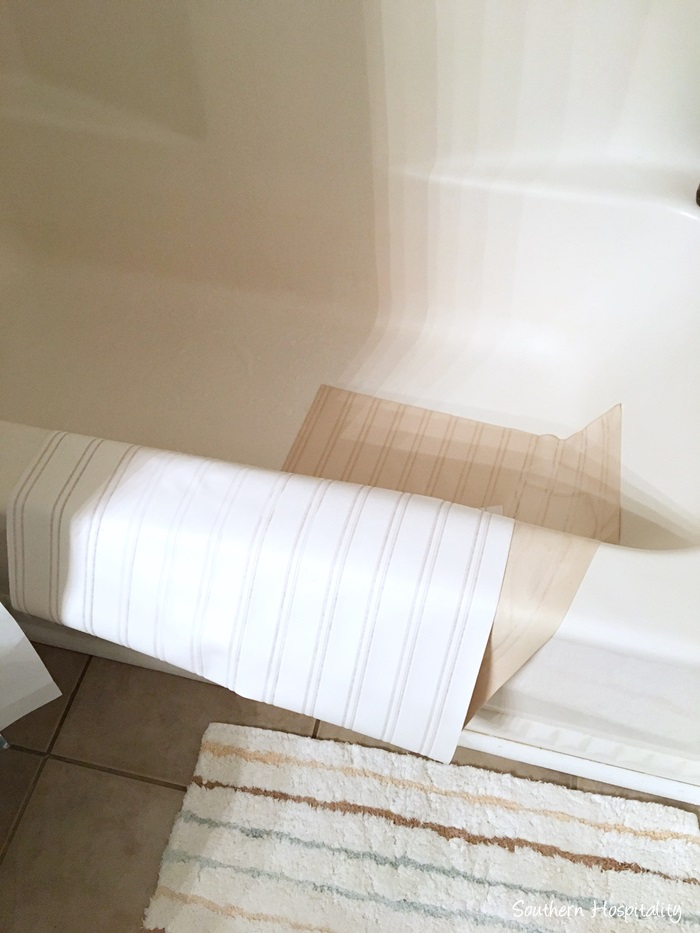 Once you get several pieces cut, you're ready to start pasting.  This is prepasted wallpaper and I wet it in the bathtub, letting it "book" for about 4 or 5 minutes.  That activates the glue.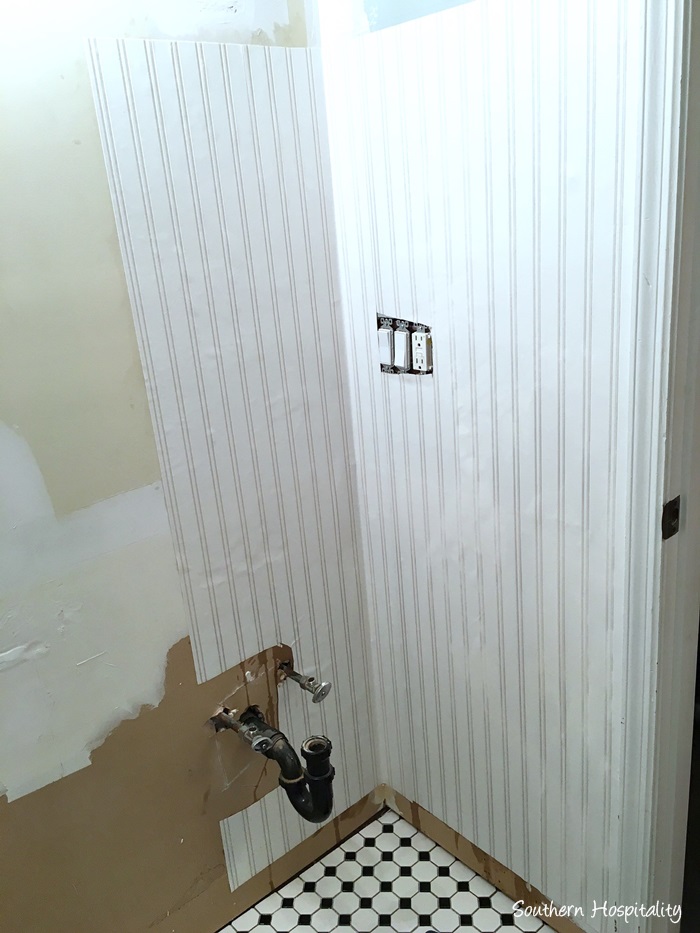 Then it was ready to start hanging.  I started by the door and worked my way around the room. Since this is such a small space, it took me about an hour and I was finished.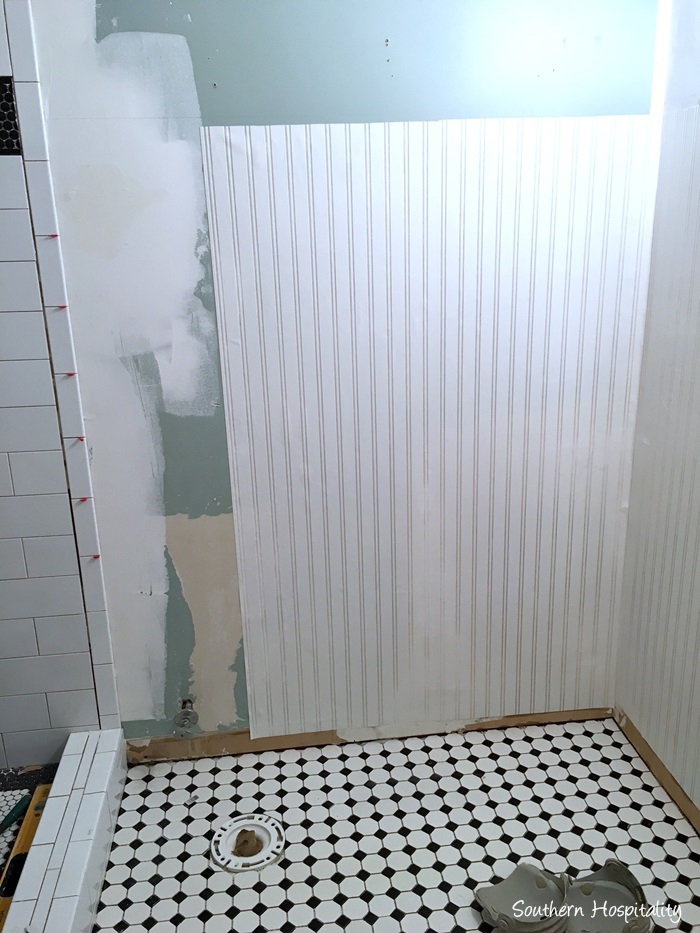 Working all the way around to the shower.  You can see I let the wallpaper over lap where the baseboard will go and the baseboard covered the bottom.  The 1 x 6 board will cover the top. It's best if your drywall is really flat.  I could have worked harder on mine to make sure it was smooth all the way around.  There were some spots behind the old vanity that needed mudding and sanded, so I worked on the ones that would show, but could have worked harder at it.  I didn't have a lot of time between the tile guy working on the rest of the tile work, so had to work at night before he put the vanity back in.
There were a few spots that weren't perfect, but overall once everything got back in there, it's not that noticeable.  I painted it all with a good coat of my semi-gloss trim paint and it was ready to go.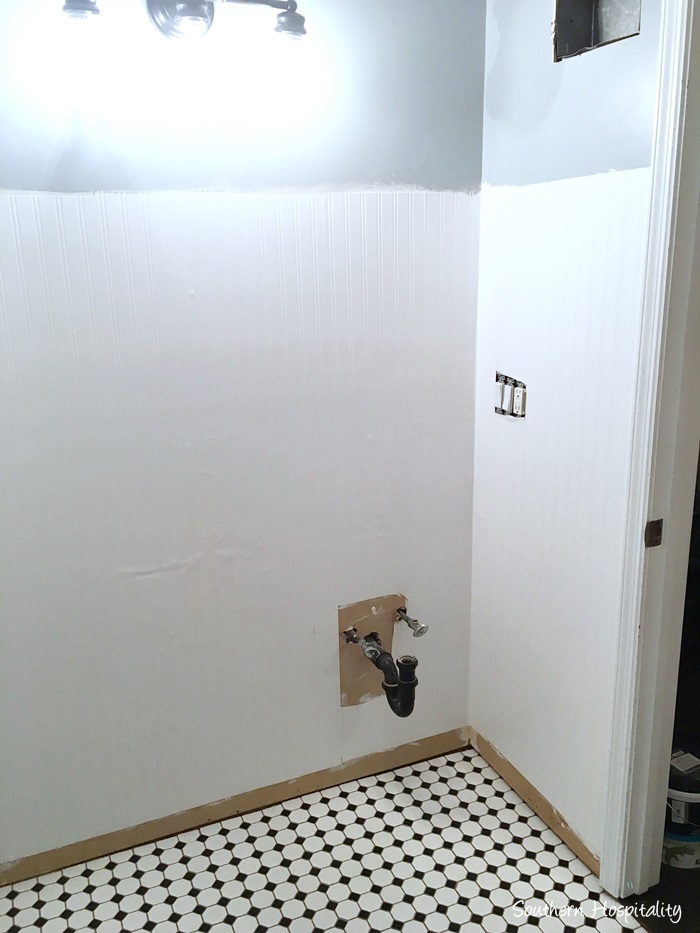 After painting.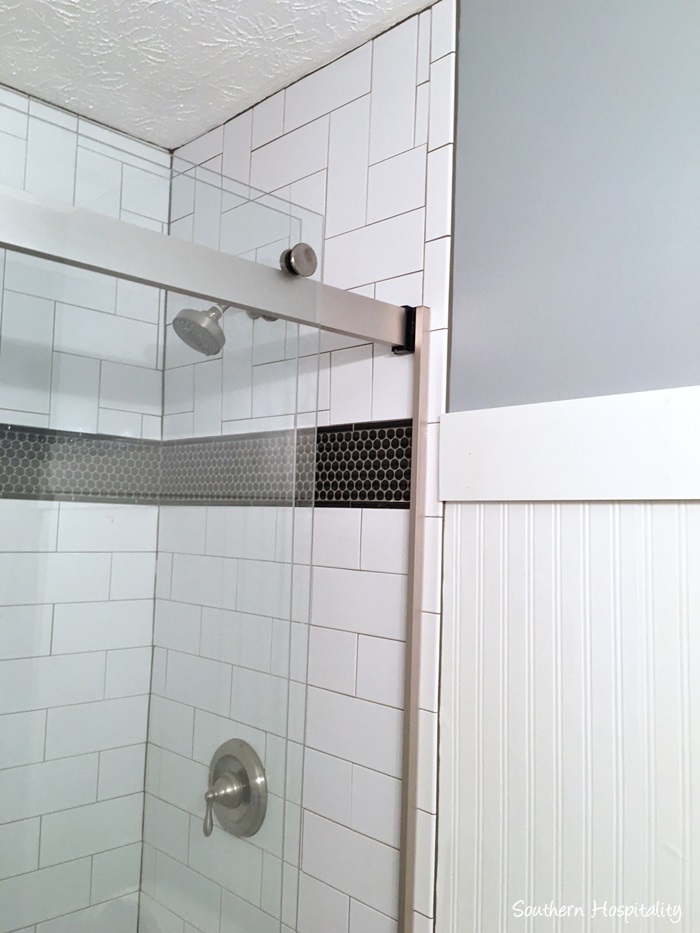 I waited until the vanity was back in and then added the top 1 x 6 boards on top.  I used my cordless nail gun to nail up the boards and then caulked and touched them up.  I painted the boards first before I put them in place.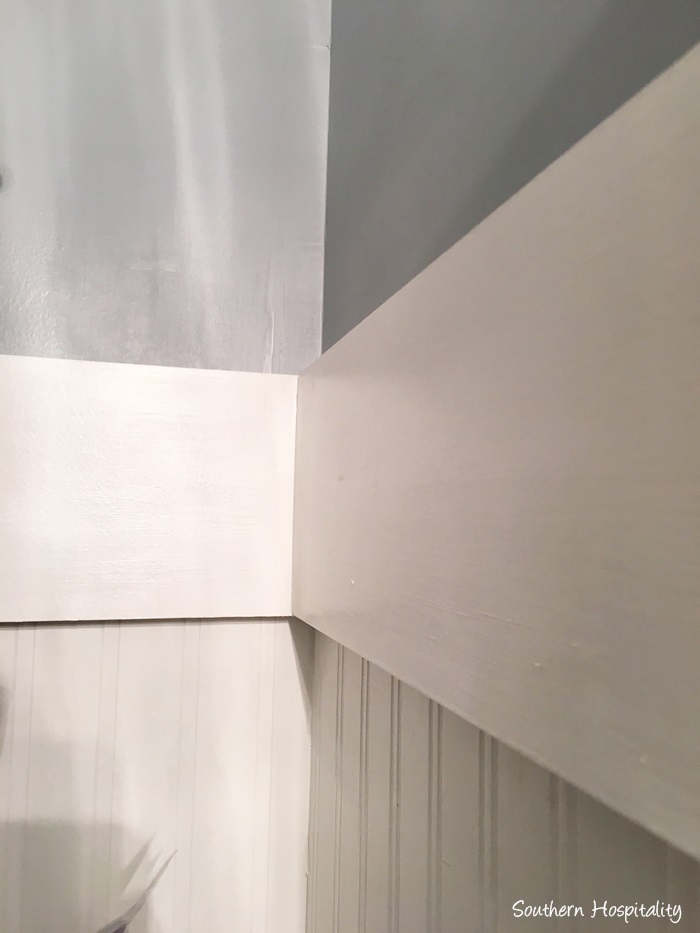 I had the boards cut at the store when I bought them and then had to shave them a bit at home, but they worked out fine.  I installed them with straight cuts and butted them together in the corners.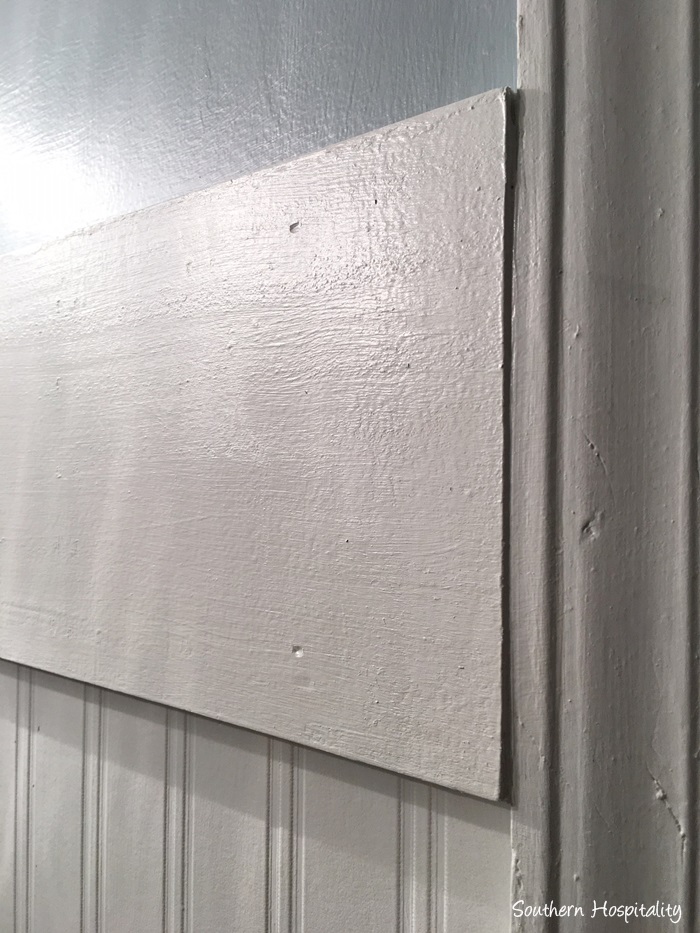 And here's how it looks next to my door casing.  Nothing in this house is perfect, but it looks good to me!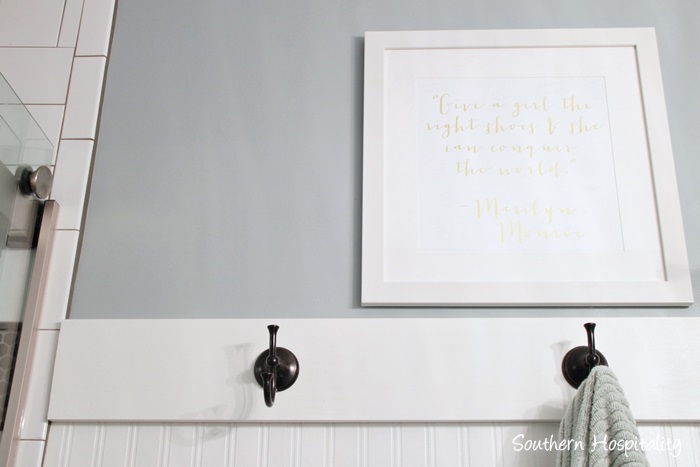 I added my hooks on top of the boards and then I was finished.  It's been so great to get another project completed and I sure am enjoying this bathroom SO much.  Wanted to share another fun beadboard wallpaper project with you all in case you haven't seen it before.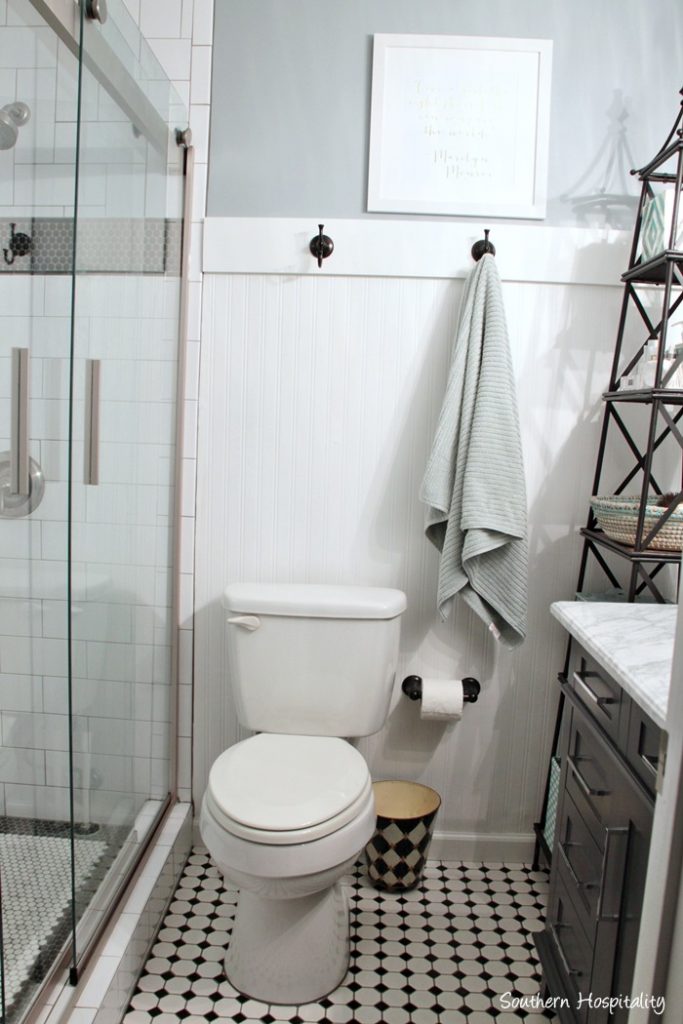 I've been singing the praises of beadboard wallpaper for a long time and still love it.  It's a great way to accent a small space and easier than using the real thing, but you have to keep in mind that is is paper and can tear and dent.  If you have small children or pets around that might scratch or dent the paper, then it might not be a good idea in a high traffic area. I've never had much of a problem with any area I've used it on.
Thanks for stopping by today!
Don't Miss a Post, join my list!