This post is sponsored by Invitation Homes.com/Make It Home.
Hey friends! I'm excited to share with you all a new project I'm going to be part of. I'm joining Invitation Homes.com/Make It Home this spring as one of their Design Team partners and it's going to be so much fun! I hope some of you who are local can come out and join me, as I'll be hosting a hands-on workshop in May as well.
Let me tell you a bit about this project and what all is involved. Invitation Homes is a premier home leasing company that can be found in 17 markets across the US, and has more than 80,000 high quality, updated and professionally maintained homes with convenient proximity to jobs and good schools.
Here are a few things that you might not know about home leasing in the U.S. More U.S. households are renting than at any point in the last 50 years! That's pretty staggering statistic. More than 100 million Americans rent their homes.
With those statistics in mind and understanding the importance of making a leased house a home, Invitation Homes put together a team of design experts to create the Make It Home Design Forecast and Show House here in Atlanta and I'm one of them! I'm so excited to be part of this adventure!
The house they chose to showcase is in Kennesaw, not very far from my old house in fact. It's a nice brick traditional and the inside will be decorated by 5 others on the design team.
Each of us will be designing a different space in the house, showing how easy it is to create a lovely home even in a leased space.
We'll be sharing how to make any space feel like home with a few design and decor tips.
There are a lot of ways you can make a rental home feel like your own space, so stay tuned for what we all come up with! With budget friendly tips and trends, anyone can learn how to better make a leased house feel like home. And isn't home the best feeling ever?
These tips and trends will come alive for the first ever Invitation Homes Make It Home Show House.
I'm so excited to be asked to participate in this show house and thrilled to have the outdoor space. I'm so passionate about outdoor living and can't wait to make over this patio space!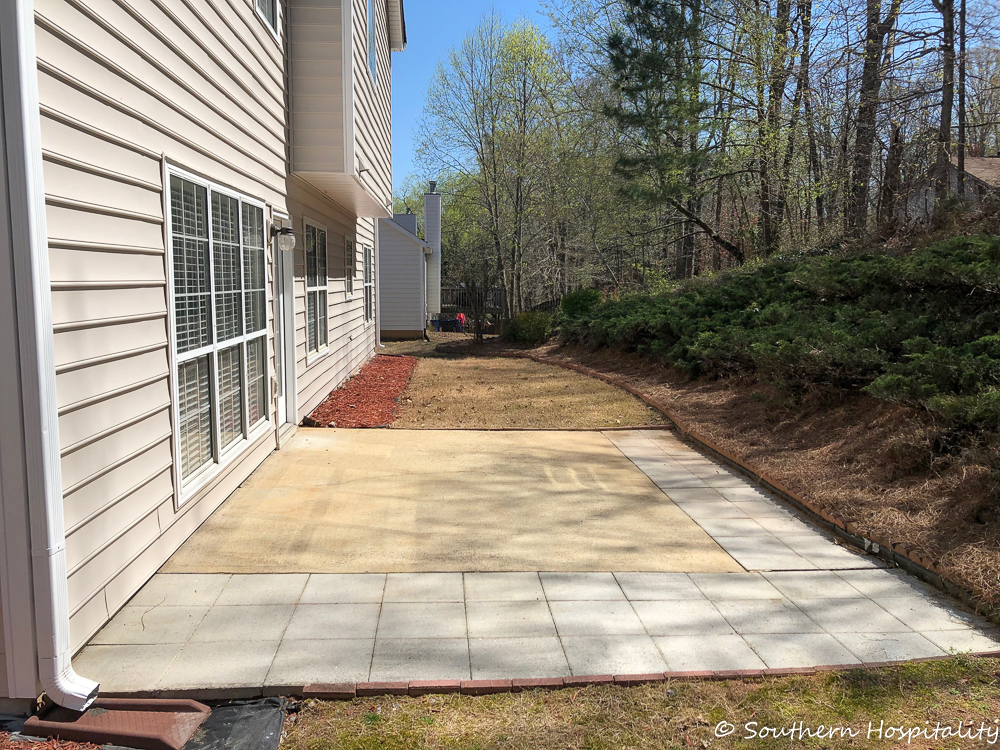 I requested the outdoor space. It's a concrete patio and I'm so excited to get my hands on this area! You all know how much I love outdoor spaces and have worked hard at our house to create those easy to live on outdoor rooms.
Open patios and deck spaces are so fun to create a livable and comfortable outdoor entertaining area.
I'll be utilizing every bit of this patio space to create a wonderful space for outdoor living and entertaining.
The Make It Home Show House will be open May 15-18 with opportunities to visit the home and meet the designers for a tour and workshop.
I'll be hosting an outdoor workshop for you to come and see the house and learn all about creating beautiful 3 in 1 planters filled with summer flowers on Thursday, May 16th from 10-12 pm. I'll be utilizing the tried and true method I've learned about planting flowers using the Thriller, Filler, Spiller method, so hope to see some of you there!
Visit Invitation Homes.com/Make It Home where you can sign up for my workshop and follow along as we all make this leased house a home for a lucky family!
Joining me on this fun project will be the following bloggers/designers:
Emily Henderson with Emily Henderson Design
Brittany with Addison's Wonderland
Kevin with Thou Swell
Erin with Live Pretty On a Penny
Brittni with Paper + Stitch
I'll be sharing their spaces later on too, so stay tuned for the whole exciting unveiling! And how exciting, we get to meet Emily Henderson, can't wait for that too!
Don't Miss a Post, join my list!