My mom has been making this chicken noodle soup for as long as I can remember and it is super tasty.  Much better than the canned variety, I can assure you!  And it is so simple and easy.  I posted a pic on Instagram and Facebook recently and several asked for the recipe, so here you go.
Now, keep in mind that my mom never measures anything. She just makes things for years and knows how to do it in her head.  So finding out the exact measurements for any of these recipes is a little tricky.
To make this pot of soup, she boiled one large bone-in chicken breast in water.  Save the broth and debone the breast, shredding the meat.
She adds sliced carrots and celery to the broth and lets that simmer awhile, softening up the vegetables.  She also adds another small can of chicken broth.  This is all dependent on how big a pot of soup you want to make, so just do what you think will work.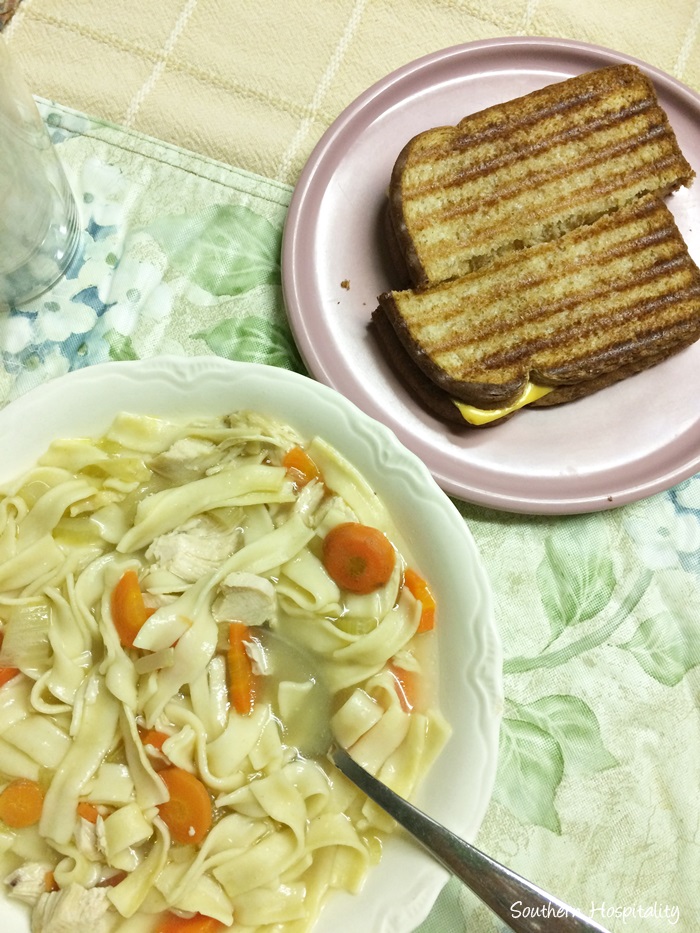 She adds in the shredded chicken after the veggies have cooked a bit and then adds the noodles to the pot toward the end and they cook fast. These are plain noodles, I think and she gets the Kroger brand.  I don't think these are extra wide noodles. So take a look at the dried noodles and pick what you want.   Add salt and pepper to taste.
That's it!  That's all she does to make this delicious homemade chicken noodle soup.  Our family loves it and she has been making this for years.  With a grilled cheese sandwich, it's a yummy lunch!
Ready for Spring?
I am too!  Stop over and check out my Springy guide at Ebay, all about adding Spring touches to your home.  Just click the photo! 

Don't Miss a Post, join my list!