My mama has been making homemade chicken and dumplings for as long as I can remember and I have LOVED them for as long as I can remember.  Talk about comfort food.  These are it!
I have tried on several occasions to make her dumplings and did pretty well at them and now I'm going to enter a cooking contest with BlogHer making these wonderful Southern dumplings, so we did a cooking class, my mama and me.  If I get to the finals, I'll get a free trip to the BlogHer conference in San Diego in August.
Oh, how I'd love to make the finals!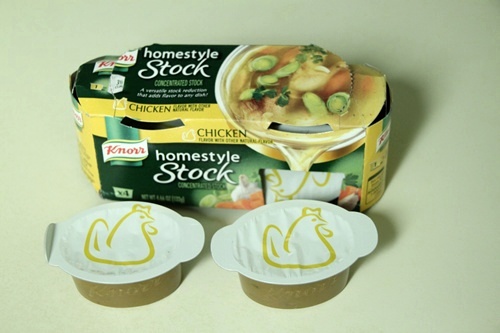 Knorr Foods has come out with a concentrated chicken stock. You mix 3 1/2 cups water with one of these packets and you have chicken stock. We used 2 in our chicken and dumplings to makes 7 cups of stock.  This new Knorr concentrate chicken stock is SO flavorful.  My dad even mentioned that he thought the chicken and dumplings were even better than usual using Knorr!  Now that's a high compliment!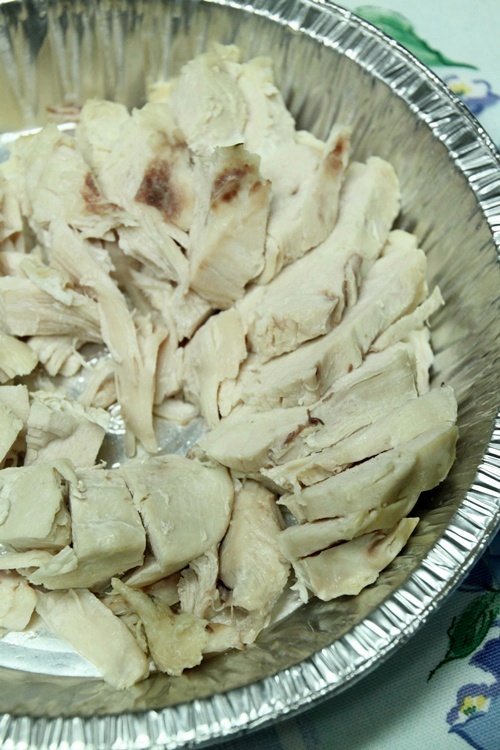 One chicken breast shredded up.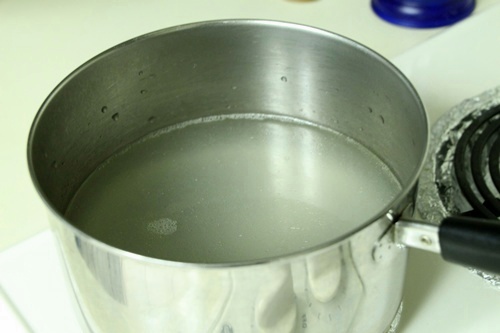 Seven cups of water put on to boil.

After the 2 Knorr concentrate packets went in, it magically turned to chicken stock.

We began with 1 1/2 cups plain flour (with salt, recipe below).  Add water a little at a time to form a dough ball.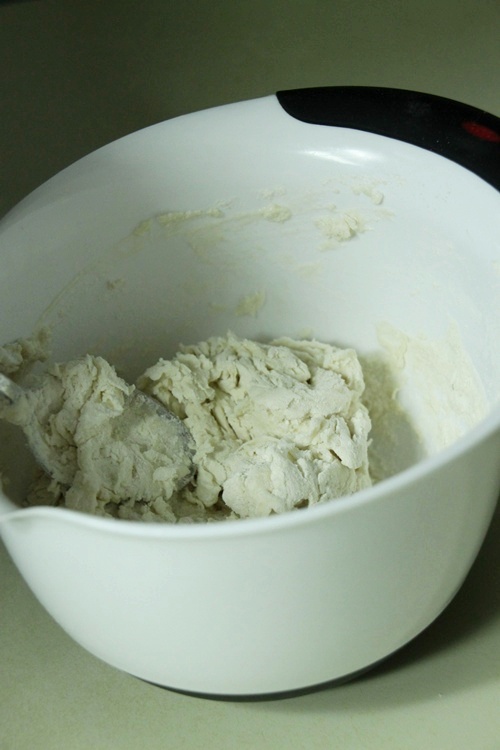 It will be a little sticky, but keep adding enough water to hold it together, but not too much water or it will be a sticky mess that you can't roll out.  Careful with adding the water, a bit at a time. The dough ball will be rather lumpy looking.

Flour the countertop, ready to roll out the dumplings.

Throw the dough ball on there and start rolling with the rolling pin.  That's the key to making these, rolling out the dough nice and flat.

She makes sure the dough has enough flour on it to keep it from sticking to the rolling pin.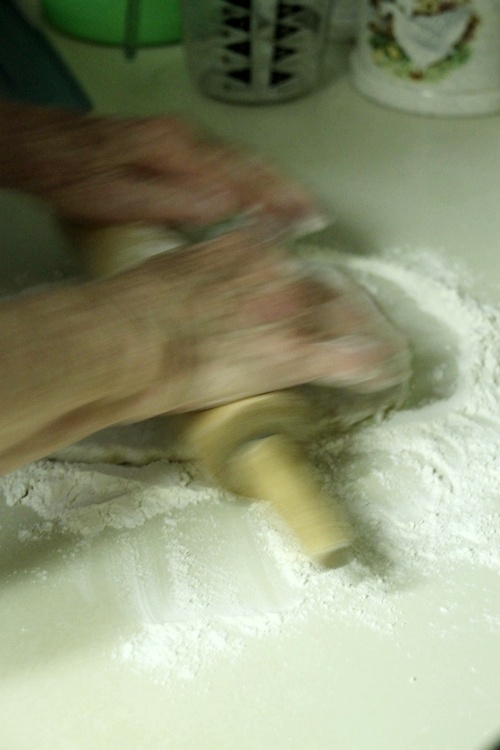 Then start rolling and rolling, making the dough round.
Side to side, back and forth until you have something sort of like a pizza shape.

More rolling and adding flour as needed to keep it from sticking.  She feels the edges to be sure it's getting thin enough.

And it looks like this when done.

Start at one side and begin making slices across with a bread knife, about 3/4″ or so. Not too wide.

Keep slicing all the way across to the other side.

Like this.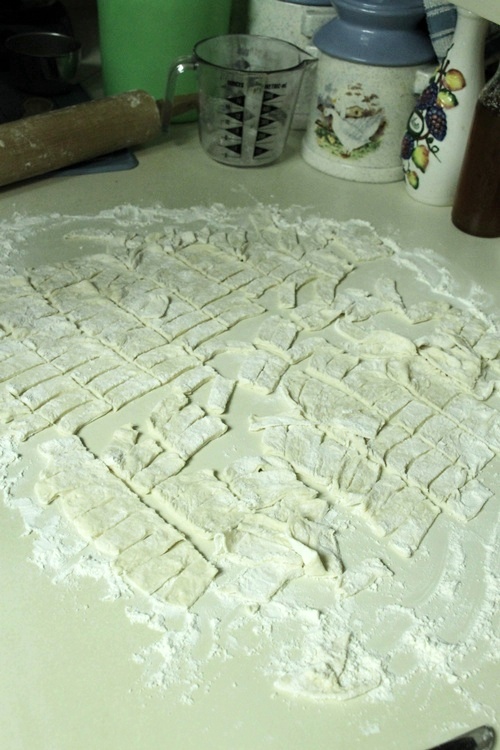 Then go back and slice diagonally the other direction, criss-crossing until you have it all sliced up.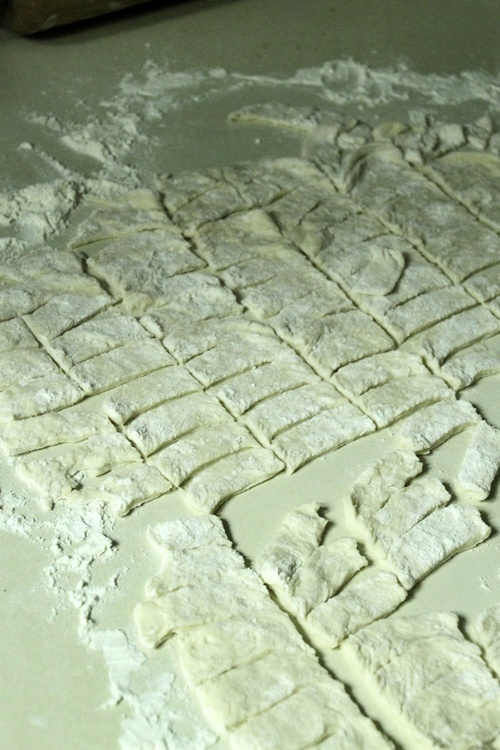 And you'll have cute little dough dumplings like this.

Pull them apart and drop in the simmering stock, start bringing the stock to a boil as you add the dumplings, one at a time.

Stir to keep them from sticking.

She even takes the leftover flour from the countertop and adds to the stock pot, to help thicken the stock.

Don't worry, the dough balls will cook down with the dumplings.   This is what they look like as they go in and start cooking.   Add the cooked chicken at this point and simmer about 30 minutes.  Then you will have a big bowl of deliciousness that looks like this…

The best tasting homemade chicken and dumplings you have ever put in your mouth.  I doubt you've ever tasted any like this unless you have a Southern mama or grandmother.
Try them and see how you like them!  You will be hooked too.  It might take a few tries to get them just right, but I promise they are not hard to make.
Iris's Homemade Chicken and Dumplings
1 1/2 cups plain flour
1 tsp. salt
1 cooked chicken breast (bone in) chopped & shredded
Water (approx. 1/4 cup) Add water a couple of tablespoons at a time until consistency forms a dough ball. Add a bit more water as needed. When dough ball is pliable without being too sticky, time to roll out.
Cook chicken breast in boiling/simmering water until done. Pull from the bone and chop/shred. Set aside
Add 2 Knorr's chicken concentrate stock to 7 cups of boiling water. Simmer until time for the dumplings.
Flour a flat surface. Press dough ball on surface and begin rolling out with rolling pin. Go from side to side, back and forth until a round circle is formed, pressing down all around to make the edges even and flat. Roll as flat as you can.
Begin cutting strips on one side of the circle (approx. 3/4″ wide) all the way across the dough circle. Then, cut strips the opposite direction until you have cut through the complete circle and have little rectangles of dough strips ready to cook.
As chicken stock is simmering, bring to a boil and begin dropping in the dough strips, one at a time until they are all in the pot. Stir them around with a spoon making sure they are not sticking together. Add a bit of the flour that is on your surface, this will thicken up the broth. Bring to a slow boil, then turn down to simmer for around 10-15 minutes. Then add the cooked chicken, simmer another 10 minutes until stock has begun to thicken.
Serve hot and eat! Enjoy!
I'm entering this recipe in a BlogHer contest sponsored by Knorr.  If I happen to be chosen as one of the 8 finalists, I will win an all-expenses paid trip to BlogHer '11 in San Diego, CA.  Do you think I would be excited about that??
Oh yeah, I sure would!  I'd be dying with excitement.  But, the only catch is, I'd have to recreate these ON MY OWN.  I mentioned this to my dad and he said:
"You better take your mama with you." 😉
Do you think he has no confidence in my cooking abilities?  I'd say he's probably right, but if I do get in the finals, I'll be cooking my little heart out with these chicken and dumplings.
Don't Miss a Post, join my list!