One of the most fun parts of going on a cruise is getting to each destination and seeing new sights in the each country.  Most cruises stop at 2 or 3 ports and our Carnival Breeze cruise stopped at 4.  These were all 4 ports that I had never been to before in the Southern Caribbean, so I was excited to check out these islands and do something different on each of them.
We planned out one excursion before we left, but the rest of them we figured out along the way while we were on the ship.  You can choose excursion packages right from your room on the TV, looking at the details of each and deciding what looks like the most fun.  You can click purchase and the tickets will be billed to your room and delivered immediately to your stateroom mailbox.  That's a nice automated way of doing things on ships these days.
Cruise lines work directly with each port to set up excursions for guests on the ship and that has evolved over the years since my first cruise in 1980.  Now, there are many cruise excursions to choose from with several price points, so you can decide which one works for you.  Most excursions range from around $50 per person to over $100, depending on what is involved in each.  These are all extra charges not included in the cruise and you can do as many or as few excursions as you'd like.  Most ports have a shopping area or downtown area near them and even if you don't want to do a 2 or 3 hour excursion, you can at least do a little shopping at the port. Our port stops were around 6 to 8 hours each, plenty of time to do excursions and make it back to the ship.  We did not eat lunch or dinner out on any of our excursions, but made sure we got back to the ship for meals, because of course, all meals are included on board the ship.
We didn't do any really adventurous excursions, but if you're up for that, there are plenty of adventure moments to experience.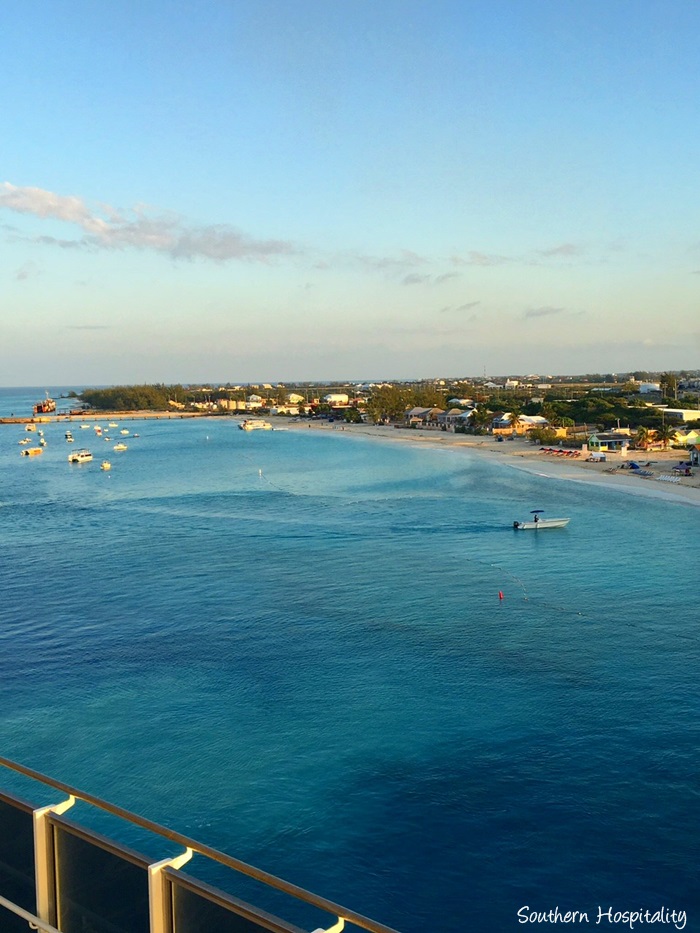 It's so thrilling to sail into port and see the islands for the first time.  Our first stop was Grand Turk in the Turks and Caicos islands.  I've been to many Caribbean islands over the years and they all have a similar flavor of lush tropical vegetation, blue green water that's clear as a bell, and natural beauty and habitats.
Getting off the ship, you definitely need to prepare for the day and whatever excursion you are going on.  We were going snorkeling for a couple of hours in Grand Turk, so dressed accordingly with swimsuits on and ready to go.  We took a beach bag with us with our essentials inside.  When you disembark off the ship, they scan your card in the machine to keep up with who is coming and going.  Sometimes there is a bit of a line getting on and off the ship, but for the most part it went pretty smoothly.
It's interesting to hear bits and pieces of history about each island and we got to experience some of that on each stop we made on this trip.  This Grand Turk sign was a natural spot for posing for pictures, so we did just that.
We walked around the little village and then met up for our snorkeling excursion nearby, where we boarded this boat. It was a fun 2 hours of snorkeling in the clear waters and we saw some beautiful fish and sea life.  I've always enjoyed snorkeling and seeing underwater views is the best. It's so colorful under there!
The ship is such a magnificent sight to see when docked in the ports.  It's massive and amazing to experience.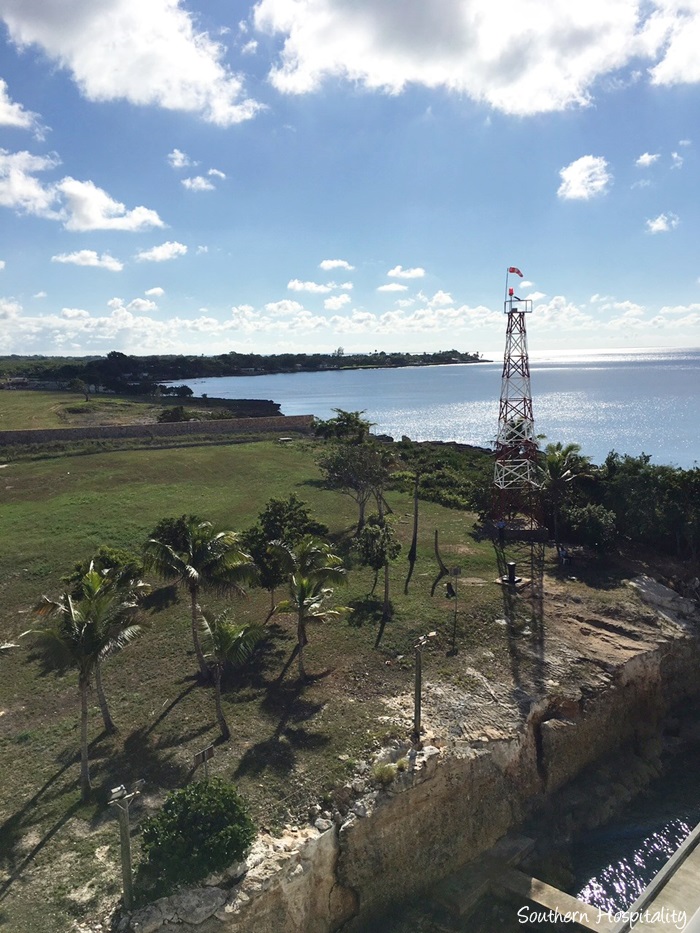 Our next stop was the Dominican Republic, La Romano to be exact.  This is the sight we saw after arriving at the island in port.  It's interesting to see how close in these massive ships can get to the ports and docks.
We had a dolphin excursion planned and this was one we were so excited to see.  We took a bus trip for about an hour to Punta Cana, DR and ended up at this beautiful spot, Dolphin Explorer.
It was one of the prettiest, most naturally tropical beaches I've ever seen and I can't wait to share more about this one. It was truly the experience of a lifetime, getting to swim with dolphins, with pictures to prove it!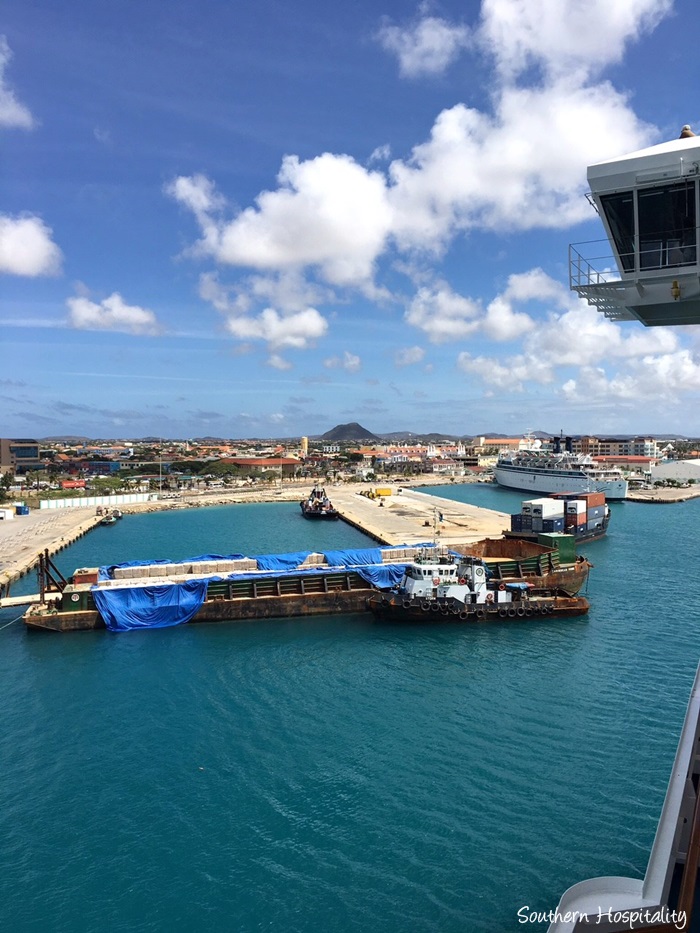 Stop #3 took us to Aruba, an island I've heard so much about.   Aruba is a Dutch island and we enjoyed our time there as well.
We took a bus ride around the island, with our tour guide filling us in on history and trade on the island.
The downtown area was busy with many visitors there this time of year.  We saw many large condos and big hotels in the downtown area, so Aruba has become a bustling Caribbean destination for folks wanting to get away from the cold of Winter.
On our bus trip, we visited an aloe factory and they showed us how they harvest and produce aloe products.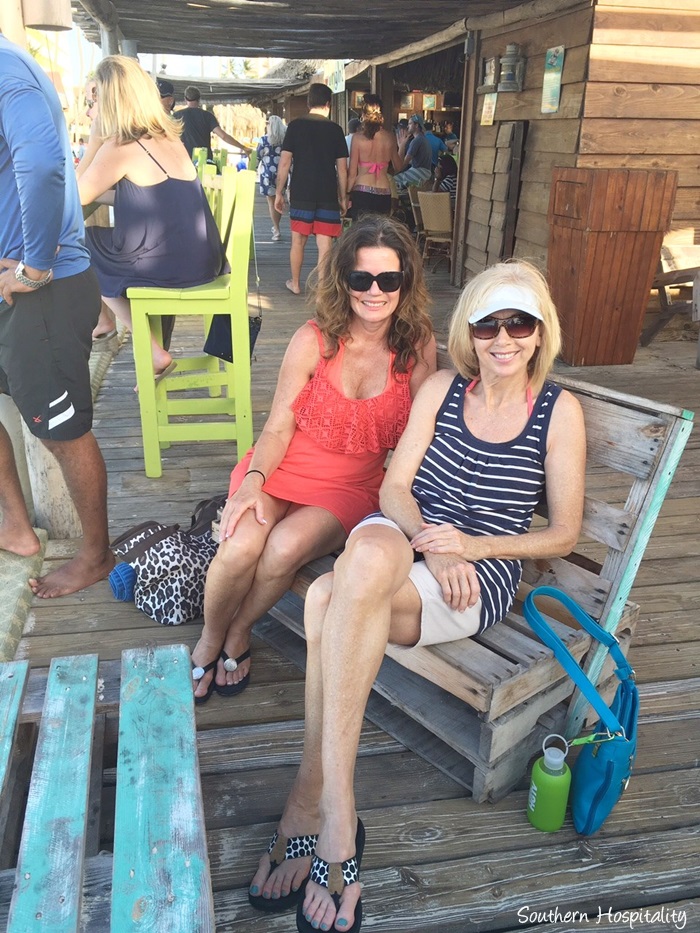 We had a bit of time at the end of the day to walk around the downtown area.  There are lots of shops and restaurants and if we'd had a little more time, we would have explored it more.  We did enjoy sitting on the dock here by the beach with the ocean breezes blowing.  Notice the pallet furniture we were lounging on. We sat here and talked to a young couple who had left snow at home for a week in the Caribbean and said that they had really enjoyed their time on the island.   The nearby beaches looked beautiful!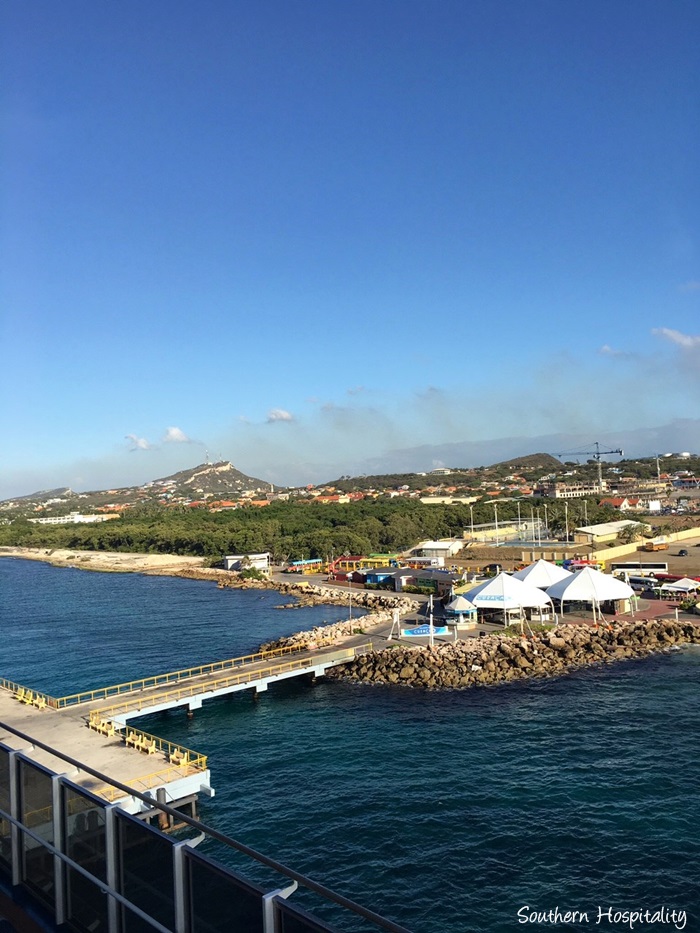 Our last stop was the island of Curacao, another island I've heard about, but never visited.
This island was the most colorful island we visited with lots of gorgeous colors on the homes and architecture.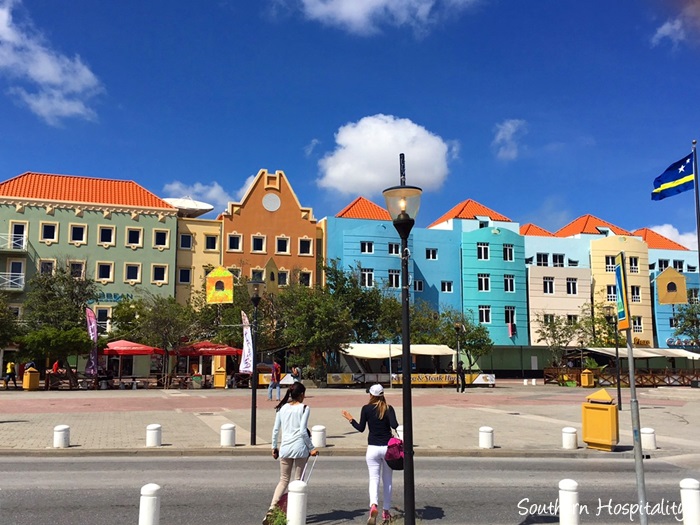 The downtown area is within walking distance of the ship ports and we strolled downtown a bit after our bus excursion, which took us around the island.  Every building in the downtown and surrounding area was full of color, which made it a picturesque place to photograph.
Vibrant island colors all over the place made for some great architectural eye candy set against a blue sky.
Again, our ship awaited us in every port, beckoning us back on board.  Our home away from home!
They always remind you what time the ship will be sailing and to be back aboard well before that. We actually saw one near miss on our last stop in Curacao, as obviously someone wasn't back on the ship and there was about 15 minutes to spare.  We heard announcements over the PA system of the ship.  We watched as a woman in white from the ship actually went through the gates back outside the runway to the ship and started looking for the missing folks.  The couple finally made it back, as many people on the ship (us included from our balcony), began to yell RUN!  They promptly started running and it was so hilarious.  I can't imagine how that must feel, to be the last person back to the ship and have the staff looking for them.  I'd be highly embarrassed!  They don't want to leave anyone, but I imagine they would if they had to.
I can't wait to share each and every port visit with you, so I'll be back to do that soon.  The excursions were a welcome part of the cruise and we enjoyed every single stop we made.  We had 4 days straight in the ports and then a couple of days at sea, which were nice too.
Days at sea are much more leisurely and when you're onboard all day, there are still plenty of activities to do, if you choose.  You can stay as busy or as idle as you wish on a cruise.
You can also shop duty free when you're in the ports.  I did buy some cologne at our last stop in Curacao and after getting home and comparing prices at a local department store, discovered that I did, indeed, save money on that purchase.  A bottle of Coco Mademoiselle in Curacao was $65 and at my local department store, it was $92 for the same bottle.  I'm so glad I decided to buy it in the city while we were there.
I'll be back with more from the cruise later, including the food and more details on excursions!
This post was created for Away We Go with Carnival, the destination for getting in the getaway state of mind. Head on over.
Don't Miss a Post, join my list!