I met so many wonderful women that first year of blogging and Lidy with French Gardenhouse is one of them.  A wife and mother, she's also an antiques dealer and a Francophile, who would be living in France, if she had her way.  She also has a beautiful online shop with all things French that you will just love if you're into French, which I know many of you are.  I love it too, but don't have a lot of it.  Vintage and French is a great combination!
I visited Lidy's blog recently and saw some absolutely gorgeous photos that I just couldn't wait to share with you and Lidy said, go for it!  I so admire beautifully wrapped packages and admit that this is not my strong suit.  I tend to just get by with Christmas wrapping and don't always go out for all the details and special touches.  Truth be told, we don't have any small children in our immediate family and have tended to cut down on buying a lot of presents over the last few years, but I sure am inspired by Lidy's creations.
Lidy does work for Romantic Homes and created  this for the magazine. You can find all the details on the way these vintage wraps are put together on Lidy's post.    Some of these are printed out on vintage paper from her computer.  Clever!
The top gift has small vintage checked French ribbon, a tag, and a little sprig of red berries, the bottom gift just has red satin ribbon wrapped around the sides so that none of the beautiful graphic is covered.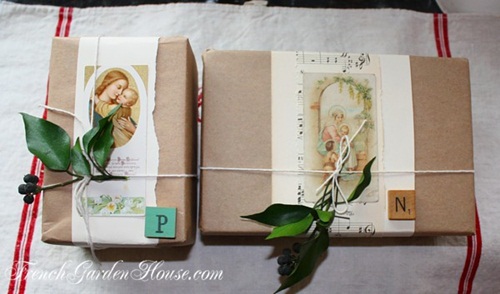 Simple craft paper, vintage elements.
All are unique and pretty using simple things like brown  craft paper and sheet music.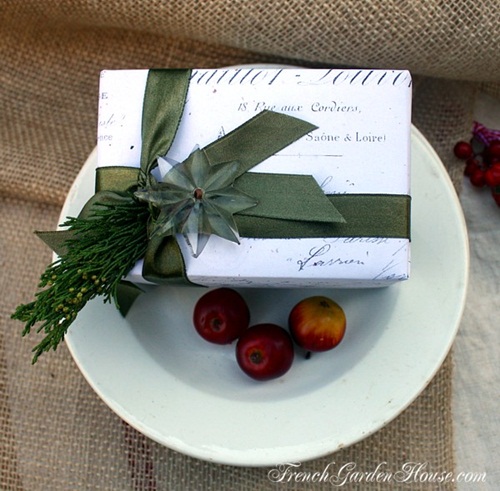 Vintage ornaments and sprigs of greenery add so much too.
Lidy is even lucky enough to have her own wrapping station outside her house in this cute little garden house.  Now wouldn't you love to have this in your backyard?
With all of this at your fingertips, we could all wrap some pretty packages, couldn't we?
So, how are YOU at wrapping memorable gifts?  Are you like me and take the short cut by grabbing a gift bag or do you do a marvelous  job using unique elements to wrap up those special packages with creativity and love?
I wish I was better at this one, but the truth is I'm not!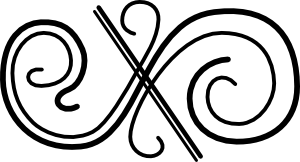 The Southern Accents giveaway winner is lucky #50:  Brenda who wrote this:
So great!!! I have my husband looking to see how far it is to Cullman Al. Must GO!!! Southern Accents here I come.
Congrats, Brenda!  You'll have to let me know what you get.
Don't Miss a Post, join my list!