This is a sponsored review from BlogHer and Kraft.
Continuing on with the PHILADELPHIA cream cheese inspired recipes, my friend, Debbie, helped me with another one. This is her mom's cheese ball recipe, which Debbie has been making for years. I bought the ingredients needed for this one and we gathered in Debbie's beautiful blue and white French country inspired kitchen to cook up some tasty food.  It was a fun girl's day in!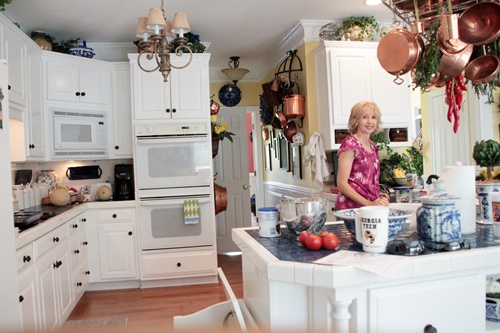 I look like I'm the one in charge, but really it's Debbie, since this is her mom's recipe.  I let her take it away and I photographed and sampled the food. 🙂  She's a great friend!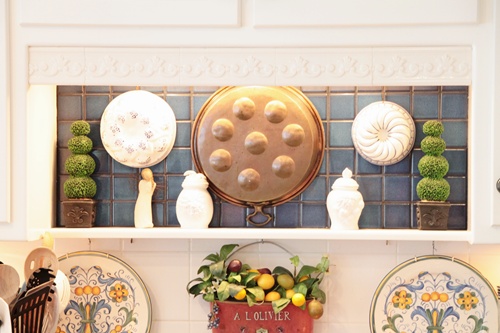 Here's a little peek at her pretty kitchen.  She has loved blue and white forever and it is sprinkled throughout.
Her large pot rack holds some nifty copper pieces.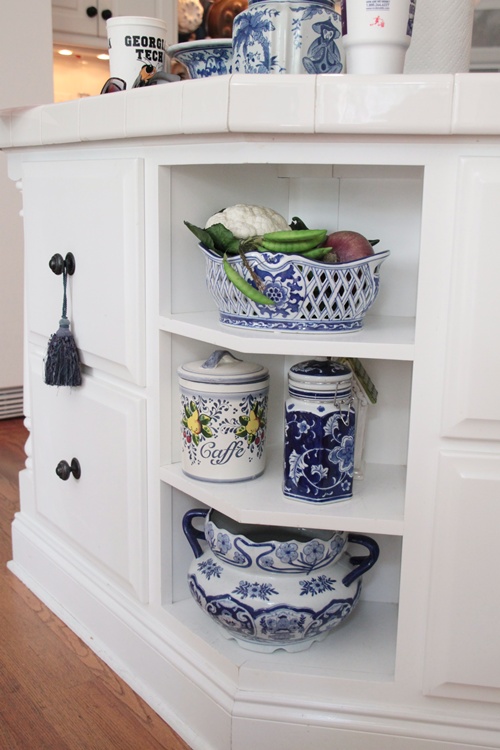 And she had these wonderful drawers installed on the other side of her peninsula which stores large plates that her family uses all the time.  Brilliant!

Who doesn't love a cheese ball for tasty bites at a party?
Cream cheese and shredded cheddar go in first.
Dump in the blue cheese.  This gives it a savory kick.
Mix all that together, add the hot sauce.
And paprika.
Those big mixers sure make this an easy task.
Once it's all blended, take out a bunch and roll it into a ball.  Wrap in plastic wrap and chill.
Forming the ball.
Here's all 4 of them waiting to be chilled.
Once chilled for at least an hour, roll them in chopped pecans.
And prepare to say YUM!  This is a wonderful savory treat for parties or just an every day treat.  I hope you will try it.
Jeanne's Cheese Ball
2 8 oz. PHILADELPHIA cream cheese
2 cups shredded sharp cheddar
1-2 cups blue cheese
2 tsp. garlic salt
Dash of hot sauce (to taste)
1/3 cup mayo
2 tsp. paprika
Chopped Pecans
Soften all of the cheese.  Put all 3 cheese in mixing bowl, mix well until blended.  Shape into balls (we made 4 with this recipe), cover with saran wrap and chill for at least an hour.  Pull out of plastic wrap.  Roll in chopped pecans.  Chill and enjoy with your choice of crackers.  (Also, can be frozen for later use).
There's more exciting news from the Real Women of Philadelphia:
It all started with a video from Paula Deen.  On April 4th, 2011, Season Two of Real Women of Philadelphia was live.
Women from all over the country began submitting their original PHILLY recipe videos to RealWomenOfPhiladelphia.com in the hopes of securing one of the coveted sixteen RWOP Finalist positions.  Judged on their original recipe videos featuring dishes inspired by PHILADELPHIA CREAM CHEESE and new, PHILADELHIA COOKING CREME, sixteen at-home cooks with big cooking dreams were selected to represent the four RWOP culinary categories: Appetizer, Side Dish, Entrée and Dessert.
Once selected as a Finalist, each Real Woman secured an all expense paid trip to Savannah, Georgia where they will be joined by world famous cook, TV host and food celebrity Paula Deen to compete in a huge Cook-Off judged by Paula and other entertainment and food professionals in the hopes of being named Real Women Of Philadelphia's next big cooking stars.
At 7PM EST on June 30th, 2011, the historic Lucas Theatre in Downtown Savannah sets the stage for the biggest Real Women of Philadelphia event every year, The Live Event.  Streaming live on PaulaDeen.com/RealWomen, The Live Event the culmination of months of competition and a week full of friends, family and fun in Savannah, four women will receive top honors as Paula Deen officially announces them as Real Women of Philadelphia hosts and they are each awarded a contract with Kraft Foods worth $25,000.  These women will go on to be a huge, daily presence on RealWomenOfPhiladelphia.com, contribute to a new cookbook, star in their very own cooking videos, make publicity appearances and much more.
But, the Live Event isn't just about winners.  It's not just about Paula Deen.  It's not just about cream cheese.  The Live Event is a celebration of the community that women from all over the country have built together.  A family of at-home cooks who have banded together over their common interests and have turned this website into a living thing.  Countless members of this online community, affectionately known as "The Philly Ladies" flock to Savannah to be there in person and experience the excitement with their friends.  And in that celebration, there are no winners and losers, there are only "Real Women."
These women are wives, mothers, grandmothers, daughters and sisters.  They're the Real Women of Philadelphia.
Tune in on June 30th, 2011 at 7PM EST and be a part of it all.
Go over to the Real Women of Philadelphia site and take a look at the finalist recipes.  Tell me which one piques your interest and the one you'd like to try in your home now.  I'm so curious to see what y'all think looks delicious!
Visit the Promotions & Prizes section
Don't Miss a Post, join my list!