This is a sponsored review from BlogHer and Kraft.
I'm back with another fabulous recipe that I worked on with Debbie, her mom's homemade danish. The crust is made with cream cheese (and butter) and boy are these tasty. They can be filled with most anything you want, such as prunes, cinnamon sugar, raspberry jam, or another idea that you may come up with. Rolled in confectioner's sugar, they are delightful indeed.
Again, we used Debbie's fancy mixer and that got the job done pronto.
The crust is made of cream cheese, butter and flour.
After they are rolled out, we filled them with prunes and raspberry jam.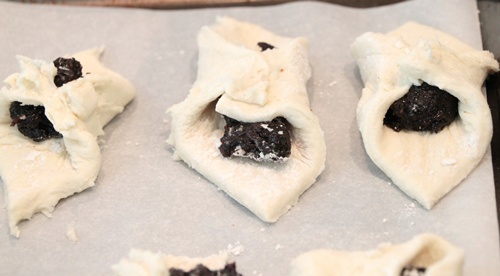 Pinch the middles together and place them on a baking sheet.
Here's what they look like after coming out of the oven and being rolled in confectioner's sugar.
Debbie rolls them out and cuts in squares.
Filling goes inside.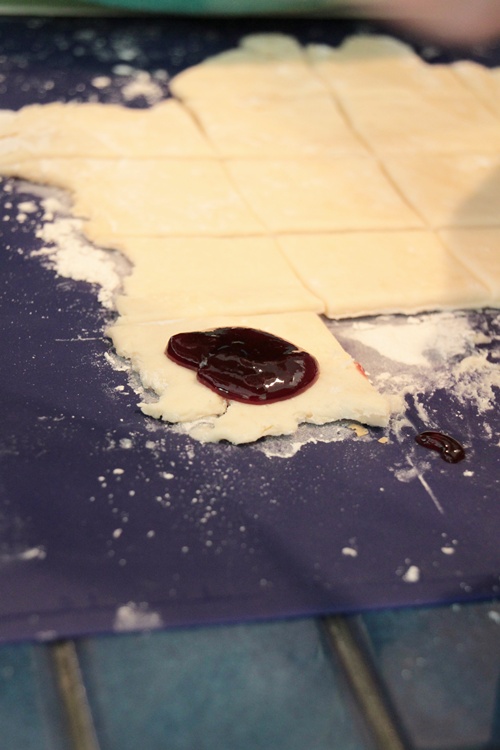 Before rolling.
Raspberry jam makes a good filling too.
Waiting to be baked.
Out of the oven, golden brown.
Ready to jump into that bowl of confectioner's sugar.
Yum!
Looking pretty on a plate, waiting to be gobbled up. These are great with a cup of coffee in the morning.
Jeanne's Cream Cheese Danish
2 8 oz. PHILADELPHIA cream cheese
1 lb. butter softened
3 to 3 1/2 cups flour
1 box confectioner's sugar
Mix butter and cream cheese very thoroughly. Gradually add flour and 3 TBL. confectioners sugar. Refrig. dough for at least 1 hour. Roll out dough on floured surface, making sure dough is stiff and not sticky. If too sticky after chilling, add a bit more flour. Roll out dough. Cut squares, approx. 3 inches by 3 inches. Add filling, fold corners and pinch in middle.
Bake at 325* for 15-20 minutes until brown. Roll in confectioners sugar after they cool a bit.
Filling suggestions: prunes, raspberry jam, apricot jam, pecan cinnamon.
There's more exciting news from the Real Women of Philadelphia:
It all started with a video from Paula Deen. On April 4th, 2011, Season Two of Real Women of Philadelphia was live.
Women from all over the country began submitting their original PHILLY recipe videos to RealWomenOfPhiladelphia.com in the hopes of securing one of the coveted sixteen RWOP Finalist positions. Judged on their original recipe videos featuring dishes inspired by PHILADELPHIA CREAM CHEESE and new, PHILADELHIA COOKING CREME, sixteen at-home cooks with big cooking dreams were selected to represent the four RWOP culinary categories: Appetizer, Side Dish, Entrée and Dessert.
Once selected as a Finalist, each Real Woman secured an all expense paid trip to Savannah, Georgia where they will be joined by world famous cook, TV host and food celebrity Paula Deen to compete in a huge Cook-Off judged by Paula and other entertainment and food professionals in the hopes of being named Real Women Of Philadelphia's next big cooking stars.
At 7PM EST on June 30th, 2011, the historic Lucas Theatre in Downtown Savannah sets the stage for the biggest Real Women of Philadelphia event every year, The Live Event. Streaming live on PaulaDeen.com/RealWomen, The Live Event the culmination of months of competition and a week full of friends, family and fun in Savannah, four women will receive top honors as Paula Deen officially announces them as Real Women of Philadelphia hosts and they are each awarded a contract with Kraft Foods worth $25,000. These women will go on to be a huge, daily presence on RealWomenOfPhiladelphia.com, contribute to a new cookbook, star in their very own cooking videos, make publicity appearances and much more.
But, the Live Event isn't just about winners. It's not just about Paula Deen. It's not just about cream cheese. The Live Event is a celebration of the community that women from all over the country have built together. A family of at-home cooks who have banded together over their common interests and have turned this website into a living thing. Countless members of this online community, affectionately known as "The Philly Ladies" flock to Savannah to be there in person and experience the excitement with their friends. And in that celebration, there are no winners and losers, there are only "Real Women."
These women are wives, mothers, grandmothers, daughters and sisters. They're the Real Women of Philadelphia.
Tune in on June 30th, 2011 at 7PM EST and be a part of it all.
Go over to the Real Women of Philadelphia site and take a look at the finalist recipes. Tell me which one piques your interest and the one you'd like to try in your home.
I want to know what looks good to you!
Visit the Promotions & Prizes section
Don't Miss a Post, join my list!