Last weekend, I was invited to attend the Jr. League of Atlanta's 20th Tour of Kitchens, touted as exploring the finest kitchens in the South.  I had never been before, but apparently it's a well attended and very fun event to be a part of.  It's split into 2 days, running Saturday and Sunday with 7 kitchens being open for tour each day.  I took Mark with me and we toured on Sunday afternoon. It was a beautiful spring day in Atlanta and we drove from house to house, mapping out the route in the mostly Buckhead area of Atlanta, with our last stop up I-400.  We had time to get to 5 out of 7 of the kitchens that were open. Some of them allowed pics and some did not, so I'm sharing 3 of the kitchens that we saw as well as some of the pretty scenery we saw along the way too.  I just snapped what I saw that was inspiring!
This kitchen was designed by HammerSmith, Inc. with interior design by Allison McConaughey of the same firm. Perimeter cabinets by Mouser Cabinetry and the island is by Plain and Fancy. Countertops are Cambria.
A shot of the island with built-ins on this end.  It was hard to capture the whole kitchen with so many people around, but I got a few snapshots of this beautiful kitchen.
Island and stools.
I love all the crown molding, the farm sink and that neat hood over the stove.
Fresh flowers for the occasion.  These homeowners opened up their homes for people to come in and browse and it was a lot of fun to see houses around Atlanta.  I love to look at houses and see them up close and personal.
Most of them let us look around the main levels of the homes, plus outdoor spaces.  This home had a beautiful patio and pool in the backyard with some gorgeous views in the distance.
Such a nice spot for relaxing.
Going to the next stop, I took a few pics of houses along the walking route we took.
This house was for sale and had an open house going that day, so we went in to look.  It was really pretty too, but I didn't take pics inside. Very much modern farmhouse style.
Another pretty home in the neighborhood.
The next kitchen was described as a cook's kitchen outfitted with restaurant quality appliances, fixtures and storage.  Builder:  TLC Home Builders, Inc./  Architect:  Daniel T. Hubbell/  Interior Designer:  Rick Anthony Bonner, Insidesign/ Cabinets:  Shiloh
Beautiful materials and I do like the two toned cabinets.
Note the unique ceiling design.
We were allowed to wander around this house too, so wander we did. The back porch was a winner for me!
Family room with built-ins.
Downstairs in the walk out basement, this reclaimed wood wall was a nice accent.
Really nicely finished basement space.
Another pool in the backyard.
I loved this downstairs bathroom with all the blue tones.
That wallpaper is really fun and happy.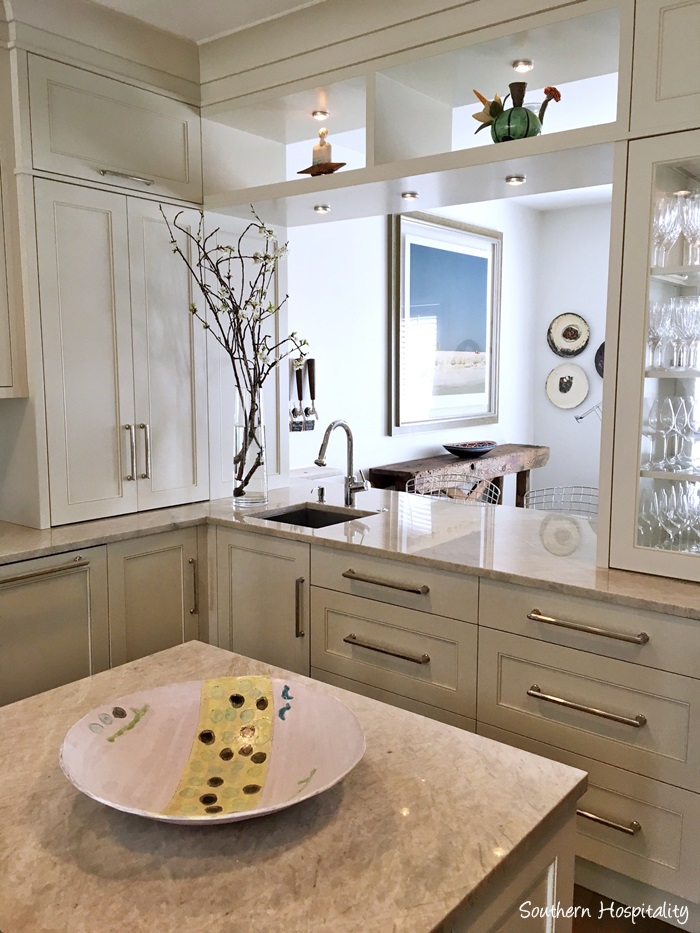 The last kitchen we visited for the day was a complete house renovation which included reconfiguring of the kitchen and opening up walls.
Interior Designer:  Mia Kurgan Designs/ Cabinets installed by:  Karpaty Cabinets, Inc./ Countertops:  Creative Granite and Marble
It was a fun day of touring these kitchens on a really pretty day. We love to get out and about and see what's going on around Atlanta, so this was a nice outing to get in on. They do this kitchen tour every year in March, so mark your calendars next year to take the tour.  It's a 2 day tour (Saturday and Sunday) with 7 different kitchens each day, so you can get a lot of ideas from all of these high-end designer kitchens!   Thanks to the Junior League of Atlanta for inviting me!
Don't Miss a Post, join my list!