Hi, friends!
One of my most fond memories of childhood is my mother in the kitchen cooking up a storm for her family.  She has always been the hardest working woman and cooking delectable meals and desserts for her family was high priority and still is to a certain degree.  She still feeds my dad with gusto and still manages to get meals on the table for them.
She makes me want to try harder with meal planning and cooking delicious meals for my little family of two.  Mom just has a way of showing so much love in her cooking and it translated well to those of us who were the eager participants at her table.  I didn't have to ask my friends twice to go to my parents to eat with them growing up.  They loved it too and felt the love and tenderness which my mom conveyed in her cooking.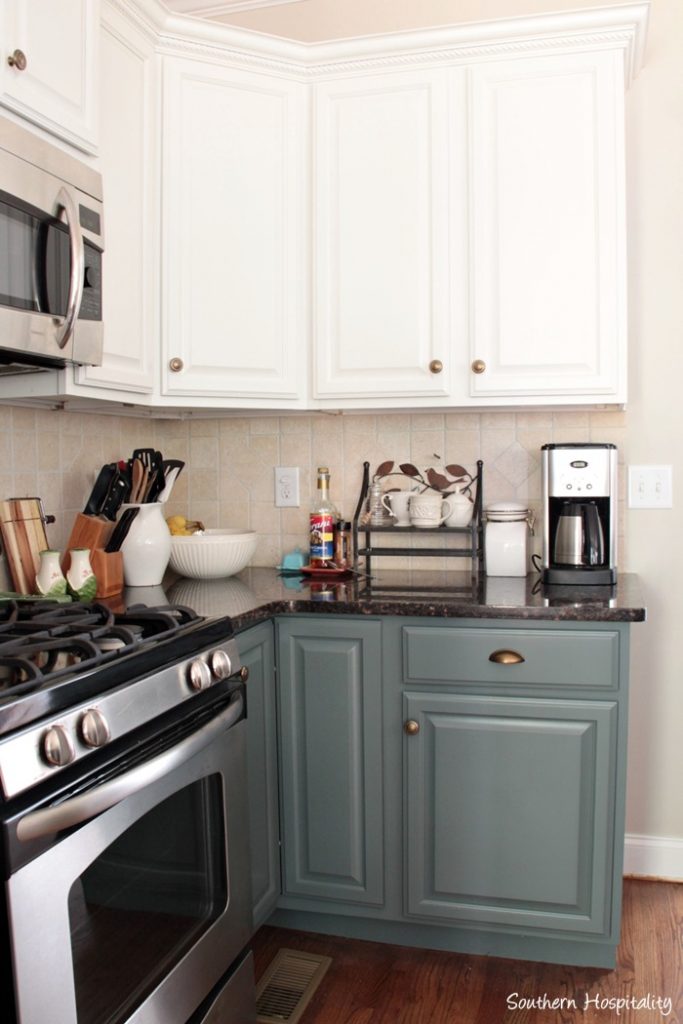 The kitchen has always been the heart of the home down through the ages.  When people come over, don't they always migrate to the kitchen to hang out?  That's the case so many times.  The kitchen is where meals are cooked and memories are made.  I can picture in my mind the things my mom has in her spare kitchen. She's got pots and pans that have been party to many meals over the years.  She doesn't have a lot of fancy dishes, cookware, or serving pieces, but the love of cooking for her family is shown in so many ways.
I can picture a favorite cooking pot that was passed down to her from her father.  It's a piece by Guardian and she's fried up so much yumminess in that big pot over the years.  It's one of those things that sticks in my mind when I think of her kitchen. Having those special pieces in the kitchen and creating a warm kitchen full of memories is what makes life so wonderful, sharing those memories with family and friends.  Every kitchen tells a story.
What story does your kitchen tell?
I'm very fortunate today to partner up with a company that really touched the heartstrings for me when I read their story.  Polder's Old World Market is a family business, a cottage industry that started when they decided to leave behind the typical "American dream" daily grind and switched gears to form a family business that would align with their family values.
The Polder family creates beauty out of fallen trees that they salvage from the forest, bringing to life handmade utensils for the kitchen in a beautiful and old world crafts sort of way. They landed on wooden spoons as their main industry to make a living and honed their craft until they got to where they are today, creating beauty out of chunks of fallen wood. I had admired these beauties online for a few years, when I first saw their website and read their story and when they wrote asking to partner with me, I was very excited to share their beauty with all of you too.  I got to choose a few pieces for my own kitchen and that was fun! My kitchen feels so much more homey with these beautiful wooden utensils present!
(left to right:  Italian Villa spoon, Cooking & Baking Spatula, Double Measuring spoon, Cake & Pie Server, All Purpose Spoon
Each piece is hand made by Polder family members on their farm in Virginia, carved out of different species of wood. Spoons, spatulas, scoops, and more for a one of a kind look in the kitchen.  I hope you'll take time to read their story.  It's a good one and definitely worth reading in this hustle and bustle age we are living in.
The Polder family consists of Mom and Dad Polder and 13 children!  Yes, you read that right.  And 12 of the children all live at home and are part of the family business. I just love that!
I claimed this little Sunrise coffee scoop for my coffee canister.  The wood is so smooth in your hand, each piece is beautiful and wonderfully made.  I just love hand crafted things and these spoons are works of art.
This measuring spoon is a favorite too, with teaspoon on one end and tablespoon on the other. What cook wouldn't like one of these?
These hand crafted wooden spoons add such a nice touch to my kitchen and instantly make it feel lived in and comfortable and I can grab a spoon whenever I need it.
Each spoon is marked with a handmade tag and the species of wood that it's made of.
And each piece is hand carved/signed by the carver with the date.  Truly heirloom pieces to be passed down to the next generation!
The all purpose spoon did a good job of stirring my grits for breakfast one morning.  I know I'm going to really enjoy these beautiful handmade pieces in my kitchen.  When you click over and look, don't faint!  They are not inexpensive, but they are hand made artisan pieces, so keep that in mind as you ooh and ahh over the beauty of these hand crafted spoons!
Note: This post is sponsored by Polder's Old World Market.
BONUS!! I've got some very exciting news!  One reader will win this prize pack from Polder's Old World Market!! The Best All Purpose Spoon, Double Measuring Spoon, Classic Spatula, and our Simple Scoop is the prize pack and this is a $342 value prize. I  hope you will all get excited about a chance to win this beautiful collection of dreamware!
Just leave a comment here on the blog post (and fill out the Rafflecopter widget at the bottom of the page (this is mandatory and how I'll choose the winner!!) for a chance to win telling me which piece of Dreamware is your very favorite piece? 
And if you don't win the prize pack, Polder's is giving my readers 20% off your purchase with the code SOUTHERNHOSPITALITY.  I hope you'll go over and take a look. These would be great Christmas gifts for those hard to shop for women in your family and you know you have them (just as I do!).   Just leave a comment and I'll choose a random winner in a week!   SaveSave SaveSave a Rafflecopter giveaway SaveSave
SaveSave
SaveSave
SaveSave
Don't Miss a Post, join my list!