Today, I'm joining my friends at bHome for a fun blog hop with lots of talented ladies, so I hope you'll stop by all of them and take a look at their Christmas decor.  If you don't know bHome, it's a FREE app that you can download to your iPhone or Android and you can follow along with all kinds of beautiful home blogs over there, right on your phone.  Check it out if you haven't already!
Today's tour with these lovely bloggers is sponsored by D. Lawless Hardware, so check them out when you get a chance.  Also, they have a $150 giveaway going, so click over to sign up. 
I always love decorating my green kitchen with all things red and green for Christmas. It just fits in there perfectly and the only room I use traditional Christmas colors.  It makes me really happy to see it all in there, brightening up the kitchen island and spreading cheer all around.
If you are new here, welcome! I'm so glad you stopped by.  I use this red and green every year and haven't gotten tired of it yet. It just fits in great with my white cabinets and green walls.
This little tabletop tree holds lots of cute little ornaments and it's been fun collecting them.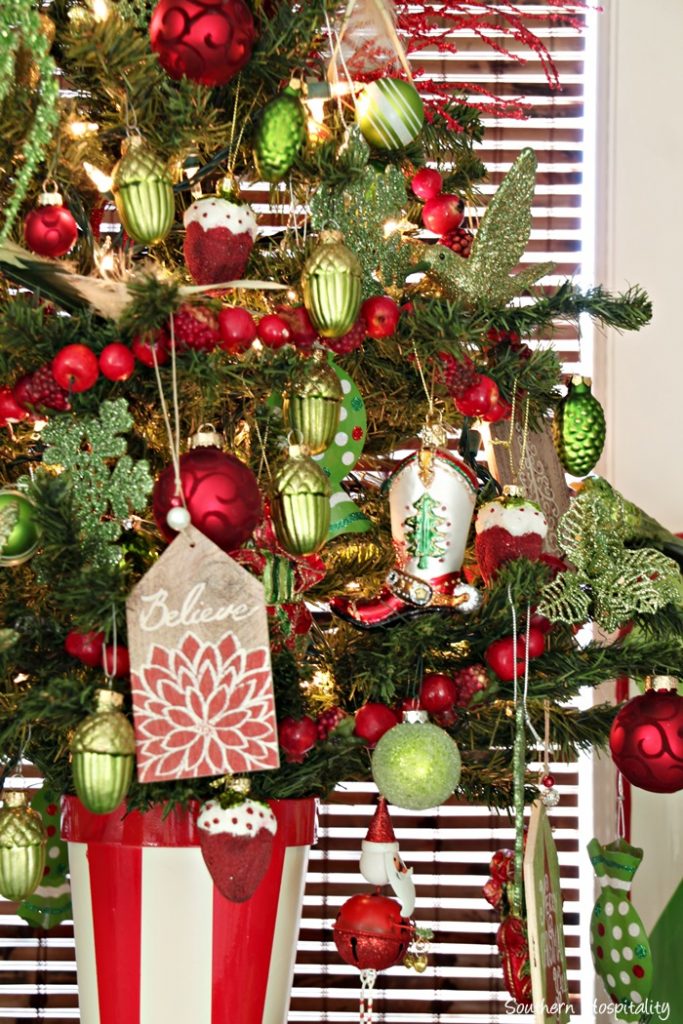 Some were gifts and others I've picked up along the way.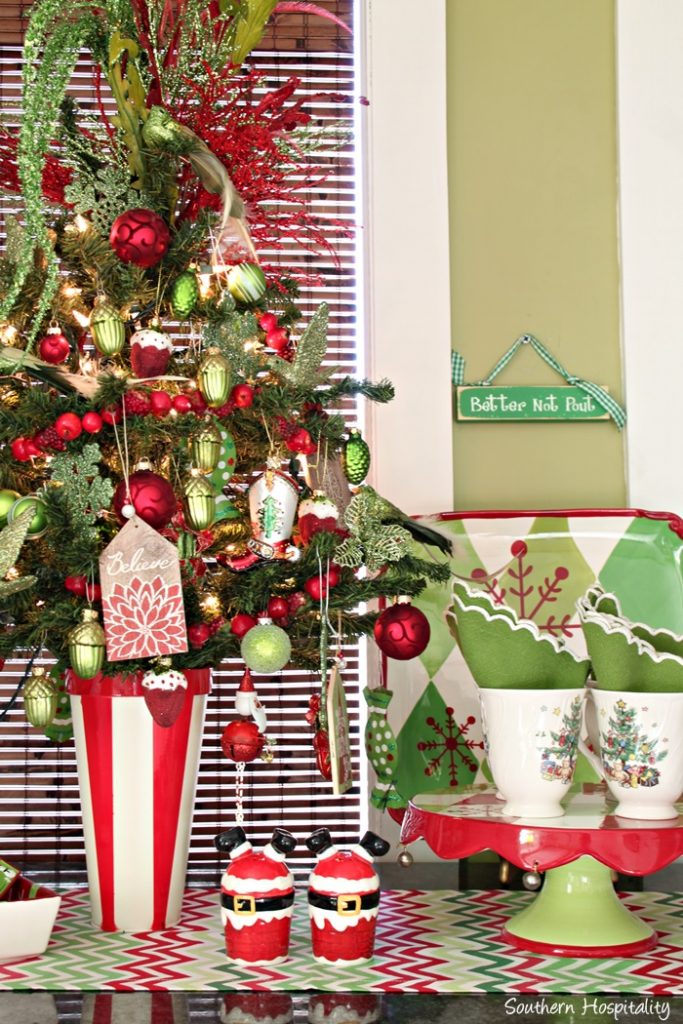 That green and white cake stand and platter, I picked up when I was in Birmingham and love the colors so much.  Those Santa salt and pepper shakers were given to me somewhere along the way.  Red and green is so traditional, but such a great combo this time of year.
I adore this little tree!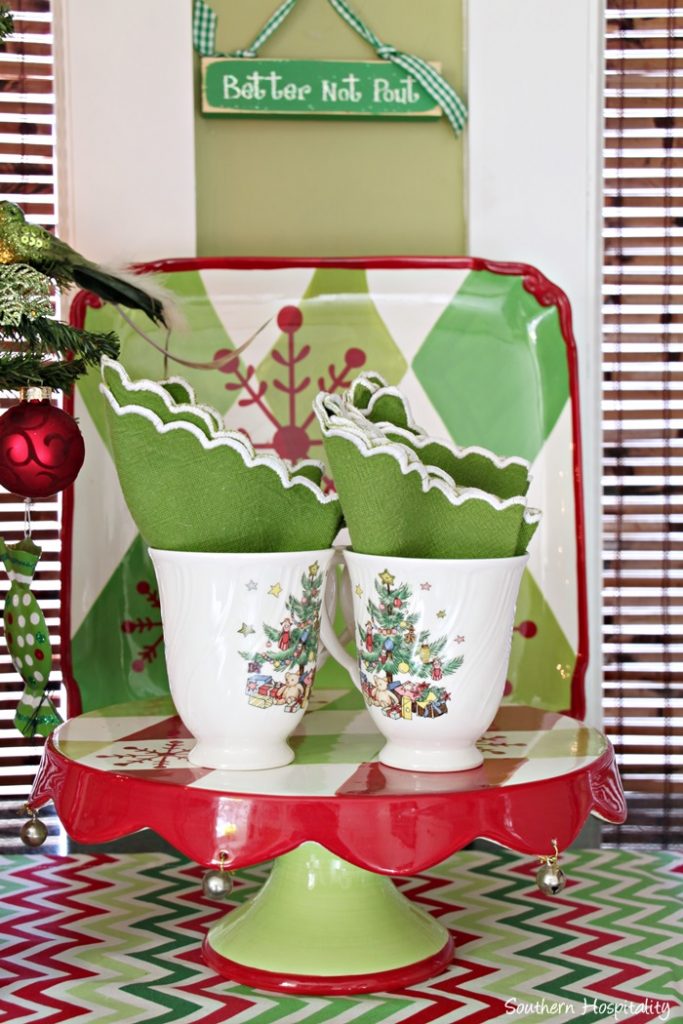 I keep this set of Christmas mugs out and ready for hot chocolate for the month. Those green yardsale napkins just add to the cheer.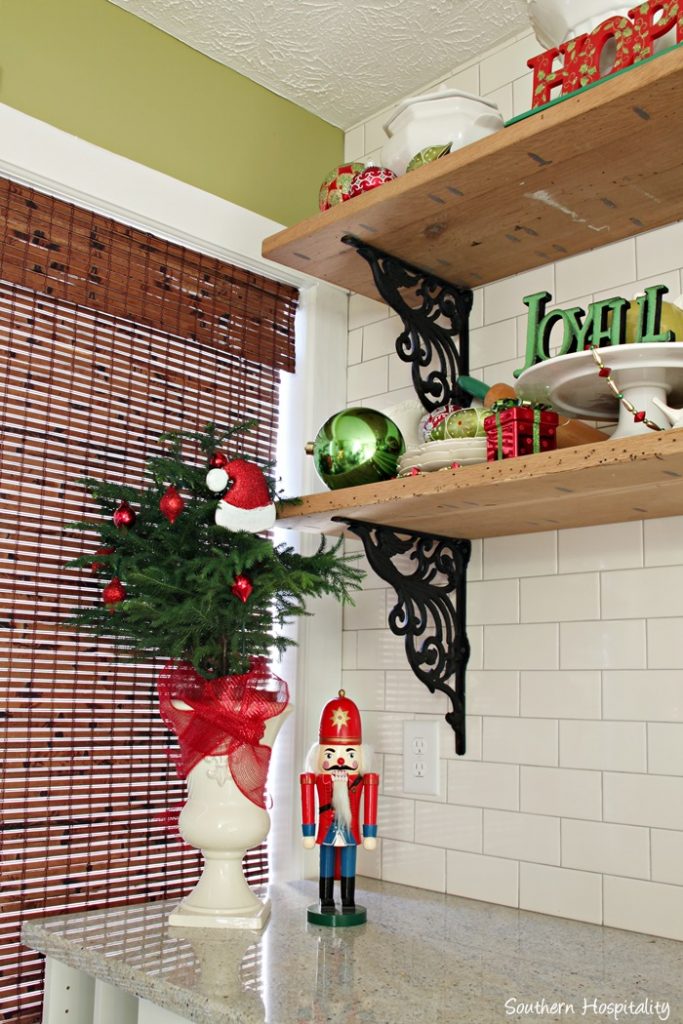 Another real live tree, this Norfolk Island Pine from Costa Farms was added to my white urn and countertop in the kitchen, with a cute old nutcracker keeping it company.  I can always plant that tree when Christmas is over.
My rustic shelves got all festive as well with signs and sparkly ornaments scattered about.
Collecting green and red isn't hard to do and spreading the cheer isn't either.
Joyful Tidings, yes indeed!
Looking towards the dining room, we'll tour there later in the week.
I always add these cute Santas, ornaments and faux paperwhites to my kitchen window sill and love love it all decorated for Christmas.
These things have been with me for many years too.
Another fun little surprise from Costa Farms are these sparkly hanging Joy Globes, an air plant with red moss and sparkly backing on glass.
You can hang them literally anywhere, in a window or on a tree.  Look for these in your local home stores.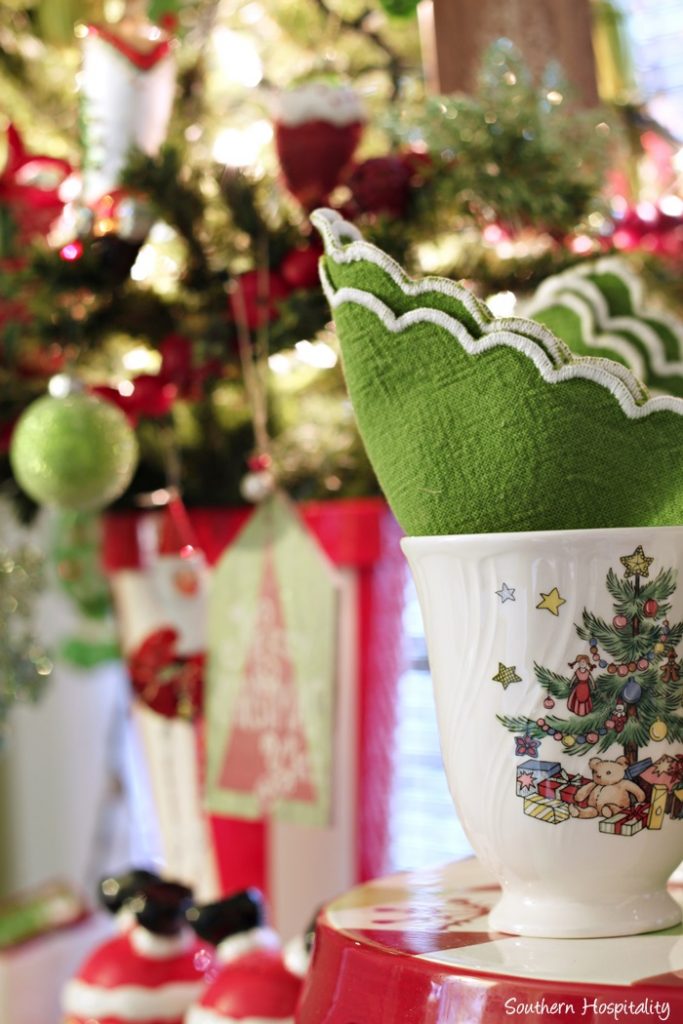 Just a few more shots of the little tree.
Those tree tags hanging on the tree are from Scripted Simplicity, especially love the Merry Christmas, y'all!
Believe is nice too.
Sparkly fronds and picks highlight this little tree as a topper.
And that's a look at Christmas in the kitchen this year.  Thank you all for stopping by and visiting with today. I hope you have a wonderful Christmas season with your friends and family and enjoy all that this season brings, the hope, peace, and comfort.
Merry Christmas to you all! For the rest of the tours, please visit these lovely bloggers and the giveaway!
GIVEAWAY 
All the bloggers you will see on this tour are on the bHome App and we are honored to be partnering with D. Lawless Hardware to offer a $150.00 Gift Card to one lucky winner. To enter just download our bHome App by clicking HERE. Our app is available to both iPhone and Android users. If you have already downloaded bHome, you will automatically get a message to TAP to enter. D. Lawless offers international shipping so this giveaway is open to anyone. Winner will be notified on or around December 14, 2015.
DAY 1
Garden Therapy | Cedar Hill Farmhouse | Bright, Bold & Beautiful | Cupcakes and Crinoline 
Southern Hospitality | Little Farmstead | Shabby Art Boutique 
Don't Miss a Post, join my list!