Progress is being made at Andrea and David's house, although not as fast as they would like it to go.  I've got a little update at the kitchen and you can see how far it's come in the last month or so.  It is coming along and they are about halfway through the kitchen renovation and it's looking so much better than it did originally.
Let me go back and remind you where we started with this BEFORE shot of the kitchen.  Remember this is a 1950's original kitchen, with original appliances from that era and it's never been touched.
I advised them to get rid of the scalloped pieces of wood and so those have been taken down and not sure what will hide the lights yet, but we'll figure that out as we go along.  Also, this is being done on a budget, remember that too.  No bringing in a whole team to update this kitchen.  It's paint and doing things on a budget that we are doing to make this happen.  I think most people can relate to this process and not everyone can go out and do everything all at once to their homes to update.  Notice the refrigerator is just hanging out by itself.  The original upper cabinet had to be taken down when they got a new fridge and never got fixed, so we are doing that now. I advised David that he needed to make that fridge look built in by adding panels of wood and adding back in a cabinet over head and trimming it all out.
Looking back towards the eat in kitchen part.  Remember the froufrou drapes and wallpaper? Thankfully, it's all gone now!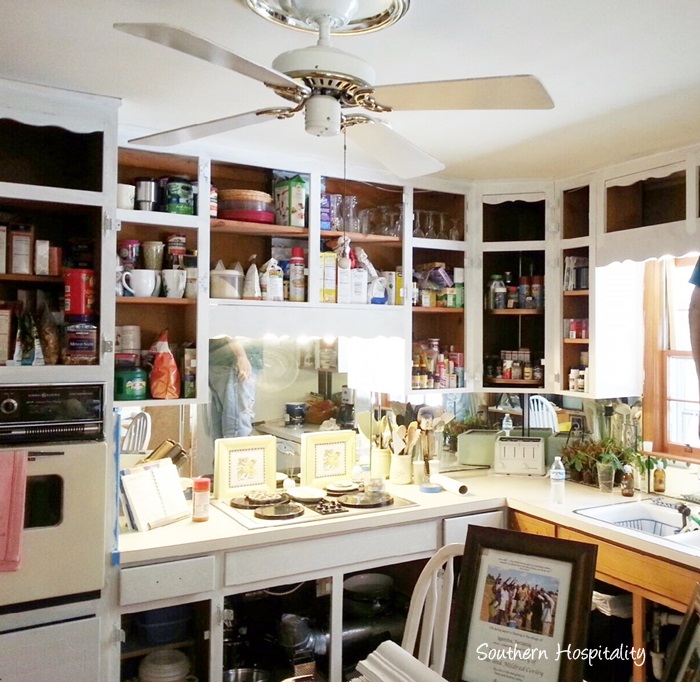 Here is it in process and they had a painter come in and help them with this part.  All the doors were taken off and painted and then put back on.  The cabinets were primed and painted with White Dove by Benjamin Moore. They ended up painting over the exposed hinges and we then got new knobs and pulls.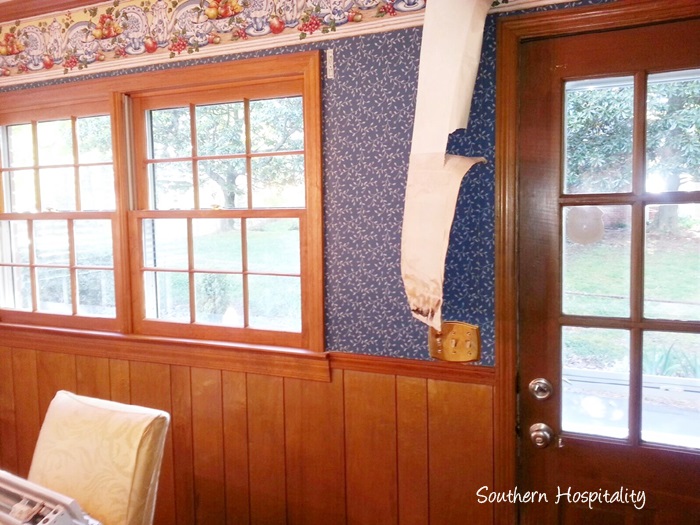 Wallpaper coming down.  I couldn't wait to see if after this happened.  All the paneling was primed and painted White Dove as well and wow, is it like a new space now!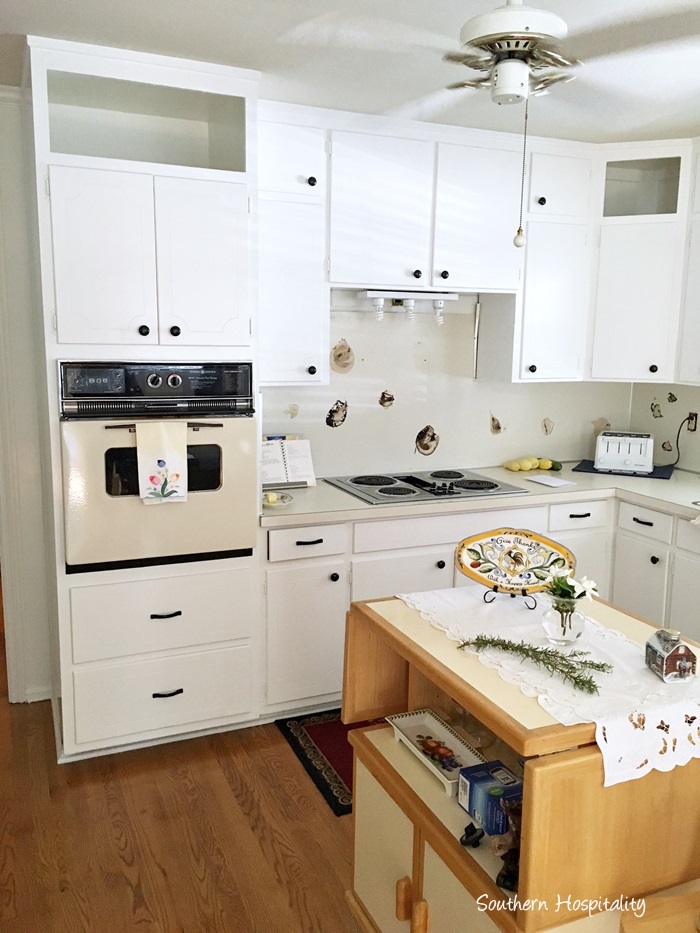 Again, we aren't finished yet, but it's looking so much better!  That island is going.  The old mirrored backsplash came down and they are shopping for new appliances.  David wants to switch to a gas stove so they are getting that installed as well as a new stainless wall oven.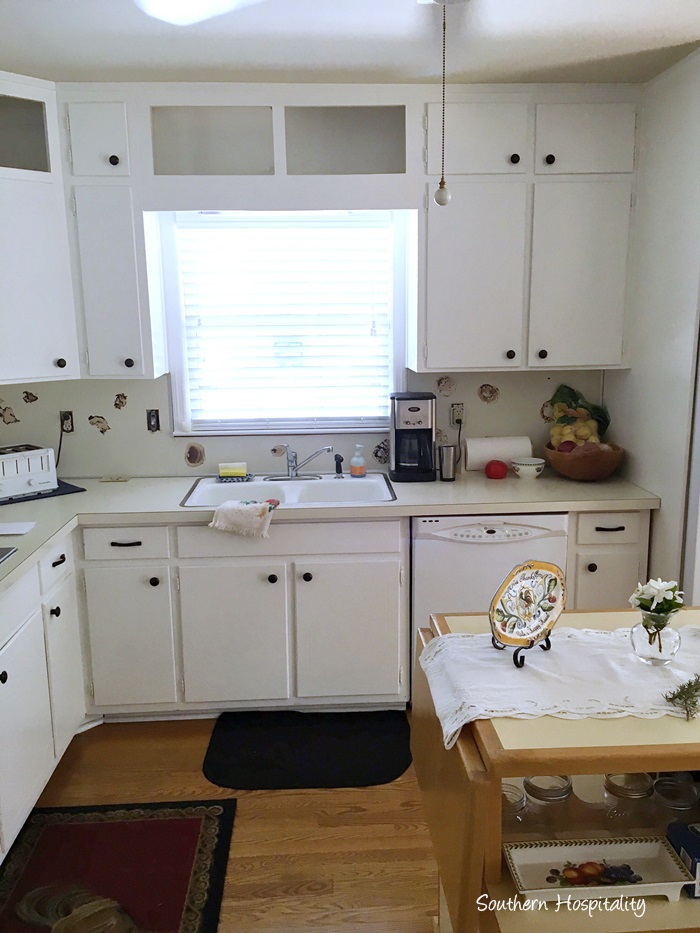 He's still contemplating what to do with the open cabinets above. He may trim them out and use them for display.  I want them to put in under cabinet lighting, but again, it's one of those projects that require some electrical work, so we'll see if it can happen.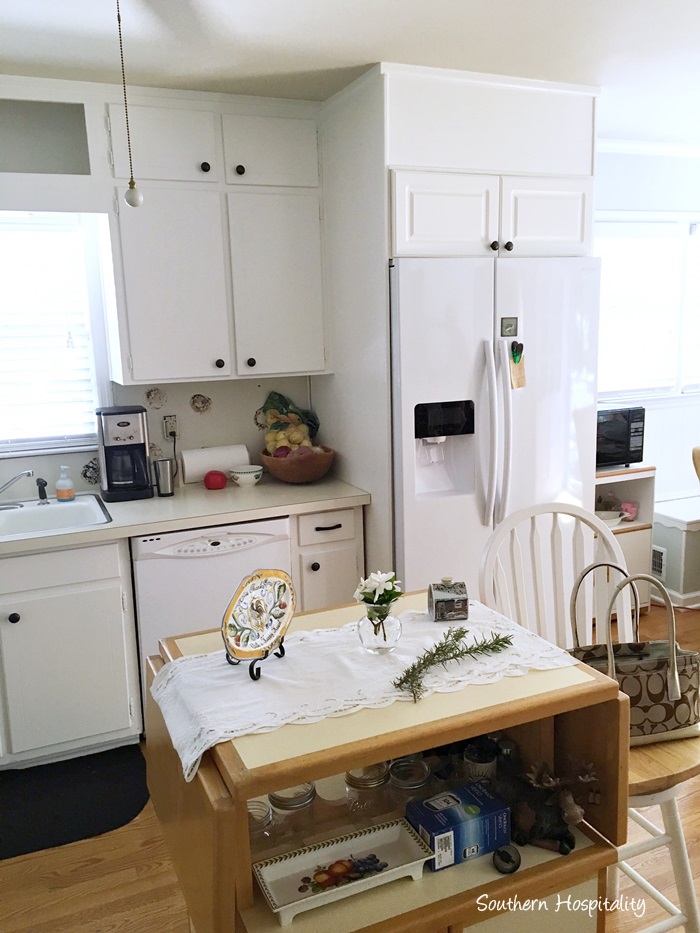 David bought panels and built in the fridge and added a small cabinet over head and then trimmed it out with crown molding. That looks so much better too, to build it in!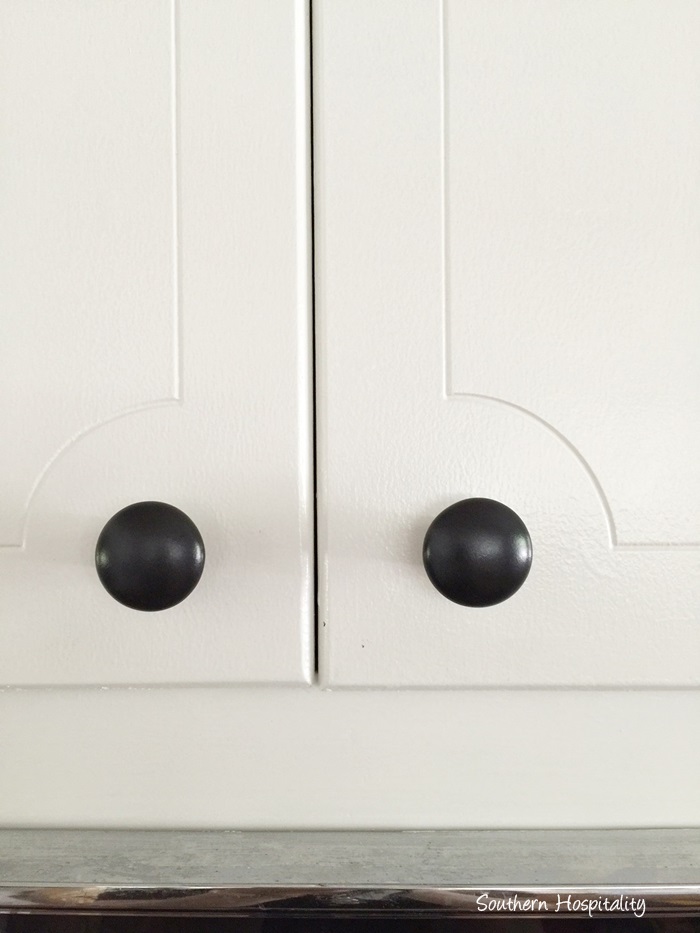 Just getting new knobs and pulls freshens things up.  A big thanks to Liberty Hardware for providing these new ones for them. I've worked with them at Haven and asked if they would help out our project and they said yes!  They had already picked out these particular knobs and pulls at Home Depot and it all worked out great.
If you're interested in these, here is the information:
PN0120H-BL-C Ceramic knob in black
P18949C-FB-C Step Edge Pull Black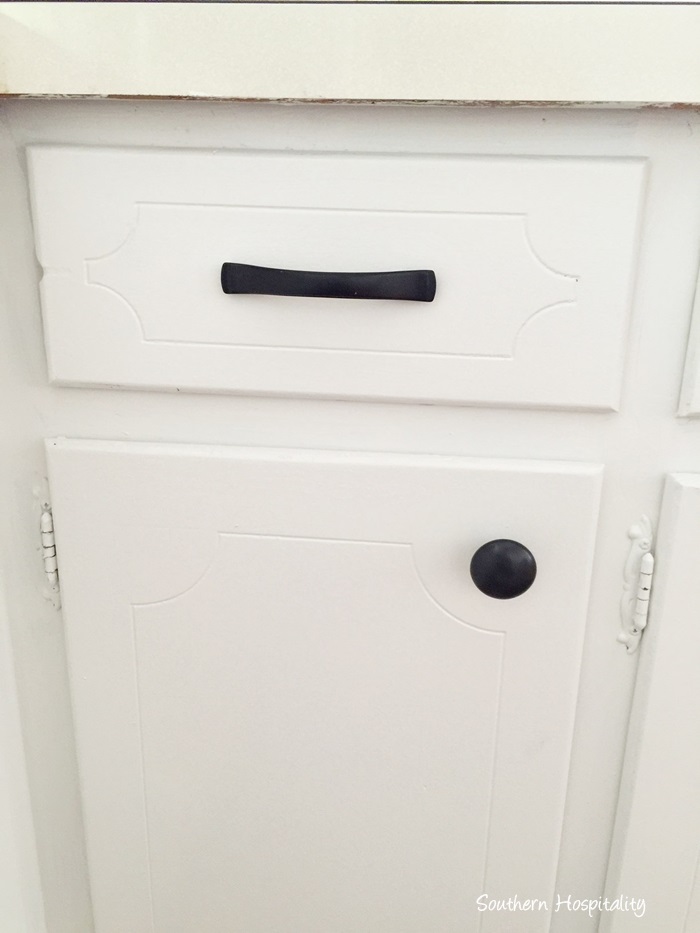 I think the matte black finish looks great in their kitchen and updates this 1950's home really well.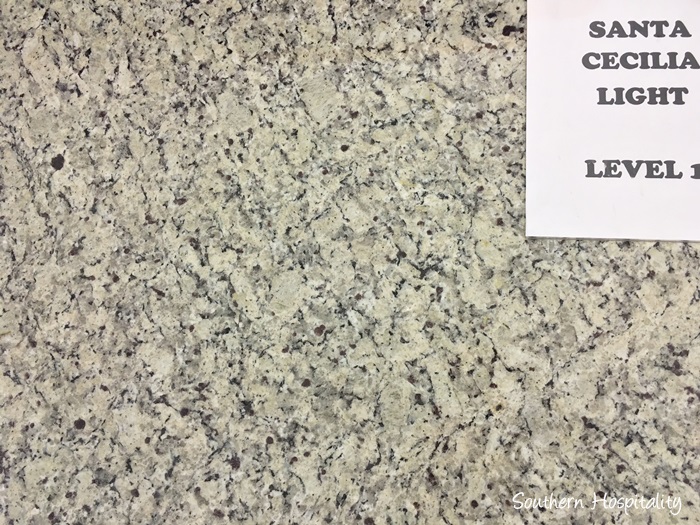 We shopped for granite on Saturday and have decided on this one called Santa Cecilia Light.  It's got lots of gray and black and is mostly neutral, without much of a golden tone, so we think it will be a good choice.  I took them to my granite place I used 4 years ago in my house, Legacy Granite in Alpharetta and they always do a great job.  This granite is priced at $29 a s.f., which is a great price.  We think the backsplash will be white subway tile, which would definitely go with the feel of their house.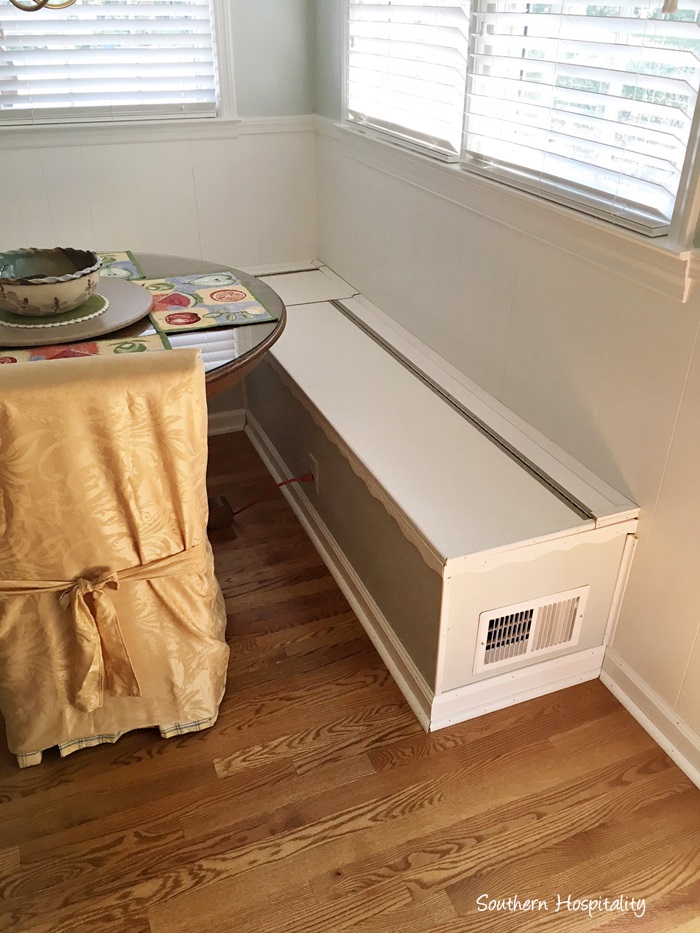 David has built in a banquette seating area in the eat in kitchen and this is going to be really cute when it's all done. They will add a nice thick foam cushion, cut to fit and covered in a pretty fabric and we are going to do stationary Roman shades in a pretty fabric for the windows.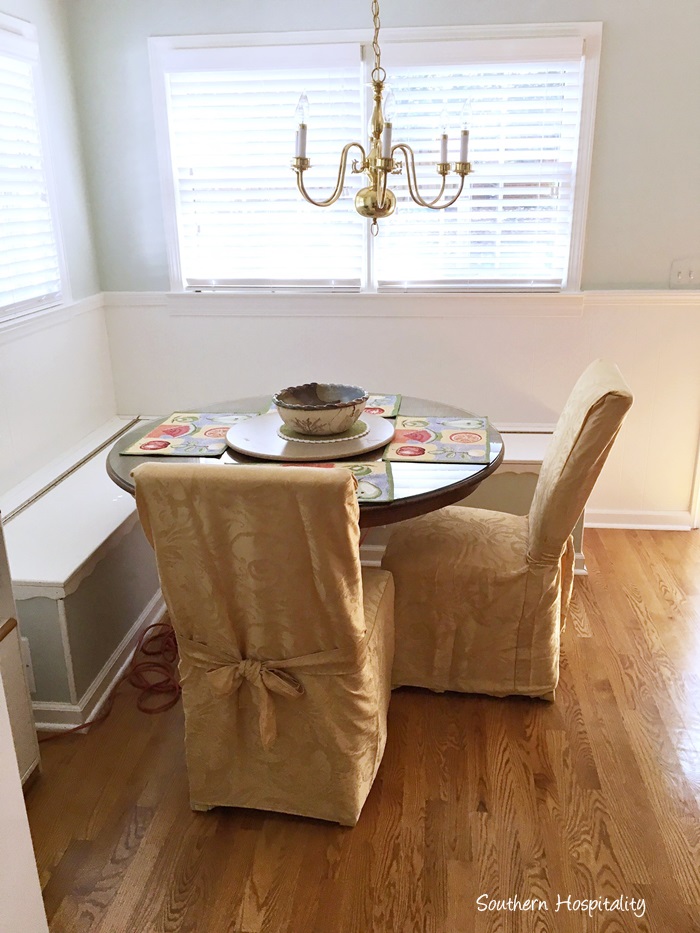 She's going to get a more rectangular table to fit here and add 3 more single chairs and get rid of these.
Walls in here are painted Sea Salt by Sherwin Williams.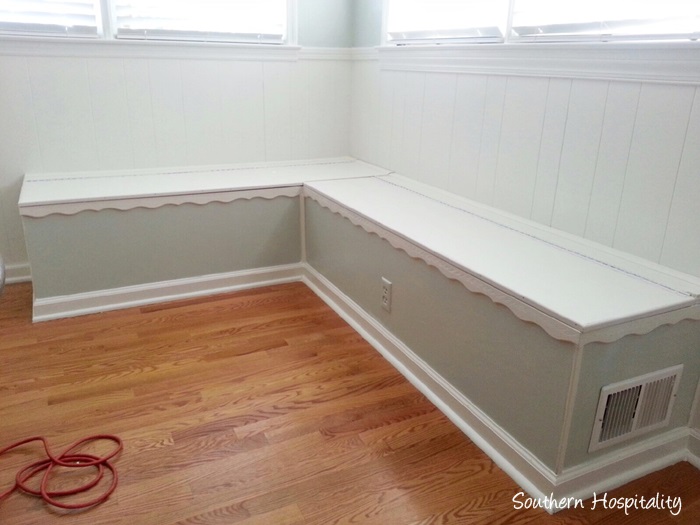 Painted and caulked and ready for cushions.  I didn't pick out that scalloped trim, by the way. 🙂  He added hinges on the top and these are also storage boxes, which will come in handy.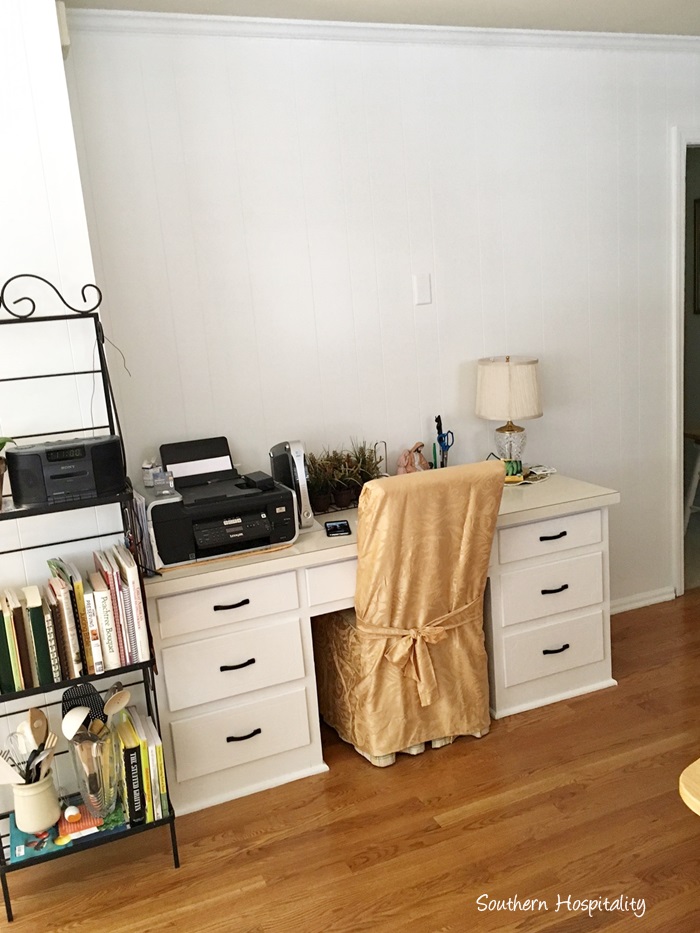 The desk area is getting a makeover too, so we are still brainstorming all this.  We think a little bookshelf will be added on the far end and a new granite slab added to the top.  Then above, we are going to add rustic wood shelving and brackets for more display and storage.  The chair will go and that area may get built out with more storage too.  Still brainstorming!
Doesn't it look so much better to lighten this room up?  I sure think so!
We've gone fabric shopping and pretty much decided on these two.  The pretty peacock fabric will be stationary Roman shades and the geometric below will be for the banquette seating.  It's an indoor outdoor fabric, which should hold up well.
I think this project is going to be great! And getting the walls and cabinets painted and these new fabrics in here will totally liven up this kitchen so much.  I knew you'd all like to see the progress and where we are  now, so this is it!
Don't Miss a Post, join my list!