The new lake house I shared of my sister and brother-in-law, Renee and Bruce last weekend was a huge hit, you all showed up for that one, so thank you! If you missed the inside house tour, don't miss that! Today I'm back with a tour of the exterior backyard, pool and porches. There's a lot to take in and again, I took a ton of pics.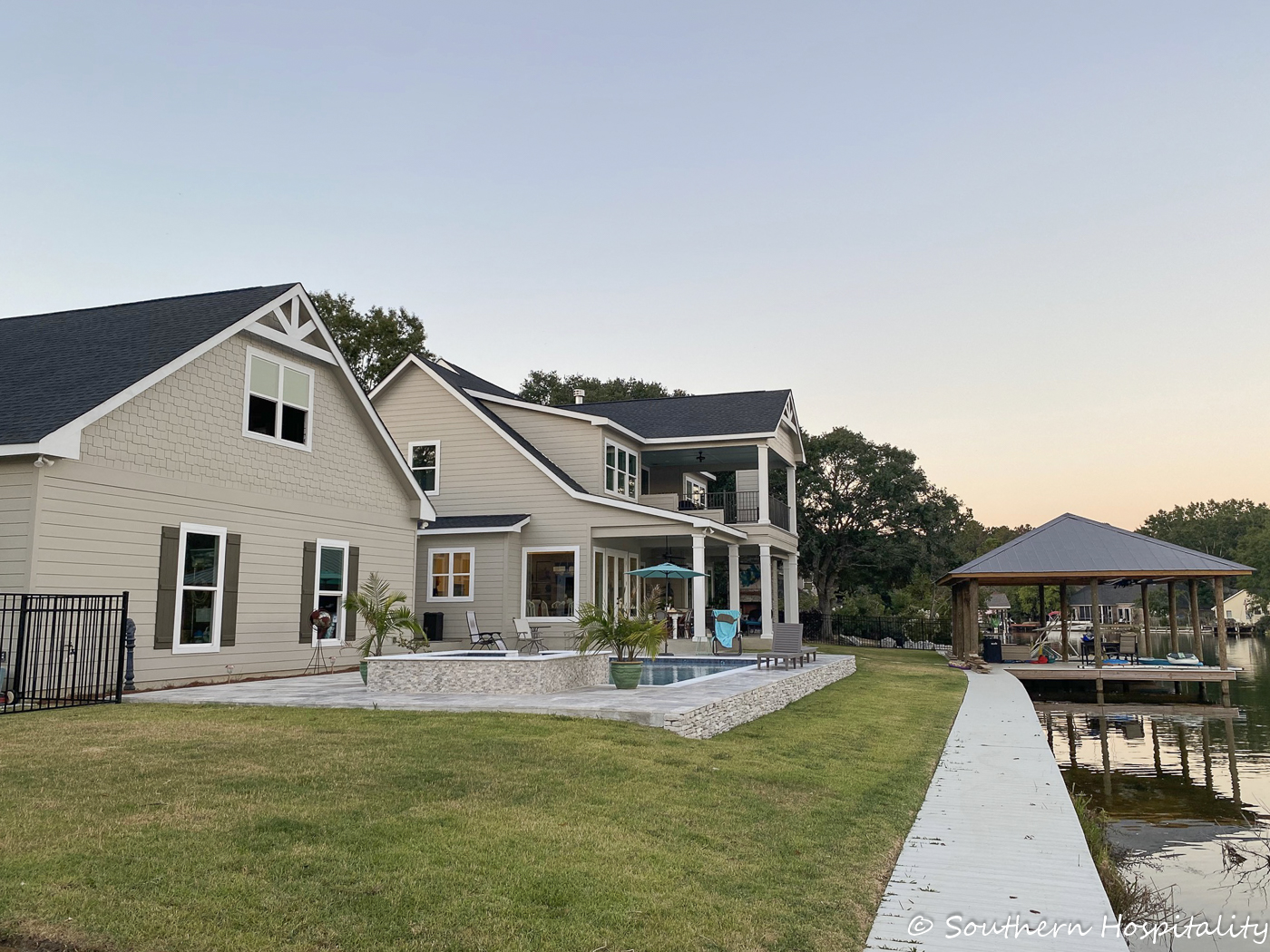 The backyard is spacious, long and narrow, butting right up to the boardwalk on the lake and boathouse. They built the boathouse early on before the house was underway, so that got finished first.
They were able to buy a boat earlier this summer from a neighbor, so that was timely.
The pool is complete and looks gorgeous. What a setting!
They still have landscaping to do and will add plants in the bed next to the garage and I'm sure Renee will add more plants around the pool.
They bought a few loungers for now, but it will evolve with time.
The 2 older grandgirls spent the night one night so we did have a day by the pool in between all the projects and shopping we did. It was very relaxing, too cold for me to get in the pool or lake, but the girls did. I'll share some of those pics below.
It's a beautiful pool and you can't beat the view! They chose silver travertine just like we did. It's a stunning stone for the pool deck.
The back of the house is one long covered porch with another covered porch off the bonus room on the second floor. They will be doing more back here too and Bruce will build more travertine stairs coming off the porch. They have quite a bit left over so he will do something with it. They added those steppers in the yard from the left over pool materials.
The porch has 3 distinct areas of seating so it was fun to see all that come together. With all the second hand furniture she found on Facebook Marketplace, there was enough to spread all over. She eventually wants a sectional in front of the fireplace so those pieces may move around eventually.
We'll start upstairs on the porch. We put this seating area together using the spray painted furniture and a settee I gave her that I have had for years from Big Lots. It all works well together. She found the cushions on sale online and ordered those and they came while I was there.
That coffee table she found locally at a thrift store and it was gray so we spray painted it navy and that really changed it for the better. It's a heavy piece and perfect for a seating group. I gave her this rug that I wasn't using anymore.
We used all her things that she already had and I know what you're thinking. Those will get ruined outside. But that's fine, she's had these things for years and they are not precious, so using them works even though they may get ruined eventually.
We hung canvas art on the walls. Bruce screwed them into studs so they won't fly off.
She had this table and all these things already too and even if they get dirty, that's fine! That table was made out of an old shutter so it's already vintage and worn.
They had this porch tiled before they moved in and it looks pretty.
Bruce's office space is just inside the door on the right, but he plans to move his office above the garage in that bonus space. It's also going to be storage too, but it has a great view with a huge picture window so he's air conditioning it and making it his office. It will be great!
I didn't take a new pic of that space, but here it is before it was all dried in. Now that's an office view!
Here's a view at sunset from up on the porch. What a great spot for a morning cup of coffee, right?
The sunsets are beautiful even though they aren't directly on this side of the lake, they get the glow in the sky.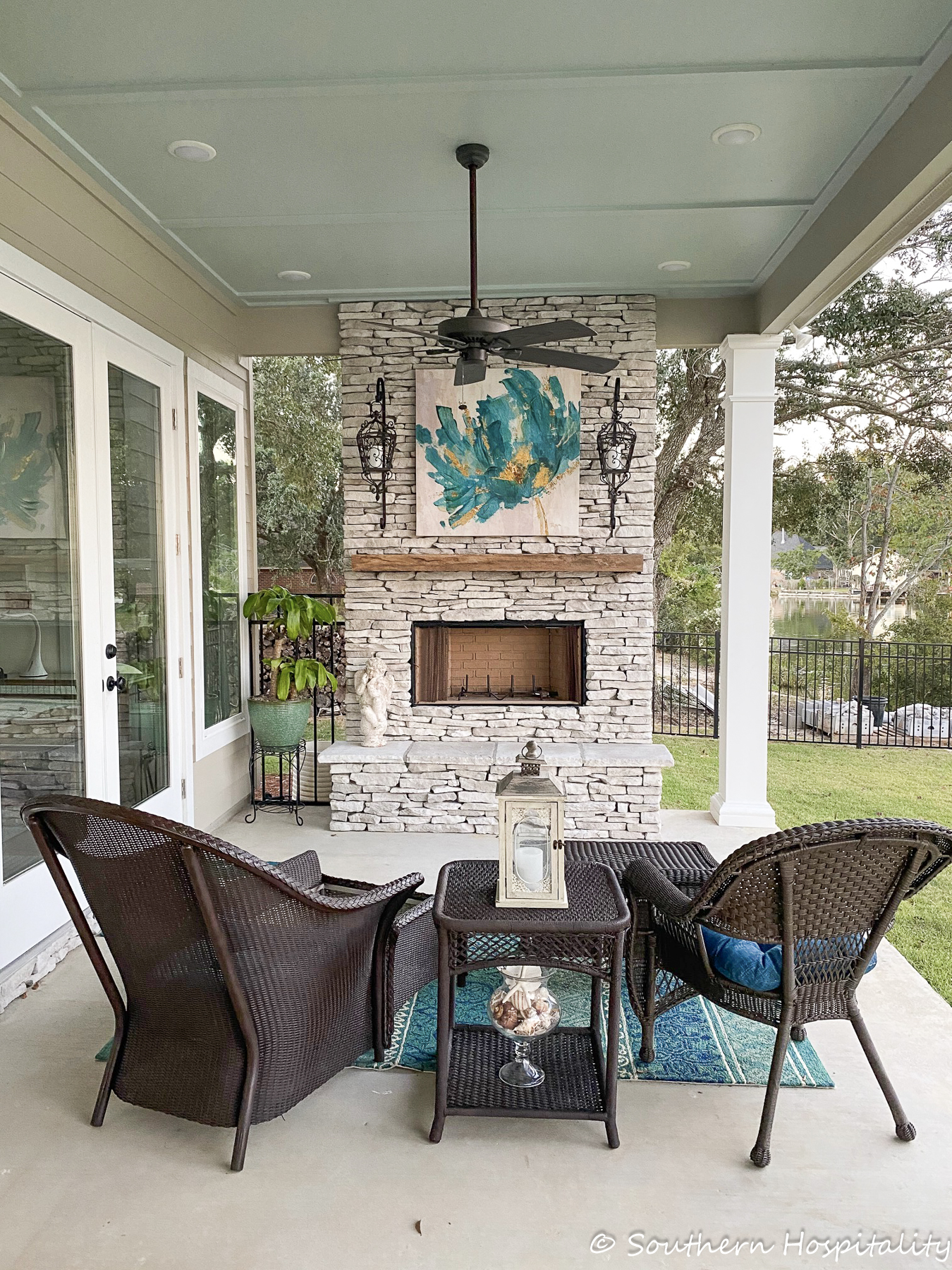 Moving downstairs, this is the seating area outside their bedroom by the fireplace. We decorated that area too with canvas art she had and those black metal candle sconces are perfect out here. We used everything she already had. I gave her this rug too, since I wasn't using it anymore. That chair on the left is a curbside find from my neighborhood. It's a Lloyd Flanders and it has cushions she's getting recovered right now. I'll share that makeover with you later too. I couldn't leave that chair & ottoman behind, it had to be rescued. I gave her the other chair, ottoman and side table that I wasn't using. They all work together after getting a coat of brown spray paint. All of these pieces are painted except the chair and ottoman on the left. You can't tell they didn't come that way, can you? I'll share those makeovers next week.
One of their next projects they plan on getting done soon is tiling this porch too. They are getting 24×24″ square black and white tile and we brought home some samples to look at. I'll let you know what they choose and see it when it goes down. Black and white tiles on the diagonal are such a classic look. We both painted our old porches with diamonds and loved it! This is going to be gorgeous!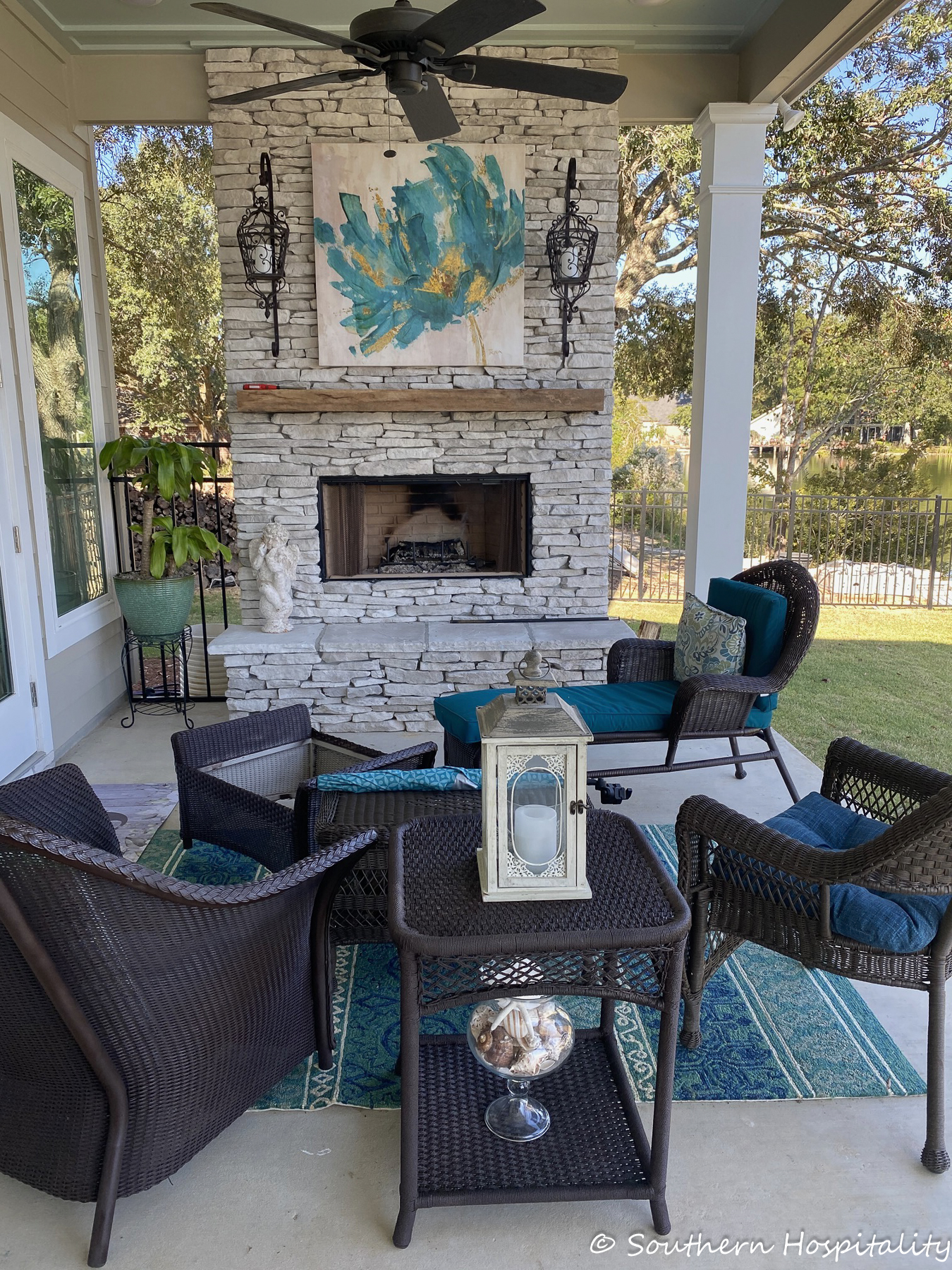 We moved pieces around a few times, like this chaise lounger. It got moved by the fireplace when Bruce built fires in the morning and a couple of evenings. It was just chilly eough for a fire.
She got my remote control candles I've shared and we got those in and spread them around. They look so pretty lit up at night and they have timers too. These are perfect for outside because they are not wax.
Those fires sure were cozy!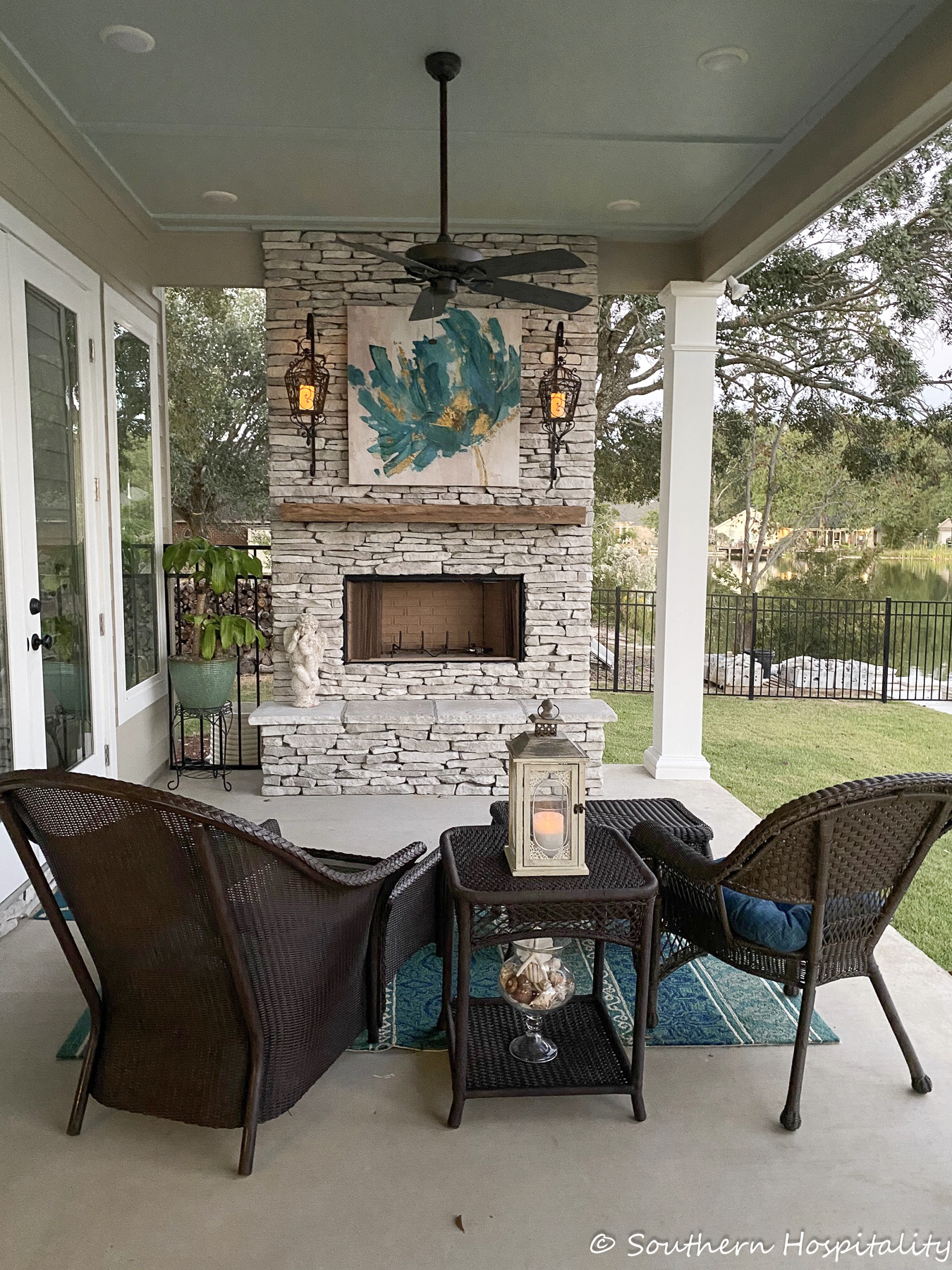 I took a variety of pics with candles lit and not, so I'm sharing them all.
The middle section has a sofa and 2 chairs and side tables. She found this set on Facebook Marketplace down there for $300, so that was a good find too. These tables she already had from her previous house and they are perfect outside.
We sat out here a lot while I was there and this was where I went and relaxed after we worked so hard. It was great!
We had some perfect weather and lots of lake breezes.
Sunsets were gorgeous out here!
The fading sunlight on the water and houses across the lake was so pretty.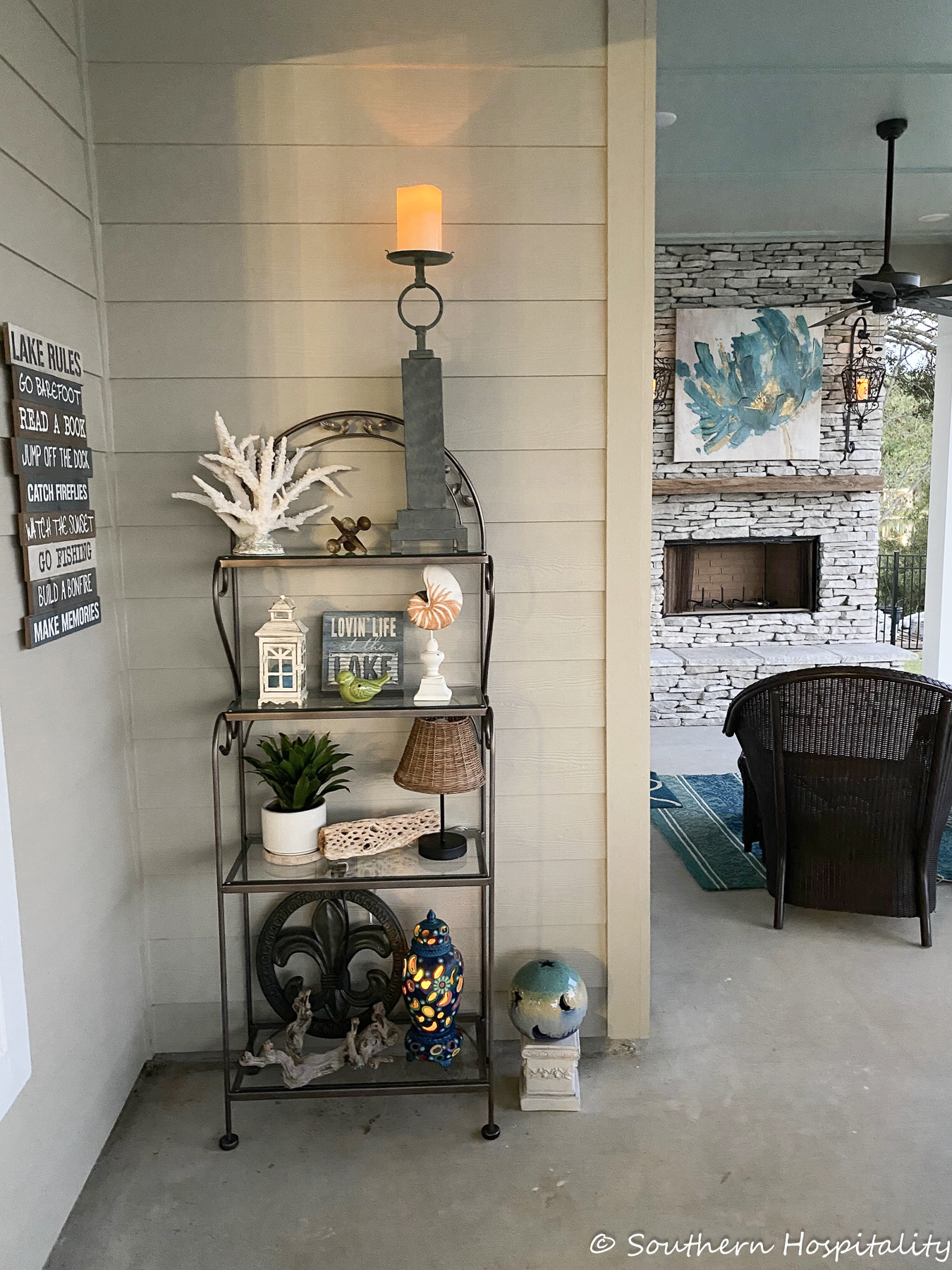 We spray painted this old bakers rack to spruce it up a bit and used what she had.
A friend of hers gave her the lake sign and it's the perfect sentiment.
We filled this long dough bowl with rattan and green mossy balls and added those candles too.
Lots of real plants in pretty planters adds to the ambience.
This table was found at a thriftstore while I was there. We went shopping to find something for this corner and she found this one for $50. A pretty canvas print and a lamp she had makes it feel like a living room.
Sunsets are the best!
The last area outside the dining room holds a dining space. This was her old breakfast set from their previous house. She bought the all weather wicker chairs online and they were cheap. I don't think you'll find these bistro chairs for less. They are very nice too!
And just to show you we broke in the backyard already, Lauren and the girls came over one night for pizza dinner on the porch and it was so nice. Those girls are going to have so much fun at Nae Nae and Papa's dreamy home on the lake. It's a kid's paradise!
The girls love this Jeep that Renee & Bruce bought them years ago and it made its way to LA with them. They can ride it in the driveway and street since it's not too busy there.
This one ended up blurry since I used the Portrait feature during sunset, but it was too cute not to share. The sisters!
Iris and Parker spent the night one night and we had the next day with them. so we took a break from the projects and sat by the pool. The girls had no problem getting in the water. I'm a wimp with cold water, so not for me.
Cute Iris!
Parker and Iris are both learning the paddle board and Parker is doing great with it.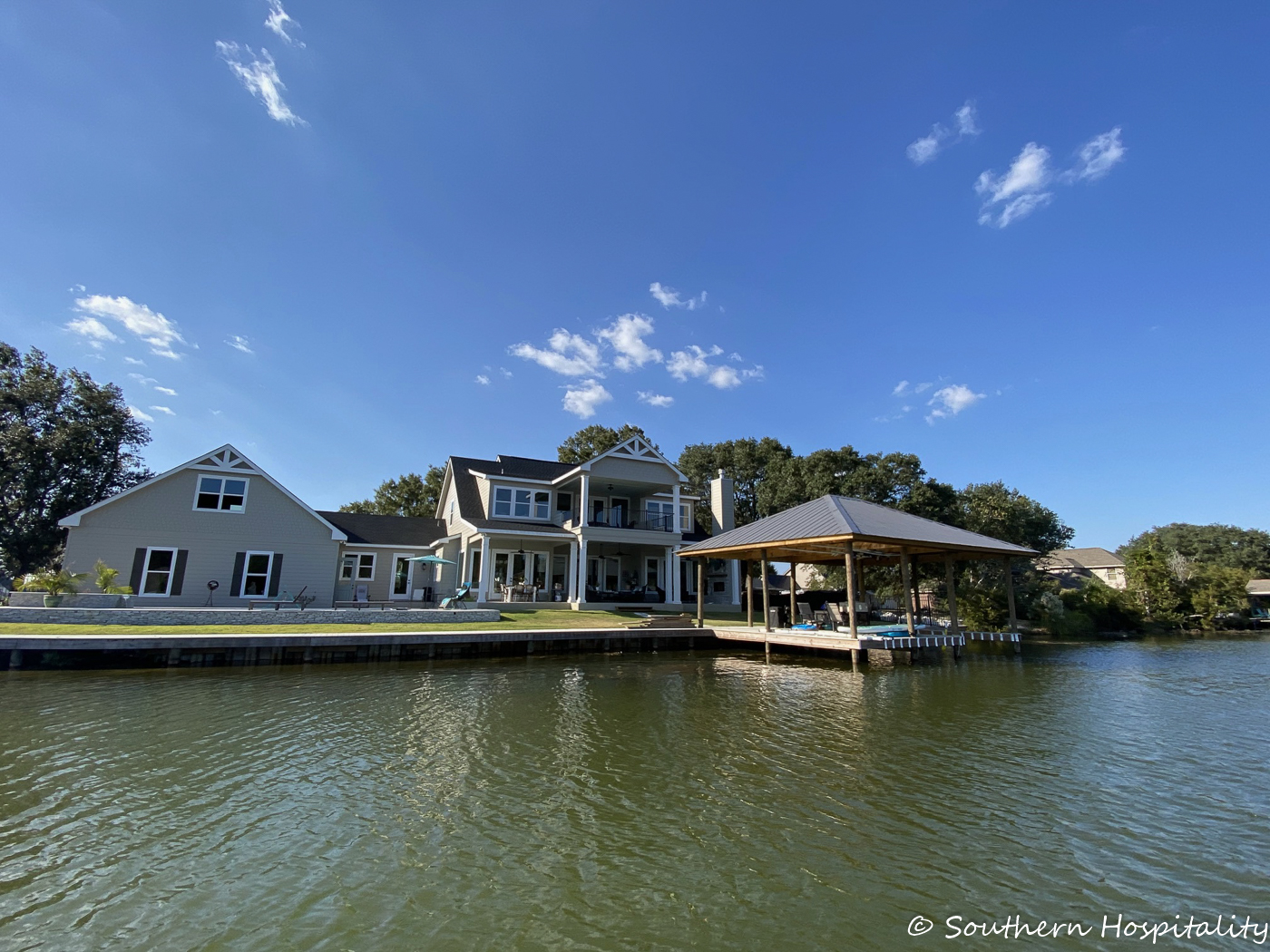 Another look at the house from the water.
I took a few wildlife pics while there. There is so much activity going on all the time, from the ducks and geese to flying birds that were so pretty. Bailey ran down to greet the ducks one morning and it looked like he was calling a meeting.
They have a couple of white ducks that were so striking.
I'm not sure what he is but he flew up in the neighbor's tree.
And this one swooped in by the boardwalk and I used my zoom to get him. The wild life sights and sounds are wonderful.
Sunset across the street one evening.
Gorgeous!
From their backyard.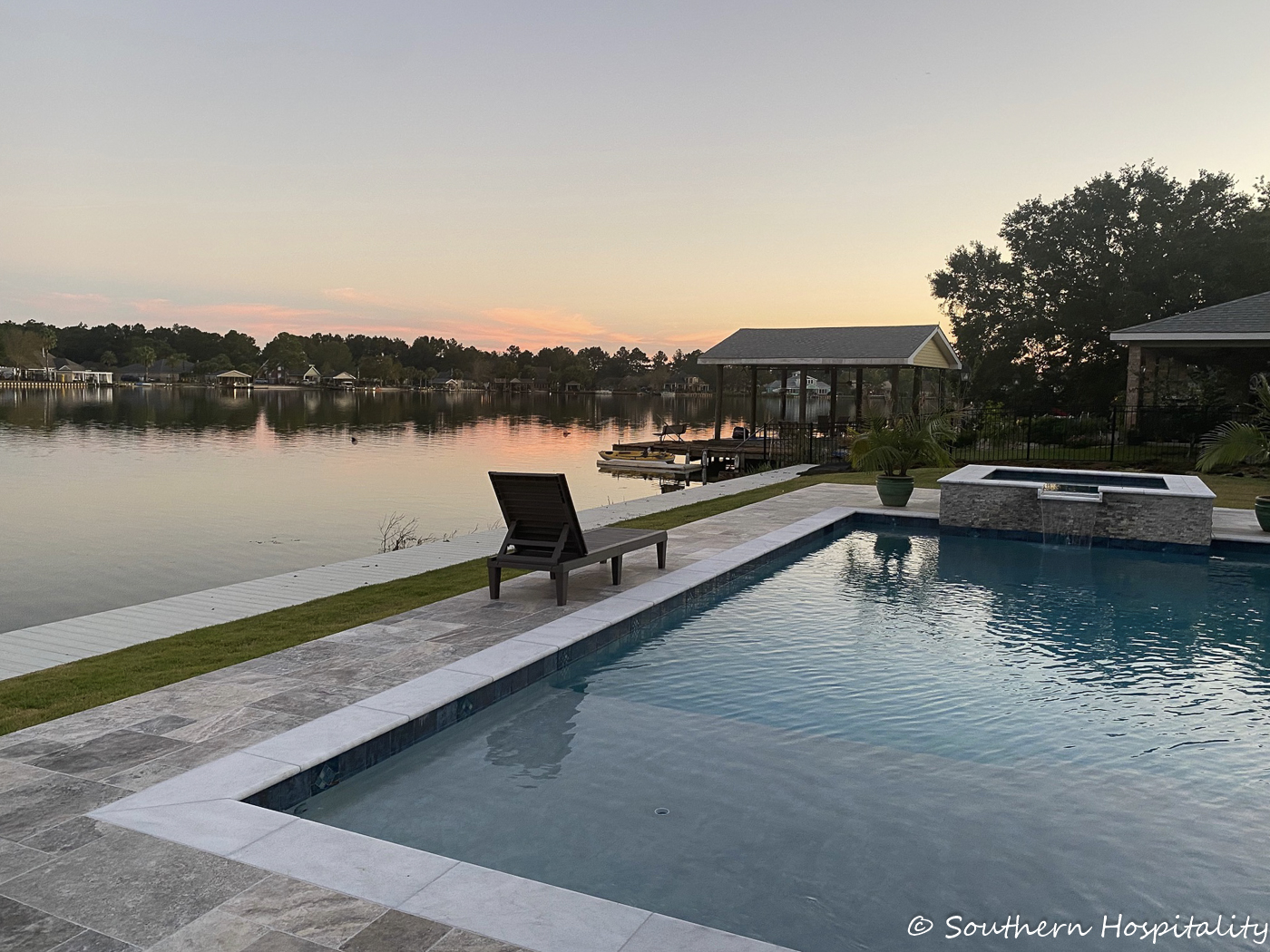 Bruce captured this pic one morning before I got up. It's gorgeous! I'm way more of a sunset girl than a sunrise. I don't usually get up early enough to see them, but this one is stunning.
That's a whole tour of the backyard and I hope you enjoyed it as much as I enjoyed sharing! They truly are blessed to live on such a beautiful lake and in such a beautiful house. I know they are going to enjoy it for years to come and I can't wait to go back for a visit!
Don't Miss a Post, join my list!