Lauren surprised us and decided to fly home with the girls for Labor Day weekend and of course, we were very excited she did.  It's always great to have those baby girls home, the little ones and the big one.  They are growing so fast and we want to treasure every moment of their little lives.  Parker is now 2 and 1/2 and Iris is just over 4 months, so I wanted to share their visit with all of you, since you enjoy our family so much. Mom and Dad love it when they come home and my sister, Renee,  tries to make sure that the babies get to see them as much as possible.  We so enjoy our family time together!  We had a nice meal over at my sister and brother-in-laws house over the weekend and also spent some time at mom and dad's for visits.
On Saturday of Labor Day, my dad's old church congregation had a church reunion at a local park. We all decided to do that last year at a restaurant and this year, a park was secured so that everyone could come out with their families and enjoy getting to visit and catch up with so many folks that we haven't seen in years.  My dad's church congregation was around 200 people and he was there for 27 years, so people came and went during that time, but there was always a core group of people who stayed and really love my parents dearly.  They loved getting to see everyone again since my dad has been retired over 20 years now. This is the church I grew up in from age 6 to adulthood,  so there are lots of great memories with many of these folks.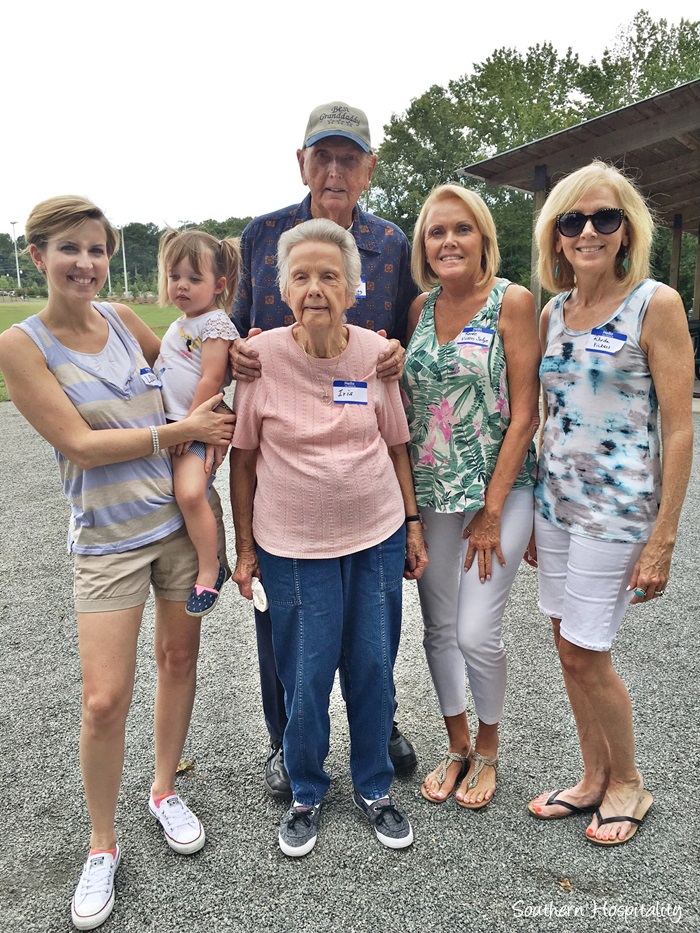 One of the ladies organized it and we had a nice turnout, probably over 50 people.  We managed to get a family picture.  It helped to wear name tags since every one didn't know each other.  Baby Iris was asleep in her stroller.
I got some great shots of the babies, so will share plenty of those with y'all.  Baby Iris is so cute and giggly now.  Big smiles and her cute little personality is coming out.
The table spread reminded me of our church dinners on the ground that we grew up with. It was so fun every year to have a Homecoming Sunday and everyone brought LOTS of food. That church had some amazing cooks, including my mama and we never lacked for good food.  Doesn't that look fantastic? We had lots of fried chicken since we needed to bring ready cooked meats.  The sides were delicious and this end of the table was desserts.
Joyce, our organizer, prepared this scrumptious banana pudding.  A Southern social is not complete without banana pudding and this was a massive container.  She could have fed an army with this one. It was delicious, I can vouch for that.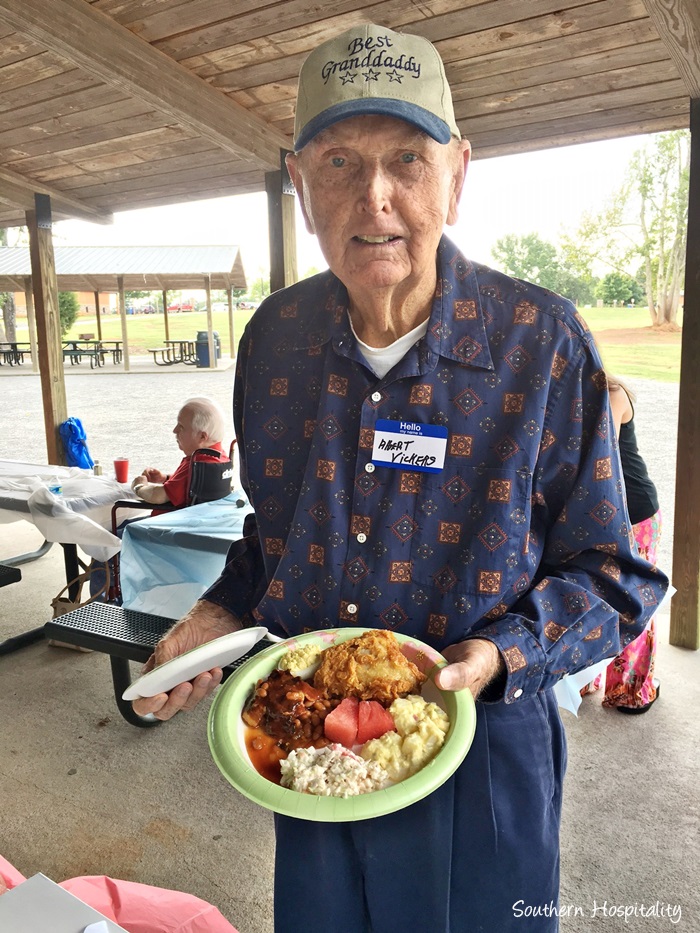 My dad loves church socials and enjoyed himself very much. They stayed for hours talking to everyone.
Capturing some moments of the day.
Dad, Lauren and Parker and I, after we ate.  It was a fun time of catching up.
Mom, Lauren, and Parker.  Parker had a ball running around with the older girls who were there.
Parker, being Parker. She is a live wire that is for sure.
There's a playground at the park we went to so I took her over to slide and swing.  She loved it.
Climbing and sliding was fun.
At my sister's house, we had a nice meal out on the porch on Sunday afternoon. Mom loves holding this baby, named after her. Iris is smiling now and making lots of noise.
Parker and Mom playing with her stuffed bunny.
Dad with Buster, the Boston terrier.
Baby Iris being quite content in Nana's lap.
I  got my share of baby time too. She's so sweet and cuddly.
Mark went with me for family time.  Parker still has a big crush on Mark and he enjoys interacting with her as well.  He's right at home with little girls, since he had 4 girls of his own that are all grown now. I also spend time with his family and we are both very family oriented, which is a good thing.
Mom and Dad on the porch.  I really like this pic of them. I think that's one of dad's favorite shirts.
Bruce added this swing to their back porch for Parker to swing on and she loves it.
I got a photo of Iris on her play mat, just like I took of Parker at this age. Same play mat, same expression.
And here's the one of Parker when she was about the same age.  You can definitely tell they are sisters!
Parker, being Parker again, playing in the little creek at my sister's house.
We spent time at Mom and Dad's house too. Dad had just come in from the garden.  I think his summer garden is over now and he has planted greens.  He's always doing something in the garden!
I love to capture his every day moments and how he looks.  This is so him, every day.
Parker has another swing to play on at their house.  We had to get a ladder out to get it down.
Lauren's other granddaddy (who is deceased now) made her this cute swing when she was about to turn 4 and she has loved this for years.  It says Let's Swing, Lauren!
Mom helping Parker on the swing.
She had fun and didn't quite get the push pull yet of the swing, but I'm sure she will in time.  Lauren used to rock that thing to the top of the ceiling.  Notice the bandaids on the knees.  Parker has a total love of bandaids and puts them on every little scratch.  She had fallen down on the driveway and barely scraped her knees, but we had to have bandaids!
Mom and Dad looking on.  This is our special family times, so I'm happy to share them with all of you. Thanks as always for reading along.
Mom and Dad celebrated 63 years of marriage on Labor Day, September 5th.  We are so grateful for their legacy that they have given us as a family, even if my sister and I didn't have the same experience that they did with marriage.  It's been a huge blessing to us to have them as our parents with their steadfast love in our family.   That is something that is priceless and we are very grateful to have that legacy to lean on.
Lauren wanted me to show you all the dress that Iris was wearing last time she was home. I think she was about 2 months old in these pics.  This dress is one that my mom's Aunt Eva made for us when we were babies and mom passed it to Lauren.
All that hand stitching is just beautiful and looks so cute on Iris.
And this is one last pic of the girls, a recent photo of them dressed in matching dresses that their other grandmother Karen got for them.  Aren't they the cutest??  They look like little dolls in this one!
One more tidbit from Lauren.  Ever since Lauren started college, my mom (her Nana) has been making her food plates with mom's homemade meals.   These plastic divided containers were filled up with homemade deliciousness from mom's table and put in the freezer for Lauren to take to college. Once she graduated from law school, mom figured she would stop this habit, but Lauren just about cried, so mom has continued the tradition and still saves her homemade plates and they get transported down to New Orleans in coolers.  The spoiling continues.  Just one of those family things that I wanted to share!
I know this is a really long post, but here's a comical video of Parker singing Happy Birthday to her mama, Lauren (August 31st).  We just laugh at this girl all the time. Bossy much?!
So, that's a wrap up of our recent family visit and I hope you enjoyed all the pics.  I do love to share this with all of you and it's a way to document our family too.  I seem to have become the keeper of the family records and my blog holds the last 10 years of our family life.  I'll continue sharing these girls with you along with my parents.  We are so glad to have a family that is close and enjoys being together!
Don't Miss a Post, join my list!