We had just a little more trimming out under the porch and that project was my dad building a gate for one end of the porch, so I can store things under there and have it all look nice and neat now. I know how much ya'll love seeing him work, so wanted to share this little project with you.  We're also working on staining this wood and hope to get at least one coat on before it turns too cold to work outside. We've still had some nice 70's days lately, so it's ideal for working outside.  But, that won't last forever as we know.
So, dad came over and measured and began building a gate to fit on the side of the porch.  He made it pretty big so that I can get large things in and out easily, but it will all be hidden.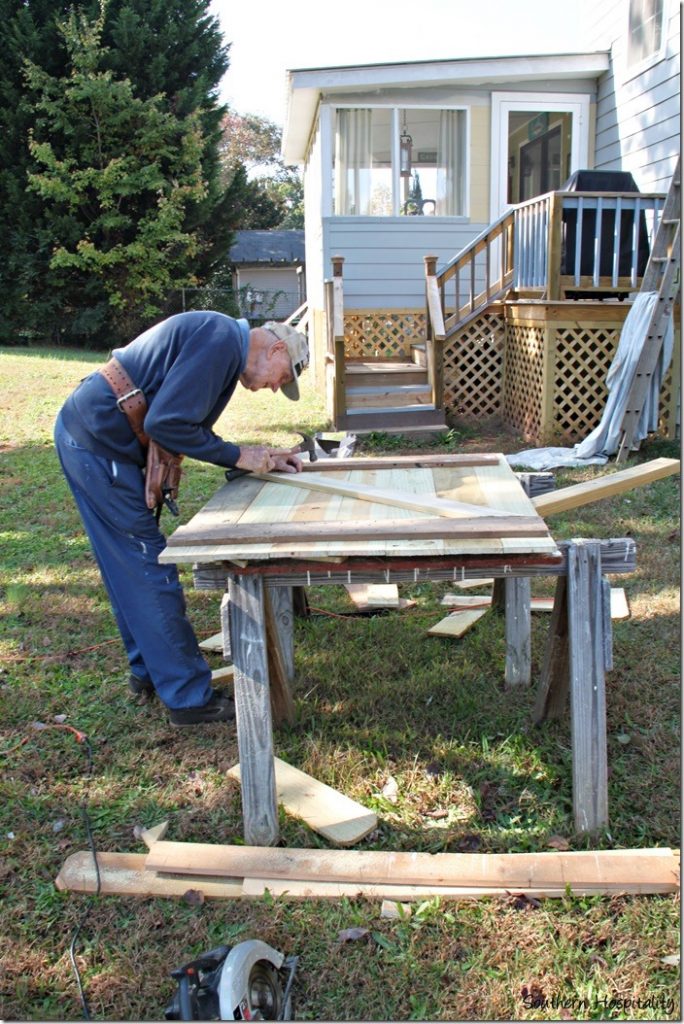 It's not a fancy gate as you will see, but it should get the job done.
Here's the end of the porch that he's trimming out with exterior wood that will hold the gate and all of this will be stained a pretty gray stain.
So back to the gate, after he nailed it all together, I helped him hold it in place and add the hinges.
He put a zillion nails in this thing so it shouldn't fall apart.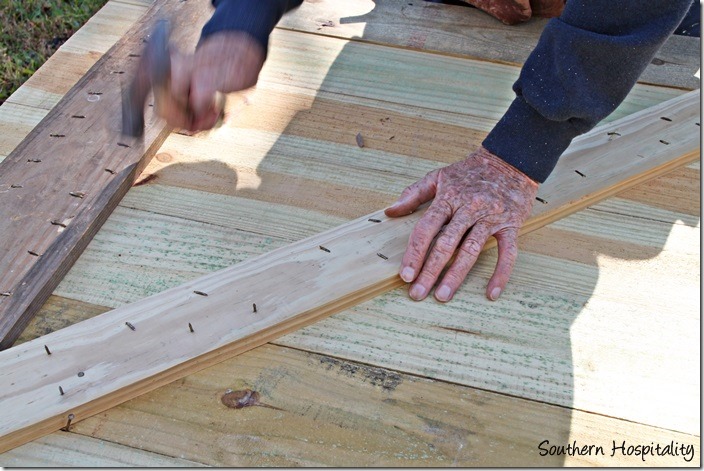 The backside is SO not fancy with nails coming through, but he whacked them all down with the hammer so they shouldn't poke anyone now.
All finished and ready to hang!
We put a piece of wood underneath to hold it up and in place and then dad added the hinges.
Looking good!
And all finished with a cute gate hiding all the extras under the porch.  Can't wait to get this all stained in a nice medium gray stain.
I stopped by Lowes and picked up a silver handle and latch to hold it shut and installed those myself.
And that's a wrap on the lattice and gate project.
Now for the staining, I picked up a couple of gallons of Cabot solid stain from Lowes in a pretty gray, Driftwood Gray. I really like it and it's less blue than the house color. Next spring, I'm planning to get my house repainted in a medium to dark gray tone with white trim.
This gray stain should contrast nicely with a darker color on the house and it's not going to be gray/blue but a true gray. I'll be hunting down the perfect shade of gray for my exterior siding. Can't wait!
Don't Miss a Post, join my list!