Jumping back to Atlanta for this post, we had another wedding shower for Lauren over the weekend. She is getting all set for married life and I'm very happy for her.
She's been a bridesmaid for so many times,  now it's her turn to shine.
One of my sister's very close friend, Susan, and her daughter, Brittany, gave the shower at their house and they did a fabulous job.  Wonderful food and everything was delightful.  It was a beautiful spring-like day in Atlanta.
Beautiful pink cake with chocolate covered strawberries, the food was a girl's dream.  I just love girly food, don't you? 
All the food was great, from spinach salad with strawberries, pasta salad, yummy bread, chicken salad, and grape salad, it was so good.
Cute wedding bears on top of the island.
Sis checking out the food.
Lauren and her friends, Brittany (L) and Maggie (R).
Me and Judy, one of my most precious friends in Atlanta.
It was a smilin' kind of day.
Me and the bride to be, Lauren.
More ladies.
My cousin, Brenda, and her daughter, Denise.  They live in Suwanee, so have a bit of a drive over to Marietta.
Laughing and talking, women love to do that.
The presents are stacking up again.
Lauren, starting the food line.  We all pigged out.
So delish.
Susan, taking a pic of me taking a pic.
Loved the cake message:  From Miss to Mrs. with Our Best Wishes
Hand-dipped chocolate strawberries were oh, so yummy.
Roses on the table.
Eating, talking and more eating.
Aren't showers fun?
Ready to being opening gifts…again!
Looking on.
She got 2 of these beautiful Pottery Barn lanterns.
Pretty pink package.
With Fiesta mixing bowls inside.
A cute bird print from Bed Bath and Beyond.
And for the Georgia grad, a Georgia bulldog party platter.
This was a fun and unique idea.  Everyone was encouraged to write a marriage tip on cute tags and attach them to the Love Tree.
Very cute idea.
Hand written notes to keep and cherish.
There were some great tips written down and Lauren read them all out loud.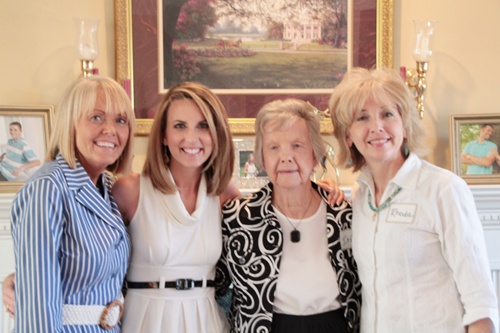 The four of us had to get another pic of all of us:   Renee, Lauren, Mom, Me
It's been a fun time of celebrating.  Hope you are enjoying the wedding festivities too.  We sure are!
Don't Miss a Post, join my list!