I don't always share a ton of new recipes on my blog, but sometimes I'll see something online that grabs my attention and this was one of them. It's a winner!  I made it for Mark and we both loved it and ate like pigs that night. He said it was as good as any pasta dish he's had at a restaurant and I'd have to agree.  And it's a one dish pasta dish that's easy too.  Takes no time to put together!
I saw this on Facebook and it's from Buzzfeed.  They grab you with those short videos that make you say, wow….I can do that, it looks easy and fast!  This one really is easy and fast. Anything with shrimp and pasta, I love!
As I usually do, I tweaked the recipe and added more ingredients.  I'm sometimes a more is more kind of girl when it comes to cooking, especially pasta recipes.  I added a can of tomatoes and fresh mushrooms, because I figured those things would just make it better and I totally think it does.  I didn't use as much red pepper flakes either.  Just a bit spices it up enough.
I used fresh linguine, but you can definitely use the regular dried kind too.  I'd say this makes about 4 servings, depending on how hungry you are.  We ate a lot and I had a small serving left over.
Fresh parsley, lemon juice and Parmasean cheese are part of the ingredients.
I added this can of Red Gold tomatoes with basil, garlic, and oregano.
And I used frozen wild caught shrimp that wasn't cooked for ease. This was about 12 oz. so not quite a lb. bag.
You start by sautéing a little olive oil and garlic and then start throwing things in the pan.  I used fresh linguine, so it cooks really fast and I cooked it separately in another pot.
Once the spinach cooks down it looks like this.  I actually cooked my shrimp first, but didn't want to overcook it so once it was done (shrimp cooks so fast), I took it out of my pan and let the other ingredients simmer for about 5 minutes.  Add remaining butter and Parmesan at the end of cooking and let all ingredients meld together.
Took out the shrimp, then I added the shrimp back in the pan at the end and mixed the linguine with it.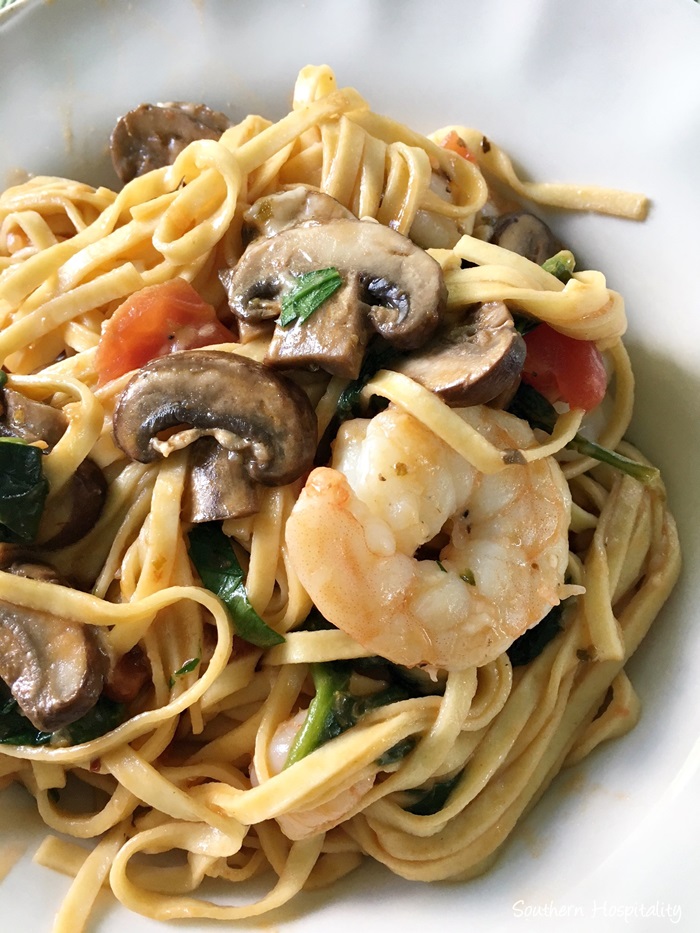 Here's the pasta dish in the bowl and it was truly delicious! I'll be making this one again and again.  It was so fast to put together and has all those good flavors melded together. You can see the original recipe on that Buzzfeed link above, but I'll share this as I made it with added ingredients.  I made several tweaks, like not using a whole stick of butter.  I used about 1/2 stick or less.  Adding the canned tomatoes adds extra liquid in there too, which I think is better. The addition of the mushrooms and tomatoes really made it flavorful and we loved it!
Recipe below in the Recipe writer.  If you can't see it, let me know!  The recipe app doesn't show on my mobile phone view, so you will need to print on your PC view.  I also added a cut and paste version after the recipe app for those who can't see it below.
One pot Lemon Garlic shrimp pasta, modified from Buzzfeed.
Information
By:
Servings: 3
Preparation time: 30
Cooking time: 15
Total time: 45
Category: Dinner
Cuisine: American
Rating: Not rated
Ingredients
8 ounces linguine
2 tablespoons olive oil
1/3 stick butter
3 cloves garlic
1/2 teaspoon red pepper flakes (or to taste, for your palette)
1 pound peeled uncooked shrimp
1 teaspoon dried oregano
1 package baby spinach (approx. 4 cups)
1 package baby Bella mushrooms, washed and sliced
1 small can diced tomatoes with basil, oregano
1/2 cup Parmasean cheese
2 tablespoons fresh diced parsley
1/2 lemon squeezed for lemon juice
salt and pepper to taste
Instructions
In a large pot, boil water and add pasta. Cook (stirring frequently) until al dente.
Drain and set aside pasta.
I used a large pan for my shrimp dish, heat olive oil and 2 tablespoons of butter. Add garlic and crushed red pepper, cook until fragrant.
Toss in shrimp, salt and pepper to taste, and stir until shrimp start to turn pink. Here's where I went ahead and took out the shrimp since shrimp cooks fast. Once it's cooked, I removed from pan and set aside.
Add oregano and spinach, cook until wilted. I added the canned tomatoes and fresh sliced mushrooms here and let simmer for 5 minutes or so.
Return cooked pasta to the pot, add shrimp back to pan, remaining butter, parmesan, and parsley. Stir until well mixed and the butter is melted.
Add lemon juice, mix once more, then serve while hot. Enjoy!
- Rhoda