It's been quite some time since we had a lemon pie at our house, but my mom has a good recipe that she has been making for years.  Homemade lemon meringue pie.  Is there anything tastier?  I happen to love lemon anything.  In fact, growing up my sister and I used to cut up lemons, salt them, and eat them.  I know….not good for your teeth, but we sure loved them.  The dentist told us to stop it, so we did.
Last year, I picked up a Meyer Lemon Tree and brought it with me from Alabama.  It's been sitting outside all summer, growing and actually getting some blooms going and it surprised me when 5 lemons began forming.  Those 5 lemons grew and grew and then they turned yellow and were ready to pick.  So, we had to do something with them and a homemade lemon pie was just the thing.  We have 2 lemons left and will be making a lemon tart that mom found in a magazine, so I'll post that one too, when we get to it.
I love this little lemon tree and what fun it was to watch the lemons grow, green at first and then turning that beautiful shade of yellow.
Picked and waiting for pie.
Our old church cookbook, which has lots of good tried and true Southern dishes inside.  Mom contributed quite a few to this cookbook.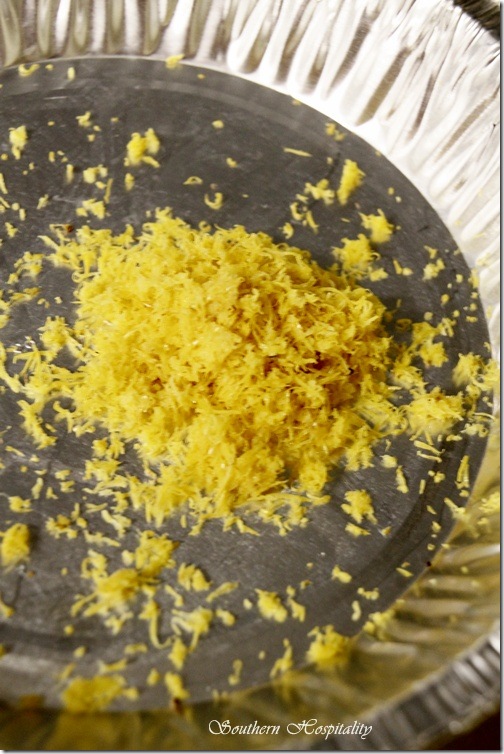 We grated the zest to save for future recipes.
Adding lemon juice to start cooking.
Stirring to thicken.
We used a ready-made piecrust for this, easier than making the crust.  Mom is into short-cuts these days and  I'm all for that too.  Pie crust is baked and ready.
Adding the lemon filling.
All filled and ready for meringue.
Made from scratch meringue.  YUM!!
Add a dollop and keep going.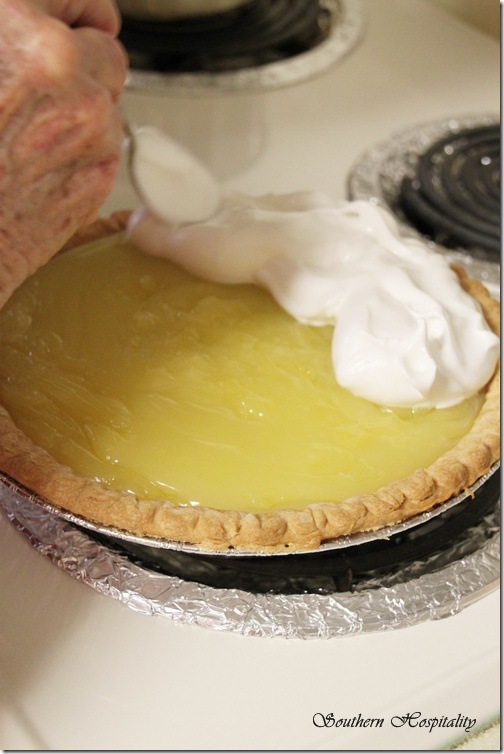 More dollops and it is full and ready to bake.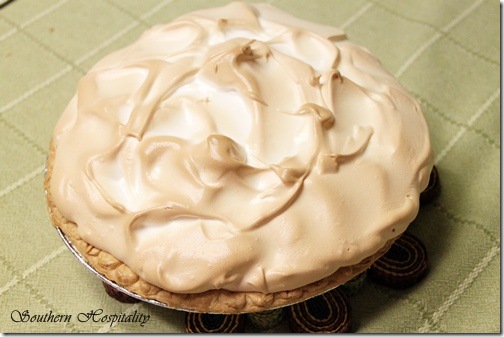 Then it comes out looking like this!  Isn't is a beauty?
It's the purdiest pie I've ever seen.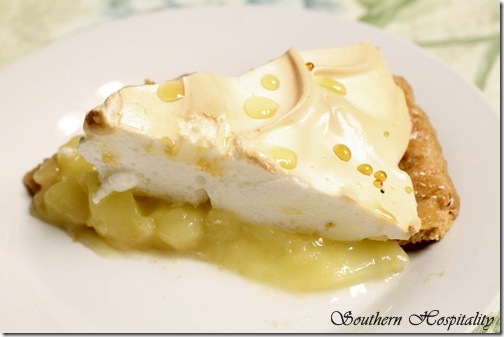 The meringue got a little weepy, but that didn't change the taste.  It is fantabulous!!  If you refrigerate the pie, it should set up a little better for cutting.
Homemade Lemon Meringue Pie
1 1/2 cups sugar
1/4 cup + 2 tsp. cornstarch
1/4 tsp. salt
1/2 cup + 1 T. freshly squeezed lemon juice
1/2 cup cold water
5 egg yolks, well-beaten
2 T. butter
1 1/2 cups boiling water
1 tsp. grated lemon peel
1 baked pastry shell
In saucepan, thoroughly combine sugar, cornstarch and salt; blend in lemon juice, then cold water and egg yolks until very smooth.  Add butter and gradually stir in boiling water.  Bring to a boil over medium heat, stirring constantly, boil 2 to 3 minutes.  Stir in grated peel.  Partially cool while preparing meringue.
Meringue
5 egg whites
1/2 tsp. cream of tartar
1/2 cup + 2 T. sugar
Beat meringue with electric mixer until stiff peaks form.  Dollop on top of pie.  Bake at 350 until brown on top.  Let cool and refrigerate to set pie even more for cutting.
Don't Miss a Post, join my list!