The whole truth on installing grasscloth wallpaper. From choosing grasscloth, to having it installed by an installer, there is a lot to know about living with grasscloth wallcoverings. It's a beautiful product! 
You all probably know by now that I share the good, the bad, and the real here on my blog, so today's story is about my recent purchase and installation of grasscloth.
I've loved grass cloth wallpaper for a very long time.  It seems that every showhouse I go in lately has this richly textured material on a wall or in a room somewhere and it instantly takes me back to the 80's when I first saw grasscloth being used in offices around Atlanta.  In fact, the office I was working in back then had been professionally decorated with a neutral grasscloth on the entryway walls and that was my surroundings every day. Grasscloth is a type of wallpaper with natural fibers texture.  Natural fibers in this paper really captured me as do the hues.
I've always thought it to be quite sophisticated, textural, and beautiful, but it wasn't until we moved in this house, that I thought I was really ready to install grasscloth in the dining room. Dining rooms are a good place to put this paper.  I contacted one of my design friends to ask her about brands of grasscloth.  I had looked online at Phillip Jeffries and all the beautiful grasscloths offered by this company, but they were pretty expensive. I knew that designer grasscloth was pretty pricey, but didn't know how much this project would cost me.  I wasn't about to try to hang it myself either.  I knew better than that.
So, my friend has an account with Thibaut and she said they were more reasonably priced, so she ordered some samples in blue for me to look at.  It was so fun getting them in and touching them in person.  I decided on a beautiful blue grasscloth wallpaper called Peacock by Thibaut (it's the far left one). Schumacher is another lovely brand,  but a little more expensive.
My friend ordered them for me and I paid right at $300 for 2 double wallpaper rolls of grasscloth, which comes out to about $15 per yard.  Now this was to go above the tall wainscot in the dining room and even that small amount of wall takes more than you think.  Each roll has 4 yards of paper, so 8 yards on a double roll. I was going to add some to one wall in living room too to tie those rooms together.  I got an estimate from a local wallpaper hanger for $300 to install all the wallpaper with adhesive, so I was good to go.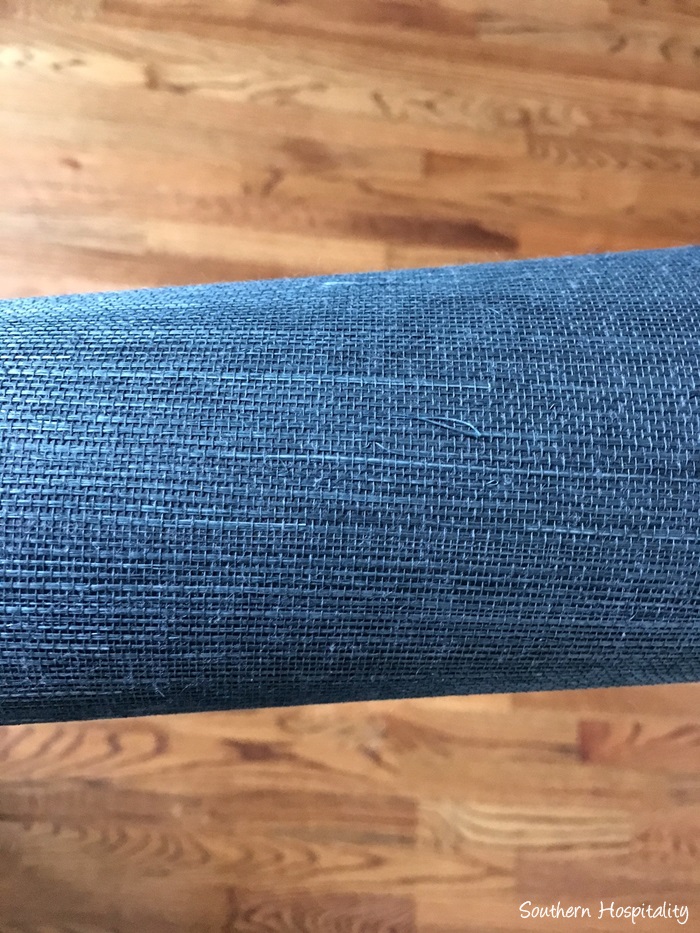 The paper came in, the installer came to my house and in just a couple of hours I had wallpaper hung in the dining room.  I was in the other room as the installer moved around the dining room walls. At one point I went in and noticed that one sheet of paper was quite a bit lighter than the others around it, in fact it was gradient and looked light, medium, to dark.  The installer mentioned that color variation, but was already turning the corner from where the lighter paper was.  I probably should have stopped him right then and there and took at look at both rolls of paper, but somehow I spaced out, didn't do that and let him continue. I loved the paper and knew that there were going to be shading differences in a natural product like this, but wasn't expecting the big difference in coloring from sheet to sheet.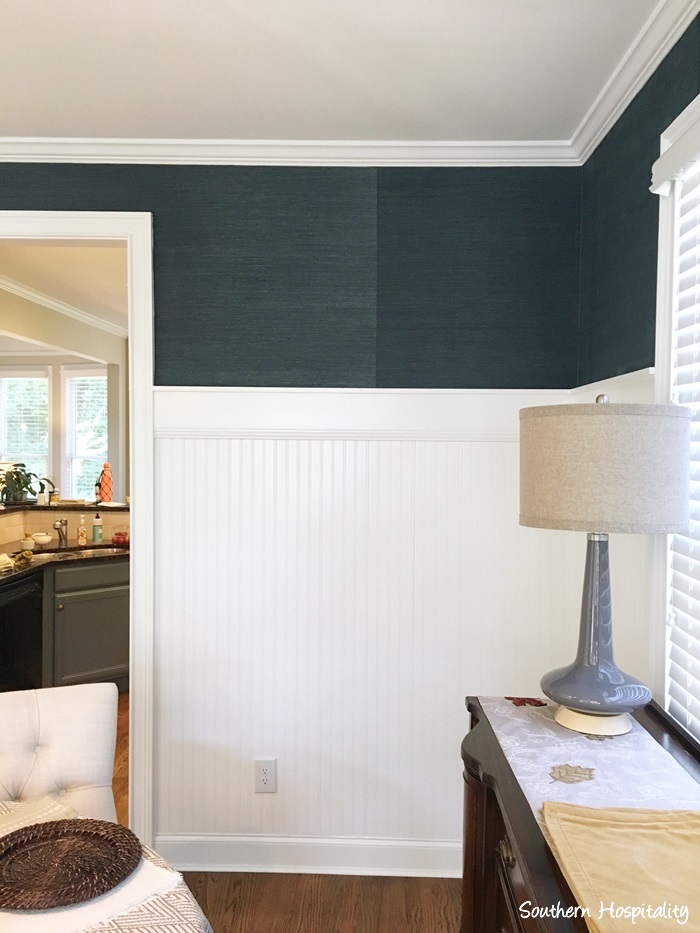 The worst spot was here.
Mark came home and immediately zoned in on the lighter sheets. They were obvious in one main focal point area of the dining room and we talked about it.  He definitely couldn't live with it and the more I looked at it, I was sick about it.  I think I had tried to talk myself into being OK with it.
I sent my design friend a picture of the offending lighter panels and she said, yes grasscloth can be different tones and variations, but the installer should have noted that and made sure to match up color tones as he was going along. The problem was I didn't have extra paper. It might have worked out that he could have taken pains to cut down the roll or cut into the 2nd roll and have it all match up better, but it was all such a surprise to me that it had turned out that way.  We were not happy about it, but it was already up and so I had to come up with a solution.
See the light panel on the left in the living room, it got replaced too?
I had even talked about painting the paper with paint to blend it all out and get one color throughout, but I really didn't want to do that.  You destroy the color variation that's in grasscloth when it's painted, although I've seen beautiful painted grasscloth before too. It can look great, but I didn't want to spend all that money on beautiful grasscloth to have to paint it over so soon.
My friend contact Thibaut and convinced them that they should send me another roll.  I was hoping against hope that we could then take down the lighter panels (there were 3 main ones that stood out) and find a good match and been with the new roll.  This went on for about 2 weeks as my friend waited to hear back from Thibaut and I texted my installer.  He didn't feel like it was his fault and I really couldn't blame him, although he should have stopped as soon as the light panel went up and we should have discussed it together.  He just chalked it up to the nature of grasscloth and that this is what happens with a natural product.
I got in the new roll of grasscloth (thank you Thibaut!!) and my installer charged me $100 to come back out and take down the 3 panels that were so glaring and we went through the roll together and matched up each piece so that it was a much better blend.  Luckily, the old panels peeled right off and he was able to put the new ones up in no time.
We are so much happier with it now and it was worth it to me to pay him extra to fix the situation.  Lesson learned on grasscloth!  The darker shades can have color variations and you need to be prepared for that.  This wall was the most crucial and the one you see looking in the dining room.
It looks SO much better now!  There are still some color variances, but I can totally live with this now. And seams do show in grasscloth, so that's something you have to be OK with too, that's just part of grasscloth. Grasscloth adds such a level of sophistication and depth to a room.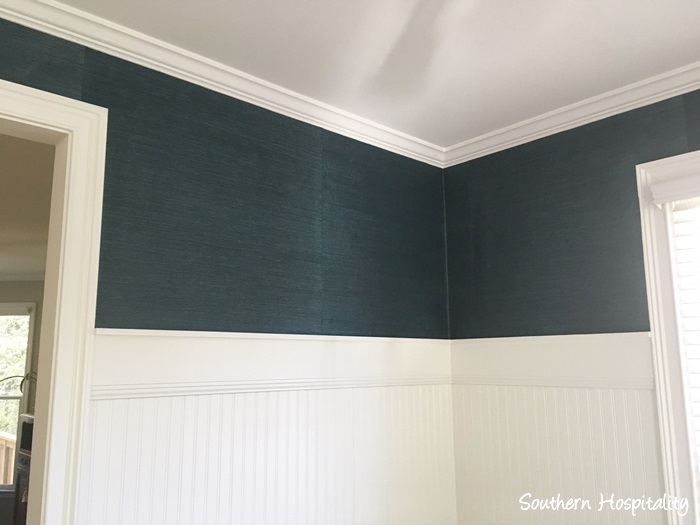 One thing I learned about grasscloth is that it's supposed to be installed by flipping every other piece that goes up to supposedly keep this problem from happening.  I did ask my installer if he did that and he told me he did flip the paper every other sheet.  But we found out from the 2nd fix that it didn't always match up with that method either.  He flipped the sheets and we looked at them both ways and sometimes both sheets going the same direction looked better than the flipped sheet did.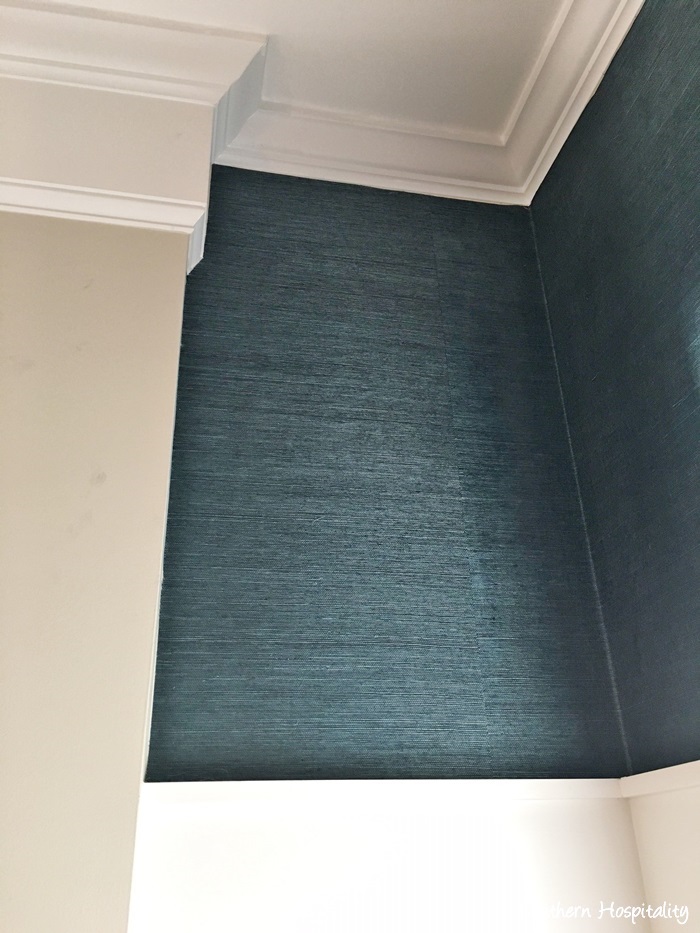 So, go figure!  I'm certainly not an expert on grasscloth and this project turned out to be way more expensive than I thought it would initially, but after all is said and done, I got my beautiful grasscloth up on the walls and we love it now!
It was a $700 project when all was said and done.  Would I do it all over again? I'm not sure for the price, but I do love the texture and elegance it brings to the dining room and can't wait to finish all the details in there to really make the dining room shine. You may not want to use grasscloth wallpaper in a high traffic area.
(After shot added after finishing it all)
SaveSave
Don't Miss a Post, join my list!