Adding natural elements to a room is the perfect way to start your fall decorating. Clipping limelight hydrangeas or other stems from nature provide just the right touch for fall color and texture. 
Are you getting ready for fall yet? We are having some wonderful early fall weather in Georgia right now and there was a considerable cooling of the air when the calendar turned to September. I love when that happens! The change of the seasons is always welcome this time of year, as we definitely are ready for cooler weather after the hot summer we experience in the south. Change is good when it comes to weather, so that gets me in the mood to change out my decor for the fall season too. This year, I really took advantage of my limelight hydrangea blooms to use in the dining room and other areas too. Those faded green blooms are perfect for fall tones and look great in my blue and white dining room. 
Don't go anywhere after this post and be sure to read to the bottom, as I'm joining some of my best blogging buddies who are also sharing a fall space in their house, so you'll want to see them all! 
I do enjoy changing out my dining room table to reflect the current season and I usually keep the table set all during the year. What can I say? It just makes me happy to see it set and pretty in there. We don't use our dining room that often, but it's a beautiful room. 
It's small and adjacent to our small living room, so those rooms stay decorated and looking pretty. Mark added beadboard wainscot in the dining room a few months after we moved in and it really made a difference in here. That's grasscloth wallpaper above it and I had my heart set on that when we made over our house. I'm so glad I went with it, it's such an elegant look for a dining room.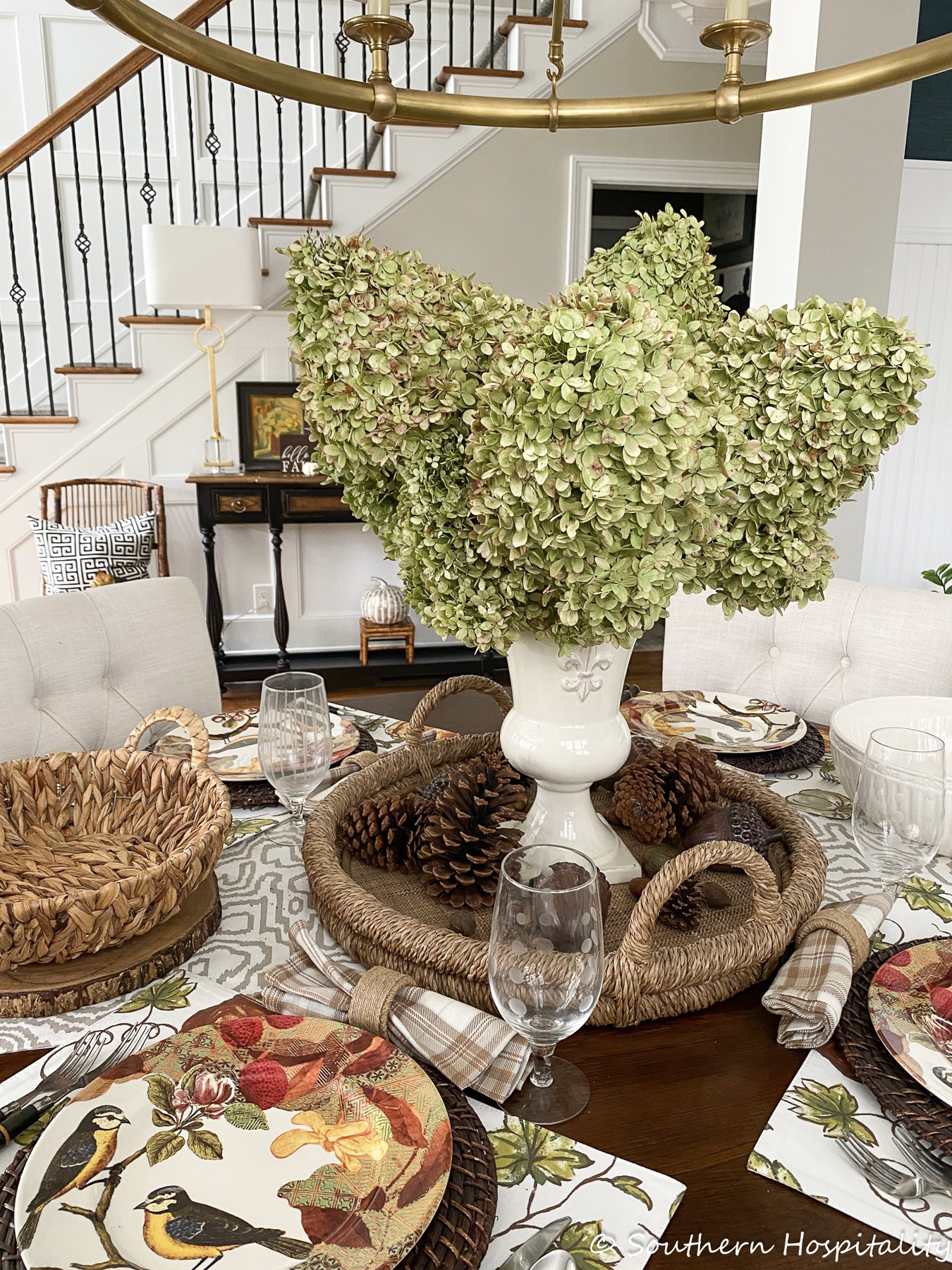 I pull out these fall inspired bird plates every fall too and still love them, as well as the pumpkin place mats that I picked up years ago. 
I love using lots of textures on the table and this round tray I found at Homegoods a few years ago is my fave. I change out the centerpiece for the seasons and these limelights are definitely the star this fall.
They are huge and I love the soft green hue they fade to at the end of the season. I added a few pinecones and acorns around the base of the white urn. Those faux large acorns are from a home decor line of Biltmore House that's no longer in business. 
I'm pretty sure these bird plates are from Homegoods years ago. I still find so many great things at that store. This pretty black bamboo flatware is from Wayfair and I love mixing it on my table.
Affiliate links used in this post. Here's a current link for the bamboo flatware.
I kept the sideboard simple with an old metal white urn I've had forever and one large bloom from my limelights, along with some brass and white candlesticks. I still love those bamboo lamps I found at Homgoods right after we moved in this house. You can find them online at Horchow with white shades. They are pricey online and I'm so glad I found them at Homegoods for a fraction of the price. 
I'm often asked about our dining room chandelier and you can find it at Williams Sonoma if you're interested. We love this fixture and I think it's perfect in here! That basket is a set of 3 I found on Amazon, my friend Ann from On Sutton Place, recommended them and they are a great set for the price. They are nesting baskets with 3 sizes.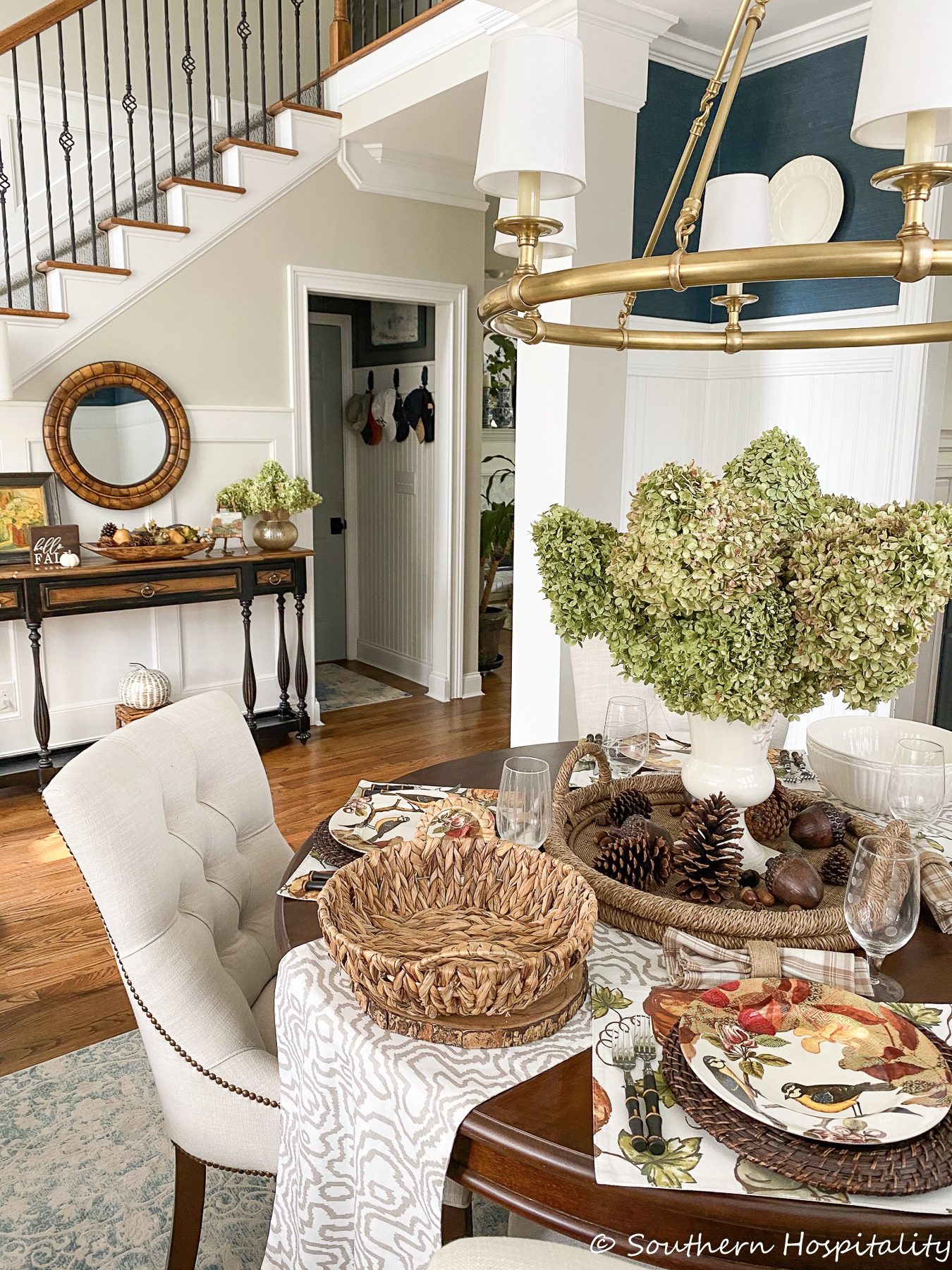 The basket on the table is the large on and you'll see another one on the blue bamboo bar cart. I'll be sharing the rest of my fall home tour later this week. 
This shot of the table centerpiece was so pretty with morning sunlight coming in. 
My blue bamboo bar cart fits perfectly in this little corner of the dining room and I changed it out for the season too. 
Another of the basket set fits in the bottom with faux limes and I added another limelight bloom to the top in a white vase, along with a ceramic bowl and a textured bee hive.
I love this shot of the dining room coming down the stairs. It really makes me happy to see every morning and the changes of the season is obvious at first glance. Thank you as always for stopping by to see my decor. Being part of the blogging world definitely prods me to decorate for the seasons for all these almost 15 years I've been online and it's always fun to share with you all. I try to mix things up even though I don't buy all new stuff. I hope you get inspired too!
Here are several items from my dining room that are exact or similar to what I have (affiliate links used). Full disclosure here. 
Don't miss the tours from all my friends below who have really decked out their homes for the fall season too. You will not be disappointed, they are all so very talented!
Happy fall ya'll! 
Designthusiasm | On Sutton Place | Southern Hospitality
Shabbyfufu | Maison de Cinq | StoneGable
Don't Miss a Post, join my list!