I know you are all dying for another peek at the house progress, so we'll start with the living room today.
Putting the living room together was a bit challenging at first, but I'm really happy with it now.  I was passing through there day after day, trying to figure out what I wanted to do in there as far as placing this and that.  I got my new drapes in and was eager to put them up, but really need another set of eyes to get them hung just right.  You know how that goes.  My friend, Debbie, came over for a few hours and we got the drapes hung and started moving things around.  And before I knew it, I was really liking the room.
Let's look back again at the Before pics.  You have to know where we started in this house to really appreciate where I am now.
Remember this shot?
Amazing the difference, I can hardly believe it's the same house either.
I look around in amazement every single day and say, "thank you, Lord" when I wake up every morning.  So, let's look around.
This painted chest fit so well at the top of the stairs and I had this spot in mind for it all along.  I was happy to see it in place and how great it looks coming up the stairs.  My big antique mirror that I've had over 25 years works so well above it on this vaulted ceiling.  I am so happy with how all my furniture fits in here, like it was meant to be and it was!
The full view of the living room.  I'll tell you a bit about my thought process on how I decided on fabrics in here and a rug.  I already knew that I was going to keep my walls really neutral this time around. I love the white on white paint look and thought it would really show off my antique dark wood pieces and my upholstered pieces too.
When I chose the Ikat turquoise fabric (Tilbury from Calico Corners), I chose it because of its colors, bringing in the turquoise that I love, along with the gold and a bit of green in the fabric.  I knew that this would bridge all of my fabrics together and work well with those gold leather chairs, that are a strong bold gold.  I made the decision to only frame the windows with 2 panels and not try to put panels next to the fireplace since the windows butt up against it.  I love how they turned out with just a panel on each end of the windows.
The room is really cozy now with the rock fireplace, which also picks up the tones from my furniture.  I'll be adding some gas logs to the fireplace soon, I hope.
The zebra rug from Shaw Floors (Zybra inTeal)  is the icing on the cake and just adding the drapes and the rug makes a lot of changes in my room, I think.
I had already begun to add some turquoise colors to my space before I moved and I made an even more concerted effort in this one.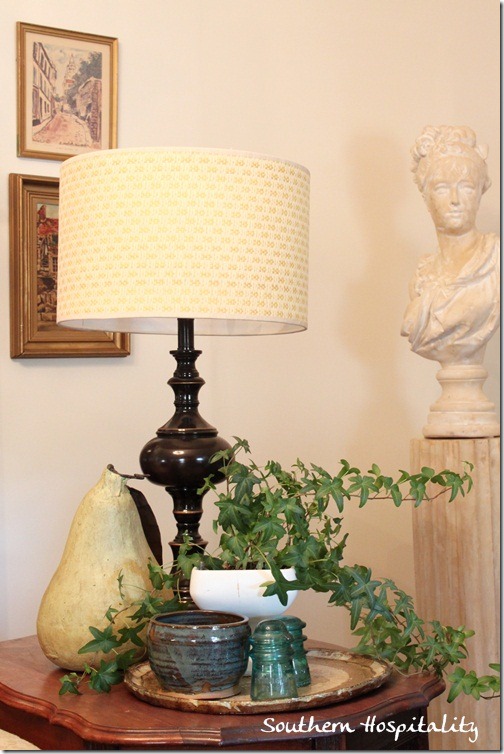 You'll recognize all my same accessories, I have so many things that I've collected over the years, so have plenty to choose from.
Debbie and I brainstormed and brought this black desk that I found at a yardsale and painted black, upstairs to the living room and flanked it with 2 chairs that were in my old breakfast space.  Many of these things were found at yardsales, including the print on the wall, the iron sconces, and all those white pieces.  I still love my yardsale finds!
I had enough fabric to recover the chair seats and love how they look.  These chairs that I painted black many years ago have served me well over the years.
The fireplace was a good place to put my $5 firescreen, also a yardsale find and those 2 urns are from Willow House.  My new aqua glass floats work on top.  Eventually, I'll get a rustic mantel for this fireplace as I do dearly love to have a mantel to decorate too. That preserved boxwood wreath came from Lowes.
My round drum table holds some books and other pretties.  I brought a bit of Alabama cotton back to Georgia with me.
Behind the sofa,which is an Ethan Allen sofa that I bought when I used to work there, I added my demilune little table that I painted aqua a couple of years ago.  The mirror above is from Kirklands and a recent find.  Those 2 columns were in my old dining room.
Another look behind the sofa, my china cabinet is a good backdrop on this wall.
So, that's a look at how the living room is looking now and I couldn't wait to share with all of you.  I love layers and that's how it all came together.  Having something on that focal wall with the desk and 2 chairs was important to do, I think, to add more dimension to the room.
I'm getting out all my Christmas stuff this week and getting ready to add some Christmas cheer around this place.  I still have lots of organizing to do to get completely finished in my bedroom and office and all the extras are still in the den.
My roommate, Rhonda, will be here next week, so I've got to get moving.  Rhoda and Rhonda, say that really fast!  The funny thing is, I get called Rhonda ALL the time.  Ever since I started grade school, I have to correct people on my name constantly.  I told my mom she should  have just named me Rhonda.
Wait until you see what I've been up to in the laundry room/storage area.  I painted the concrete floor with stripes.  Couldn't stand the thought of doing laundry in that dingy room, so we are fixing it up to make it at least presentable until I can give it an overhaul in the spring.  It's looking so much better already.  Dad is coming over today to help me with that space.  Can't wait to show you soon!
Hope you are having a great week and starting to get in the Christmas mood.  Don't forget, our linky parties start next week!  Eeeek, I've got to get busy.
Don't Miss a Post, join my list!