Who's ready for fall?
Even though September isn't here yet and it's hard to get excited about fall when it's still so hot, so many get in the mood for fall early on and you'll already start to see bloggers jumping on the bandwagon. I've never been a really huge fall decorator, but I always do a bit around my house, so enjoy these snapshots for the upcoming season with vignettes here and there that I've shared here over the years.
Last year, I bought a few new faux things to use and I'll be bringing them out again this year as well. I thought it would be fun to pull together a few options if you're in the market for adding a few accessories to your home too.
Faux fall leaf wreath on the door along with some fall inspired ribbon from last year. I loved this and will probably do the same thing again out here. I like easy and simple, how about you? Bonus that my topiaries are still alive! We will see if they make it through another winter.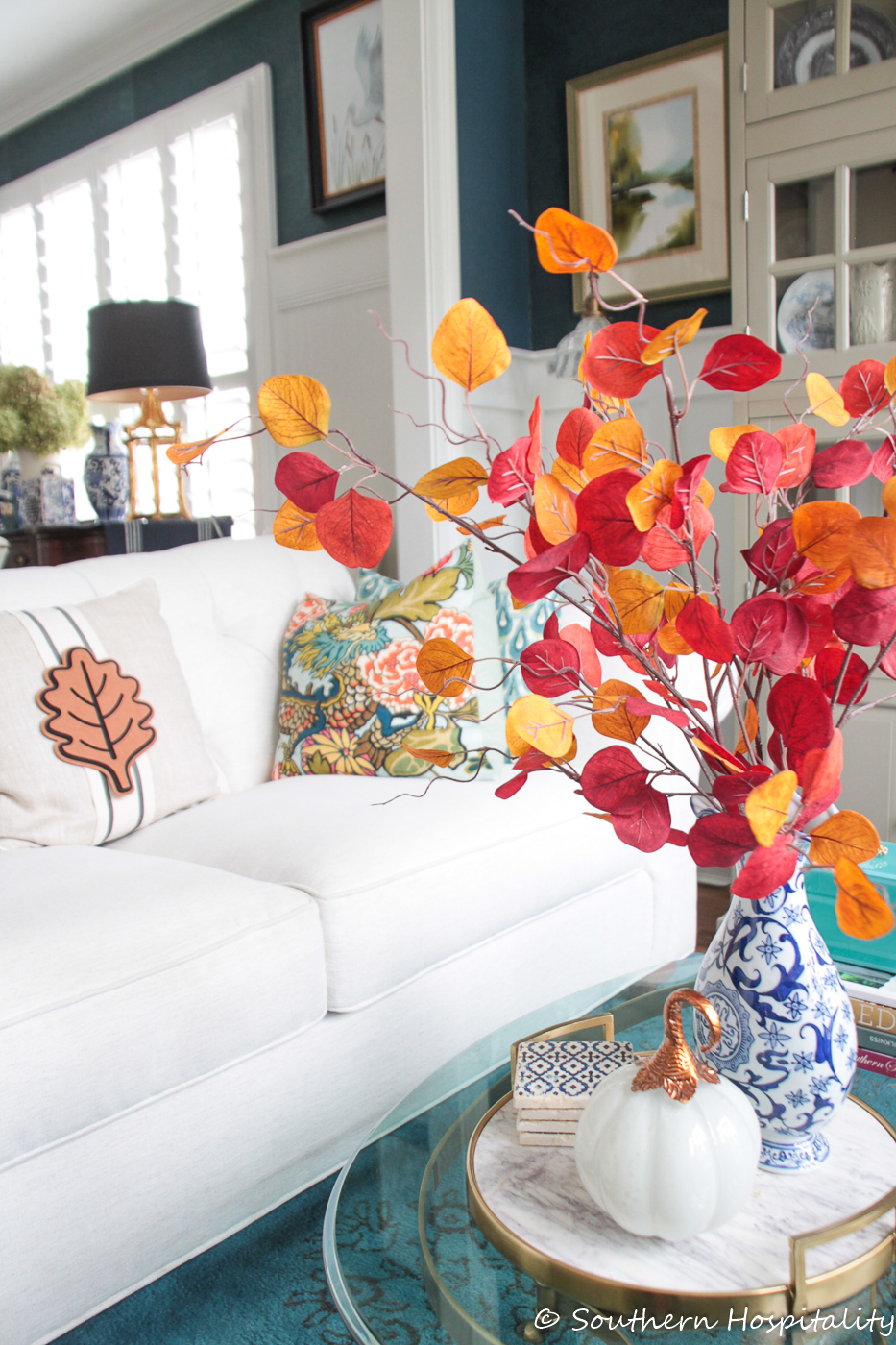 Fall faux eucalyptus leaves I found last year at Michaels. Perfect for popping in a blue and white vase.
This little sign was a gift and those faux florals are also from Michaels last year.
These faux pumpkins were so inexpensive and look great piled under a cloche. You'll probably see a very similar look this year as well somewhere in my house.
This ceramic pumpkin I found at Homegoods years ago and I love getting it out to use every year, along with dried Limelight hydrangeas.  My Limelights this year are huge and I'll be cutting more again to decorate with.
One year I did real sunflowers that I found at the grocery store and those really popped on my entry table in the blue and white vase. I love little nods to fall without making a huge deal, like that adorable vintage fall painting on the bamboo easel.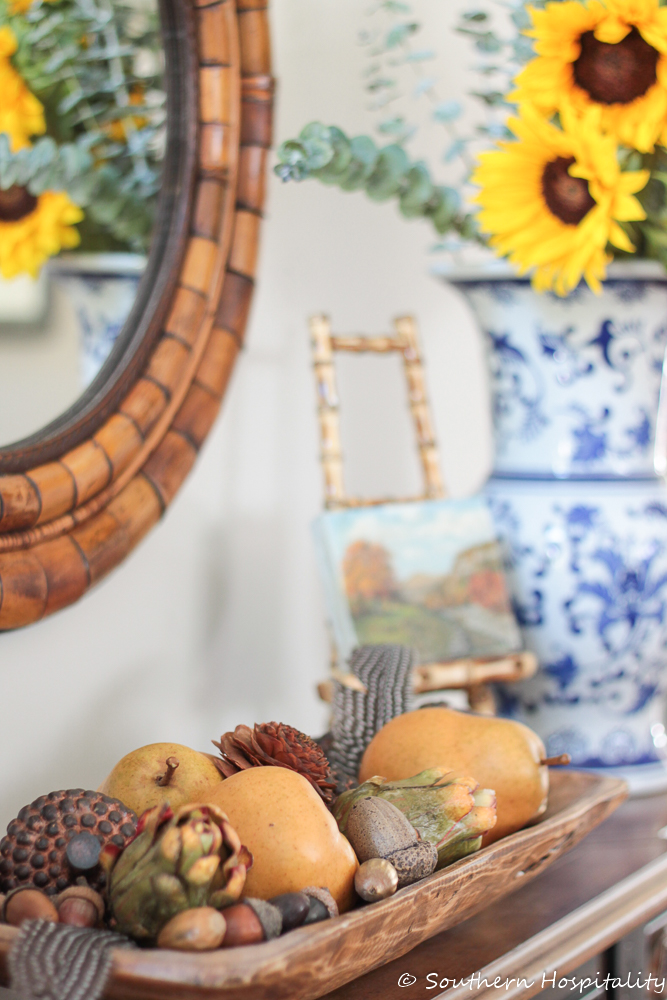 Piling faux pears, acorns and artichokes in a dough bowl are a festive fall look and mix in some real acorns too for more flair. Simple and easy for me!
More faux leaves from Michaels look really pretty in my blue glass vessels.
This particular year, I bought a real croton plant since it has such pretty fall colors. Simply sitting it in an old tureen elevates the look.
Cotton stems are fun for fall decorating too and those pottery pieces I have in my collection are another nod to Fall and I love the muted colors.
I found that rusty leaf basket at a yardsale years ago and have never let it go. It has made the rounds in both my homes.
It's been a tried and true decor accessory even though I don't use it every year. Pinecones and acorns are a great accent for fall as well.
Painted acorns are fun to use too, in this fall inspired metal acorn dish. These are a few ways I've added fall around my house.
I've found a few fun things to share with you today in case you are thinking about fall now too. I always drag my feet a bit, since it stays so hot here in the south, but I'll be getting out my fall things again the first of September. It's fun to enjoy the fall decor for a couple of months before it all transitions to everything Christmas. I'm definitely not ready to think about that yet!
You can find all the wreaths on the links below, so click through if you're in the market for a new one. Sometimes just adding a festive fall wreath to the front door is just enough to make a statement on the front porch (affiliate links used below). You'll see about 2 or 3 of the pictures are from Wayfair and the actual wreath pic doesn't show up, so just click over to see the wreath on the website. If you have any questions, let me know!

I've also found a few other fall things below that are pretty fall touches as well, so you can click through those below, from accessories, to pillows.

Don't Miss a Post, join my list!