Happy Friday friends! As promised, I'm back today to share the beautiful cabin that we stayed in while in Gatlinburg. Staying in this luxury cabin was definitely a highlight of our 3 night getaway to the Smoky Mountains and it had all the bells and whistles that you would want and love for a sweet stay in the mountains.
Tracey and I met early in my blogging journey and even though we hadn't seen each other since that first meeting in 2007, we've remained friends on Facebook. I saw the cabins as they were being built and that's when I decided that Mark and I should go and stay for a few nights. Tracey gave me a discount on the rentals, but we did pay for our stay. I asked Tracey to tell you a bit of her story so I think you'll enjoy getting to know Tracey and Tim. We had so much fun meeting up with them for dinner and I wish they lived closer to us, we would have a blast. Tracey has a story of loss and restoration, much like my story (although different circumstances) so take a read and you'll find out how Tracey and Tim ended up in the mountains of Gatlinburg building cabins.
About Tracey
I graduated from the Art Institute of Atlanta in the early 90's with a degree in Interior Design.  I've always had a passion for design and enjoyed the challenge of marrying a client's personal taste with good design which would stand the test of time. I married a man who was in the ministry and my focus shifted from design to partnering with him in ministry. After many blessed years of marriage and ministry, my husband suddenly and unexpectedly passed away from a massive heart attack.  My world stopped and I felt like I was in a never ending spiral downward, unable to catch my breath.  I grew up in a Christian home, raised by godly parents and knew all the "right" answers, but this devastation rocked me to the core.  It took several years for me to reconcile the fact that God is indeed good, and He promises to work all things for our good, not just some things.  I either had to believe all of His promises, or none of them. 
So with fragile faith, I chose to trust that He would cling to me, because I was too weary to cling to Him. In those years of grieving came such growth and deepening of my faith. The Lord taught me so many things about Who He is!  There are too many examples to share, but one in particular stands out.  He brought to my mind the memories as a child of watching the old painter Bob Ross (from PBS) with my father (who was a missionary/minister).  My dad was quite the artist and we would watch "The Joy of Painting" regularly.  I remember when Bob would be painting a beautiful scene and then he would take his brush and dip it in the black paint and smear it across the canvas.  My dad would holler at the tv, "Oh no! He just ruined it!" But before long, the artist would masterfully work that black paint into the scene to create such depth and richness into the canvas, making it come alive in a way we had not previously seen!  God showed me that this horrible, unexpected (to me) tragedy which I felt was a black smear across the canvas of my life, was His way of deepening and enriching my life and relationship with Him in a way I had never known before. 
How we met
After my husband passed away,  I was praying about how to transition from a minister's wife to,  "what am I going to do with my life?"  My passion has always been design and so I moved forward with brushing up on my skills with a "refresher course" from the New York Institute of Art and Design. I jumped back into the world of Interior Design and was in the process of remodeling a kitchen and living space for a client and needed a second quote from a contractor.  A friend had given me Tim's name and number and we met to discuss the job.  We had an instant connection—15 minutes of discussing the job, followed by another 45 minutes of discussing childhood, family, faith, etc.  It was like reuniting with an old friend!  Now trust me, it wasn't all butterflies and daisies—there was an ongoing battle of my heart and guilt, and all the things which accompany love after loss.  But God had a plan! And by the way, Tim got the job for the remodel and won my heart along the way!
Adventure and Design in the Great Smoky Mountains
After working several custom build projects in our home state of Florida, we decided to take some time off and do a National Park tour.  We were on the road for 3 months and Gatlinburg and the Great Smoky Mountains National Park was our last stop on the way back home.  We quickly fell in love with the breathtaking beauty of the Smoky Mountains  and decided it would be a good place to invest in property.  This was shortly after the devasting fires of November 2016 and inventory was almost non-existent.  We had a realtor friend who had relocated from Florida 10 years prior who raised the possibility of us relocating to Tennessee to help rebuild the area.  After much prayer and [Tim's] studying, testing and receiving his General Contractor license in Tennessee, we packed up our bags and moved!  (Sidenote: Tim has been a G.C. in Florida for 32+ years, but still had to go through the testing process in Tennessee).  
Rising from the Ashes
After completing several cabins in Pigeon Forge and Gatlinburg,  we purchased the majority of a Gatlinburg development which had burned in the 2016 fire and had remained dormant.  The location, views and potential were a buried gem just waiting to be rediscovered.  We renamed the development, "Phoenix Landing".  We chose the word, "Phoenix"  because of it's correlation to "rising from the ashes"—a remarkable emergence after apparent disaster or destruction. That's what we strive to bring to this new development!
Modern Rustic in the Mountains
Tim and I are blessed because we work so well together—from designing the floor plans of our cabins, building the cabins (yes, from start to finish, he and I build the cabins—we are "the crew".  Yes! A girl can wear a tool belt and use power tools!), to finishing and furnishing the cabins.  He's the boss when we're framing and I'm the boss when we're choosing finishes and furnishing!  
Our design style focus is that you don't have to sacrifice luxury and modern design to experience the feeling of that nostalgic rustic mountain cabin.  We choose light finishes, mix grays with golds (warms and cools), high end lighting, luxurious furniture and textiles, with all the amenities guests would desire.  We work hard to raise the bar of the standard design in the area and set ourselves apart for a memorable mountain getaway!  
Best Design Tip
If I could give the readers my best design tip, I would have to say, "don't skimp on your lighting!" While all the elements of good design are important, in my opinion, lighting is the most important element!  You can choose the best flooring, cabinetry, surfaces, furnishings, artwork and totally blow it with your lighting.  Don't rush it!  Spend time choosing your fixtures and allocate a good portion of your budget to lighting.
Our Luxury Cabins
We currently have 3 cabins in Phoenix Landing available for overnight rental and are in the process of building and designing more.  You can follow our progress on our Facebook page – Phoenix Landing-Gatlinburg.
Million Dollar View is a 3 bedroom, 3.5 bath (sleeps 8) luxury cabin with a game room
Dream Big is a 3 bedroom, 3.5 bath (sleeps 8) luxury cabin with a game room
Mountain Air Lodge is a 4 bedroom, 4 full bath, 2 half baths luxury cabin with a theater room and game room
The cabins rentals are managed by Tracey's son, Zack, and more information can be found at www.gatlinburgsbestcabins.com. 
Mark and I stayed in Dream Big and it was such a treat! They are listed on VRBO and Airbnb.
You can find Dream Big cabin at VRBO here also. I took several pics inside, but be sure and click over to see the professional photos of the whole house. It's a beauty!
Tracey and Tim did a top notch job of building these 3 cabins on the mountain overlooking Gatlinburg below.
Dream Big with Million Dollar View further down the lane.
This cabin is next door and called Million Dollar View. You can also find it on VRBO at that link.
First, the views! This is what we saw that first day we drove in. Such a beautiful setting and they've added porches on the upper and lower floors to capture the beauty of the surrounding mountains.
It was so peaceful to watch the clouds change minute by minute. You can definitely see why they call it the Smokies when you see the hanging clouds in the air during certain times of the day.
If you love mountain getaways you will love these cabins.
Looking another direction off the balcony.
And there's the Smoky Mountain views. On the second morning we had rain and clouds, but it's still a pretty sight.
Let's go inside! I took a few pics inside, but to get the full tour, go to the website and take a look at all the pro pictures.
This cabin is 3 bedrooms, 3 1/2 baths, plenty big for a family and with 2 master bedrooms, perfect for sharing with friends and family.
I loved seeing videos when they were building the cabins and this mama bear with 3 cubs visited so often. It was so sweet! We didn't see them this time, but I sure was hoping for a bear spotting! Tracey had these canvases made of her pictures.
And here's the story.
There's a really nice coffee station set in this nook that was handy every morning.
Tracey has added touches of Fall for the season and it felt so welcoming.
I love these touches throughout the cabin. We sure enjoyed our stay in this brand new luxury cabin.
Bedroom one downstairs. We decided to stay in the upstairs King room so we could see more views out the window.
The living room on the main level is spacious and all areas and bedrooms have large screen TV's.
I love Tracey's touches throughout reminding us all of the bears.
Those leather sofas were so comfy and the recline for extra coziness.
More reminders that bears are spotted frequently in the area. We didn't get to see any bears, but I was on the lookout!
Upstairs there's a 3 in 1 pool table, air hockey and ping pong table, so a great addition to a cabin with families staying there. So being inside at the cabin is a great place to hang out too.
With a spacious sectional leather sofa and this table, it's such a nice hangout space.
There's also a really cool arcade game in the cabins and you can choose an abundance of fun old school arcade games to play. Mark was enjoying an intense game of Space Invaders. My favorite was Pac Man and we both played a few games while there.
We stayed in this upstairs bedrooms with views to the mountain side. It was so peaceful with its own bathroom too.
Tracey has done a wonderful job with all the furnishings of the cabins. I got to tour the one next door too and they are both equal outstanding.
Bunkbed room in the cabin.
The bathrooms are so well done as well and so nice that all bedrooms have a bathroom.
Those beautiful views off the balcony. There were glider/rocking chairs on the balcony that were so comfy to sit in and take in the views. We also took advantage of the hot tub on the lower deck and enjoyed a soak on night. Such a great way to take in the mountain air at night!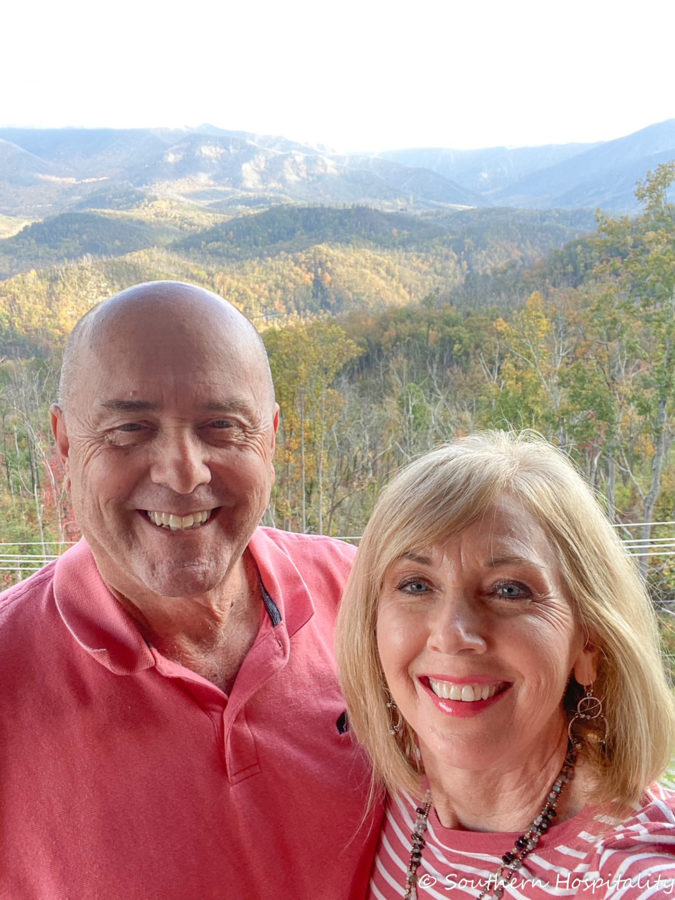 A selfie on the balcony. Mark is a sport with all the selfies I want to take.
I loved this fireplace in the living room and even though it's not a real fire, it sure feels cozy.
A relaxing spot to watch TV.
We loved our stay at Dream Big and I know many of you would love it too, so I wanted to share it all with you and give you the opportunity to check out Tracey and Tim's cabins for yourself. I love what they've done and I know these cabins will be a huge addition to the Gatlinburg rental industry.
Be sure and visit the links I've listed above for all the cabin rental information!
Don't Miss a Post, join my list!