Happy Mother's Day to all of you!  We are celebrating today as we usually do with mom.  Lauren is home with the girls again, so I'll be sure and do a recap post of Mother's Day and all the fun we are having this weekend with those babes.
Looking back, it's amazing to me that I've never traveled the mere 1 and 1/2 hours from the Atlanta area and my side of town to the charmingly gracious Southern town of Madison, GA, but somehow I had not made it there until recently.  Let me tell you, it's everything I thought it would be and just might be the perfect small town to land in if you're looking for that sort of thing. Looks like a great place to retire to if you want a small Southern town.  It's only about 60 miles east of the city and is such a peaceful and serene place to visit feeling like you are worlds away from the hustle and bustle of Atlanta, which believe me is a welcome place to be.  Mark and I went to the recent Madison Spring Tour of Homes and it was such a pleasure to be there and take it all in.  I don't know how long this tour has been going on, but probably for many years and it focuses on showing off the best of Madison on the tour.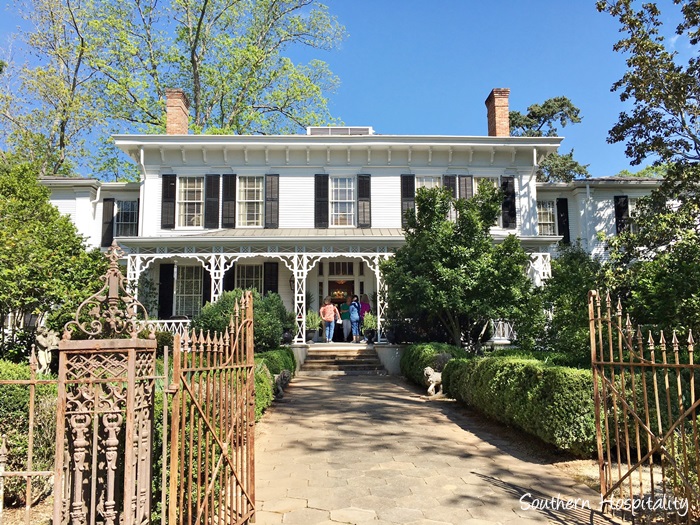 We were on the Saturday tour and this stop was Broughton Hall (circa 1850).  I asked about taking pics and some houses said yes and some said no. I'm hoping they don't get mad at me for sharing their beautiful homes on my blog.  I won't do a lot of chatting, but enjoy the gorgeousness.  I'll identify each home when it changes.  Otherwise, the pics below each home is inside that house.  We did hear that this house had additions added on, but it was hard to tell because it looked so authentic.
I did love this porch, such a dreamy place.  I'd love to have a front porch like this with a swing. Reminds me of my grandma's house.
A fellow bunny lover!
Stovall-Vaughn House: circa 1915
Another nostalgic porch swing.
Loved this potted plant dough bowl!
Icehouse Condominiums:  Circa 1910
Near the downtown area of Madison, we toured 2 lofts and an open house for a loft for sale.  Very interesting to see how they've converted this old icehouse into loft condos.  I loved how creative this one was. The homeowner, a retired woman really made this place feel homey and welcoming.
Her sweet dog wasn't even fazed with all these folks walking through the house.
Paulett-Hanson House:  Circa 1843
The backyard was really pretty.
Mad House:  circa 1910
That's the Madison Spring tour of homes for Saturday that we did.  It was so much fun and I can totally see us doing this again.  We got a flyer for their Christmas tour which is very similar to the Marietta Square Pilgrimage Christmas tour that our town does too.  Those are always a treat!
I hope you enjoyed seeing these houses of Madison, GA.  I took a lot more pics and will share a few more stories with you along the way.  There were so many beautiful old homes lining the streets it was hard not to gawk over all of them and there was an open house for one that was for sale that we toured, so I'll share that with  you too.  So fun to peek inside these historical beauties!  The red brick Madison-Morgan Cultural Center is housed in an old Grade school and it was totally charming too, see above pic.  I'll share all of that later as well.  The old school was filled with historical exhibits and had such a neat feel, so glad they preserved that piece of history.
Don't Miss a Post, join my list!