It's sometimes hard choosing paint colors and it's really one of those things that should be taken into consideration after fabrics and other things are chosen, but sometimes it's necessary to find a main paint color and stick to it for continuity throughout the house.  When we decided to paint the walls in our house, we needed a good neutral that would go with everything and it wasn't going to be a shade of white.  We both like a little color and even though I love white walls and trim many times, this house just seemed to call for a hint of color.
I think we've found the perfect one for us!  I'm working with Magnolia Home paint by Kilz and they are providing our interior paint colors, so we tried out several samples of their paint and I have to tell  you, there are some beautiful colors in the Magnolia Home collection.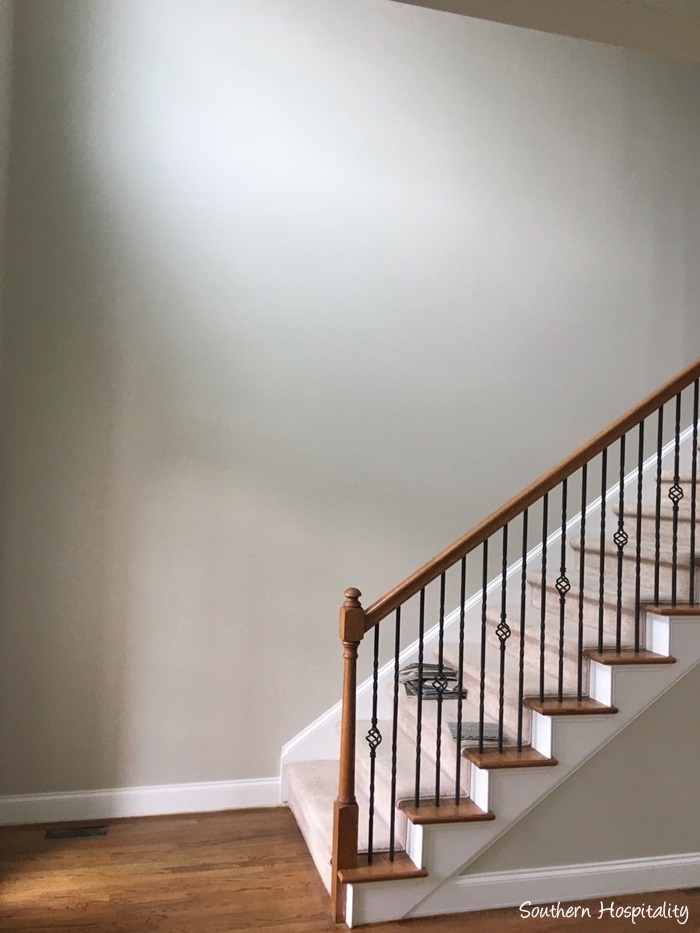 We were looking for a nice neutral, but not white, since we wanted the color to pop against white trim work and came up with Gatherings, a really soft and pretty gray/beige shade or greige.
I though y'all would enjoy seeing how it looks in the new house. The color that was there was a yellow based white and it was OK, but we really wanted a whole new color throughout that would be a great neutral base for all of our furniture and accents and I totally love Gatherings.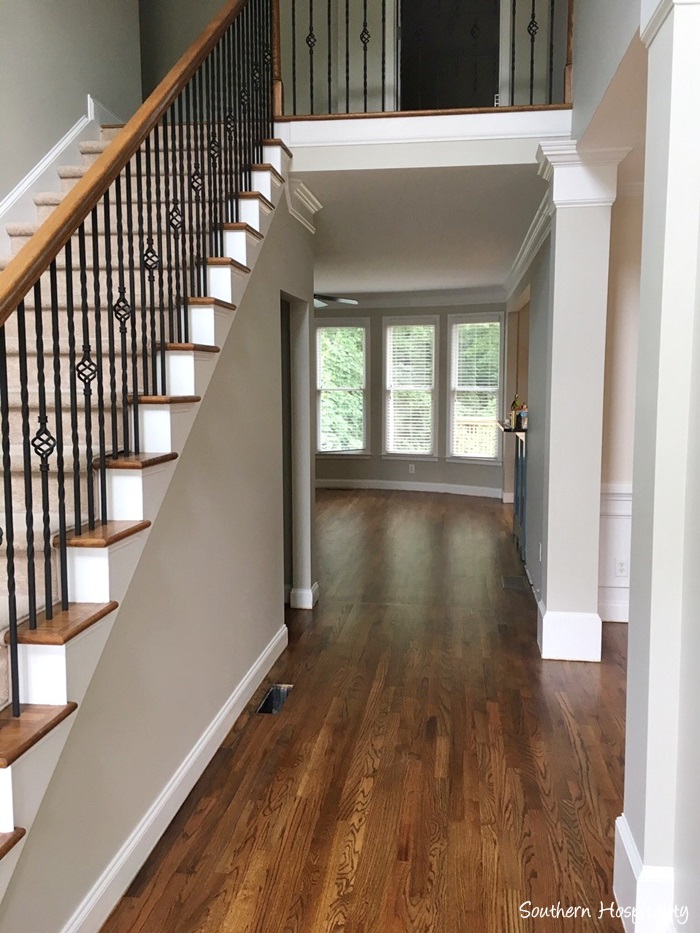 It's hard to capture a color in different lighting, but this gives you an idea.
Soft and neutral without a lot of strange undertones, Gatherings is just what we were looking for.  We had the painters paint this color in the two story foyer, as well as the family room, kitchen, and guest room and hallway upstairs and down.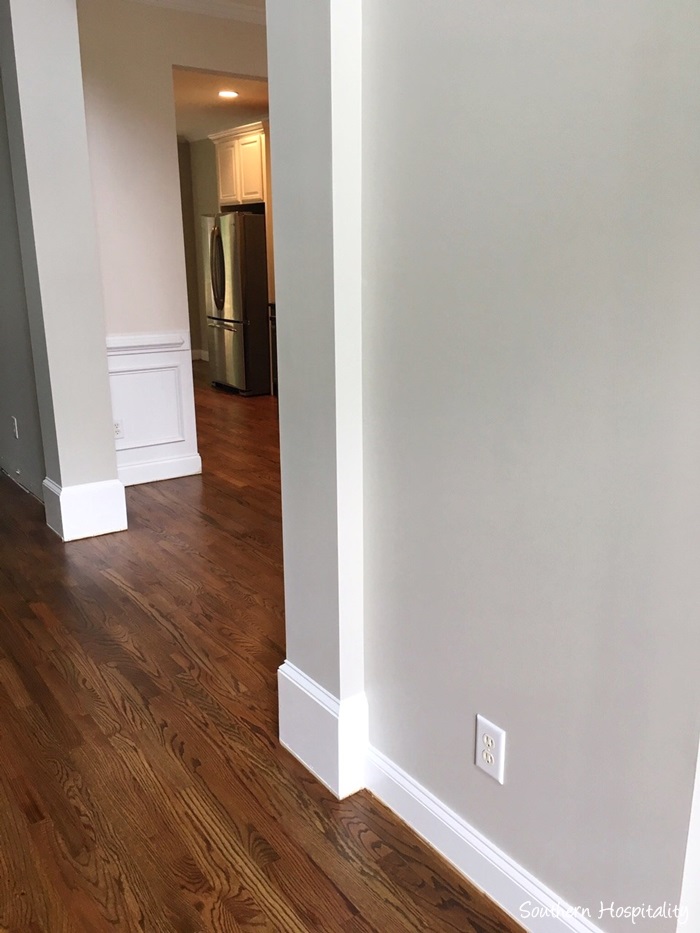 It changes colors in lighting and looks gray at times and beige at times, but really a nice color to live with.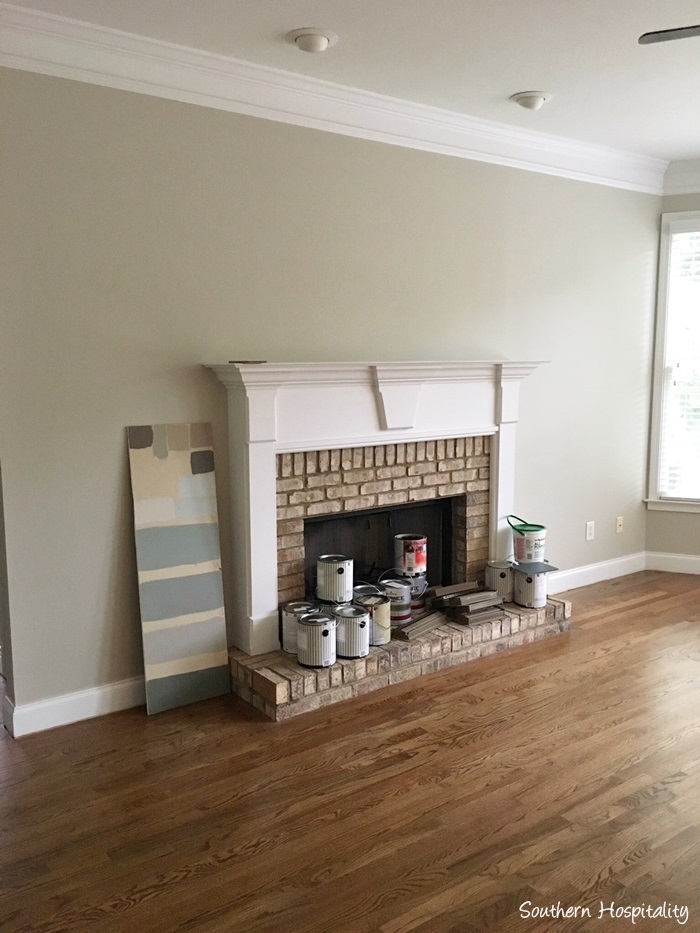 As you can see from the color board, I've sampled a lot of colors and we are still deciding what color may go where. We still have the master bedroom to paint, my office and Mark's man cave and I think we've got those narrowed down too.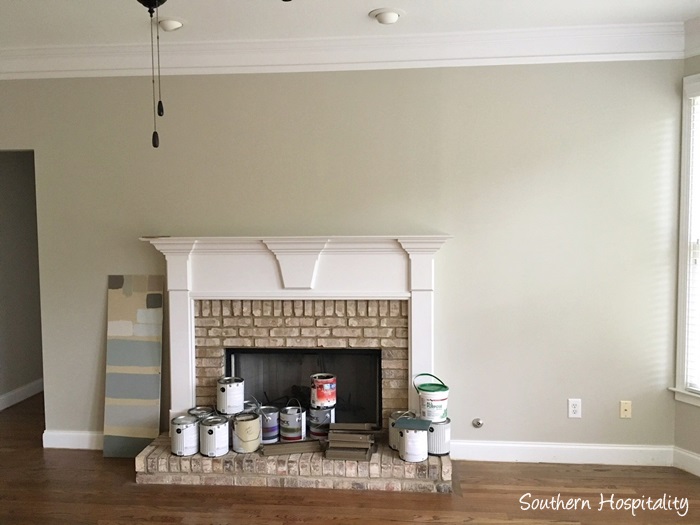 Magnolia Home paints are really nice to paint with, paint and primer in one.  I am painting my office right now and going with a light blue shade in there so I'll share that later too.
I'm glad to get rid of the red walls in the kitchen, makes this space look so much better and we've been working on the kitchen bar area too and here's a sneak peek of the painted kitchen cabinets that I can't wait to share with you.  We have a little more to do on the bar and I'll share that project with you later.  We chose a gorgeous blue shade for the lower cabinets and white on the top and we love how it all turned out.  Details on that soon!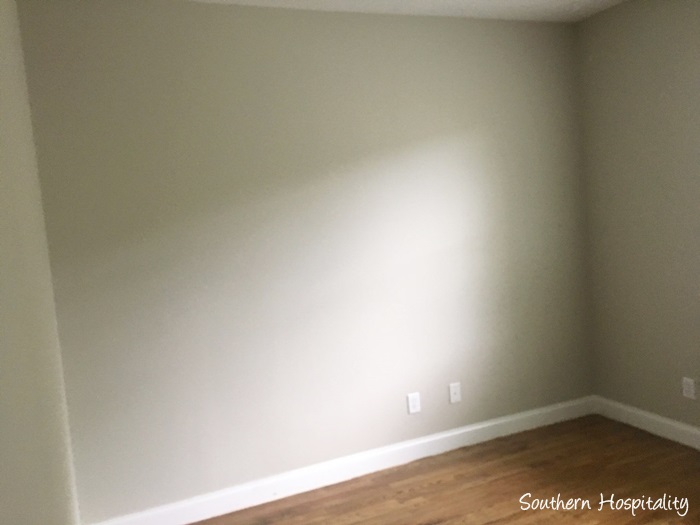 In the meantime, I wanted to share this beautiful Gatherings color with you, I'm just in love with it overall. And I think we love it so much that it's probably going in the master bedroom too. We have a few rooms that we will paint ourselves and we're working on getting all that done before we officially get the furniture moved in.  Can't wait for that and of course, I'll share it all soon!
Thanks for stopping by today!
Note: This post is sponsored by Magnolia Home paint by Kilz and all opinions are my own. It's a great paint to work with and the colors are beautiful. 
SaveSave
Don't Miss a Post, join my list!