As you may remember, I did not gut my bathroom cabinets, but that doesn't mean I wouldn't love to get new bathroom vanities in my house one of these days.  Omega Cabinetry is a division of MasterBrand Cabinets, Inc., the largest cabinet manufacturer in North America. They have some beauties too!  I'm sharing a fun contest that Omega Bathroom cabinetry has going on right now and someone will win a fantastic bathroom makeover worth up to $15,000 in new bathroom cabinets.
Now that could make any bathroom look fantastic!  Here are some of my faves from their line-up of vanities.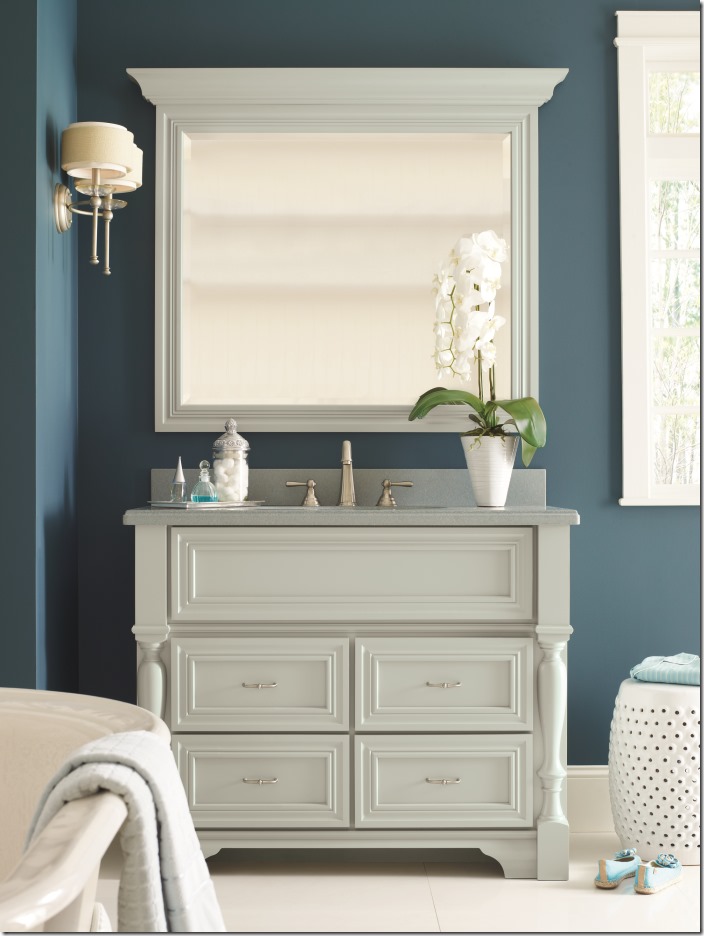 If I was creating my own master bath fantasy bathroom, this one would certainly fit the bill. I love white cabinets and the details on the above are beautiful.
If you love dark, woods, this gray toned pair of cabinets are certainly eye catching.
Oh to have a bathroom this size, with a beautiful furniture like vanity and a corner cabinet.
I see dove-tailed drawers, a good sign of quality.
I am not planning a bathroom gutting anytime soon, but it is on my wish list one of these days. I would love to do new tile and a beautiful furniture vanity piece, with maybe gray marble on top.  That's on my wishlist, how about yours?  Do you have a bathroom you'd like to makeover in the future?  I don't know when mine will happen, but it's in the back of my mind for one of these days.  My bathrooms are nothing fancy, but they get the job done for the moment.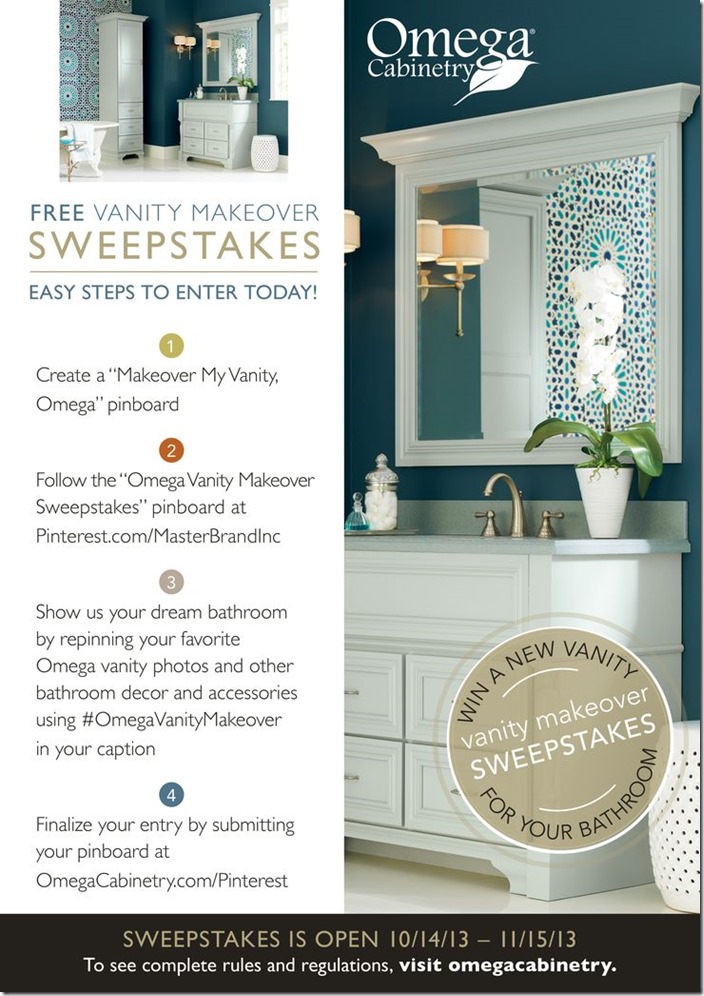 Omega Cabinetry is having a pinning contest right now, through November 15th on their official contest page, so check out all the details.  This link at Pinterest shows  you how to make a board for the contest. It's really just pinning your fave bathroom images from Omega and compiling a board that shows all that you love.  Then you submit your board to them via the link above.
That's the news!  Just passing on information to all of you in case you want to enter. Don't forget to put the  #OmegaVanityMakeover hashtag on your pics. 
Note:  This post is sponsored by Omega Cabinetry and I am compensated for sharing the contest with my readers. All words and opinions are my own. I would love to have Omega cabinetry in my bathrooms.

Don't Miss a Post, join my list!