One of the projects from the recent children's home renovation in Decatur that I took part in, involved painting a huge chalkboard on the wall in the kitchen. When I saw my friend, Jennifer who blogs at Vreeland Road, taping it off with Frogtape and painting that big ole' chalkboard on the wall, I knew this would be a fab project to share with all of you too and Jen was great with me sharing it.  Jennifer used Frogtape to tape off the edges of the chalkboard, freeforming it around those curved corners.
She then went back and added a stenciled scripture verse on there, which I loved.
This could be done in any number of places and the stencil is optional.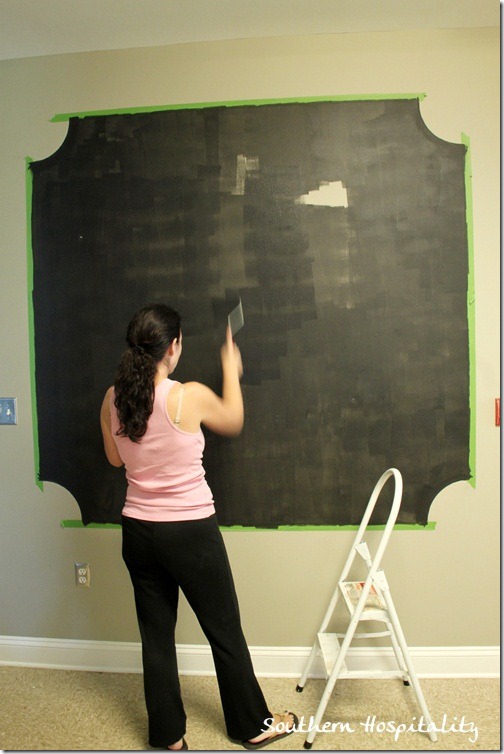 First, she taped off the square with Frogtape, leaving a gap on each corner to freeform the curve.
Chalkboard paint and Frogtape, great combo!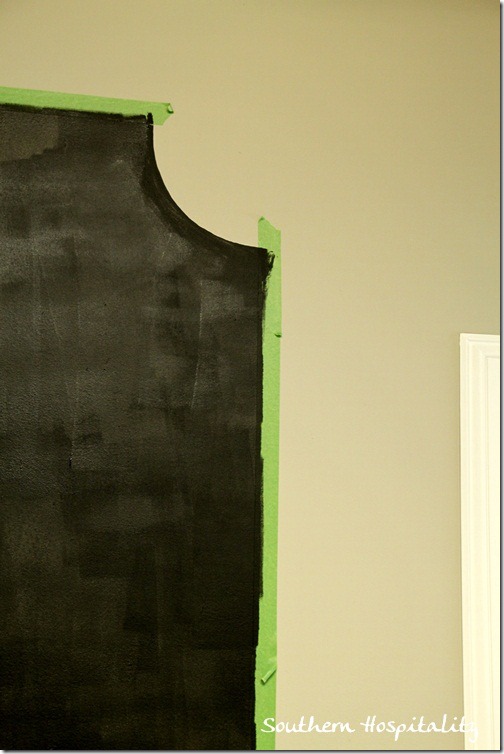 Freeform corners
Bottom corner with a swipe of chalkpaint.  Once it was all painted on with a couple of coats of chalkboard paint, the Frogtape was pulled off.
And you're left with nice crisp black lines.   Season the chalkboard paint by rubbing chalk all over it and then wiping off.  That will keep an image from staying on there longterm.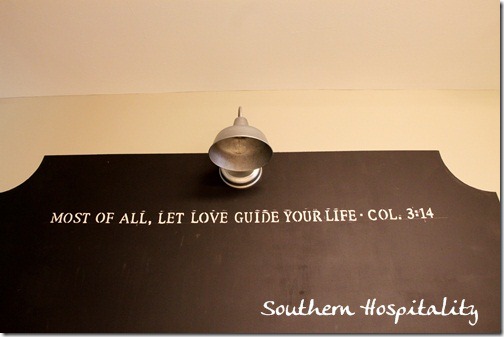 Last step, was adding a pretty scripture verse with craft paint and simple letter stencils.  Love this touch!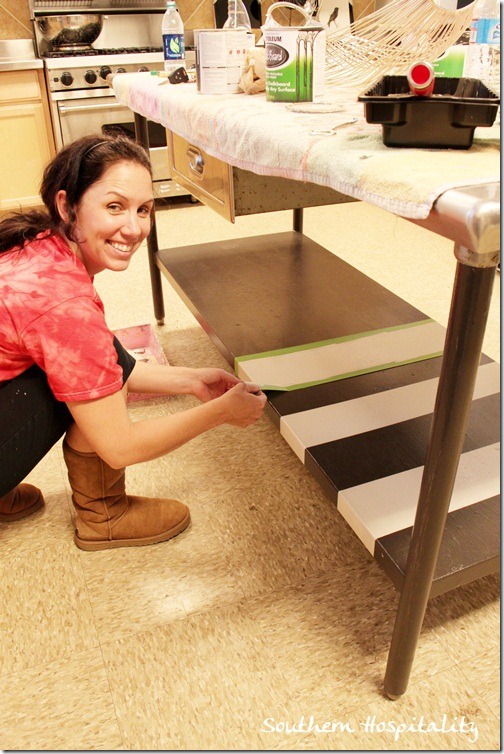 There's Jen!  Next project she tackled was taping off the wood base of the island.  Nice wide stripes in black and white did the design trick in there of adding some extra pizazz to a utilitarian piece.
Tape off and paint and then pulling back the tape to reveal those nice crisp lines.
Taping stripes really isn't hard to do and not that time consuming either.  I've got plans for a striped floor in my laundry room.
And here's the island all finished after painting those stripes.  Great job, Jen, I love it!
Another freeform painting feat was numbering each refrigerator with chalkboard paint too.  What a graphic way to add some fun to the kitchen.  I know those boys are loving their new space now.
Thanks, Jen for letting me share your fabulous Frogtape project.  If you need to paint lines and you want a really crisp finish, you can't beat Frogtape.  Good stuff!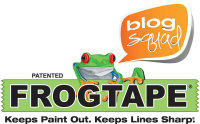 Note:  This is a sponsored post from Frogtape.  All ideas and content for this project are shared by my friend, Jen, and she gave me full permission to use her project and take pics. 
Don't Miss a Post, join my list!