We've been busy working away on the house and I know I haven't showed you a lot of progress yet in each space and with the exception of my office and Mark's man cave, nothing else is totally done.  Mark has almost finished hanging artwork in his space and he's really loving it, so I thought I'd show you where it started and where it is now.
He's a little protective of his man cave and hasn't let me take final pics in there yet, but I'll show you what he did in there to make it  a very cozy space for himself. Hopefully he will let me take pics and share, but he hasn't given me the go-ahead yet, so stayed tuned.  It's totally him and his personality shows in all the details of nostalgia that fills the room.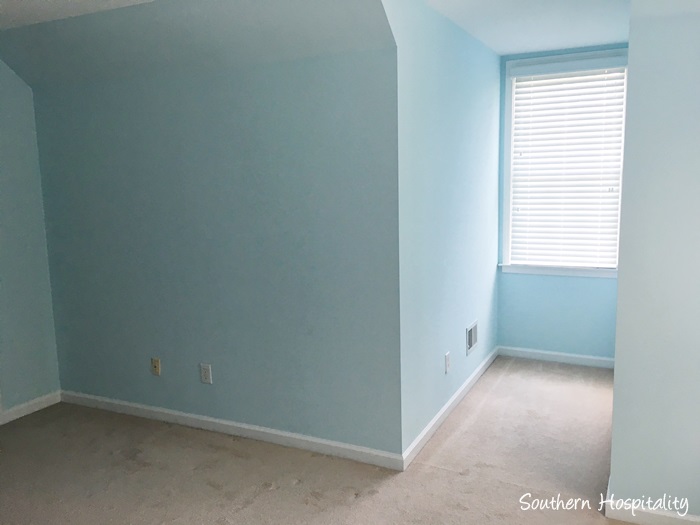 Here's where he started in this space. It was painted 2 shades of blue and had small baseboard and window molding.  He loves chunky Craftsman molding and decided to change it all out for something bulkier to suit him better.
See all the small molding around the room?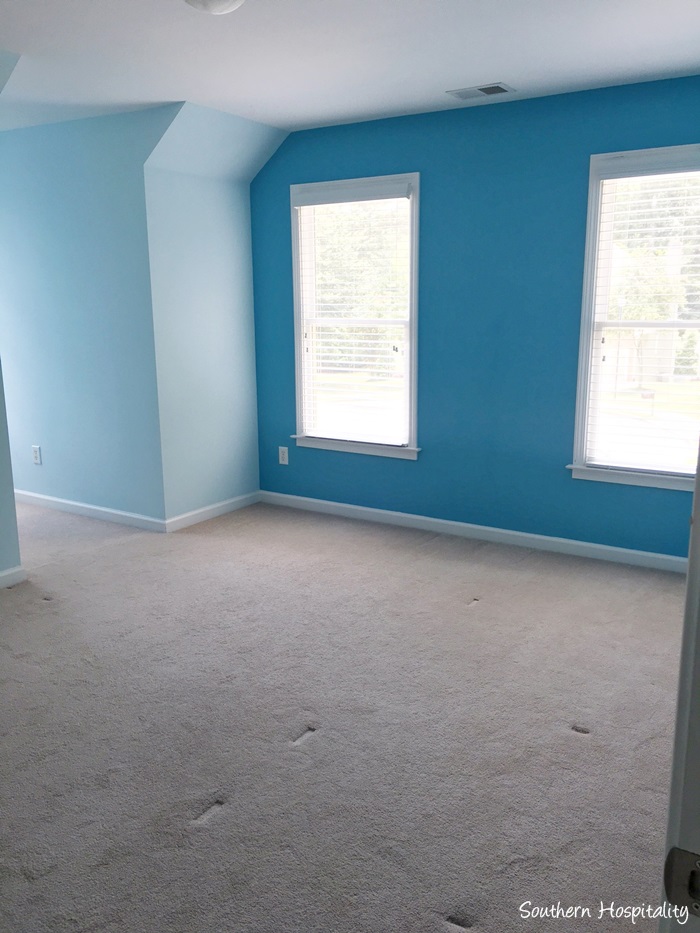 All the window trim and baseboard and door trim was ripped off and discarded and  he started with a clean slate.
First up was painting the room.  He loves shades of brown and khaki so this room is all shades of brown, which I think is his favorite color because that's what he surrounds himself with.  He painted all the walls and ceiling in this shade and it does make it cozy.
He had used this custom khaki color before and wanted to use it again, so since it's his room, he got to choose everything in here.  I did give my opinion of course, but it's his space and he needs to be happy in here, which he totally is now.  He bought this rustic cabinet at Scott Antiques a couple of months ago to house his antique Art Deco glass collection.
With all the blue gone, it felt like a different room already.
It took him a couple of days to paint the room and ceiling but once done, it was ready to trim out again.
I didn't get all the progress pics of the painting being done, but you can see the difference in the ceiling.
Next, he took the time to add beadboard to the back of the cabinet and that really made this piece look so much better.
I helped with this part and once everything was cut and fit in place, I painted the beadboard and he glued it in with liquid nails.
He used the same color we used on the kitchen bar, Ben Moore Knoxville Gray.
Glued into place.
And this piece turned out so much better with the addition of the beadboard.
He installed 10 of these pucks lights inside with dimmers and it's very nice with the glass in there.
Here's a look at the room after the paint was finished and the window and door trim went up and was painted white.
See how much bulkier the trim is now and how much that adds to the space?
He took the closet door off and added trim here and has his lawyer shelves in here.
Adding bulkier trim to the windows made a big difference too.
He used a Craftsmen style 5″ board for the baseboards and trimmed it all out in cove molding, which we are also adding downstairs instead of regular quarter round. That was his idea and I love the way it looks.
He chose this fan for his space and it's a perfect complement in here with all his masculine things.
Ceiling fan from  Lowes. 
And this rustic cage style fixture for the closet looks right at home. He loves the Edison style bulbs and we now have dimmers on almost every main fixture in the house, so that's fun too. Dimmers just give such a nice feel to a room at night.
Light fixture from Home Depot (affiliate link below, click the pic)
Here's a good look at the bound carpet we had made from Shaw Floors.  It was great to get this large carpet in here, it's about 12 x 14′ in size and fits over the hardwood creating a very cozy vibe.  In a large herringbone pattern in deep brown tones, it's a great looking carpet. This carpet from Shaw is called Total Effects and the color is Truffle. It comes in lots of different colors and Mark picked this one.  We are more than thrilled with all the products we have in our house from Shaw Floors and I'm very grateful for the sponsorship with them this year.  It couldn't have come at a better time for us.
Do you see a pattern in his man cave?  Brown, lots of brown!  The man loves brown.
So, that's a peek of how Mark's man cave is looking.  We did finally figure out how to get my brown leather loveseat through the door, thank goodness.  The bottom of the loveseat has wood trim and the bun feet are mounted to the trim.  There were about 10 screws that held the wood trim in place and once those all came out that trim came off, with the feet, and we could move both pieces in and put it back together. He has a dark brown leather chair and ottoman and that's in there too, so it's a cozy space with a lot of furniture and his collectibles, but it has a really nice feel and he loves it.
With the 70″ TV that I had in my den space in here, it's like a little theater. He added surround sound speakers and his stereo system in his cabinet and it's totally a man cave!  He can crank up his music and enjoy it all and I'm glad he has it.  Men need a space of their own just as we do, so it's nice that we can utilize this house for our needs.  A man cave for him, a pretty feminine office for me and we still have a guest room to set up and when we have overnight guests stay with us, they will have their own room and bathroom downstairs.  It's really the perfect floor plan for us and not too big or too small. We are really enjoying our house now and have been here 2 months.  We still have many finishing touches and some holes to fill in, but that will be the fun part.
Hopefully, he'll let me share all of his room later!
SaveSave
SaveSave
SaveSave
SaveSave
SaveSave
SaveSave
SaveSave
Don't Miss a Post, join my list!