The weekend before my birthday kicked off the Christmas season for me.  Mark and I went to a Black Tie Gala in conjunction with the Marietta Pilgrimage tour (I'll be sharing my formal dress that I wore tomorrow!), which celebrated its 30th year this year. I haven't always gone to the Christmas tour of homes, but have been going for several years now.  Driving around the streets of Old Marietta always brings us joy as we look at these older historical houses and wonder what they look like inside.  Since going on these tours, we can now drive by and say, yep, we've been in that one.  Many of  them have opened their doors for the public to come in and it's always a fun highlight of the Christmas season.
Today, I thought I'd share a few photos of the day.  Only one house allowed any pics inside, so I hope they don't mind me sharing a few with you and I also took some outside and on the Marietta Square.  We did 3 house tours in the Candlelight tour and that's always fun to see, houses lit up from the outside and then all warm and cozy inside decorated for the season.
I snapped a few outside pics as we walked these historic sidewalks.  This wasn't one we toured, but I loved this double gate with wreaths.
The first house we stopped at was really pretty and they allowed photos so I took a few inside and outside.
It's a Craftsman style home and the inside had a Mission feel with the furnishings and architecture.
Loved this old Coca-Cola machine and Santa Claus.
Cute hand towel in the kitchen!  Of course he stops in GA first, didn't you all know that?  🙂
These life size nutcrackers and old truck were perfect for decorating for Christmas.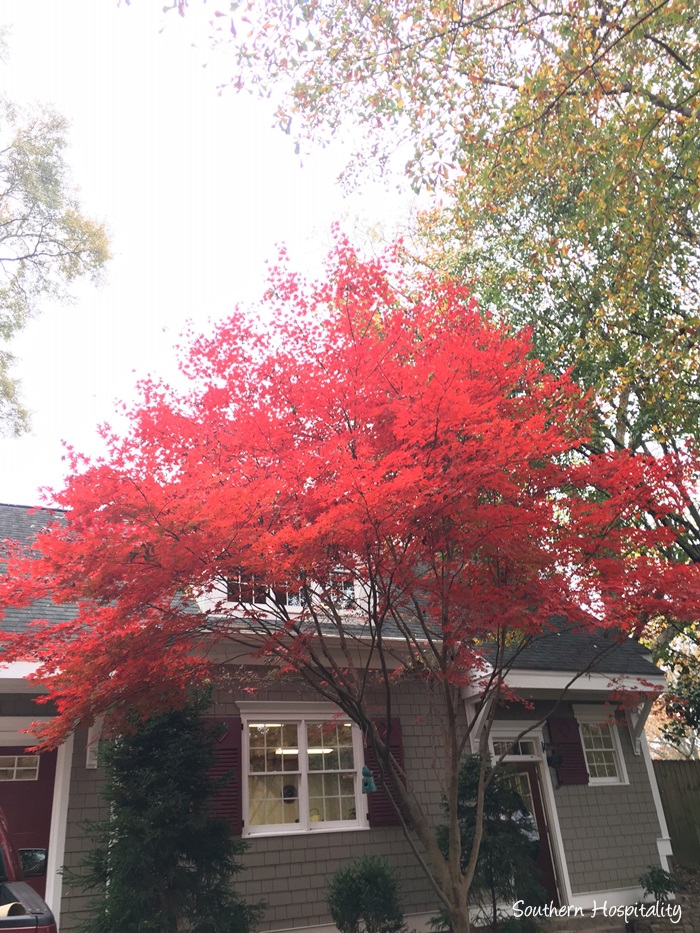 The leaves were still on the trees earlier this month and this one was stunning.  This was a really neat wood workshop of the owner.
Their outdoor spaces were so nice and spacious.
Across the street from the house, the family owns this little strip of property and turned it into a neighborhood park.  I loved this idea!
I couldn't help but get into my inner child with a swing on the hanging swing, one of my favorite things to do as a little girl.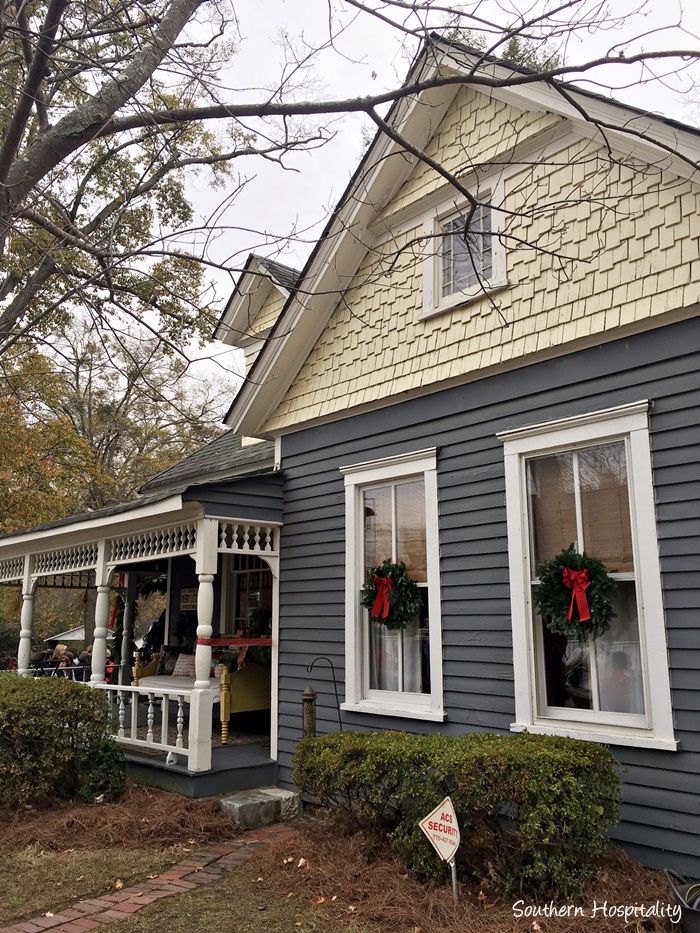 The rest of the pics I snapped were various houses on the tour and in the surrounding neighbor hood.
There's so much history and pretty homes to see in the Marietta Square surrounding streets and I love to get a peek at them up close.
This house wasn't on the tour, but I sure loved how charming it is and the curb appeal with all that stonework.
Another popular thing at Christmas are the hanging lighted orbs on Maple Avenue that have really taken off the last few years.  Homeowners all along this stretch put these lighted orbs high up into the trees, they shoot them up there somehow and wow, is it gorgeous.  Many are white lights but a lot are colored lights and it is so magical driving through here at night.
We saw someone selling these chicken wire orbs out of their car trunk, so I'm wondering if all of the ones we see in the trees are made out of chicken wire.  They are fashioned into round circles and covered in white lights.  These were hanging on the porch in our last candlelight tour home.
Aren't they beautiful?  You can see a peek across the street at more hanging high  in the tree limbs.  They are so gorgeous!  I'm guessing these wouldn't be hard to make and they sure do make a statement.
The Marietta Square itself is always decorated so festively for Christmas and we love walking through here during the month of December and beyond.  White lights on the trees add so much to the square.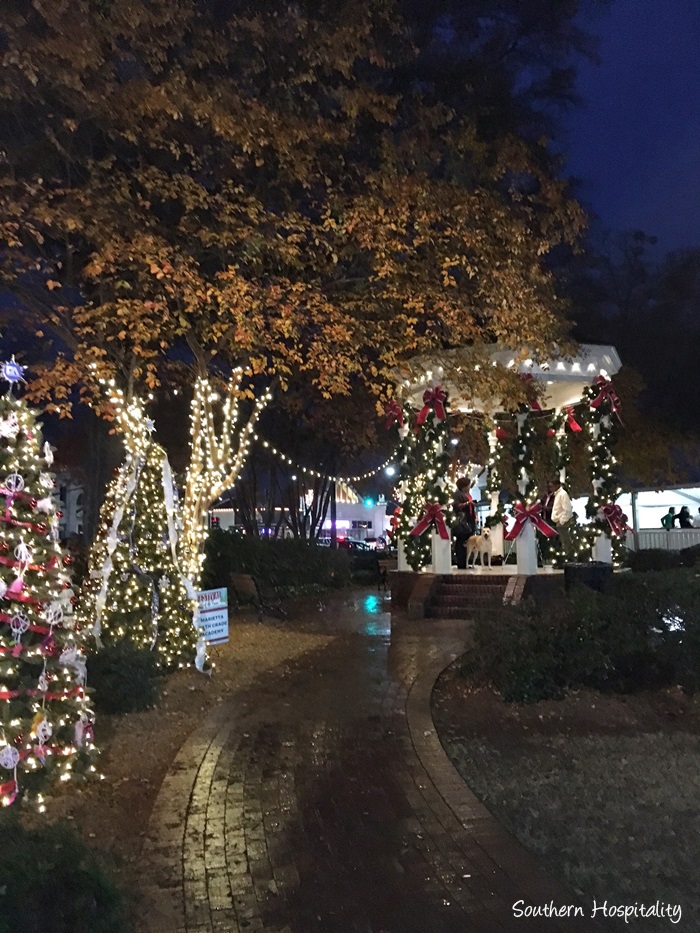 The gazebo is all decorated too, lit up for Christmas. The Square has installed a small ice skating rink for the youngsters for the second year, which I'm sure is a treat.
You can even visit Santa with the kids during the month.  See him in there!?
I love our Marietta town square and how they decorate and celebrate Christmas. It feels so old fashioned and quaint.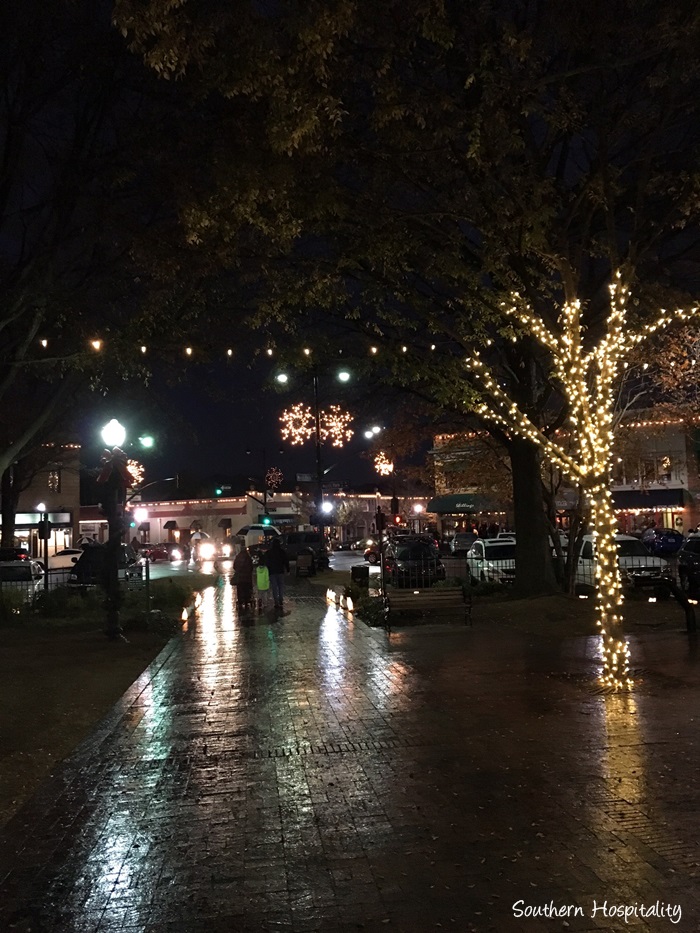 We've been out there a couple of times during the month, in rain and better weather.
The last time Mark and I were there, we ran into St. Nick himself and we had to take a photo with him.  Isn't that fun?  Santa Claus makes us all feel like children again!
I hope you enjoyed this tour of our Marietta Square and how pretty it is at Christmas!  I love sharing my hometown with you and love that I grew up in this atmosphere.  It sure made for a memorable childhood.  And it's even way more improved than when I was a kid, they've done a great job with the historic element of the town Square.  Merry Christmas to you all, I hope you are enjoying your week!
Don't Miss a Post, join my list!