Mark just saved us about $6 to 8K in rebuilding our deck and I'm so proud of him! We began talking about replacing our deck this year, since there were several rotting boards on the floor and now that the deck is 18 years old, it had seen better days. The rest of the deck underneath is still solid and in good shape, but the deck boards were not. He decided while he was at it to take off the old railings and spindles and replace those with black metal railings. He began doing some research and looking for the best price and material. I'll share it all with you below! And it's your lucky day! I talked Mark into contributing for this post, so enjoy his usual witticism on this one and don't believe everything he says!
I'm going to share Mark's viewpoint of the project here and then you can scroll down and look at the pictures and my captions for those.
Hello everybody,
Rhoda wanted me to say a few words about our latest project, THE DECK.  We've been wanting to do something about our deck for some time, but it wasn't until I stepped through one of the decking boards that I decided that maybe it was time to get started.  The deck is original to the house and is about 18 years old.  I believe it was probably only stained once before we purchased the house, plus we stained and sealed it about three years ago.  We had used a solid stain on the decking and that was a mistake.  The boards were holding a lot of moisture, and the stain began to peel about a year later.  There were a couple of boards that looked bad, but once we moved the furniture and saw several more bad spots (including the one I stepped through) it was time to act.
We decided to have a contractor rebuild it for us (Rhoda decided I was getting too old to do it, and you never argue with someone who is talking about getting you out of work) and wanted to use Trek decking. But, when we got the estimate, holy crap….(that estimate was about $15K including the stairs). Then suddenly and quite miraculously, the years melted away and I was so much younger again in her eyes!  Who knew sticker shock had such rejuvenating powers?  Anyway, we decided to do it ourselves (me) and after we priced the wood at a local lumber yard and found that all in we could save about $6000.00 (chiropractor bills not included)!  So, decision made, off to the lumber yard we went.
The deck measures about 14 ½' x 14 ½', so I calculated it would take 31 pieces of 5/4 x 6 x 16' pressure treated decking boards, 12 – 2 x 4 x 8' pressure treated boards for the railings and 3 – 2 x 6 x 16' pressure treated boards for the railing caps and 1 – 4 x 4 x 8'.  I would need close to 800 4" #10-star flat head deck screws (three 5lb boxes plus and additional 1lb box) and one 1lb box of 3" star flat head screws.
I also wanted to replace the original 2 x 2 wooden balusters with aluminum ones.  I looked for a while and settled on Titan Snap 'n lock baluster kits.  I would need close to a hundred and Home Depot, Lowes and Amazon had them in black, with 31" balusters in a 10-pack builder's kit.  I ended up buying them at Home Depot because I had a $50 off coupon.  More about them later. So, once I had all my supplies, Rhoda and I carted all the wood to the back yard and stacked it by the deck.  Then we took advil and the rest of the day off!
The next day I demo'd the deck.  I like that word, "Demo'd", the way it rolls off your tongue…demoooo'd.  First, I cut all the deck rails off and then cut them into 4-foot sections so they would be easier to move.  Then using my reciprocating saw I cut all the nails at the bases of the 4 x 4's that were mounted on the deck.  Then I began to remove the deck boards one by one, using a plunge saw to cut the decking into sections to make them easier to remove and cart away to the trash pile.  This is where Rhoda proved invaluable because I would throw the boards over the deck to the side yard and when the pile got big, she would take them and stack them outside the fence.  So, board by board I moved across the deck, checking the joists as I went to make sure they were in good shape with no rot.  I would lay down a new board, pre-drill all the holes and then screw the new boards down.  I used 4" deck screws so I was sure to get deep into good wood.  I got a third of the decking done the first day, most of the rest the next and finished the cuts next to the house the third day.  I spent the fourth day trying to get admitted to a senior care facility, but Rhoda found out before I could, and they stopped me!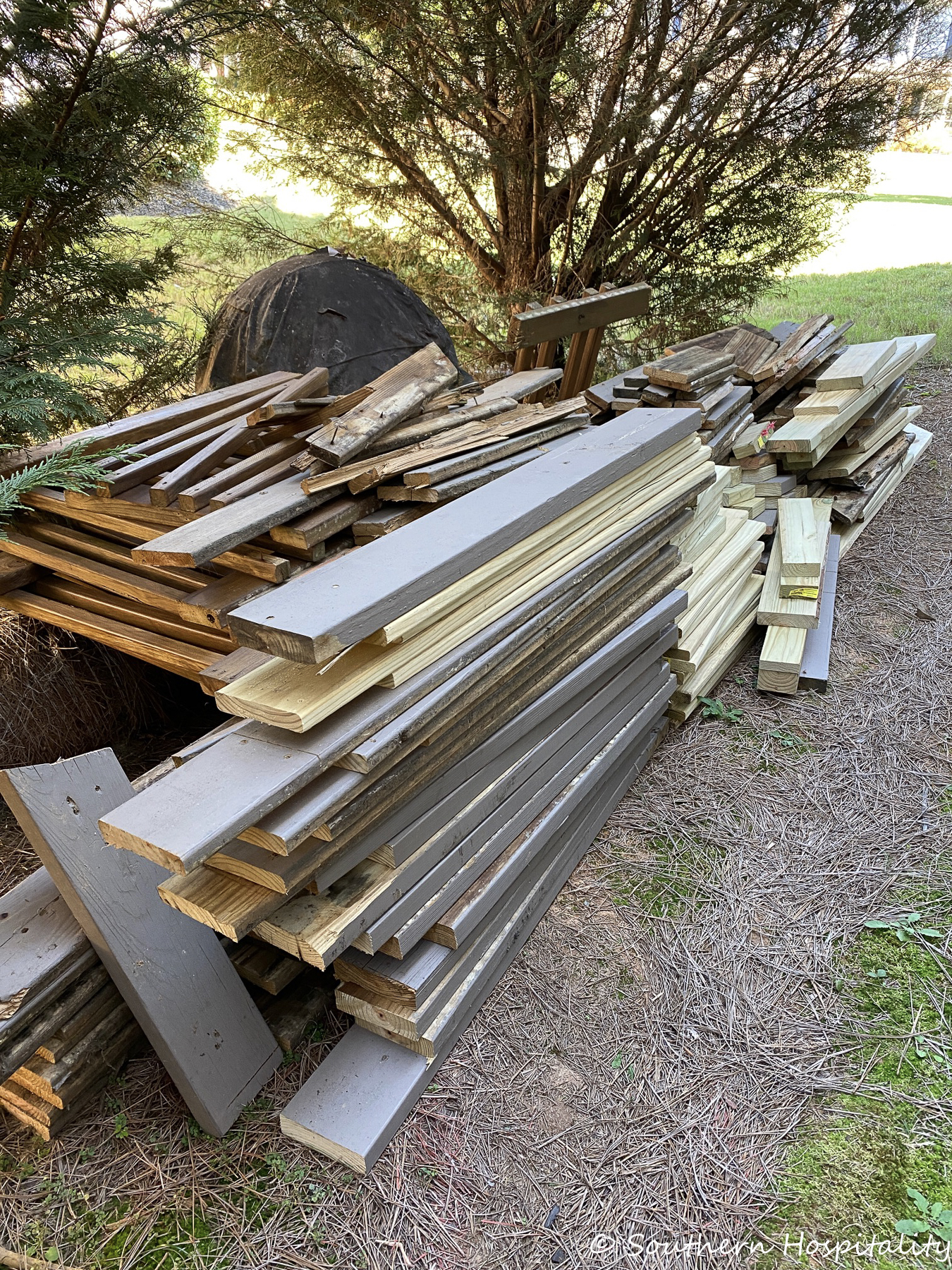 Now, the reason I used 16-foot boards for the decking was because I wanted a solid run and did not want to piece 14' boards together.  Most of the rot I found in the decking was where deck boards had been butted together.  And it looks a whole lot better that way to use one board…the only difficulty is trying to find 16-foot boards with no knots, it ain't easy and I wasn't entirely successful, but man were they were glad to see me leave that lumber yard.  Now, between getting them home on the truck, lugging them across the yard and lifting them onto the deck, it was a hassle.  But the way they look once laid down was worth the effort.
After the decking was down, I began measuring for the rails.  After accounting for all the twists and turns inherent in pressure treated 4 x 4's I cut the 2 x 4's to size, placed them together on the deck, found the center and then starting from the center, measuring 4 1/2" on center marked the boards.  Now the Titan system is really pretty neat, but it is time consuming to set up.  Once you get the boards marked you mount the snapping bracket to the rails with a screw.  Each kit has ten black aluminum rails, 20 brackets and screws.  Once they were installed (it took 17 sets per rail), I mounted the INDEKMO deck railing connector bracket which I bought on Amazon.  Three screws hold the bracket to the end of the rail and then you screw the connector bracket to the 4 x 4 with the screws provided in the packet.  Once the rails were connected, I placed the collars on the aluminum baluster (they only go on one way), then snap the baluster into the connector and then slide the collars into place and you're done.  And it looks really good, I think.  Then onto the next section.  Again, the tedious part is screwing the connectors on, the rest goes pretty fast.  You have to take your time, make sure all your measurements are correct so that when you snap your balusters into the connectors they are plumb.  A further note, the balusters come in two lengths, 25" and 31".  The gap between my upper and lower rail was 27" apart so I had to order the 31" and cut each one.  I used my 10" power miter saw with a metal cutting blade to cut them.  Pretty easy, plus if you don't have a power miter saw it's a good excuse to buy one.
After the balusters were done, I then measured and cut the 2 x 6 x 16 boards for the railing caps.  I put five 4" screws in each spot where the 2 x 6's sat on the 4 x 4 posts and then put 3" screws through the 2 x 6's and into the 2 x 4 rails underneath.  They are solid as a rock. 
To mount our lighting on the deck: Next, I measured the 2 x 6 above the 4 x4 posts and mounted a Simpson Strong-Tie to each end of the deck rail cap with four 4" screws, put the 4 x 4 post in the Tie and secured it with six 3" screws per post.  Finally, I mounted two strong brackets to two sides of both the 4 x 4 posts for additional stability and then hung the deck light strand and I am finished.
Rhoda is the stain master so she will pick the colors and paint it.  We then had a company come and pick up all the old wood and everything is back to normal…except my back.  I thought retirement was supposed to be relaxing.  I did get some new tools though; you can never have too many tools! 
Don't you love Mark? He's a lot funnier than I am.
We had tossed around the idea of doing Trex, which we've heard mostly good things about, but we weren't going to replace our stairs (that are only 6 years old), so we didn't think it would look great to mix it up. Plus Mark wasn't sure about DIYing the Trex or composite product. So we went with the tried and true yellow pine pressure treated wood. He sourced it from a local lumber supplier, Lummus, for less than it would have been at Home Depot.
Here's the deck stairs that we had built 6 years ago. That was the first outdoor project we did after we moved in and we hired it out, telling them to just match what we had, so they did that. We definitely needed stairs to get from the kitchen down to the back yard and I'm not sure how the other families that lived here survived without stairs. It was a must for us. These are still in great shape, so we will just blend everything together with stain and it will look great when it's done. We will wait until after the wood has dried out a lot more before we stain it all.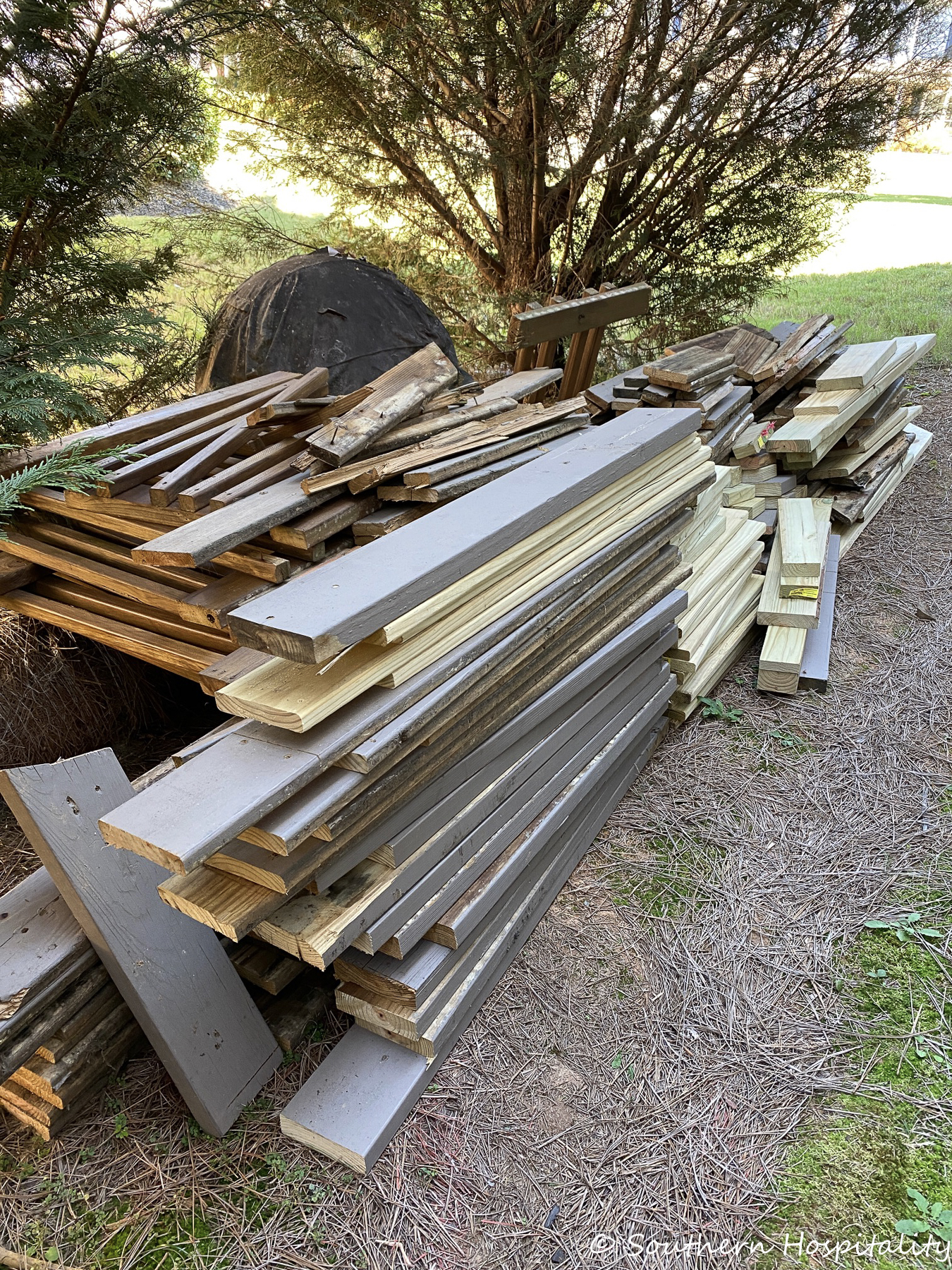 Mark and I both moved the old railings down to the side yard and it was my job as clean up lady to pick up and stack all the old wood as Mark took it off and moved along putting down the new wood. That was the least I could do, right? I stacked most of it and Mark did some too. We called a junk pick up service to come out and pick it all up and haul it away.
You should have seen us carrying 30+ 16′ boards in the back of Mark's pickup truck! It was quite the sight and weighed the truck down too. Luckily, we made it home with no mishaps and we stacked it in the side yard ready for the project to start.
He worked about 5 boards at a time and started at the very edge of the deck, ripping up each board and cutting them in pieces. This was after taking down all the railings.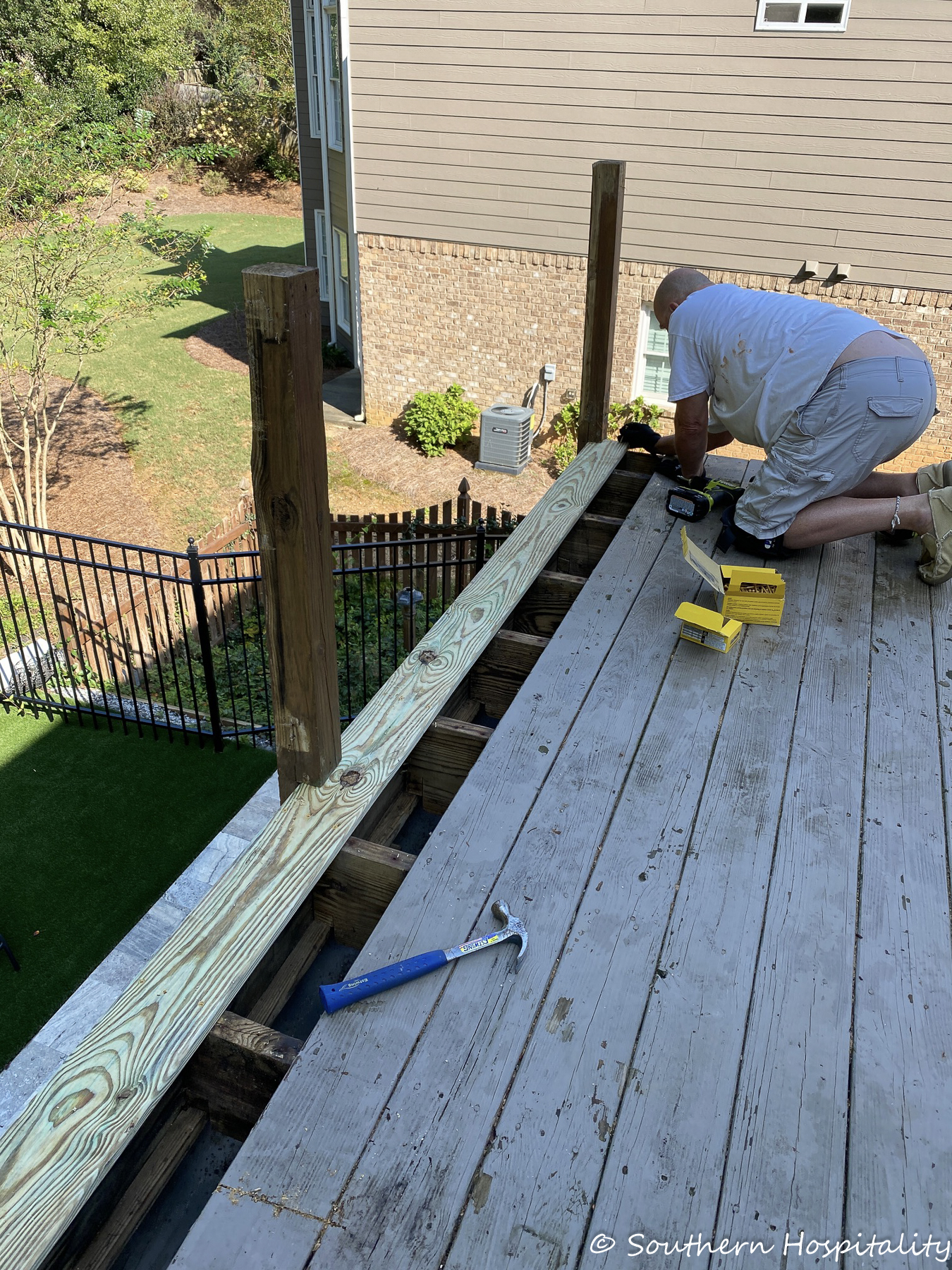 I showed some video on Instagram with the railings all gone and people were having a fit telling us to be careful. We were, believe me! I was very happy when that first board went in and he could move back towards the house, one by one. This time around he used 16′ boards for our 13′ wide deck. The first time the floor was built, they pieced the deck and it had cuts on some ends, so this time we have all solid pieces so that looks much better too.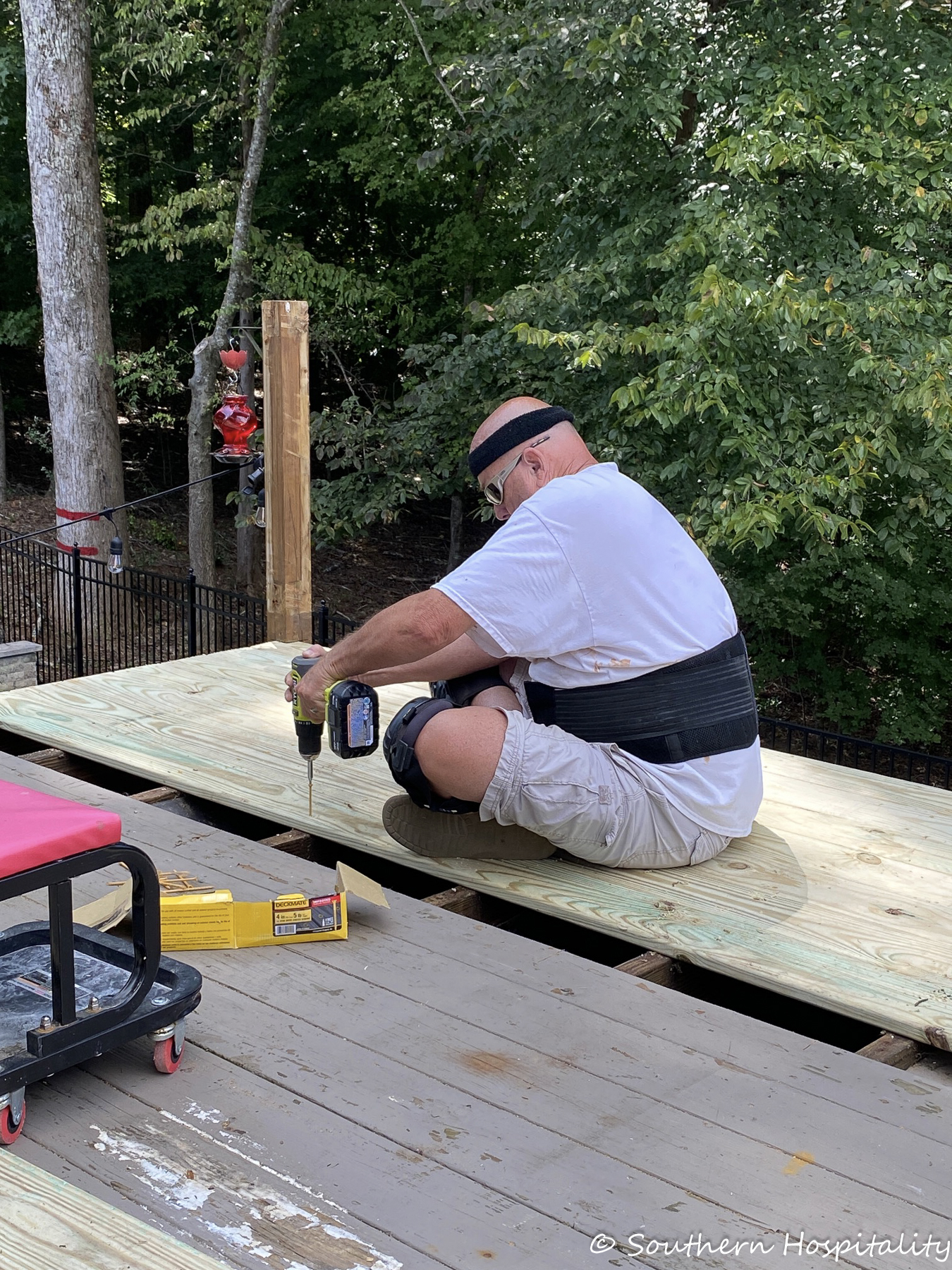 This job was hard on his body, but he hung in there and got it the floor done in about 4 days, with the railings taking another 4 or so. Board by board, he moved towards the house. He used wood screws to screw all the boards in place.
All the posts were in good shape, so we left those. He took down the two corner posts that we put up when we had lights installed and those were added back too, which I'll show you below. He left the boards hanging over and then when that whole run was done, he used his skilsaw to cut off the ends as I caught them. We put down a chalk line first so he could stay straight.
Progress after a couple of days. Once he got going, he moved along pretty fast.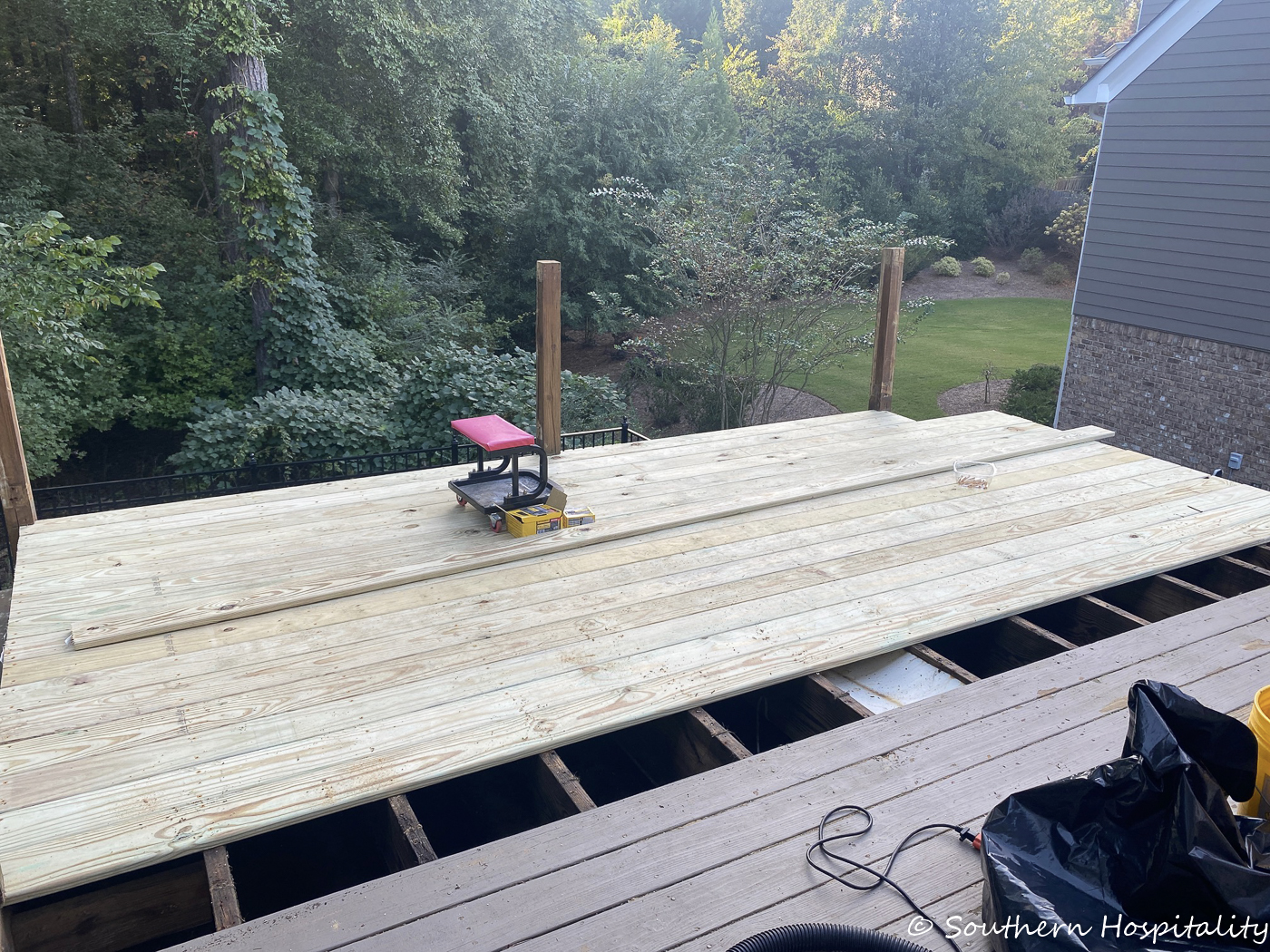 I was cheering him on!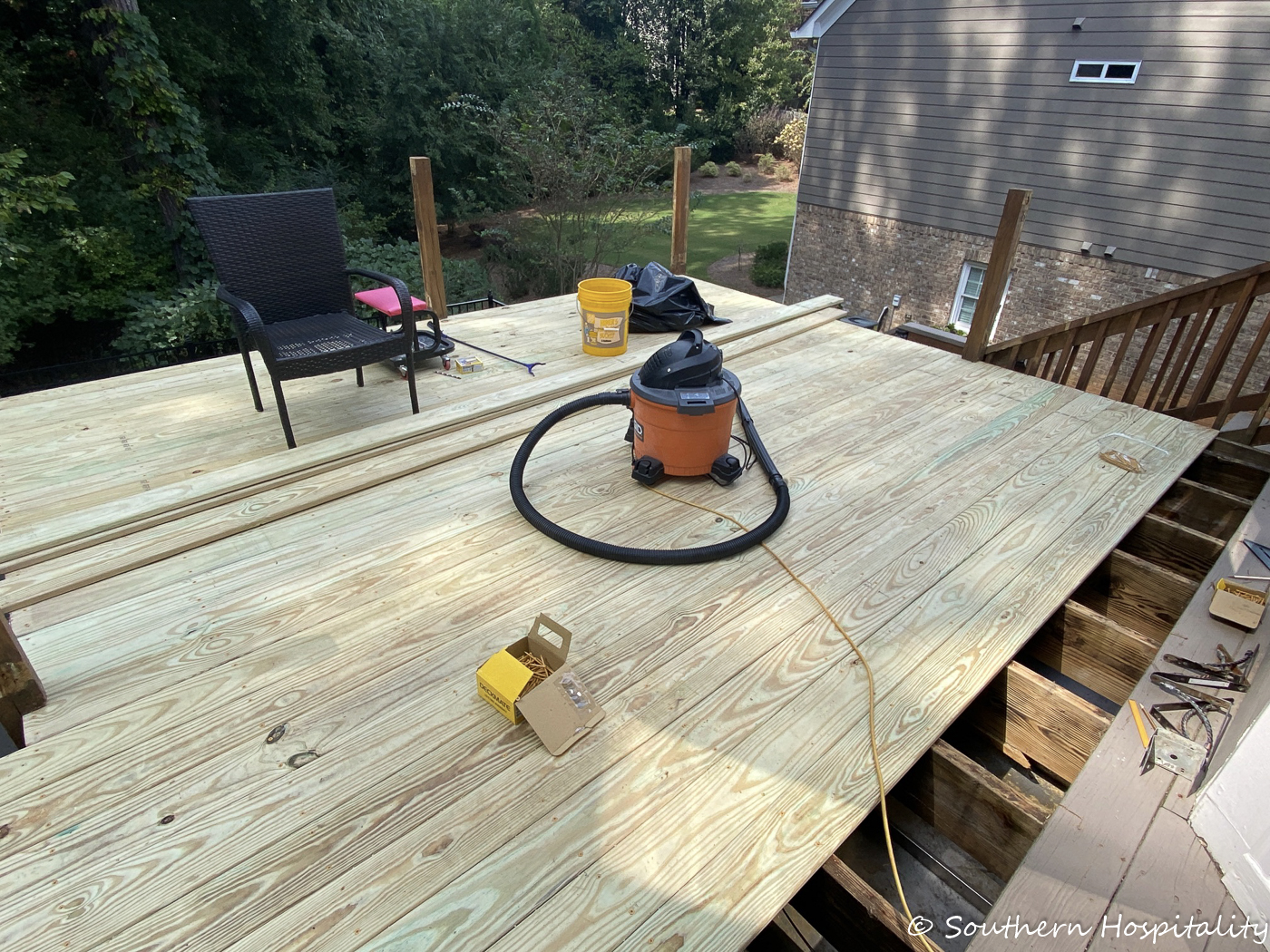 Day 3 or so.
Moving along and getting closer to the side of the windows.
There was one piece under the windows that was tricky, but he figured it out and it turned out great. He did an even better job than the first crew did and his cuts fit closer to the siding.
See the finish that Mark did? Looks great!
And the other side next to the door. He had to angle and piece these smaller pieces in, but he did a fantastic job.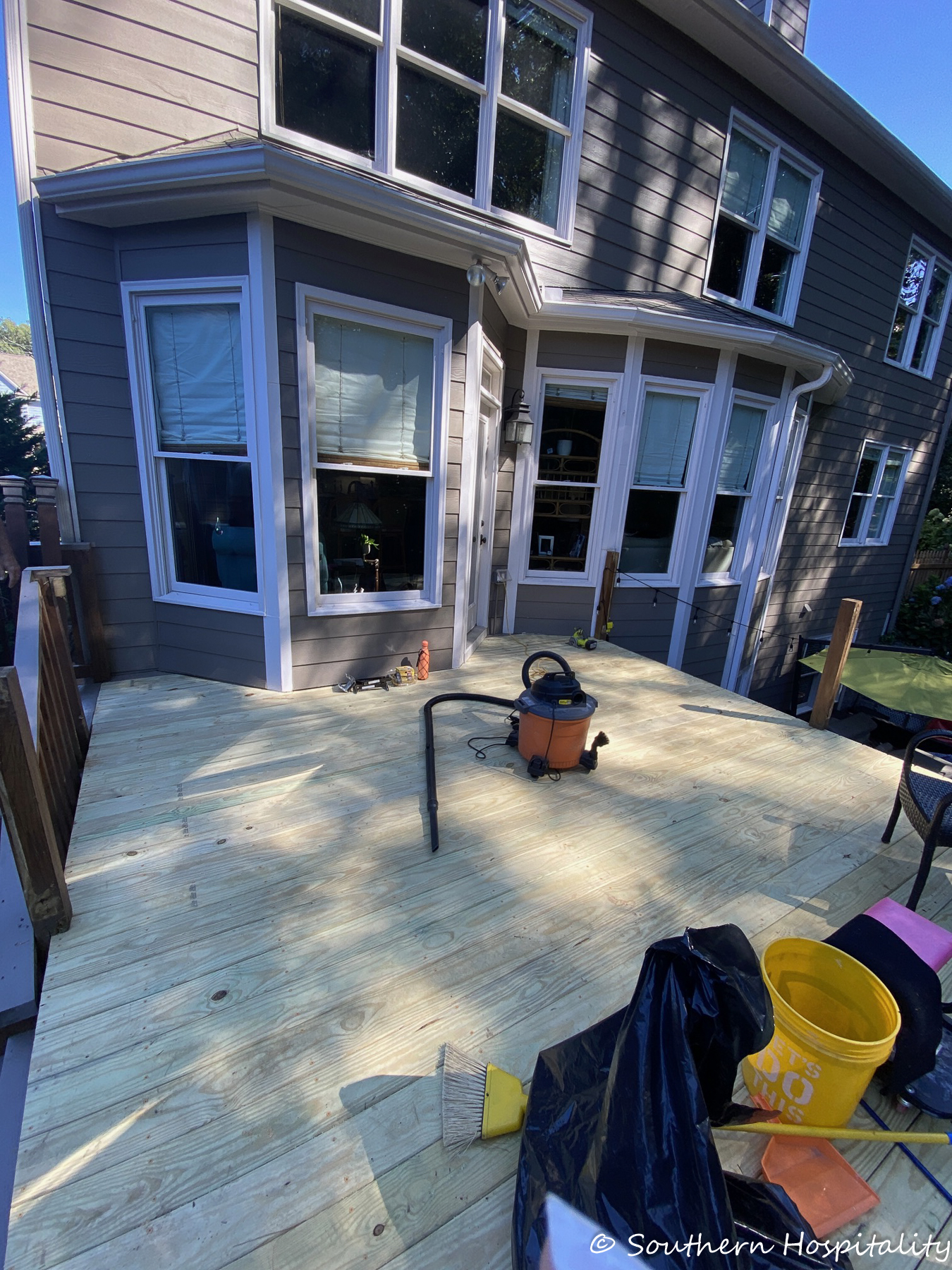 I didn't show a close up, but there was one board under the middle window that he had to scribe and cut more off one side than the other and squeeze it into place. And here it is all finished, looking great! I'm so proud of him! I think even he was surprised that it turned out so well. Wait until you see the railings!
When I left for Las Vegas, he had just started this side of the railings. He bought this kit for the black metal spindles and had to line up the top and bottoms and then cut the spindles to fit so they would pop in top and bottom.
That was a lot of mathing and figuring, which is definitely not my strong suit. It's a good thing I wasn't doing this project.
And here they are all finished. When I came back from my trip, he had all but the right railings all done. The top boards haven't gone on yet.
Aren't they pretty?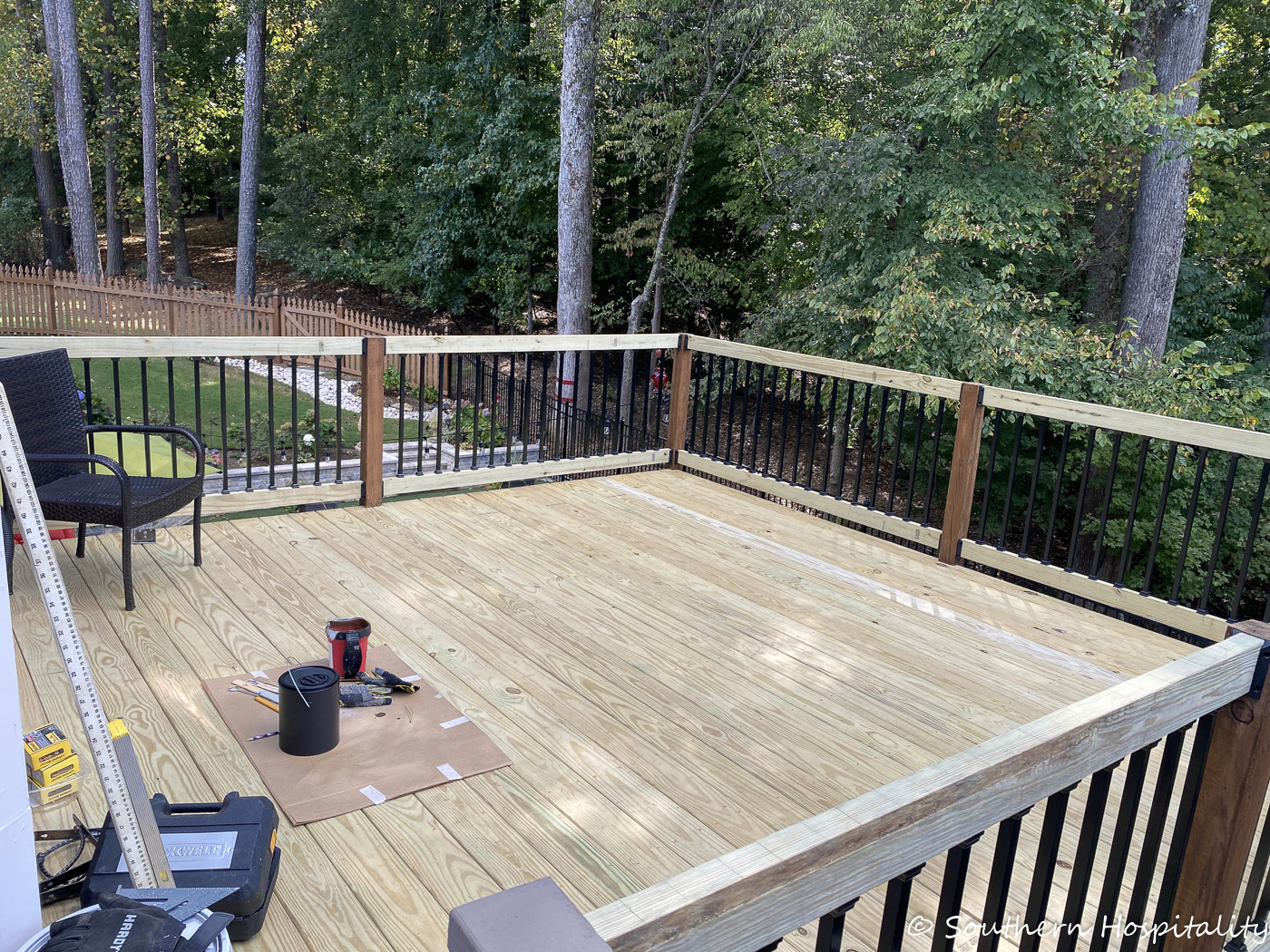 He did an outstanding job and I love how the black spindles turned out. It will really look great when we get it all stained again.
We sat out on the deck a couple of nights with Daisy and she loves looking through the spindles and under the boards to the woods. He added 1×6″ top boards to the railings and that really finishes them off.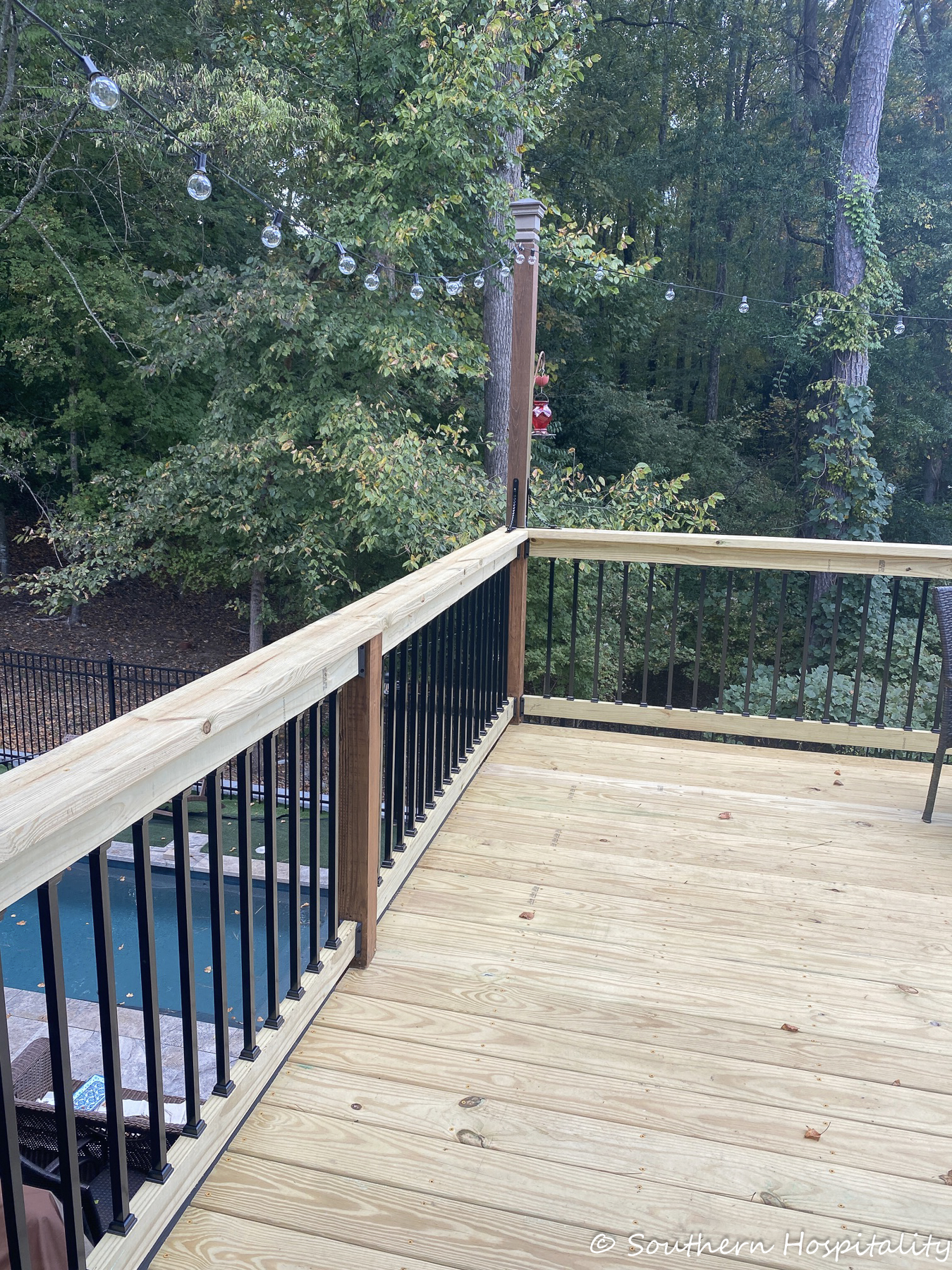 I resprayed those brackets on the top posts that we had there already and freshened them up and Mark got the lights hung back up. We sure have enjoyed the lights out here. The strand we had didn't work once we took them down and put them back up, so he hung another strand that he had bought as a backup for all the bulbs and it worked out nice too. These are incandescent lights.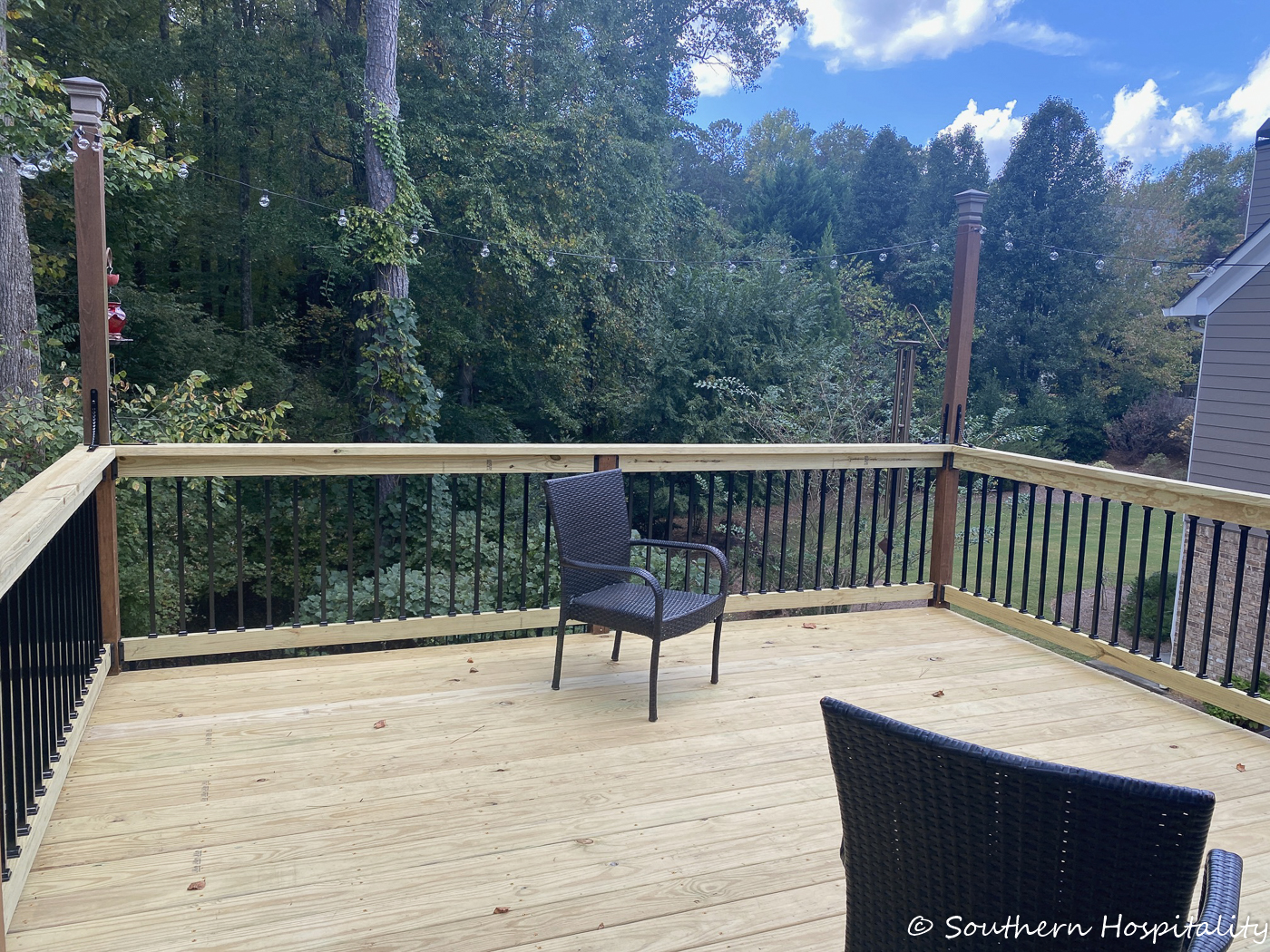 Looks so good!
Here you can see the freshly painted brackets and the brackets he used for the railings and spindles. Adding these posts on top with a cap piece was the perfect solution for adding lights up here. The brackets help steady the post too.
Close up of the brackets he used. Below are the links to the deck brackets and spindle hardware he used (affiliates):
Titan Snap N Lock Baluster Kits (31 in.)
Total Cost of Project:
Lumber: $500
Baluster Kits & Screws: $630 (bought at Home Depot using $50 coupon)
Railing Brackets: $36
Grand Total: $1166
So proud of this deck, he really saved us a bundle. I think it would have been at least $6 to 8K for this job including materials if we had hired it out.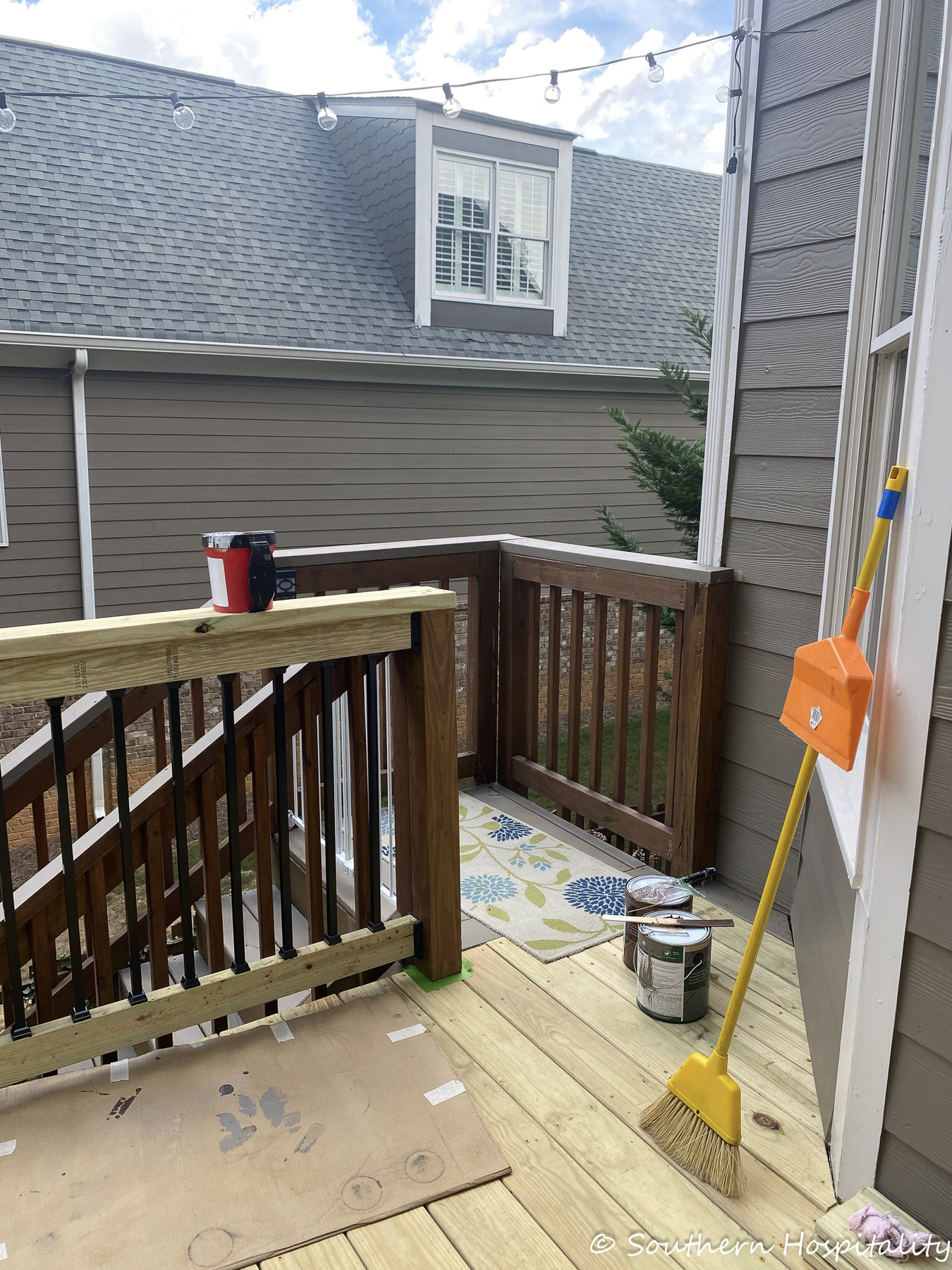 Here's where the new deck meets the stairs. This time around we are not going to use a solid stain, but we might try a semi-solid stain. I'm looking at Cabot colors and I'm planning to get some samples and try them out. We will get something close to the old color which blends with our siding color, sort of a gray taupe.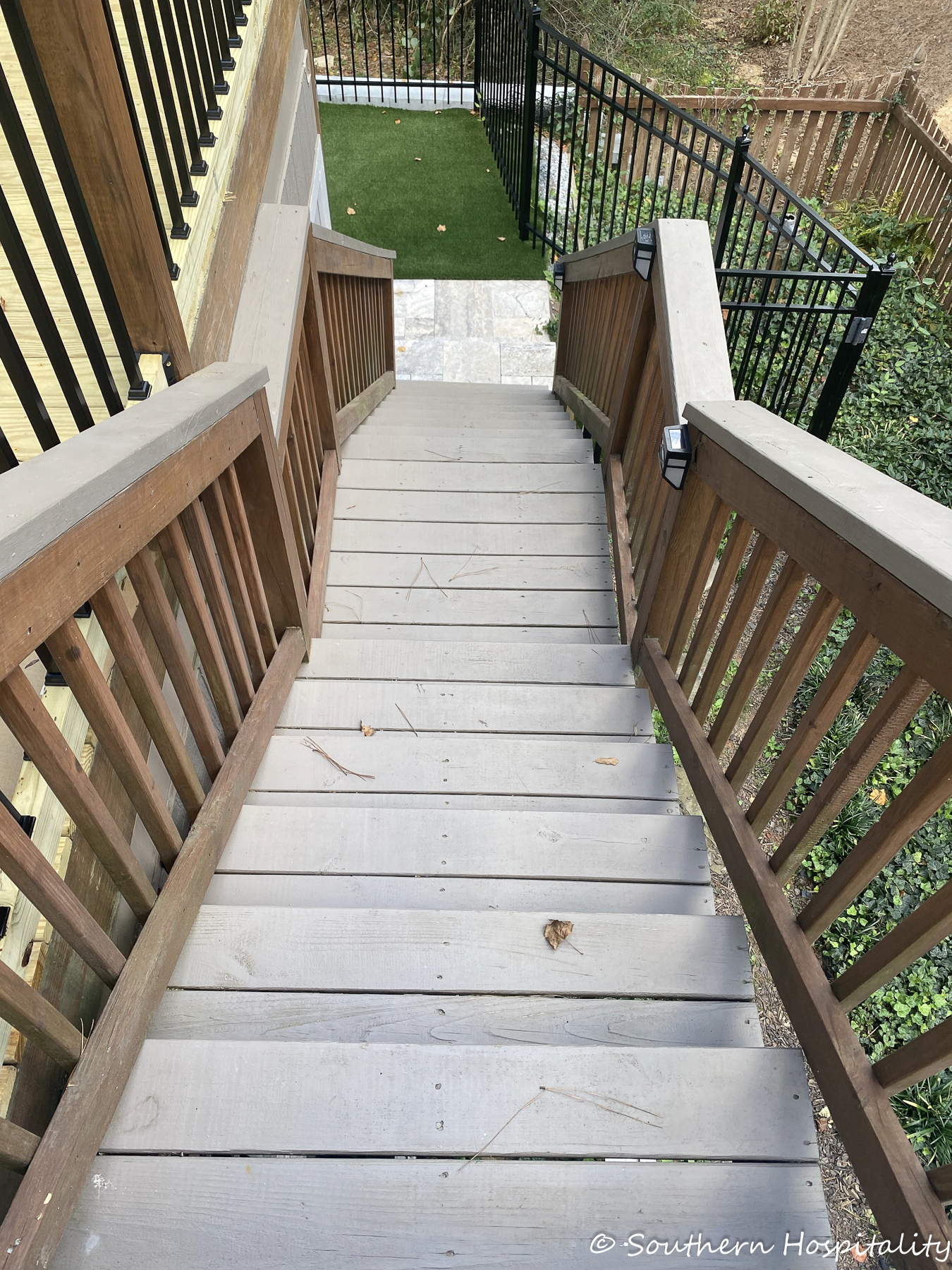 And here's a look at the stairs we had put in.
Our deck is about 14′ x 14′ or so with the bay window.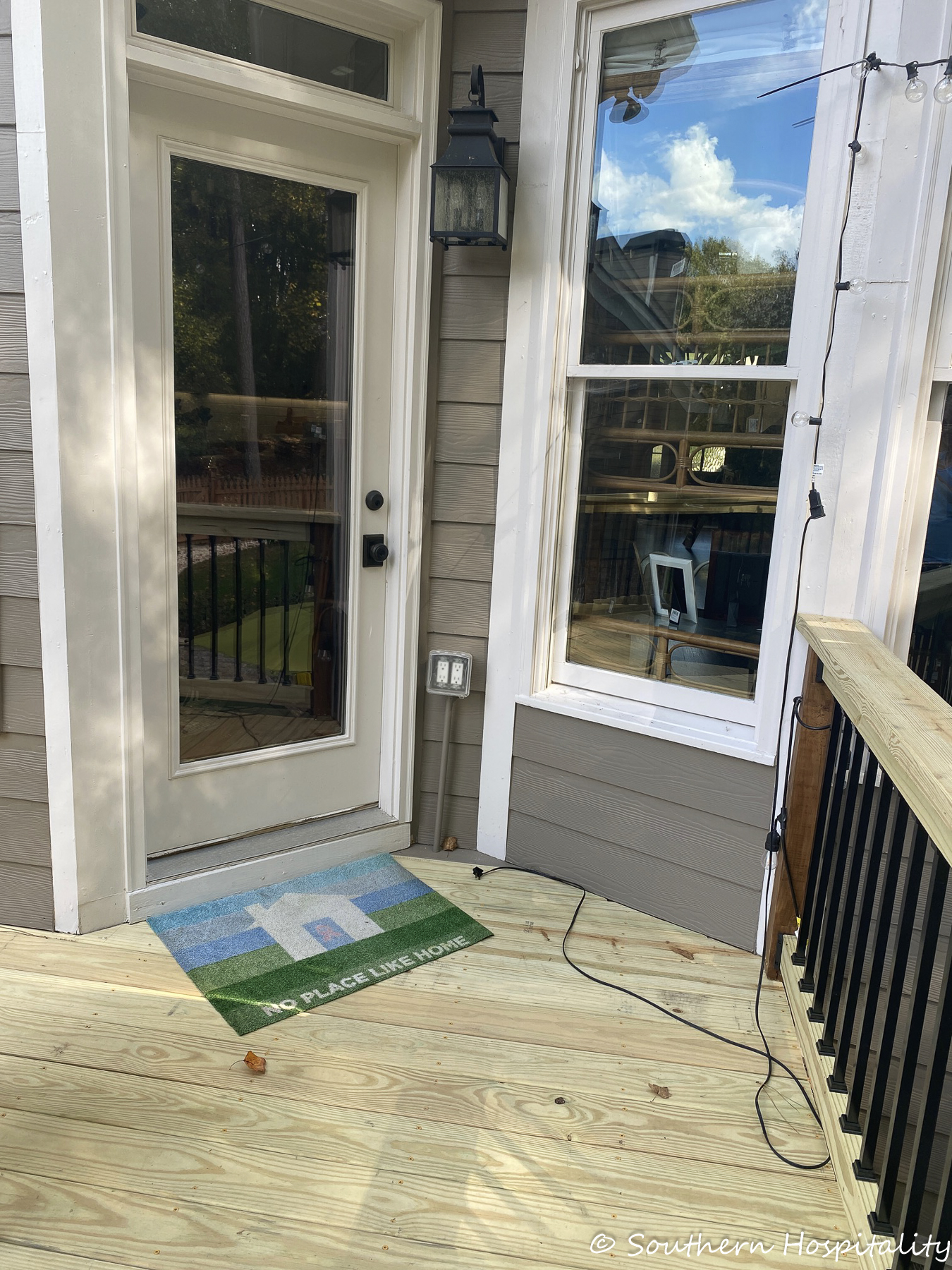 Mark especially is so happy this job is done and he finished it before we went on vacation. I'm super proud of him for figuring all this out and executing it all so well. He not only saved us money, but it is probably better built than if we had hired it out. I told him what we saved on this deck, we could spend on vacation! Win-win for us!
Don't Miss a Post, join my list!