Mark is a sentimental guy which I've shared before, but this post will really cinch the fact that he truly loves his childhood memories and the roots from which he came. Today I'm sharing a post from Mark about his favorite childhood toys and the fact that he saved them all these years. He's sharing all about the curio table so enjoy this post from Mark. Once you finish this, I'll narrate the table and how it was put back together along with the wallpaper we added to the bottom.
Mark: 
Let's see, where to begin?  Let's start at the beginning.  When I was small boy, my parents gave me a bedroom set that had belonged to my uncle.  He was one of my all-time heroes, having been in the Marines and fought in the Korean war, so I was very excited to get something he owned.  It was a three-piece set with a dresser, a chest of drawers and bed.  The chest of drawers was my favorite.  They could have let me sleep on the floor, I wouldn't have cared, I just wanted the chest.  Why?  Well, it had 5 drawers, but the second drawer from the top was twice the size of the others.  When you pulled it all the way out and unlatched the metal hinges, the drawer front made into a desk!  It was really a cool little desk with compartments and a light, just like an old roll top desk.  Then, when you were finished, you raised the drawer front back up, pushed it in and the desk disappeared.  How cool was that?  There were only two problems, it was difficult to pull out and when the desk was down, the wood pull knobs prevented the drawer underneath it from opening.  Which, as it turns out, made it a perfect hiding place for a boy to keep his treasure!
Into that drawer went all my trading cards, silver dollars, stamps, small toys, pictures, rocks, you name it I hid it there.  If it was something I wanted to make sure didn't get lost, it went into that drawer and there it stayed.  To make sure no pirates, burglars or nosey sisters ever got wind of my loot, I would only open it to deposit more treasure, or like Silas Marner, count my gold.  As the years went by, the drawer was opened less and less until it and its contents were virtually forgotten.  Then, one day my parents decided to get a new bedroom set and asked if I wanted their old one.  I believe I was still in college and since my old set was very old and I would be moving out soon, I said yes.  As I was emptying out the desk, I closed it up for the last time and I remembered the drawer!  I sat there looking at it, trying to remember the last time I opened it and was everything still there.  I pulled it open, and like a time capsule, lay all the things I held dear as a small boy, just as I had left them!  I had a blast going through them, reveling in the memories each held, grateful they had survived.  Somehow, it seemed that just by touching them I was reaching back into time, if for just a moment, to recapture the wondrous innocence of childhood.
I took them out of the drawer and carefully placed them in a box so I would not lose them, like I had so many of my other toys.  There they would sit in that box for the next couple of decades.
In the late 80's, I decided to turn part of my basement into a room where I could put my things.  This was before I ever heard of DIY's or man caves.  It turned out to be the nicest room in the house and gave me the confidence to begin more elaborate projects.  I picked out all the design elements myself and one of the first things I did was to have my Beatles poster from 1964 framed and take all my smaller toys and have them mounted and framed in a custom made shadowbox.  Everyone loved it and it allowed me to keep them safe behind glass where I could look at them whenever I walked past.  The only problem was that over time I realized that because they were behind glass, I could never touch them.  I missed the tactile pleasure of being able to hold them in my hand and smell them.
After moving a couple of times and some rough handling, the toys began to fall off the backing they were mounted on, so I opened the frame and put them all back in a box where they stayed for several years.  When Rhoda and I got married and purchased our new house, I built my man cave and began to think about how I could display my toys again.  I was thinking about a curio table, when Rhoda found me this dinged up little table a friend had for sale, so we drove out and purchased it for $25.  It sat in the basement for the next two years, until I retired.
The box was basically unsound, the legs were falling off and previous attempts to repair them had failed.  Gorilla Foam glue had been used in an effort to stabilize the legs, so there was excess glue inside and outside.  I removed the glue and the legs and noticed that the panel which was covered with red velour was made out of fiber board and there was no way the screws would hold in it.  So, I cut out a new panel with plywood, replaced the dowel screws with larger ones as the holes were reamed out over time, reinstalled the legs and screws and the legs were sound once again.  I am not sure if the table was dropped somewhere in its past, but I had to reinstall the glass top to make it square with the table.
Now I had to decide if I wanted to sand it all down and re-stain it, or paint it.  The more I examined it, I realized that painting it would be very time consuming as I would need to remove the glass to get to several areas that would need paint.  Removing the glass would present its own pandora's box of problems and I couldn't skip those areas because it would have driven me bat crazy, even though no one else would probably have noticed.  I had reluctantly decided to re-stain, when Rhoda came to the rescue.
I have a set of Lawyers shelves in my man cave that were in horrible shape after sitting in the basement for a couple of years.  Someone suggested Old English furniture polish with stain might help revive them. I completely disassembled them and used the Old English polish and they looked brand new when I finished!  When Rhoda pulled out the Restore A Finish and then noticed it was for a cherry finish, I went and got some rags and started rubbing. About 30 minutes later I had beautiful new curio table.  Most of the scratches were gone, as well as the white paint rubs. We then cut a piece of the wall paper we had left over from our down stairs bathroom, glued it in and the project was complete! What I thought was going to take a few days, was done in an afternoon!
The next day I took the table up to my room and took all the toys out of the box where they had been waiting and arranged them so they could all be seen.  Rhoda asked me to talk about the toys and my memories of them (
you can find the video of that day in my Instagram Stories if you want to hear Mark talking about them, saved under Mark's treasures in Stories
).
Some of these toys, like the two ships I can remember playing with in a rain puddle when I was less than three years old.  Several of the cars, truck and motorcycle policeman are rubber, made by the Auburn toy company.  The two blue vehicles by the boats my mother bought for me when I was three or four (I can still remember the store); the army trucks and tank I got for my birthday in Clayton, GA where we used to stay at a B&B called the Bynum house.  The black cars go back to the first grade when our teacher let us bring toys to school one day; the cream-colored men are lineman from a telephone truck set I got for Christmas in 1959, the truck is gone but the men made it into the drawer.  The horses are from a Roy Rodgers set, the cowboys are long gone.  The bullet in front of the horses came from my Roy Rodgers gun belt (I still have the holster and gun, but they are too large for the curio table).  The toys above the Beatles pin are premiums from cereal and Frito Lays Fritos packages…one of them, the dinosaur, got me my first spanking in a grocery store…I swear I didn't steal it, somebody already opened the package and the dinosaur was lying there…I just picked it up…finders keepers…I was a kid…scarred for life!!! Took me years to ever eat Fritos again  The arrow heads are from my family's garden in Lawrenceburg, Tennessee. Whenever my Great Uncle would plow his field he would find them and send me some.  The red HallMark tractor and trailer are not that old.  I bought them and put them in here in tribute to my first set of wheels which was a Murray Tractor.  I turned it into a hot rod at the age of four or five and nearly killed myself when I removed the steering support because it looked way cooler without it.  Gravity…it hurts.
All that for a little curio table full of items of little value to anyone else, but once considered treasure by a small boy now separated by sixty years from his older self who still thinks they are priceless and is so grateful for that hidden drawer.
Rhoda:
Didn't you love Mark's story? Read on for how he refinished the curio table and made it a haven for his boyhood treasures. 
I spotted this Queen Anne style curio table about 3 years ago on Facebook from a friend of mine in the Atlanta area. I knew Mark wanted a curio table to house his collection of childhood toys so I showed it to him, we went and picked it up and he bought it for $25. It was definitely in rough condition, the legs had been glued on with Gorilla glue and there were scuff marks on the legs. Lots of nicks and scratches from use. The legs needed immediate attention, so he unscrewed them all and got off the Gorilla glue residue, cut a new piece of plywood to attach under the table so the legs would have something to screw into and fixed it all up, good as new. I gave him my Restore A Finish which worked great on the table. I didn't get a true before pic of the table, but this is after using Restore A Finish on it. He was very impressed with how this product works. If you have something with light scratches this stuff is great and giving an old piece new life. I didn't get a good before pic with the legs off and him working to get it all put back together to make it sturdy again, but it was a process to fix it and get it like new again. He did a great job though!
Here's the Restore A Finish in all colors at Amazon (affiliate link):
He went over the whole piece with the finish and it covered all the scratches and dings so well. The new plywood base was perfect for making the table more secure.
Now the cherry finish looks brand new again.
Great job of restoring the original finish of the wood.
Next he wanted something to put in the bottom of the curio table to show off his collection of toys. I had left over pieces of wallpaper from the guest bath we did a couple years ago and it was perfect for adding to the bottom. We were going to do wallpaper or fabric and the wallpaper won out. It's masculine and looks good with the cherry finish.
We measured the bottom and I carefully cut the paper to fit the bottom of the curio table, making sure to cut it just right.
He tried it out before we started gluing just to make sure it was perfect and it was.
I got out my trusty Mod Podge which works so well for projects like this. I added a liberal amount and brushed it on with a sponge brush. He put it in place and smoothed it all down and it worked great in there.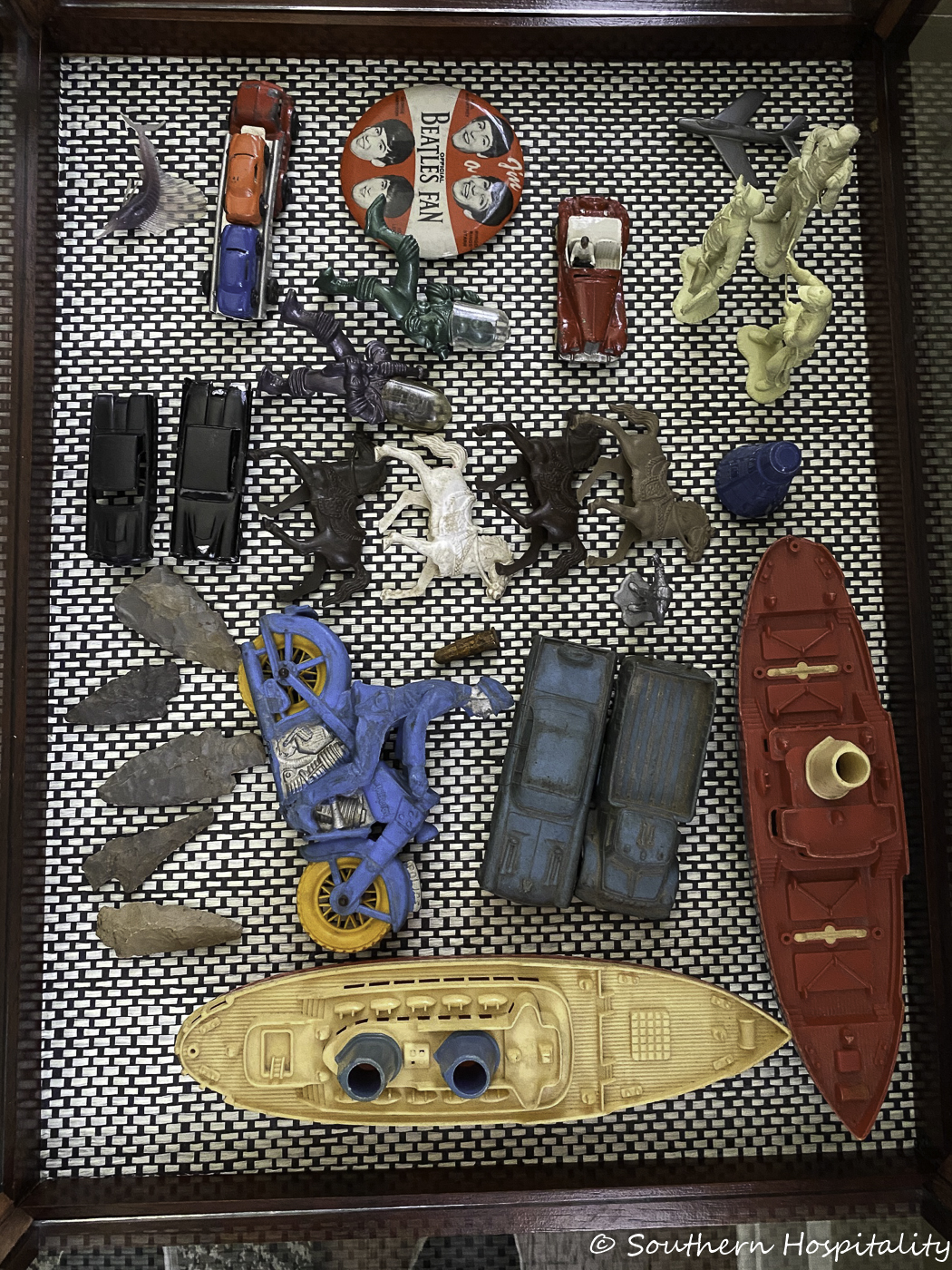 Next, he filled it up with his childhood toys which he has saved for over 60 years. I know you enjoyed hearing about all these pieces that he saved. My sentimental guy keeps everything that means something to him and these toys were no exception.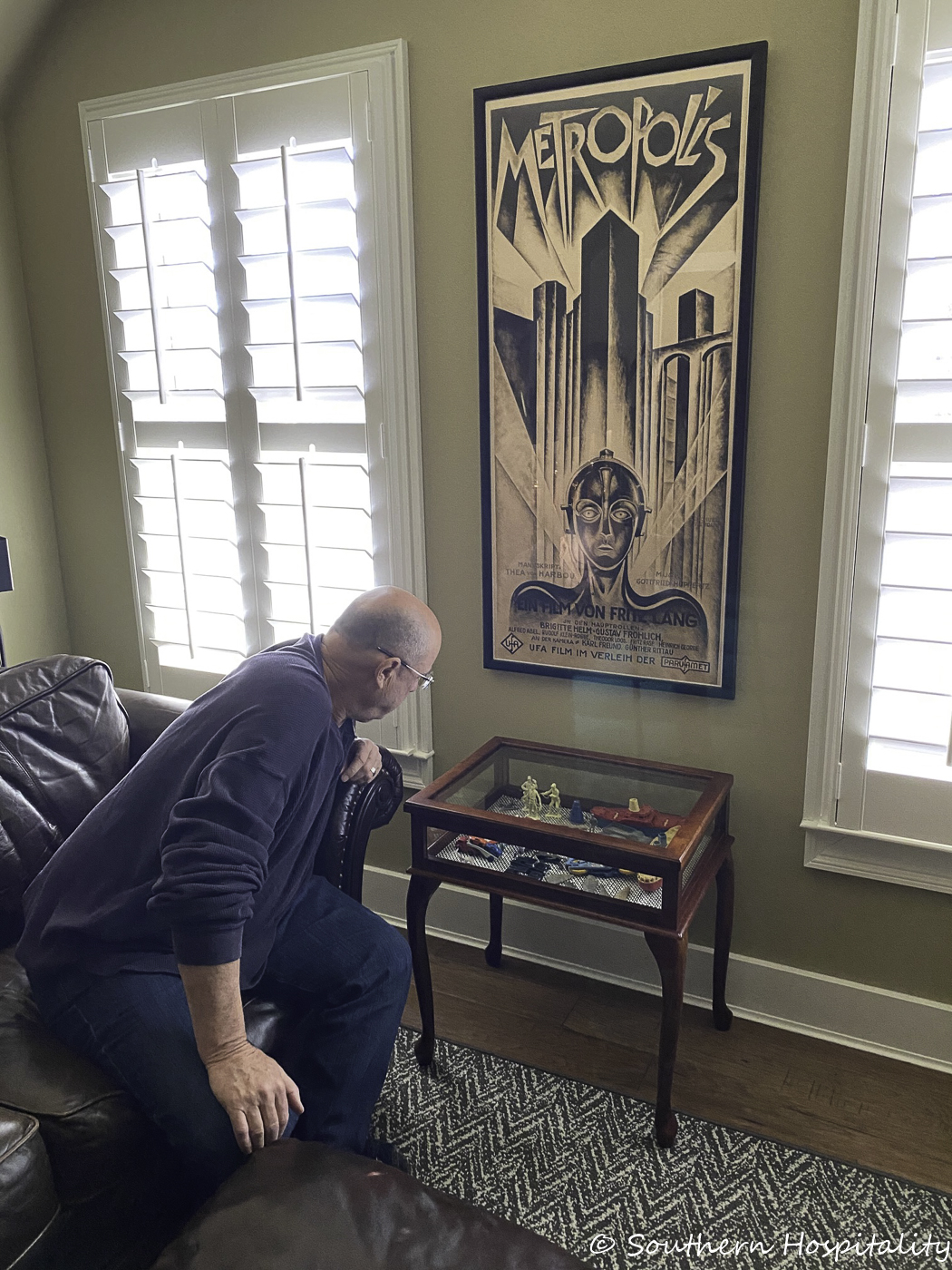 He had just the perfect spot in the Man Cave for this little curio table and will enjoy having his toys displayed. The grandchildren no doubt will get a kick out of Pop's toys when they get a little older and come over.
They can now be seen and touched. I know you all loved hearing from Mark and I'm going to try to get him to write more posts for me. He's a great writer and witty too as you all know!
If you missed the Man Cave post he wrote for me awhile back, be sure to check it out. And yes, the Beatles poster is hanging in the man cave!
Don't Miss a Post, join my list!