In case you missed it, I spent last week tiling around our masterbath tub with subway tile. And boy, and I'm glad to be done.  Mind you, it really wasn't a hard project, just took some planning ahead and figuring things out before I actually got started, but the planning paid off and it came out beautifully, if I do say so myself.  This just might be my most proudest DIY moment EV-ah!
You'll remember the view from the bedroom to the bathroom.  Notice the faux marble backsplash that was there, which had to be ripped out before I started the tile project.
Let's pause a minute before we go to the AFTER pics.  Do you hear singing.  Ah, yes, it's my celebration song of joy that this is all done and I LOVE IT! 🙂
See through that doorway to that beautiful white subway tile, along with some decorative border pieces.  I'll tell you more about how I put it all together in a tutorial post.  For right now, let's just enjoy the beauty of this amazing tile. 
I have to say, it came out exactly as I had hoped.  I spent 3 days of tiling and a couple of days of grouting, but overall it really wasn't bad.  It totally changes the look of our bathroom to something much more high end.  Built in 1998, with all white tile, this was a cost effective solution to give this space a much more updated feel and look and I couldn't be happier.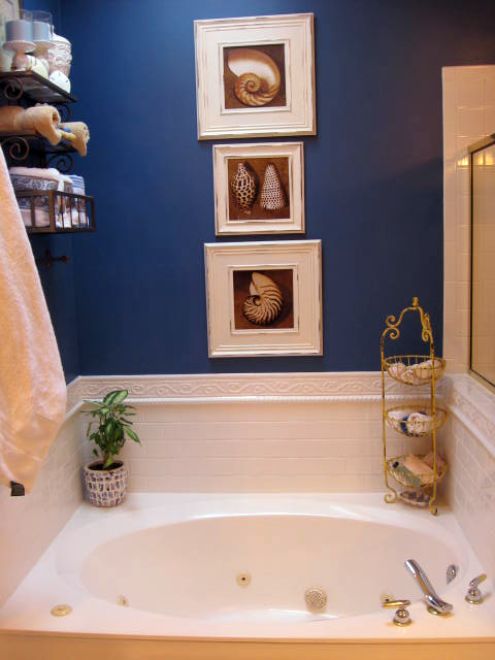 Yes, I love it.  Paint color here is Kilz Magellan, found at Walmart.
And I'm pretty darn proud of myself for doing this all alone.  Hubby thought it turned out great too, but then again, he is used to me tackling things like this and I haven't ruined anything yet. Thank goodness. 🙂  I added the rope molding at the last minute and I'll tell you why on my next post.  You probably won't be surprised to know that I found that mosaic planter at a yardsale several years ago and it fits in here just great.
Added back in this yellow yardsale basket, which works perfectly in here for holding some pretty shells and decorative items.
This is the first area I started on and I took down the old row of tiles that were at the top of this ledge and that is where my new decorative tiles started.  I'll be sure and tell you all about the process in my next post, so you can see how it all came together. 
It's not a perfect job, but I'm perfectly happy with it.  Once you add the grout to a tile project, it wipes out the flaws that might have stuck out before that process.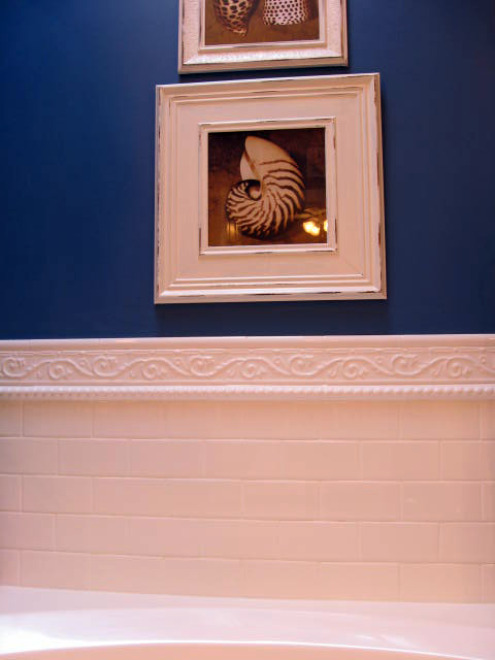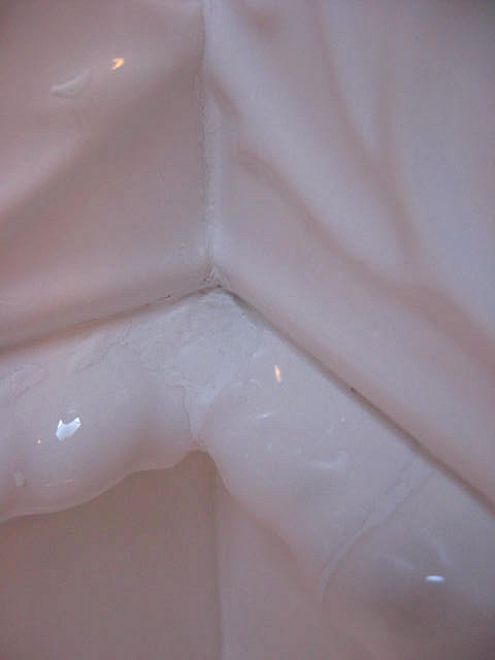 The corner pieces are the hardest with a project like this.  I ran into the same issue when I was cutting the molding for my dining room. Those corners are tricky and I sure don't have it all figured out.  I just did the best I could and then filled in with grout.  And you'd have to be this close to see it.  I used non-sanded grout, which is the norm for small joints like this.
I took lots of pics, so you could see it from every angle.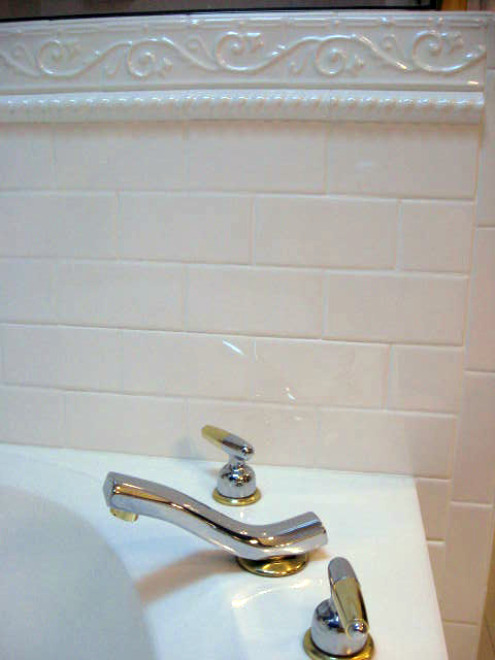 I love how it changed the look so much by getting rid of that old faux marble backsplash.  Update!
You've seen this shelf in here before, but thought I'd show it again.
This was a $5 yardsale find, years ago and I hauled it with me when we moved.
Perfect for a little bit of accessorizing in here. 
So, that's all folks!  I hope you enjoyed this project, I know I did.  I've been dreaming of doing this for at least a year and talked my hubby into it.  He swears I'm trying to get rid of more of his blue, but I'm really not. The tile just enhances all that blue.
I'm still planning to add some of the beadboard wallpaper to the front of the tub (hope it will stick) as well as add chair rail and beadboard to the toilet room. And now that I've done all this work, I'm going to go back around the tub and shower and recaulk and grout some of the tile that's looking pretty shabby.  Just regrouting an area can freshen it up.
Did you get inspired??  Would you ever try this yourself? I promise you, I am NOT an expert on all of this. I did help with some tile projects in my old house and did a lot of grouting there, but I never tackled anything like this by myself before.  I wasn't even scared though!  Cause I know most anything can be fixed and I knew that I could do this.  You can too!
And you can find me soaking in the tub. 🙂
If you have any specific questions, ask away. I'll be putting up a tutorial of sorts next, so I'll try to answer all the questions in that post too.
Added to Kimba's DIY  Day and Susan's Met Monday.

Don't Miss a Post, join my list!