Happy Sunday!  Its a beautiful day here in Atlanta, although still chilly at least the sun is out.  I've been working on painting my cute vanity in the master bedroom this week and it was a good week to work inside and get something done.  Feels good to get this painted, so now it doesn't stick out like a sore thumb anymore.
If you've been reading my blog awhile, you know that I got this years ago at a yardsale (it's by Henredon, so a nice piece).  I didn't really love the natural color it was and back then painted it black.  Then a couple of years ago, I decided to add green in my living room and painted it this vibrant green color, which I loved.  But now that I'm using it as a vanity in the bedroom, this color sticks out like crazy, so time for a change.
I've worked with Kilz many times and they make Joanna Gaines paint line, including her chalk paint, so they asked me if I wanted chalk paint for a project and this was the perfect piece.  I chose Silos District, a pretty deep blue shade for my vanity makeover.
Using a small foam roller, I rolled on the top and used a small paint brush for the sides.  It took 2 coats, but really covered nice and smooth. If you've used chalk paint, you know that it goes on smooth, but leave a chalky feel and you want to seal it with something so that it doesn't rub off and sealing makes it feel finished. Many people love using wax to seal chalk paint projects, but I just don't love working with the wax, plus it's a little time consuming to get on smoothly and I like a more protected top coat.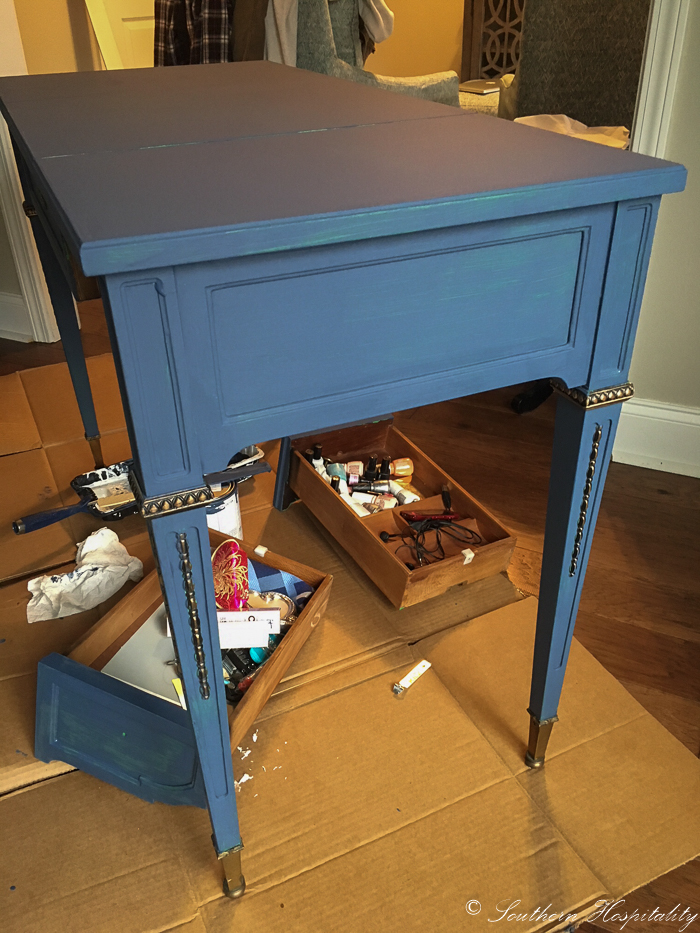 This was after 1 coat, but after 2 coats it was nice and covered and then I added a top coat.  I had another type of satin varnish around that I've used before and I'm not sure if it had been sitting too long and was too thick or what, but when I spread it on the top and brushed it smooth with my paintbrush, it started drying too fast and didn't smooth out well at all.
I let it dry overnight and then went back and added another coat of this Polycrylic top coat in a matte finish, using a paint brush.  It's not a perfectly smooth finish and if I hadn't put that first top coat on, it would have been smoother, but I'm happy with it nonetheless.  I'll be using this vanity for makeup and so it doesn't have to be perfect.
I'll be changing out the fabric on this stool as soon as I figure out drapery fabric so for now will leave on the black and white zebra fabric.  I painted the stool with 2 coats of Magnolia Home paint and sealed it with the matte sealer too. It's hard to show the exact color, but the stool above is pretty accurate.  The lighting either washes it out or makes it too bright.
Now it's all finished and I'm so happy to get this project behind me.  I hung that antique store mirror up and put it to the left of the window. I'm leaving room for drapery panels to be hung on that window when I find the right fabric. You can see there's a little damage to the bottom of the mirror, but I've got some stain that I can touch it up with.
Here's a close up of the detail on the legs.  I used Rub and Buff on those when I painted it the first time and love the little gold accent which highlights the brass hardware on the front drawers.  The paint color isn't quite this bright.
A look at the side. You can see the brush marks, but overall I'm very happy with how it looks.  The color is perfect and just what I wanted!
I love the new color and doesn't it fit in so much better now?  That little lamp is a thriftstore find from a few years ago and I still love it too.  I shared this on Instagram and someone commented on my vintage Clairol makeup mirror. Who has one of these?  I grew up with one of them and had another one as an adult. When it finally bit the dust, I looked on Ebay and ordered this relic from the past. I love my antique makeup mirror, haha!  This is the perfect spot for me to put on my makeup.
Here's a little peek at the bedroom progress this week.  I ordered this bench from Joss and Main and love it!  It's the perfect color and look for what I'm going for in the bedroom. Can't wait to find fabric and get Euro shams and also drapes made later on.  It's a process to decorate a bedroom and I want to take my time and get it just right!
Hope you enjoyed seeing this little project, one more step to getting the bedroom completed!
Thanks to Magnolia Home/Kilz for sending me the paint!
Don't Miss a Post, join my list!