Since I won't be doing any projects for awhile, I thought it would be fun to highlight some blog friends and will do that along the way. Today, I want to introduce you to Sharyl, another 50-something friend, who is stylish and creative.
Sharyl, take it away and introduce yourself!
Hi! My name is Sharyl and my blog is The Little Brown House.  I can't even express in words how excited I am to be here at Rhoda's today! I have admired and enjoyed her blog for so long, and have found her to be just as delightful as it is! So this is really a dream come true for me.
I have been blogging for just over a year – and I'm loving it! I love finding ways to decorate, cook, and dress inexpensively but well, my posts reflect my desire to give simple, thrifty ideas and projects you will want to re-create in your home and life. You will also find that I sometimes have a 'quirky' way of looking at things, and this comes out in my storytelling posts:)
I hope you will come and see me – and my thanks again to Rhoda for allowing me to share with you!
Sharyl is a stylish grandma and I love how she dresses age appropriately, but she doesn't look like a frumpy grannie at all.  Very much the fashionista, I enjoy seeing posts from other ladies close to my age who also like to look good in their clothing choices.  Great job, Sharyl!  I want to do more posts on fashion and beauty too, since no matter what age we are, we all still want to feel "cute", don't we?
Let me show you some of Sharyl's fun projects.  This sunburst mirror idea was borrowed from The Nester and Sharyl made it her own.  The fun of the blogosphere is that ideas and projects can be shared and brought to each home in a little different and unique way.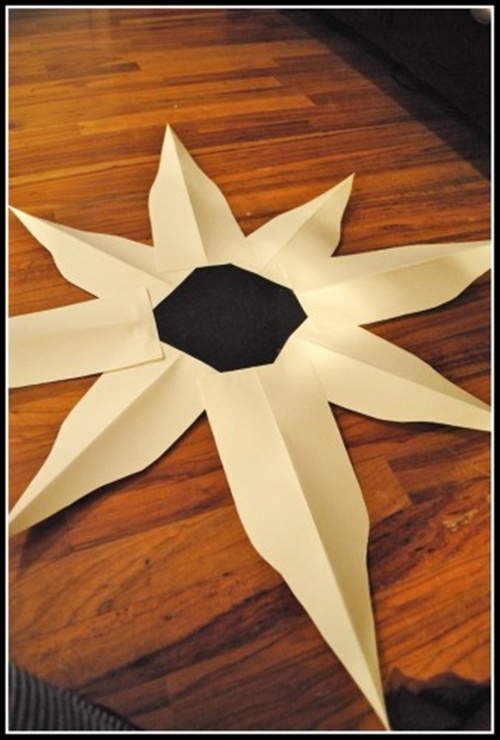 I've seen a lot of sunburst mirror projects out there lately, from sticks to plastic, to paper.  This one is made with poster board, but once assembled looks fantastic on the wall as a focal point.  You can find all of Sharyl's how-to's on this fun project here.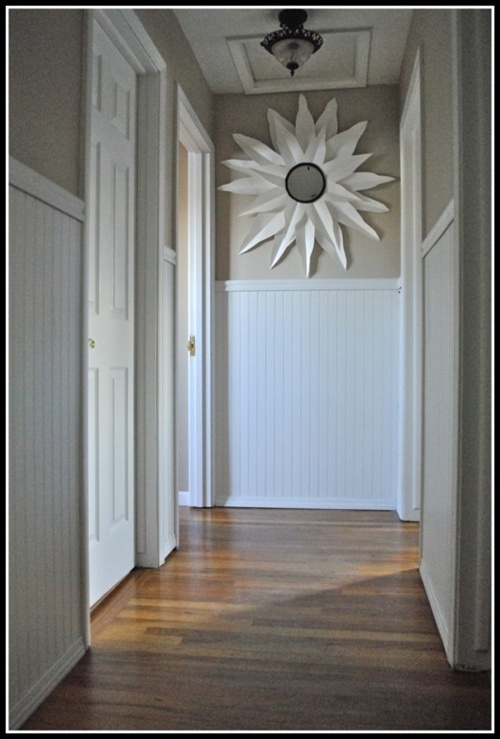 Do you have a spot for one of these stylish mirrors?  They are all the rage these days. 
This one looks great in Shary's hallway.
Another project that has run rampant across blogland is the coffee filter wreath.  I've seen what seems like 100's of examples.  They are simple and pretty and made of coffee filters, very affordable to make.
And you can find out how Sharyl made this one here, just in case you'd like to try your hand.
Sharyl, thank you for stopping by!  It's been fun to get to know you and I hope my readers will stop by and say hello.
I will have more bloggers to highlight periodically too.  Ya'll hear from me enough!
I'm actually at the beach this week for a few days, hopefully soaking up a little sunshine.  I love Destin and will take some pics to share.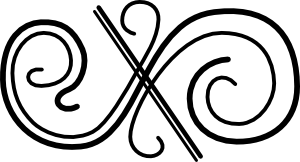 Birmingham girls, I'm having one last moving sale this weekend, on Friday a.m. from 8-12.   It will be mostly Christmas decor, so stop by if you'd like to check it out.  Email me for address.  This will be the final one, moving in 2 weeks to Atlanta.

Don't Miss a Post, join my list!